SPOTLIGHTS
411's National Pro Wrestling Day Live/iPPV Review 2.04.14
Posted by TJ Hawke on 02.04.2014

I am not Chikara, but I am a fan willing to give them another chance. Watch the whole show right here!

I have been kicking around the idea of how to do some different things for 411, and I liked the idea of comparing a live experience to one on tape. The 2014 National Pro Wrestling Day seemed like the perfect show to try out this idea, because it was so newsworthy and temporarily free for all to watch. So, here we go.



Watch the whole show here. It will not be up forever!




Colt Cabana vs. Drew Gulak

Live: This match was probably one of the two or three best matches on the day. I foolishly expected this match to be the main event, but by the time it was over, I realized it was the right opener for this show. Colt is the most recognizable personality on the show, and Gulak was the perfect opponent to bring out the more engaging side of Colt's wrestling style. I would not mind seeing another match between these two in person, which is not something say often.

Tape:
I know that some people find the mat/trading holds style of wrestling boring, but I happen to be a mark for it. These two do it as well as anyone on the American indies, and I think you will enjoy this match if you're a fan of the style.
Match Rating: ***



The Bloc Party vs. The Baltic Siege

Live: While this match had a lot of very amusing moments, spots, and sequences, I could not help but to find it clunky. There did not seem to be a lot holding it together. While some indie tag matches can feel like just a collection of a flips and dives, this felt like it was just a collection of comedy spots. That's not to say I didn't enjoy some of them, I just never got invested in the match.

Tape: Watching this match again made realize there was probably a little more structure than I had realized the first time, but the structure just was not that well executed. Also, this match went a long time. Just like in movies and television, comedy (and most "dramedies") are better served by a shorter running time. With all of that in mind, there were some genuinely amusing moments during this match, and the post-match shenanigans were over big time.
Match Rating: **1/2



Colt Cabana honored Mike Burns, the owner of Smart Mark Video, with the 2014 Independent Wrestling Award. Considering how important SMV has been for independent wrestling, it seems like a logical choice.



Mike Bennett vs. Hallowicked

Live: I really found to this be "just sort of there" at the show. Nothing was executed poorly, but they did nothing extraordinary to make me care at all. I think Mike Bennett actually does have something to offer the Chikara universe, but this was not it.

Tape: Unfortunately, this match was cut up on tape (I assume it was due to iPPV issues) to a degree that made it impossible to judge.



Eddie Kingston vs. Dasher Hatfield

Live: While I was initially displease to not be getting Kingston vs. Francis O'Rourke (the match I was looking forward to most on the show), I quickly remembered how much I loved the title match these two had in 2012. While the match didn't reach those heights necessarily, they managed to have what was probably my favorite match of the day. Kingston was in full rudo mode here, and he nearly got into a scrape with a brave little kid. Kingston dominated a lot of the match, but his lack of focus allowed Dasher to pick up the win with the Oklahoma Roll.

Tape: I absolutely adore Dasher Hatfield as a performer. From 2012 on, Dasher has been one of my favorite performers in all of wrestling. Yes, he can do the goofy comedy, but he can also step up and delivered a very dramatic, main event style match. This match did indeed work really well, because the crowd was really into the idea of booing Eddie and cheering on Dasher. Both guys played their role well, and the match was a breeze to watch. This was my favorite match of the show.
Match Rating: ***1/4

Also, this: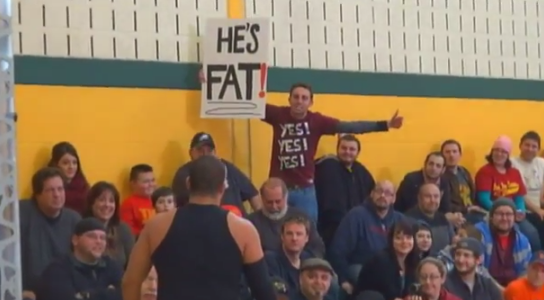 Sonjay Dutt vs. Eric Corvis

Live: My feelings on this match were similar to my feelings on Hallowicked/Mike Bennett: it was just a match. Eric Corvis is someone that I tired of after watching a lot of Beyond Wrestling over the years, but his "scientist of movez" gimmick seems to be something that could get over in the Chikara universe. Unfortunately, he did not really do anything with the gimmick in this match for reasons that I do not understand. Dutt pulled out some cool spots, but I did not need to see him in this spot. I feel like there had to be a much better use of funds than Sonjay Dutt. He's not bad at all, but there are just far more interesting people on the indies if they wanted to give NPWD less of a Chikara feel for certain matches.

Tape: My reaction to this match on tape pretty much matched my reaction to it live. It was a match. They did some stuff. The crowd was polite and somewhat responsive to it, but the match did not emotionally engage me at all. I think this served as a missed opportunity to get Corvis's new character over with a large audience.
Match Rating: **



Shynron vs. Juan Francisco de Coronado [No DQ]

Live: This match reminded me a lot of the trios match from earlier in the show in execution if not in substance. There were a bunch of spots and things that I liked, but I did not feel like the match held together. Shynron does a bunch of cool shit, but he's still pretty raw in the ring. Coronado has got his gimmick down, but he still needs to sharpen up in the ring. Don't let my disappointment in this match fool you though. I think both of these guys should be a huge part of Chikara going forward, as I am big fans of both.

Tape: Too much of the match was lost due to iPPV issues to properly discuss it.


Joe Pittman vs. Heidi Lovelace [La Copa Idolo]

Live: I had modestly high expectations for this match just because it seemed to have all the ingredients necessary for a fun match. However, the match just never really clicked for me. Both wrestlers are talented, but they did not deliver here.

Tape: I have to say, this played out way better on tape. For whatever reason, the match engaged me more the second time around. I do not have a suitable explanation for why I enjoyed this more. You'll just have to deal with that. This is a very informed analysis. (There is no star rating because some of the match was missing.)



The Return of Chikara Angle

Live: This angle was the hottest thing I have ever seen at a wrestling show, and it truly felt like I was a part of something special by being at the show for this whole deal. Going into this show, the only thing I was hoping for was the return of the Chikara being done well. We got that and more. I may not have cared about a single thing Chikara has done since it "died," but everything about this ruled.

Tape: Since I was there live for this, I pretty much just checked my brain at the door for the whole angle. I was just trying to soak in every moment; I did not care why some people were doing this, why others were doing that. It was just a very cool moment, and I loved being there for it.

With all of that said, this angle did not do much to address all the plot holes and issues I've had with Chikara's booking of their "death" and "resurrection." A lot of the macro issues with Chikara's story lines were not really addressed here, but I'm genuinely willing to give them some time to answer them. Yep, I'm going to "wait and see." Yes, I hate the "wait and see" approach with just about every other wrestling company. For some reason, I have faith in Chikara right now to address the questions and plot holes despite being so disappointed with their creative direction from the company in the last two years.



Icarus, The Colony (Fire Ant & Green Ant), & The Osirian Portal (Amasis & Ophidian) vs. Los Ice Creams (El Hijo del Ice Cream & Ice Cream Jr.) & The Batiri (Kobald, Kodama, & Obariyon)

Live: The crowd was so wired after the red hot angle that these guys could basically do no wrong for them. While I have seen way better versions of this type of Chikara match, I was perfectly content with what I got here even though it was not a great match (by any stretch for my money). When it comes down to it, Los Ice Creams and The Batiri are just not the greatest combination of talent to have for a rudo team in a main event of a show. As I said though, the crowd was so pumped about Chikara finally coming back, that it hardly mattered what happened in the ring. The match was almost like a Chikara tribute match that you may see years and years from now if Chikara ever actually does die. Only, instead of it being sad nostalgia, it served as the signal for the return of the most creative wrestling promotion of the last decade. This was a thumbs up main event.

Tape: As far as the in-ring content goes, I thought this held together a lot better on tape than in person. However, as far as excitement, you really cannot compare the atmosphere of being there live to watching it on Youtube. It's everything you would expect from a Chikara main event with these wrestlers featured. They pulled out a lot of their trademark spots and sequences in order to put on a fun match.
Match Rating: ***1/4



Overall Thoughts

Live: I had an absolutely fantastic time at the 2014 National Pro Wrestling Day. The energy in the room was infectious, and the show left me wanting more and more Chikara. By that standard, the show was a huge success. The show was very much greater than the sum of its parts, and if nothing else, that is keeping in the spirit of Chikara. Most of the matches were nothing special on their own, but at the end of the show, I just felt happy. I felt happy to have spent my time going to the show, and it made me happy to be a wrestling fan. The show made me buy tickets for Chikara's return show in May as soon as possible. (I cannot wait to be there for that). Maybe Chikara will never be able to regain their pre-High Noon form, but this show made me believe that it was possible. I am willing to give them a chance.

Tape: I had always heard that watching Chikara on tape could not compare to experiencing it live. Unfortunately, I had never been to a proper Chikara show, and I could only assume that it was the case. While NPWD 2014 was not officially a Chikara show, it might as well have been considering the talent in the majority of the matches and the atmosphere in the crowd. With that in mind, I can confirm that something about the "magical" Chikara experience does not translate very well to tape.

There were some decent matches that I actually enjoyed re-watching (and I don't really bother to re-watch most matches), but most of the matches were less enjoyable than they were live. Chikara is not meant to be enjoyed that way though. The more Chikara shows you watch, the more enjoyable the promotion becomes. If you're going to watch anything from this show, I recommend that you check out the whole thing.



Thanks everybody for reading! You can send feedback to my Twitter or to my email address: Shabang728@gmail.com. Also, feel free to check out my own wrestling website, FreeProWrestling.com. Also, check out my Best of Chikara blog and an archive of all my 411 video reviews.




For more information on Chikara, check out their:
Facebook
Twitter
DVD Store
Youtube Page



Check out Kevin Ford's Chikara Special Blog and a Chikara Special Tumblr. Both are must reads for wrestling fans.
comments powered by