SPOTLIGHTS
Tremendous Tirades 2.23.14: WWE Elimination Chamber 2014
Posted by Larry Csonka on 02.23.2014

The Wyatt Family vs. The Shield was awesome…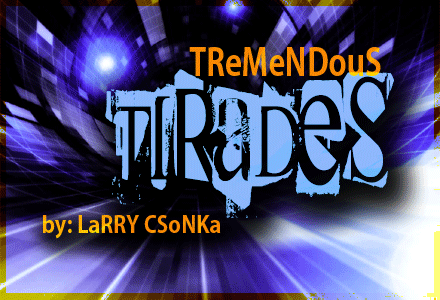 Introduction
As a reminder, this will not be another traditional recap, but instead it will be a mash up of the Rs, Instant Analysis and my usual Twitter ramblings I would do during the shows; completely uncensored and as the ideas flow unfiltered to the old keyboard. Remember, this is a review; and I am here to review the show. As always, I encourage discussion and even disagreement, just do so in a respectful manner. I will be doing the review for Raw and most PPVs and iPPVs going forward.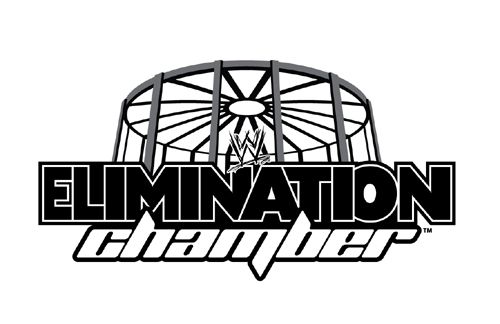 WWE Elimination Chamber 2014
Welcome to the tirade, buckle up an have fun. I appreciate you taking the time to read.

WWE Intercontinental Championship Match: Big E. © vs. Jack Swagger w/ Zeb Colter: They tell us that Big E has been IC Champing for 96 days. He's been booked better than a lot of other IC Champions, but it still could be better. I hated that they sacrificed Swagger to Bryan on Smackdown, because he hadn't been booked the best leading into his title shot. For those that have been following the betting lines (because of the reported leaks and such), Big E was a 60-to-1 favorite to beat Jack Swagger. They had a very deliberate start to the match, and with them leading off the show, gave me hope that they were going to get a bit of time to do their thing. The crowd was in and out of it at times, but did pop for Big E going for and hitting the Big Ending. Things got pretty good down the stretch as I thought they worked well together, and I overall enjoyed the match. Swagger is good, and Big E is learning, but more importantly seems to just "get it" as far as the little things and interacting with the crowd. Big E retains in about 12-minutes, and this was a solid way to kick off the show.
Match Rating: **¾


Bad News Barrett appeared. Yup.


Hulk Hogan returns to WWE tomorrow night. Brother.


Daniel Bryan talks about the Chamber. YES! YES! YES!

WWE Tag Team Championship Match: The New Age Outlaws © vs. The Usos: For those that have been following the betting lines, The New Age Outlaws were 3-to-1 favorites to beat the Usos. With the Usos winning the singles matches this week on Raw and Smackdown, I would venture to say that the Outlaws win here, because WWE has done that booking strategy a lot of times in the past. And that is what they did here. The match was fine, slow beginning, but it picked up a bit. I don't mind the Outlaws as much as some seem too, but I also think that we should have moved on from them here. They are over with the crowds, but that is also a problem if we're trying to establish the Usos as a top face team. I could see a three-way at WM with the Usos, Outlaws and Rhodes Brothers. The Outlaws retained in about 9–minutes.
Match Rating: **


Bad News Barrett appeared again. Yup.


WWE Network plugs.

Darren Young vs. Titus O'Neil: For those that have been following the betting lines, Titus O'Neil was a 60-to-1 favorite to beat Darren Young. I honestly don't mind the Prime Time Players breaking up, as I didn't think they had too much potential long term as a team, but I do thin they did this at the wrong time. They were barely on TV, and the fans were given no reason to care about the turn by Titus. Also, with it being WrestleMania season, I am not sure the timing makes sense, because I fear that they will be lost in the shuffle and no one will care. I would have kept them as a team, defeating 3MB and other low tier teams on Main Event and Superstars, leading to a tag title shot on Raw after WM, setting up the turn. But that's just me. As I feared, the crowd did not care about this at all. And why should they? The match wasn't very good at all and as I said, the people have been given no reason to care about them. O'Neil won clean in about 6–minutes with the clash of the Titus. This was a match that would have been bad on TV, let alone PPV.
Match Rating: *½


Bad News Barrett, again.


One hour in and I feel like I have been watching an expensive episode of Raw.

Wyatt Family vs. The Shield: For those that have been following the betting lines, The Wyatts were 60-to-1 favorites to beat The Shield. I have enjoyed the build to this, and of course the crowd has been into it. Why? Because both teams have been built as threats and winning matches. Simple yes, done properly the majority of the time, no. I anticipate the Wyatts winning, possibly due to miscommunication from the Shield. This had a great pre-match atmosphere, as the crowd was electric for it, leading to a short, early brawl between all six. This was the exact opposite of O'Neil vs. Young, and likely the opposite of what Del Rio vs. Batista will be. The crowd wanted to be a part of this because the booking leading into the match (the entire runs of both teams really) made them feel as if this was something special. That's the hard part really, because there is a ton of talent in the ring, we knew that the wrestling part could and likely would be very good. Of note, I want to add that it was fascinating watching the heat on the Shield after so much dominance for the last 18 months or so. But it didn't make the Shield look weak, the way they did it made the Wyatts look strong. They hit this insane hot tag spot for Reigns, which led to it breaking down and things got awesome including dives, one by THE BIG RIG Brodie Lee Luke Harper! Rollins (through the announce table) and Ambrose got picked off, and it left Reigns alone. A cruel twist of fate as it was three on one, similar to the Shield attacks we saw for how long. Reigns made an epic comeback and looked to overcome the odds but Harper took the bullet (the spear) for Wyatt, allowing him to hit Sister Abigail for the win. Sure these six guys have been given chances and delivered, but they have also been given chances against established guys and also guys that are known for delivering in the ring. But now they had to deliver on their own, and they were hungry, and they ALL busted their asses and played their parts well. Add that into the fact that the fans were given something to invest in, they did, and they paid it back in their response. Take two established acts, give the people a reason to care and then let them loose and this is what you get. What did we get? A whole bag of awesome with a big time feel, that's what we got. That's one of the top four matches I have seen this year, just excellent. Wyatt Family won in about 23-minutes. If you missed this, find it, watch it and love it.
Match Rating: ****½


Good luck following that.


Renee Young interviews Christian.

Divas Title Match: AJ Lee © vs. Cameron: Oh these poor girls, they got the cool down spot, and it should be cold since it wasn't advertised. AJ brags about holding the title for over 250 days and says she has no real competition now that Naomi broke her face. It also didn't help that this was not good. It was sloppy, they seemed off most of the time. I mean, some stuff was missed to an insane degree. Also, since the crowd didn't care, they either ignored it or chanted for CM Punk a bit. Tamina accidentally superkicked AJ, and almost cost her the match. Tamina then attacked Cameron leading to a DQ. No one cared, this felt as if it was thrown out simply to cool down the crowd and also felt as if they had no real plan for the match. AJ retained in about 4–minutes that felt like 14.
Match Rating: DUD


Bad News Barrett, again.


Santino plays with the StackDown toys, Emma arrives. Khali and Torito as well as the Matadores also appear. Vince McMahon's comedy sucks, but the man knows product placement.


Batista vs. Alberto Del Rio: For those that have been following the betting lines, Batista was a 75-to-1 favorite to beat Alberto Del Rio. This feud has been booked poorly as they killed Del Rio two weeks before the PPV with the table spot. If this isn't a onside, and very quick destruction by Batista, it won't do him any good and the crowd will likely shit on it. Del Rio came out with a neck brace on and using a crutch. Del Rio said he couldn't compete, attacked Batista with his crutch and then revealed his ring gear. SHENANIGANS! The crowd turned on Batista immediately, chanting "BOO-TIS-TA" and cheering for Del Rio. They then chanted for Daniel Bryan, CM Punk, RVD and Y2J. Then of course, "We Want Lesnar". Seriously though, you know that this is a problem when not only are they totally turning on Batista, but also they are cheering for Del Rio, which that haven't cared about in forever. Batista of course made the comeback and won with the Dave bomb. The match was what it was supposed to be, but was honestly too long (9-minutes or so). This is not the reaction you want for the supposed babyface that is going to headline WrestleMania.
Match Rating: *½



Chamber preview video runs.

WWE World Heavyweight Championship Elimination Chamber Match: Randy Orton © vs. John Cena vs. Daniel Bryan vs. Cesaro vs. Sheamus vs. Christian: This match has all of the potential in the world. For one, the Chamber allows for a ton of story telling options and booking strategies. Secondly, the talent in the match is excellent. Finally, they have been working matches on TV and been delivering good to excellent outings. The only thing I fear is overbooking. For those that have been following the betting lines, Randy Orton is a 60-to-1 favorite to win. Judging by the booking, which him losing so much, and the way they have hyped Orton being 0-5 in the Chamber, I could easily see him winning. I say Bryan has an outside shot, due to the fact that they have worked the injury angle hard. It can either be played as an excuse for him losing, or as him overcoming the odds to win. I liked Sheamus and Cesaro opening the match, they like to just kick the shit out of each other, and it is always entertaining. Bryan in at 3 was good, as he got that hot tag vibe and got to run wild a bit. Christian, then Cena and finally Orton entered. I liked the order, the match had a good flow and Orton being last feeds into the possibility that the Authority set that up for him. I dug Orton hiding in the pod and the pussy chants that followed. Sheamus busted the pod with the Brogue kick to a good reaction. We also got the giant swing on Orton. The first elimination was 26-minutes in as Christian hit a frog splash off the pod to pin Sheamus. Quickly after that was Bryan hitting the charging knee on Christian to eliminate him. Cena then eliminated Cesaro with the STF. Cena had the STF on Orton and the Wyatts appeared like Sabu in the ECW Arena. They beat down Bryan and Bray hit Sister Abigail on Cena to "thank you Wyatts" chants. That allowed Orton to eliminate Cena. Kane appeared and sent the Wyatts to the back and then entered the Chamber as the trainers were taking Cena out. Bryan hit the knee off the top rope to take Kane out. Bryan had the match won with the charging knee strike, but Kane pulled the ref out. Bryan survived the RKO, and got a near fall off the small package. Kane then hit a cheap shot on Bryan, RKO, finish. Overall this was a good chamber match, with a likely unsatisfying ending for many. Also, while it all makes sense from the stories they have been telling, having the Wyatts and Kane get involved hurts the chamber gimmick in my opinion. But I have had that issue with cage matches for years now.
Match Rating: ****


End scene.


Thanks for reading.









The Tirade


Hour one felt like an expensive edition of Raw. The opener was good, and the tag title match was solid, but Young vs. O'Neil was not good and what I expected. Thankfully the Wyatts and Shield had a tremendous, match of the year outing, and gave the show some hope that things could turn around. But then it was back off the cliff with the ladies title match and crowd continuing to rebel against Batista. The level of not caring for the ladies and level of people hating the Batista return are not good things.

Batista defeated Del Rio, it wasn't booked to be a great match, but you have Batista back with no real evidence that he can deliver in a big time singles match, yet is set to main event Mania. I would be concerned about this. And unless you have plans and are turning him heel prior to WrestleMania, I am not sure what WWE's end game is here. People aren't exactly connecting with Orton as a diabolical heel because he hasn't been booked well and because Stephanie cuts his nuts off in every segment they have together. And then there is Batista and the negative reaction he is getting.

The chamber match itself was overall a very good match and entertaining. Out of the Chamber, we have Bray vs. Cena, Orton vs. Batista, possibly Sheamus vs. Christian and Bryan vs. Kane to maybe lead to Triple H. In terms of setting up and going with what they were building, that is fine.

Overall this was like a lot of WWE PPVs, a lot of it felt like an edition of Raw, but the opener was good, the Wyatts and Shield was amazing, and the main event was very good. This was certainly an overall better effort that the Rumble, and due to the two strong matches, an overall good show.

Show Rating: 7.0

As a reminder, I will be going by the 411 scale…

0 - 0.9: Torture
1 - 1.9: Extremely Horrendous
2 - 2.9: Very Bad
3 - 3.9: Bad
4 - 4.9: Poor
5 - 5.9: Not So Good
6 - 6.9: Average
7 - 7.9: Good
8 - 8.9:Very Good
9 - 9.9: Amazing
10: Virtually Perfect

As a reminder, this is not a basic "how good was the show" number like a TV show, as I have always felt that a PPV is very different from a regular show. I have always judged PPV on how they built to a match, the match quality, crowd reactions to matches and angles, the overall booking, how the PPV leads into the future, PPV price and so on and so forth. I have added this in here for an explanation since so many have asked, and I have previously discussed it on podcasts. I understand that this may seem different, but that is how I grade. Obviously your criteria may be different.

Have you checked out the Csonka Podcasting Network? If you haven't, you should We run anywhere from 15-20 shows a month, discussing pro wrestling, the world of MMA, the NBA, general sports, popular TV series of the past, bad movies, battle rap, interviews, MMA & Wrestling conference calls and more! Around 10 different personalities take part in the various shows, which all have a different feel; so you'll likely find something you like. All of the broadcasts are free, so go ahead and give a show a try and share the link with your friends on the Twitter Machine and other social media outlets! Running since May of 2011, there are currently over 500 shows in the archive for you to listen to.



Larry Csonka is a Pisces and enjoys rolling at jiu jitsu class with Hotty McBrownbelt, cooking, long walks on the beach, Slingo and the occasional trip to Jack in the Box. He is married to a soulless ginger and has two beautiful daughters who are thankfully not soulless gingers; and is legally allowed to marry people in 35 states. He has been a wrestling fan since 1982 and has been writing for 411 since May 24th, 2004; contributing over 3,000 columns, TV reports and video reviews to the site.


Your heart is free. Have the courage to follow it…TO CSONKA'S TWITTER!

http://www.twitter.com/411wrestling
http://www.twitter.com/411moviestv
http://www.twitter.com/411music
http://www.twitter.com/411games
http://www.twitter.com/411mma
comments powered by