SPOTLIGHTS
Tremendous Tirades 02.24.14: Monday Night Raw
Posted by Steve Cook on 02.24.2014

Hulkamania returned brother, Undertaker returned brother, some stuff happened in between brother.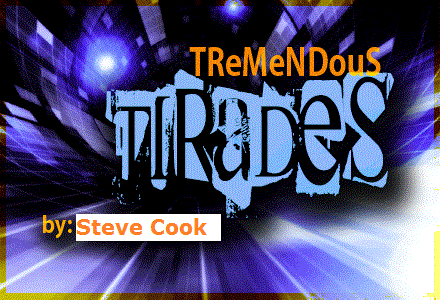 Introduction

Hi kids, it's your favorite Steve Cook here for another week of Tirade duty! I trust you all know the rules of the Tirade by now. We have a lovely Report that tells you what happened and not much else. This is a column/recap of Monday Night Raw where the writer touches on what happened but spends more time pontificating on what happened and why it was right, wrong or whatever in their humble opinion. We used to call it a Rant, but rants are so 90s. I will rate the segments on a scale of 1-10, and rate the show from 1-10 at the end. We encourage discussion & disagreement in the comment section because it's one of the many things that makes 411mania.com the best website you're reading right now. I'm assuming we're better than what's in your other tabs, but I could be wrong.
---
WWE MONDAY NIGHT RAW: THE NETWORK IS HERE!
I do not have the WWE Network yet. My plan is to wait a few days while everybody gets accustomed to things, and make sure I have it in time for WrestleMania. Not exactly shocking that the first day was a bit of a mess. Not exactly shocking that a ton of wrestling fans had nothing better to do on a Monday morning/afternoon than order the WWE Network.


I did! I got Hot 100 columns to put together, man.

BROTHER, BROTHER, BROTHER BROTHER BROTHER. BROTHER.: The announcers giving Hogan a standing ovation was a bit much, but Real American would be a better National Anthem than The Star Spangled Banner. Lots of Brothers to start, he eventually worked in a Jack or two. I'm going to end up calling the upcoming PPV "WrestleMania XXX Brother" completely unironically if this keeps up. Surprisingly this leads to Hogan posing and nobody coming out to take his heat. I assume he posed because his music kept playing while we saw announcers talking about the WWE Network.

Hogan came back, people popped, he talked about what he's up to…hosting WrestleMania XXX. I'm sure people are happy to see the Hulkster back. I'm just amused that most of the same people that are happy to see the Hulkster back laughed when TNA brought him in.

Rating (1-10): 6.5


It may surprise some of you, but I was never a huge Hulkamaniac. I started watching during Ultimate Warrior's title reign and Hogan was not wrestling on Superstars or Wrestling Challenge at that point, so I didn't see him much except when they were hyping PPVs. Unlike many people watching wrestling in my age group, I didn't "grow up on Hulk Hogan". I didn't like the deal at WrestleMania IX where Bret got hosed out of the title, and then when he went to WCW all the people I liked watching there either disappeared or got deemphasized in favor of guys I'd seen enough of in the WWF. That was before the IWC could poison my mind against Hulk Hogan, so of course when I read all that stuff about the infamous "Orange Goblin" I totally bought in. I did enjoy the Hollywood Hogan character when he went NWO, but his matches had already gone downhill by that point, and anything since then hasn't really helped. The 2002 run would have been cool if they didn't go crazy and give him the belt. The Shawn Michaels feud was fun because of Shawn Michaels. TNA…yeah, that was a waste of time.

I'm not a Hogan guy. That'll offend some of you, I'm sure, but I will say that I wasn't offended by his presence in the opening segment. He cut a promo shilling for Wrestle Mania & the Network, got his pops, and got out. Fine by me. If Hogan continues being inoffensive I'll be fine with him & my Tirades during this stretch will reflect that. But if they start teasing a match with him…

Alberto Del Rio vs. Batista: I wish Alberto Del Rio was this over when he was a face. They've done a darn good job of making "Bootista" the biggest heel in wrestling, but I'm 99.9% sure that's not what they were going for. I imagine they'll figure it out at some point, but they're in a tough time of year to do it. Del Rio has to miss a kick on Batista but Batista forgets to duck, so it looks as bad as you'd expect. Randy Orton's music plays, so ADR rolls up the distracted Batista for the 1-2-3.

I kind of liked how Orton & Batista tried to acknowledge the fan reaction in the post-match promo, so they're trying to save it. Trying. But no way in hell can that match actually main event a WrestleMania and not get shit on worse than the Louisville Cardinals were when they beat Cincinnati in the Shoemaker Center last Saturday. The worst thing about this was Batista playing into the whole "Reality Era" talking point that people thought was a thing a couple of years ago but really wasn't. Nobody actually wants to see that…one of wrestling's main appeals is it's an escape from "reality".

And poor Alberto! He got a win but it was completely irrelevant. Much like he has been for the last couple of years, sadly. I like the guy and think if he was able to move to a different territory he could get something going. But we're not in that era anymore, so he has to keep going out in front of fans that don't care…unless he's wrestling Batista.

Rating (1-10): 5.0

Big E vs. Cesaro (w/Zeb Colter & Jack Swagger): The Real Americans are total faces at this point, right? Some people really don't like the fans chanting "We The People", but I maintain that Zeb Colter's propaganda is tame compared to what you see & hear on Fox News & conservative talk radio. Etor? What the hell are the announcers talking about here? The problem with these long matches is they get long stretches of time to talk and they run out of things to say real quick. Cesaro just does some sick stuff. That guy's unbelievable…I've been saying that since his ROH days but he continues to amaze me. Big E is also a strong mammajamma, and I don't want to sell him short because his time will come, but Cesaro is operating on another plane of existence right now. Big E's a big man to be swinging, but he does it like a champ. Swagger gets mad after Big E clotheslines him on the floor & decides to Patriot Lock him…the downside is that gets Cesaro DQed. Problems in the Real American camp, but Big E still eats an awkward looking Neutralizer afterwards. Couldn't tell if Big E let go or Cesaro lost his grip, either way it didn't look great.

That was the one bad part of the match. More dissention in the Real Americans camp, which is a shame because I think they're great together and too many teams have dissention right now. Other than that, this was solid stuff. Big E does need some direction though, which is a common problem for Intercontinental Title holders.

Rating (1-10): 7.0

JOHN CENA ADDRESSES THE WYATT FAMILY: Apparently Cena forgot that the Wyatts cost him the title at the Royal Rumble. Maybe he had a really bad concussion on that show that we didn't report. Bray Wyatt mentions Green Bay before he says "we're here". I think they're officially faces now. Wyatt is such a legit character. He backed it up at the Royal Rumble & the whole Family did at Elimination Chamber…and now they're getting a feud against the biggest star in the business heading into WrestleMania. That's pretty big stuff. The Wyatts organize a beat down of Cena. It ain't your Shield's beat down, it's more drawn out & unorganized, which works perfectly for these guys. I wasn't sure about Cena vs. Wyatt as a WrestleMania feud the first time it was reported, but after the last couple of months I'm cool with that being "set in stone". Also notable here is Luke Harper sporting a vest. I think he's giving up on that top he's been wearing the past few months.

A couple of people I talk with during the show were hoping for a face run-in by the Shield…which would have made no sense. The Shield is all about injustice, and John Cena's not somebody they would be in a rush to protect. He's benefited from injustice more than anybody.

Rating (1-10): 7.0


Cena doing a stretcher job! You know shit's on when he's on a stretcher. The report from WWE, for whatever it's worth, is that Cena's knee was hyper extended as a result of the Wyatt attack.

Christian vs. Sheamus : Christian, to the shock of many, was actually in the Chamber match & lasted quite awhile. He even eliminated Sheamus, which is why this match is going on. They go on awhile because…well, why not? Two fine workers here usually. Christian working a bear hug is something else. Christian has this tendency to jump off the ropes into horrifying things like an RKO or a Brogue Kick. He might want to stop that. The match wasn't bad or anything, but it mostly felt like filler. Since both guys were in a Chamber match last night I suppose that should be expected.

Rating (1-10): 6.0


Bryan busted in on an Authority interview earlier tonight and has had about enough of Triple H. I assume this was on the WWE Network preshow. Stephanie booked him against Kane tonight, which is good because that shouldn't be a WrestleMania match. Unless this is February 2013, in which case I'd be ok with it.


This week's Black History Month honorees are Tony Atlas & Rocky Johnson! They spotlight their win over the Samoans for the tag team titles, which was part of one of the best stories in Have A Nice Day.


Dean Ambrose storms out after an argument with his fellow Shield members, then Bray Wyatt & his boys wander in so we can have a Reigns vs. Wyatt match tonight. People sound excited.


The Shield breakup continues, which is a shame. I wish to remember them as they were during happier times…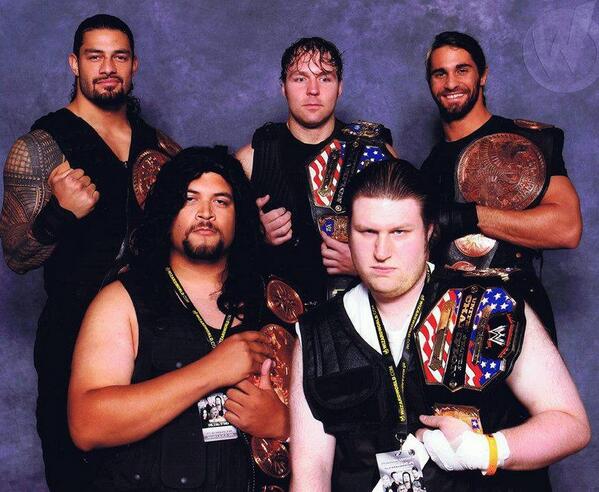 I think Rollins was happiest there because they didn't have a friend trying to be him.


Josh Mathews, Booker T & Ric Flair talk about the show. Flair starts a "Yes" chant.

Daniel Bryan vs. Kane: The good thing about Bryan being in the later portion of the 9:00 hour is they can't blame him when the ratings go down in Hour 3. Kane is once again wearing his indytastic wifebeater & slacks combo. It's still very strange hearing Michael Cole defend Daniel Bryan. He was saying all kinds of great stuff at the end of the Chamber PPV, and I kept thinking "Michael Cole's saying this? Really?". I can't get behind Corporate Kane as a name because Citizen Kane is so much better. I am glad the barricade has much more padding than it did back in the old days for the sake of Bryan on that dive he does. BRYAN KICKS OUT OF THE CHOKESLAM. That does not happen often, folks. Not only that, but Bryan, with bad shoulder & all, hits the Bushiaku knee to finish off Kane!

I'm just happy to be alive in an era where entire arenas of people chant "Yes" in approval of Daniel Bryan. How awesome is that? The challenge has been laid out for Triple H. From what I'm reading a lot of people would rather see Bryan in the title match. And there's always the worry of H going over at Mania and then jobbing the next month, which is a thing he likes to do. But hell…it's better than Bryan vs. Sheamus for no reason, right?

Right?

Rating (1-10): 7.0


Batista will tell the WWE Universe what he really thinks of them on SmackDown. That should be…something.


Hey, there's Lana! Oh, and there's Rusev.

Summer Rae (w/Fandango) vs. Emma (w/Santino) : I was just telling somebody earlier today that Emma would be more over if she came out to her own music. And there's the bubbles. So she's got that going for her. Summer Rae…well she's got everything going for her. God almighty. Current top 3 for this year's Hot 100 is her, Eva Marie & Renee Young in some order. Emma wins via Emma Lock, which is not called. Why would it be? JBL shoots down Cole trying to put over the winner of this match as a great athlete. His commentary tonight has been piss-poor, he obviously has been spending the whole day watching his own matches on the WWE Network like he said he was.

Rating (1-10): 4.0


I wonder if they'll still use still photos for the PPV recaps when they're on the WWE Network.

The New Age Outlaws vs. The Usos: Road Dogg tells the young boys to respect their elders & step out of the ring. And sure enough they do for a second. And they beat the Outlaws seconds later. Why didn't they do that last night so this feud would end and the Outlaws could go back to being an occasional nostalgia act? And since it was non-title there goes the rumored title change. Good times. I'm invoking the Csonka 3 minute rule and not rating this crap.

Rating (1-10): N/A

Roman Reigns vs. Bray Wyatt: These guys look lonely without their friends. I think both of these guys are earmarked as future top stars. Pretty easy assumption, right? They're not getting that reaction in Green Bay. Well, Bray was earlier, but not in this match. The thing is…Roman works better in multi-man scenarios. I think eventually people will realize that. The Wyatts randomly appear, Seth Rollins takes them out because he's cool like that. Ambrose comes down and they're all fighting outside, so Reigns can hit the Superman punch. And then Ambrose can come in and attack Bray to cause the DQ. Didn't we have this finish earlier? Like the first match? Things got much better once the friends arrived, but I think people that thought Reigns vs. Bray was the future of this company couldn't have been happy with what came before it.

Rating (1-10): 5.5


Hey, it's Brock Lesnar & Paul Heyman! The ending of this show should be fun.


The star of "Need For Speed", Aaron Paul, will be on next week's show. That should make Chicago forget about that Punk guy. Or not.

Brock Lesnar's Contract Signing: Paul Heyman informs us that Brock Lesnar will be allowed to face any opponent of his choosing at WrestleMania. Well, unless it involves a shot at the WWE World Heavyweight Championship. God damn Heyman is a better promo than anybody else in this company by a mile. And this speech has led to UNDERTAKER MUSIC. I think he's chosen his opponent for this year! That Green Bay crowd people were complaining about before erupts now! Undertaker makes his awesome entrance & the staredown ensues. Brock signs the contract! Undertaker signs as well, and chokeslams Lesnar through the table!

Hey, it's another match that was set in stone! I get the feeling that the Undertaker & Paul Heyman's promos will make everybody super jacked about this match by the time it actually takes place. And, frankly, it's the match I would run last at WrestleMania if I was the dude in charge. They did what they needed to do here, which was make the match.

Rating (1-10): 8.0


End scene.


Thanks for reading.



The Tirade



Like most Raws, the segments that were good were very good. Real strong ending to the show with Taker & Brock, Bryan got pushed strong for his upcoming match with HHH, the Cena/Wyatt stuff was real good, Cesaro got to shine…some good stuff here. But it wasn't perfect. I don't think Reigns vs. Bray delivered the way they were hoping it would. The commentary actively hurt a few segments. They booked the same ending to a match twice. So while there was some good stuff…it really could have been better. I think the talent & writers actually did spend the whole day watching the WWE Network like they said they did on Twitter, and forgot to get ready for the show.

Show Rating: 6.0

As a reminder, I will be going by the 411 scale…

0 - 0.9: Torture
1 - 1.9: Extremely Horrendous
2 - 2.9: Very Bad
3 - 3.9: Bad
4 - 4.9: Poor
5 - 5.9: Not So Good
6 - 6.9: Average
7 - 7.9: Good
8 - 8.9:Very Good
9 - 9.9: Amazing
10: Virtually Perfect

The final rating is not simply an average of the rated segments above. The rating takes them into account as well as the segments that are small but not scored, the flow of the show, the overall booking, build to PPV, crowd reactions, and so on and so forth.




---
Have you checked out the Csonka Podcasting Network? If you haven't, you should We run anywhere from 15-20 shows a month, discussing pro wrestling, the world of MMA, the NBA, general sports, popular TV series of the past, bad movies, battle rap, interviews, MMA & Wrestling conference calls and more! Around 10 different personalities take part in the various shows, which all have a different feel; so you'll likely find something you like. All of the broadcasts are free, so go ahead and give a show a try and share the link with your friends on the Twitter Machine and other social media outlets! Running since May of 2011, there are currently over 400 shows in the archive for you to listen to.



Steve Cook is a Gemini and enjoys drinking the occasional alcoholic beverage or nine, long walks on the beach, objectifying women and winning fantasy football championships. He graduated from the University of Louisville in 2006 & has a B.S. in Political Science with a concentration in Law & Public Policy. He has been a wrestling fan since 1990 and has been writing for 411 since August 14th, 2004; contributing nothing but headaches & utter frickin' chaos to the site. He is a living legend & the last of a dying breed.

Your heart is free. Have the courage to follow it…TO CSONKA'S TWITTER!
Follow Cook as well, it's a good time.

http://www.twitter.com/411wrestling
http://www.twitter.com/411moviestv
http://www.twitter.com/411music
http://www.twitter.com/411games
http://www.twitter.com/411mma
comments powered by