SPOTLIGHTS
411's WWE Main Event Report 3.04.14
Posted by Larry Csonka on 03.04.2014

Daniel Bryan faced former tag team partner Kane, Los Matadores challenged the Usos for the tag team titles and more! Check out 411's complete WWE Main Event report for all the details!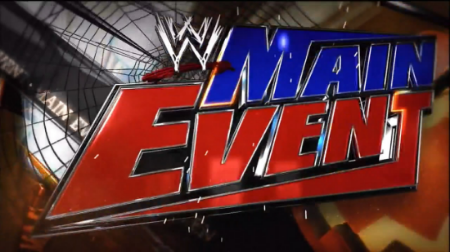 WWE MAIN EVENT 3.04.14
Match times are not exact.


Word is that the show will air live on the WWE Network through WrestleMania 30, so we'll do the old live coverage of the show if that is the case.


We get highlights from last night's Raw.



Kane vs. Daniel Bryan


Bryan charges Kane at the bell, but Kane tosses him to the corner and lays in the rights and then the boots. The ref breaks them up, but Kane right back to the attack. A whip to the corner, Kane charges in and hits the clothesline and Bryan is down. More boots by Kane, off the ropes and a knee to the gut by Kane. Basement dropkick follows and a cover gets 2 for Kane. Kane works a neck crank, trying to ground Bryan. Bryan fights to his feet, elbows, and Kane tries to toss him to the floor. Bryan on the apron, low bridges a charging Kane and he falls to the floor. Bryan off the apron, Kane catches him and slams him to the apron and then the barricade. Kane lays Bryan on the apron and stretches him around the ring post. Back into the ring and Kane covers for 2. Kane works the neck pinch now, but Bryan to his feet, elbows out again and is shot to the corner. Drop toehold to Kane and Bryan then kicks the rope into his face. Kicks in the corner by Bryan, mounted rights follow. Bryan to the floor, trips up Kane and then slams Kane's leg off the ring post. Bryan does it again, and then dropkicks the knee into the post. Bryan back in, more kicks to the leg of Kane, and then a dragon screw leg whip. Kane tries to kick Bryan away, but Bryan slams the leg to the mat. He then lays the leg on the ropes and does the old Flair cannon ball onto the leg. Kane fires back with a right, dropping Bryan and taking back control for the time being. A body slam follows for Kane, and then the elbow drop and a cover gets 2. Bryan again tries to fight back, and hits a dropkick to the knee of Kane. More leg kicks by Bryan, wraps the leg in the ropes and then hits a running dropkick to the knee. Shotgun dropkick follows, goes for another but Bryan eats a big boot and covers for 2.



~commercial time~



Back from commercial as Bryan counters a slam and hits a dropkick. Off the ropes and a big clothesline by Kane and a cover gets 2. Kane hits a side back breaker, and then keeps the hold and bends Bryan over his knee backwards. Bryan tries to fight out, lands a knee to escape and tries to get to his feet. Boot to the gut by Bryan, to the second rope and Kane connects with a right on the way down and covers for 2. Kane with the chinlock, once again looking to ground Bryan. Bryan gets to his feet, elbows again to escape, but Kane with a clubbing shot to take him down. Off the ropes, counter by Bryan, and then hits a tornado DDT and BOTH men are down. They get to their feet, leg kicks by Bryan. To the corner, Bryan backflips out and follows with a dropkick sending Kane to the floor. Suicide dive by Bryan connects! Bryan rolls Kane back into the ring, and then heads up top. Missile dropkick connects and a cover gets 2. Kane to his knees, and kicks by Bryan follow. Misses the head kick and Kane hits a side slam and covers for 2. Kane now heads up top, and hits the flying clothesline. Kane calls for the chokeslam, countered and a head kick connects for Bryan. Up top and the flying head butt hits and Bryan covers for 2. Kicks by Bryan in the corner, forearm shot by Kane and he heads up the ropes and chokes out Bryan. Bryan escapes, hits a leaping enziguri and now Bryan up on the ropes with him and Kane holds on as Bryan tries for the RANA. Kane with a DDT off the ropes and a cover gets 2. Kane is not happy about this, picks up Bryan, and hits a short-armed clothesline. Picks him up and hits another. He goes for a chokeslam, countered into a roll up and that's enough to get Bryan the win.

OFFICIAL RESULT: Daniel Bryan @ 18:00 via pin



We get highlights of the Usos winning the tag titles on Raw.


We get a commercial for the WWE/Scooby Doo movie.


Next week Main Event is LIVE at 8PM ET.


Josh Matthews is with Kane backstage and asks if he is mad that he lost. Kane is not angry, Bryan got lucky. He is angry that the sawed off gargoyle keeps challenging HHH. That misfit is not fit for a match with Kane, let alone HHH.



Nikki Bella w/Brie vs. Alicia Fox w/Aksana


Lock up to begin, side headlock by Fox. Off the ropes and a shoulder block by Fox. Drop down by Bella, Fox misses an elbow, and Bella works the arm. Fireman's carry takeover by Bella and she continues to work the arm. To the ropes, knee by Fox, but Bella with a head scissors. Corner mount and a monkey flip by Bella. Aksana distracts Bella, and that allows Fox to slam her to the mat and cover for 2. Fox with the figure four head scissors applied, Bella bridges out and off the ropes, but Fox hangs onto the ropes and Bella misses the dropkick. A suplex and bridge by Fox for 2. Fox then chokes out Bella in the ropes, snap mare follows and into the headlock. Bella tries to work to her feet as Brie hypes up the crowd. Fox looks for a backslide, Bella flips over top and hits a pair of dropkicks. Face buster follows and then a backdrop to Fox. Aksana on the apron and Brie takes her back to the floor. Fox with a roll up for 2. Shock treatment by Bella and that is all.

OFFICIAL RESULT: Nikki Bella @ 5:00 via pin



Commercial for Legends House.


The Big Show returns to Smackdown this week.


Renee Young interviews the Usos prior to their match. She discusses the response to them winning the titles. They say it hasn't sunk in yet, and they are on cloud nine. Kids, when you work hard and achieve your goal, it feels great. Everyone's excited right? Well, accept the Outlaws. What's next for them? We're going to WrestleMania!


The Outlaws now make their way out. They are dressed in street clothes, and they call Renee Tanya again and mock the crowd. They have a feeling of awe, not due to new tag champions, but because they are in the ring with the luckiest boys in the world. They have to postpone their rematch due to an injury to Road Dogg. They are not 100%, so when they are, those titles will come back home with them.


Brad Maddox appears and says he checked with doctors and Dogg is legit injured. When he is cleared, they will get their rematch. Since they have promised a tag title match, that is what they will get. Their opponents are Los Matadores.



Tag Team Title Match: The Usos © (Jimmy and Jey) vs. Los Matadores (Diego and Fernando) w/Torito


The Outlaws are on commentary. They play to the crowd, and then shake hands and we're underway. Side headlock takedown by Jimmy, off the ropes and a shoulder block to the Matador. Roll up by Jimmy and that gets 2. They trade pinning combos, arm drags exchanged, Jimmy and the Matador both throw dropkicks and stand off. Jey and the other Matador, Diego apparently, are in. Hammerlock by Diego, Jey with the counter, and then a hip toss follows. To the corner, the play to the crowd a bit and some dance by Jimmy. To the corner, tag to Jey, and an elbow in the corner on Diego, and a cover for 2. Off the ropes, reversal, Diego charges and is sent to the floor. Suicide dive connects for Jey. Fernando then flies off the top onto Jey, and then Jimmy with a dive onto both Matadores…



~commercial time~



Back from commercial as the champs are in control. Tag and a double team elbow drop and cover gets 2. Jey is in for the Usos, and works a top wristlock. Tag by the Matadores, and they double team Jey and Fernando gets a cover for 2. Tag back to Diego, they do a sloppy double team monkey flip, and a cover gets 2. Quick tags by the Matadores, slingshot senton onto Jey and a cover gets 2. The Matadores with the quick tags and double teams, and then slows down Jey with the headlock. Jey to his feet, escapes, and they hits the ropes and then clothesline each other and both men are down. Tag to Jimmy as he starts to clean house. Clotheslines, sidekick and then the full nelson bomb connects. Samoan clambake by Jimmy misses, and they then do the tombstone piledriver tease, but Fernando gets a DDT out of that and gets a cover for 2. Senton by Fernando, misses the moonsaualt, and Jimmy gets a toss up Samoan drop for 2. Diego in and breaks that up, and eats a superkick from Jey. Double superkick for Fernando. Superfly splash ands that is all.

OFFICIAL RESULT: The Usos @ 9:00 via pin


The Outlaws try to mess with Torito, who gets fired up and leaps onto Gunn (who does a totally awesome wacky sell job) and then gets a RANA. He rolls away from them, they chase into the ring and the Matadores and Torito hit a wacky triple team move on him and celebrate. Tough week for the Outlaws.


End scene.


Thanks for reading.



Have you checked out the Csonka Podcasting Network? If you haven't, you should We run anywhere from 15-20 shows a month, discussing pro wrestling, the world of MMA, the NBA, general sports, popular TV series of the past, bad movies, battle rap, interviews, MMA & Wrestling conference calls and more! Around 10 different personalities take part in the various shows, which all have a different feel; so you'll likely find something you like. All of the broadcasts are free, so go ahead and give a show a try and share the link with your friends on the Twitter Machine and other social media outlets! Running since May of 2011, there are currently over 500 shows in the archive for you to listen to.



Larry Csonka is a Pisces and enjoys rolling at jiu jitsu class with Hotty McBrownbelt, cooking, long walks on the beach, Slingo and the occasional trip to Jack in the Box. He is married to a soulless ginger and has two beautiful daughters who are thankfully not soulless gingers; and is legally allowed to marry people in 35 states. He has been a wrestling fan since 1982 and has been writing for 411 since May 24th, 2004; contributing over 3,000 columns, TV reports and video reviews to the site.

Your heart is free. Have the courage to follow it…TO CSONKA'S TWITTER!

http://www.twitter.com/411wrestling
http://www.twitter.com/411moviestv
http://www.twitter.com/411music
http://www.twitter.com/411games
http://www.twitter.com/411mma






STARTING ON FRIDAY…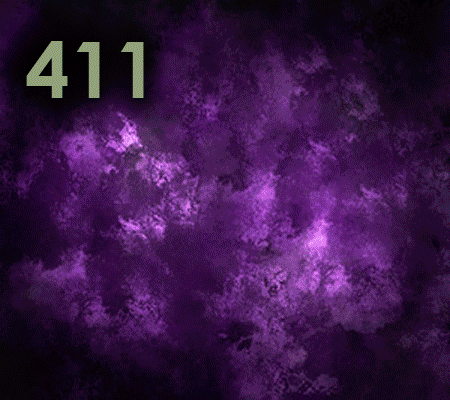 comments powered by