SPOTLIGHTS
411ís WWE Main Event Report 3.11.14
Posted by Alex Crowder on 03.11.2014

AJ defended the Divas Championship against Natalya, Dean Ambrose and Mark Henry met for the United States championship and more! Check out 411ís complete WWE Main Event report for all the details!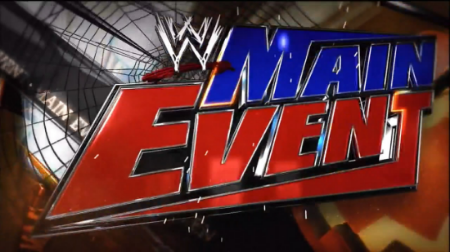 WWE MAIN EVENT 3.11.14





Los Matadors with El Torito vs. Ryback and Curtis Axel


Curtis Axel talks about Andre holding him in the palm of his hand. Axel winning the Andre trophy will be better than perfect. Ryback starts with a lockup and wins it sending Diego to the floor. Diego with a dropkick and a headlock. Ryback lifts him but Diego does not let go. Again, Ryback tries to power out. They whip off the ropes Ryback goes for a slam but Diego leaps over. Ryback pounds him. Ryback whips him to the opposite corner but he leaps over and the tag is made. Double team move as Fernando comes in they hit the total elimination! They run the ropes as Fernando tries for a sunset flip. Ryback regains the advantage and makes the tag to Axel. Axel whips him to the corner but Fernando avoids and hits a nice hurricanrana. Curtis throws him to the corner buckle and hits a clothesline to his back. A cover gets two for Axel. Curtis starts taunting Fernando and makes a tag to Ryback. Crowd gets behind Los Matadors. Ryback argues with the referee. Ryback with some punches and the knee choke with Fernando hanging from the apron. Ryback pounds him down getting two. Ryback puts Fernando into a modified chinlock but Fernando uses a jawbreaker to get out. Fernando gets a kick but goes to the wrong corner. Ryback takes out Diego and hits shoulder thrusts to the chest. A tag allows Axel in as the referee holds back Diego. A backbreaker from Axel who hops to the second rope hitting the pointed elbow drop for a 2! Curtis gets a sleeper hold that Fernando tries to fight out of it. They run the ropes but Axel hits a stiff knee. Another tag to Ryback who lifts him in a vertical stalling suplex dropping him. Ryback continues to pound away in the corner. Fernando keeps fighting back until Ryback catches a headlock and shoulder block sending him down. The big splash misses as Fernando moves out of the way. Ryback tags in Curtis Axel who misses an elbow drop. Diego in with a springboard elbow and dropkicks Ryback off. Diego is on fire hits a springboard cross body. Diego flips all the way off the turnbuckle than gets a head scissors. The crowd says Ole!! Diego up top with a senton. Ryback makes the save before the count. Fernando sends Ryback out than Curtis kicks Torito into Ryback. A rollup by Diego for 3!!

OFFICIAL RESULT: Los Matadors @ 9:00 via pin
MATCH THOUGHTS: Los Matadors win in a decent match. These teams have pretty good chemistry after facing off so many times. Plus, always nice to see Los Matadors in action. Solid opener to get the show going.

-recap of last Friday's Smackdown

-Kane will face Big Show this Friday on Smackdown




WWE Divas Championship Natalya vs. AJ(c) with Tamina


AJ has the mic and says how bored she is. "Natalya has yet another shot at my title. Have no fear, yet again I will beat her. I will prove that I have no competition. I'll prove that I have no competition and no one deserves to get in this ring with me. I'll prove why I'm the longest reigning divas champion of all time. 268-forever."

AJ skips around while circling with Natalya. Quickly, Natalya with a headlock takeover but AJ head scissors out. Natalya back to her feet and another headlock takeover. Tamina looks on. Natalya gets pushed from the ropes but hits a solid shoulder block sending AJ down. They both run the ropes. AJ tries to duck but Natalya flips over. Natalya pushes her to the ropes with a wrestling hold. Natalya runs towards AJ hitting another headlock takeover. AJ gets back to a vertical base with some kicks and an arm ringer. Natalya flips out of it and reverses grabbing the leg. Natalya keeps her grip cranked on the leg. AJ tries to fight out but Natalya applies more pressure. AJ makes the ropes. Natalya demands AJ to get back in the ring. AJ slowly gets in, yet Natalya gets another headlock then an O'Connor roll for 1. Big scoop slam by Natalya who catches her in an abdominal stretch. AJ gets out with a hip toss. Still, Natalya goes for another scoop slam. AJ escapes to the apron, but Natalya dropkicks her off.

-commercial break

AJ goes for a cover as we return getting a close 2! AJ gets a sleeper hold on Natalya. They show a replay from the commercial where AJ pushed Natalya from the turnbuckle. Nice dropkick by AJ sending Natalya down to the ground. Natalya hits a scoop slam but AJ reverses it into what I think is an octopus hold!! Natalya still tries to power out but AJ falls on her for 2! AJ sends her back down to the ground with a clothesline. AJ slaps Natalya and laughs continuing to skip around again. Natalya rolls her up for a close 2! Another great clothesline by AJ for a close 2! AJ gets another submission but crowd helps will Natalya to her feet. Natalya with the seated dropkick giving her time to recover. AJ gets up first lifting Natalya who hits a punch, then a kick to the gut. AJ returns the favor and goes to work with kicks. AJ with the foot choke and taunts while doing so!! AJ with elbows to Natalya who fights back with fire! Her own elbows seem to daze AJ. AJ with a spinning back kick. AJ bounces off the ropes with her feet into another octopus hold! Natalya again powers out going for a powerslam but AJ reverses into a rear naked choke!! The crowd seems to be into it too cheering for Natalya. Natalya flips her out and a clothesline. Now, a snap suplex by Natalya. Again, Natalya with the suplex and now a snap mare and dropkick! Natalya with slaps and a scoop suplex slam for a close 2! Natalya tries to hit the backbreaker but AJ reverses into black widow!!! Natalya powers out but AJ goes for a sunset flip and Natalya reverses into Sharpshooter, yet AJ reverses that into a small package for 2!! Natalya catches a spinning kick and goes for the Sharpshooter again!! She gets it with AJ in the middle of the ring!! AJ is in pain and Tamina looks worried! Natalya keeps on the sharpshooter, but Tamina pushes the rope to AJ allowing her to escape. Natalya goes for Tamina. Tamina keeps distracting Natalya and a beautiful shining wizard from AJ!!! AJ gets Natalya in the black widow again!!! Natalya is forced to tap out this time!!

OFFICIAL RESULT: AJ @ 16:00 via submission
MATCH THOUGHTS: Best match of the night so far! I really enjoyed it. The women can have great matches when given time like that! I'm not too surprised that AJ and Natalya had a great divas match. I would not mind seeing these two wrestle again with time! The Divas can wrestle when given time. Some of them anyway.

-Santino and Emma's date. They're eating at catering. Santino asks Emma a question and says they are celebrating her big Raw victory. Emma starts looking around noticing there is no pepper. Santino volunteers to get some taking the whole cloth causing it to fall on Emma. Then Santino hits his head on the table. Emma says she'll never ask for pepper again.

-Another commercial break

-A recap of the awesome Yes! movement segment from Raw! They show the crowd chanting yes with the occupy raw movement. Triple H gets his two security guards to intervene. They decide they want none of that as Stephanie goes crazy! Triple H sends Sandow down, but being the intellectual he is . . . he knows to not intervene. Stephanie goes crazy again! Triple H accepts a match up with Daniel Bryan. Bryan says the other stipulation where he gets added to the world championship match. Triple H tries to run down and accepts it as security prevents him from going any further.



WWE United States Championship Mark Henry vs. Dean Ambrose(c) with The Shield


Dean Ambrose looks amped up as he circles Mark Henry. Henry catches Ambrose with a knee immediately. Henry smirks towards Ambrose who goes with a go behind. Henry escapes and hits a powerful scoop slam. Ambrose decides to retreat temporarily. Henry catches Ambrose on the apron pulling him in. An arm ringer by Henry who then throws his arm over the rope working it over. Henry with a headbutt keeping control of Ambrose. He grabs the arm and kicks it. Then, he sends Ambrose over the top turnbuckle to the outside. Henry makes sure to stare down the shield while going outside. Henry taunts them before walking back in the ring. Ambrose smartly dropkicks the knee as Henry is distracted. Henry is sent tumbling from the apron. Ambrose off the steel steps with a double foot stomp.

-Another commercial break

We return with Ambrose still working the knee of Henry. The crowd gets behind Henry as Reigns watches on. Ambrose with the Indian death lock. He releases that only to catch the leg again working on it. He also gets the shoulders down for a two count. Ambrose keeps working the leg, as Henry tries to fight out. Ambrose to the second rope with a chopblock to Henry! Ambrose elbows the knee while continuing to work it. Henry kicks out, but Ambrose back to the second rope. Ambrose gets the chopblock again and grabs his leg torquing it for another two. Ambrose with the single leg crab! Henry makes the ropes escaping. Ambrose releases then starts to stomp down Henry. Ambrose to the outside pounding on a downed Henry. Ambrose with an elbow to the throat for 1! Henry power outs sending Ambrose up in the air. Ambrose grabs his leg and falls backwards. Ambrose continues to punish the left leg. Ambrose again on the second rope. Henry has had enough and gets up tossing him from the top turnbuckle. This gives him time to recover. Both get to their feet, 2 clotheslines hit for Henry. The running powerslam for Henry gets a close 2! Another headbutt from Henry sending him down. Henry than charges towards Ambrose hitting him with a Junkyard Dog style headbutt according to the announcers. Rollins alerts the referee to Ambrose's foot being on the ropes making it two. Henry goes out attacking Rollins. Ambrose waits in the ring and tries to attack, Henry sees that coming hitting a big boot! Henry up top for the Vader Bomb taunting Reigns. Ambrose sees that and pulls Henry off the ropes. Ambrose with the headlock driver for a 3!!!

OFFICIAL RESULT: Dean Ambrose @ 12:00 via pin
MATCH THOUGHTS: Another good match! Nice to see an extended version unlike the short match on Raw recently. Good main event to finish things off. The Shield seems to be back on track this week.



FINAL THOUGHTS: For me, AJ and Natalya had match of the night. Great Main Event tonight! If you want a WWE show focused mostly on wrestling this is the one to watch! Hope everyone enjoyed the recap and I thank anyone that read it!

comments powered by