SPOTLIGHTS
Tremendous Tirades 03.17.14: Monday Night Raw
Posted by Steve Cook on 03.17.2014

Triple H & Daniel Bryan take their rivalry to a level we haven't seen in WWE in quite some time.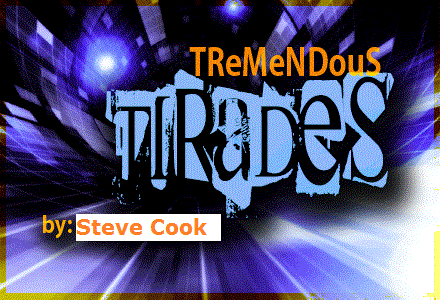 Introduction

Hi kids, it's your favorite Steve Cook! Hope y'all are fantastical. It's Monday, which means it's time to watch Raw! At least, until AMC buys WWE and we're watching Raw Is Zombies instead. Hey, maybe they can get Phil Brooks for the aftershow…
---
WWE MONDAY NIGHT RAW - ST. PATRICK'S DAY EDITION
St. Patrick's Day has always struck me as a day for amateurs. Us professionals don't need the excuse of a holiday to have an adult beverage or ten. That being said, I'm up for celebrating anything that Taeler Hendrix & Scarlett Bordeaux would like to celebrate.

Triple H Talky Time: Triple H says what will happen to Daniel Bryan at WrestleMania is our fault, and he'll talk to him later tonight. Of course Batista can't let things end there, as he's upset that billygoat faced troll could be in his match. Randy Orton is also concerned about this, and offers to take care of Bryan in a no-DQ match tonight. He also points out that the reason people cheer Bryan is because they don't believe in Batista. "If you had just lived up to your hype, we wouldn't even be in this situation right now." Batista says Orton sucks as a champion. Triple H goes to leave the ring & he's sick of all this crap. He goes nutso on both Batista & Orton. The old man was right, the only man you can trust in this business is yourself. So when Triple H beats Daniel Bryan, he'll be in the main event against Orton & Batista! We're getting a triple threat match no matter what. Orton RKOs Batista after Triple H leaves. He poses!

I like the idea of Triple H vs. Batista vs. Orton about as much as I like the idea of a hole in my head, but the added stipulation to Triple H vs. Bryan puts that outcome more in doubt. Because, let's face it, Triple H is just crazy enough to add himself to the main event & WWE Creative values their jobs just enough to let it happen.

Rating (1-10): 8.0


Batista is outta here. Not a minute too soon, I hope he doesn't get any ideas regarding Renee Young.

The Usos vs. The Real Americans: It looks like the Usos have been watching some Jeff Hardy matches lately. I don't remember one of them doing the Whisper in the Wind or Hardy's double legdrop to the lower nutsac region before. If they start doing Twists of Fate I'm outta here. Cesaro Neutralizes one of them, and the Real Americans are back in the tag team title hunt. Good, I don't want them to break up yet. Some solid back & forth action here.

Rating (1-10): 7.0


I hear Ryan Byers will be recapping WWE Slam City for 411. He gets all the good assignments.


The Shield didn't help Kane against Big Show on SmackDown. Kane asks them if he can count on them being united. They seem perfectly united here, just not on Kane's side.


Hornswoggle is here! Bad News Barrett is also here with some bad news about how we'll spend St. Patrick's Day. Seems fairly accurate for most…it's actually been a light drinking day for me. Sheamus comes out for his match & doesn't even bother acknowledging Barrett.


Sheamus vs. Titus O'Neil: Titus has dressed up for St. Patrick's Day. As Lawler says, it looks like he's had a couple green beers. Christian is on commentary, and he enters the Andre the Giant Battle Royal along with Titus. He also claims he's never lost, he's just beaten himself. He's spent a lot of time in WWE beating himself, apparently. Titus teases beating up Hornswoggle, but Sheamus catches him & takes the advantage. Michael Cole actually called a move. Sheamus wins as you'd expect. Christian tried his best out there (maybe a little too hard, it seemed like he was auditioning), but it's tough to be a guest comedian when there are already three out there. Sheamus enters the battle royal, but Christian attacks & Killswitches him on the floor! Just like most of the Irish, Sheamus now has quite the headache.

The match was what it was, and the commentary didn't help matters.

Rating (1-10): 5.0


Arnold Schwarzenegger & Joe Manganiello are coming to Raw. Scooby Doo & the Mystery Machine will be there as well. There's a 50/50 chance Jeremy Lambert will be here for that one. I did enjoy Arnold doing the Yes chant.

John Cena Addresses The Wyatt Family II: It's at least Part II, we might be up to Part III by this point. We're getting Super Serious Cena this week, as Bray Wyatt is trying to take down everything he stands for, & he will fight for his legacy at WrestleMania. Bray pops up on the TitanTron & says Bray-type things about Cena only being worried about selling merchandise & having a plastic girlfriend & things of that nature. I think he just totally spoiled the cliffhanger from this week's Total Divas episode. Now I want Cena to kick his ass, so I guess that was effective. Good stuff from both guys here, Bray's getting believable as a Cena opponent.

Rating (1-10): 7.0

No Disqualification: Randy Orton vs. Daniel Bryan: These guys may have wrestled each other more than any other one-on-one pairing in WWE over the past 365 days. When they were main eventing PPVs every month and having the worst possible finishes it got boring, but they've gotten their groove back lately. Orton explaining to the camera how there was no bell to ring because it was a no DQ match after he hit Bryan in the face with a kendo stick was pretty funny. I also liked Jerry Lawler checking on Bryan while he was laid out on Cole & JBL's chairs. Orton's busting out some cool variations on his typical moves here. Outside of the kendo stick shots & Orton with a chair, they didn't go crazy hitting each other with weapons. It was more about hitting people as hard as they could in general. Batista pops up out of nowhere to spear Orton, Bryan knees Batista & pins Orton! Bryan leaves, so Batista delivers the Batista Bomb to Orton. Those skinny jeans are defying gravity tonight.

Damn good match with these guys, which makes it weird that it was on during the 9:00 hour. I guess they wanted people to see it?

Rating (1-10): 8.5


Paul Heyman comes out to present a video package of Undertaker's recent WrestleMania matches, contrasting Taker's performances against the likes of Shawn Michaels & Triple H with Brock Lesnar's. Seems like somebody's missing from this package, but I can't quite figure out who. Nice video package, but I probably shouldn't rate video packages.


Damn, Stephanie even takes the balls off of her husband during promos. Nobody's safe!

Fandango vs. Goldust: It's been way too long since I've gotten to dedicate valuable space in this column to my lust for Summer Rae. The rumors that I'm leaving 411mania.com to follow new road buddies Summer Rae & Eva Marie are purely speculation. Goldust & Cody do some ballroom dancing of their own on their way to the ring. Summer does not look amused. You'd think Goldust would steer clear from the Divas after the Aksana debacle, but he does some Saturday Night Fever & knocks Summer into Cody's arms. I think this qualifies as some form of harassment. Also, Michael Cole thinks it was a Saturday Night Live dance, & SNL is not from the 1970s. OK. In any event, Goldust has been having a good run since his return and Fandango is one of the most overlooked guys on the roster so this goes pretty well. Well, until that rana attempt. That was…not good. Apparently Goldust got busted open & he was quite pissed off about it. Goldust does get the win, hopefully he was just shaken up there. Decent action & some amusing stuff from the Rhodes, but as usual the commentary does more harm than good.

Rating (1-10): 5.0


Undertaker appears on Main Event tomorrow night! That's interesting.

The Shield Does What's Best For Business: Kane hits the ring & blames Jerry Lawler for allowing the Yes Movement to take over Raw last week. He invites the King into the ring, and the Shield's music also hits. This doesn't bode well for Jerry as the Shield surrounds him at the announce position & accompanies him to the ring. Kane mentions they've known each other for a long time & he's not in fighting shape…does he have anything to say for himself? Rollins sees the look in King's eyes, he's got a good feeling that Bryan won't be out to save him because the Shield does what's best for business…and they turn their attention to Kane! Lawler heads back to the announce position while the Shield attacks Kane! Triple power bomb for Corporate Kane! Kane is not very good at reading people.

I guess that was the Shield's face turn to many people. I thought they already turned face during the Wyatt feud, but whatever works. It'll be interesting to see where they go from here, I'm glad they'll still be together because their matches are tons of fun.

Rating (1-10): 7.0

The Funkadactyls vs. AJ Lee & Tamina Snuka : The Bellas are on commentary to hype Total Divas & Naomi has an eye patch. Good to see she's well enough to compete again. The announcers are strangely on their best behavior with the Bellas out there, they seem to know where the power lies. Naomi seems to be back in full effect, split-legged moonsaulting AJ for the win! AJ berates Tamina after the loss, and Tamina pushes her down! AJ may be officially out of friends. Not too much to this, but not bad either, and I like Naomi being featured as a challenger once again.

Rating (1-10): 6.0


Mr. T will be inducted into the WWE Hall of Fame. Sometimes we forget just how big a deal T was in 1985-86. Pretty solid HOF class.

Big Show, Dolph Ziggler, Big E & Mark Henry vs. Ryback, Curtis Axel, Alberto Del Rio & Damien Sandow: These guys are all in the Andre the Giant Battle Royal at WrestleMania, and from what I can tell they're all favorites! I hope we get some off-beat entries soon. Maybe some football players like WrestleMania 2. Hell, Bruno Sammartino was at WM2 & he's in good shape, why not him? Dolph ends up in the Ricky Morton role because…well…you see who he's teaming with. Big Show gets the hot tag and then people take turns throwing other people over the top rope. Eventually Big Show remembers this is a tag team match & chokeslams Sandow for the win. Perfectly acceptable wrestling, as somebody used to say.

Rating (1-10): 7.0


John Cena will wrestle Luke Harper on SmackDown. They do a good job promoting the secondary shows this time of year.

Kofi Kingston vs. Bray Wyatt: Before the match we get a pretty sweet Eminem music video for the Cena vs. Wyatt feud. Too bad I already decided not to rank video packages, I'd rank that one ahead of the Undertaker/Brock one from earlier for sure. Bray spends the entirety of this match killing Kofi, as he should. Kofi takes a nasty bump off the Sister Abagail. Exactly how this match should have gone. Bray Wyatt has a major match at WrestleMania & Kofi Kingston is just another guy.

Rating (1-10): 6.0

Triple H Murders Daniel Bryan: Triple H tells Bryan that he has to do what's best for business, no hard feelings & let the best man win. A handshake? Nah, Bryan doesn't go for that. H works in a reference to how anybody else would have taken their ball & went home, and says that Bryan has earned his respect. Stephanie disagrees. Bryan put people in danger last week & she's pressing charges! The cops use some excessive force to put Bryan down, which oddly enough sets him up to be beaten by Triple H while handcuffed. And hey, they aren't actually cops! I have a feeling Triple H doesn't actually respect Daniel Bryan at all! Triple H mercilessly beats Bryan down around the ringside area. He even tries to drown him in a water cooler! That can't be PG. Stephanie gets some slaps in because of course she does. Daniel yells "YOU HIT LIKE A GIRL!" Triple H finishes him off with a chair to the skull while it's up against the ringpost. Well that's a fine. Pedigree! I'm surprised Triple H didn't bring out the sledgehammer, he's used everything else here.

The Raw postshow featured Bryan doing a stretcher job, neck brace & all while the crew wondered if he'd make it to WrestleMania.

Well, the intensity sure as hell got kicked up a notch here. Bryan took a beating the likes of which hasn't been seen on WWE television for quite some time. Of course, the dastardly Triple H didn't have the balls to do anything until Bryan was properly handcuffed. Talk about putting some heat on an angle, that's exactly what happened here.

Rating (1-10): 9.5


End scene.


Thanks for reading.



The Tirade



Pretty solid show all the way around in my book. The intensity for the WWE Championship match & the Bryan vs. Triple H match was taken to a whole different level, moreso the Bryan/HHH match to be honest. The rest of the show didn't feature anything too awful. Cena vs. Wyatt seems to be on a good path, AJ is becoming an island unto herself, and the Shield has officially turned. Lots of questions remain up in the air, which is a good thing.

Show Rating: 8.5

As a reminder, I will be going by the 411 scale…

0 - 0.9: Torture
1 - 1.9: Extremely Horrendous
2 - 2.9: Very Bad
3 - 3.9: Bad
4 - 4.9: Poor
5 - 5.9: Not So Good
6 - 6.9: Average
7 - 7.9: Good
8 - 8.9:Very Good
9 - 9.9: Amazing
10: Virtually Perfect

The final rating is not simply an average of the rated segments above. The rating takes them into account as well as the segments that are small but not scored, the flow of the show, the overall booking, build to PPV, crowd reactions, and so on and so forth.




---
Have you checked out the Csonka Podcasting Network? If you haven't, you should We run anywhere from 15-20 shows a month, discussing pro wrestling, the world of MMA, the NBA, general sports, popular TV series of the past, bad movies, battle rap, interviews, MMA & Wrestling conference calls and more! Around 10 different personalities take part in the various shows, which all have a different feel; so you'll likely find something you like. All of the broadcasts are free, so go ahead and give a show a try and share the link with your friends on the Twitter Machine and other social media outlets! Running since May of 2011, there are currently over 400 shows in the archive for you to listen to.



Steve Cook is a Gemini and enjoys drinking the occasional alcoholic beverage or nine, long walks on the beach, objectifying women and winning fantasy football championships. He graduated from the University of Louisville in 2006 & has a B.S. in Political Science with a concentration in Law & Public Policy. He has been a wrestling fan since 1990 and has been writing for 411 since August 14th, 2004; contributing nothing but headaches & utter frickin' chaos to the site. He is a living legend & the last of a dying breed.

Your heart is free. Have the courage to follow it…TO CSONKA'S TWITTER!
Follow Cook as well, it's a good time.

http://www.twitter.com/411wrestling
http://www.twitter.com/411moviestv
http://www.twitter.com/411music
http://www.twitter.com/411games
http://www.twitter.com/411mma
comments powered by