SPOTLIGHTS
411's WWE Main Event Report 3.18.14
Posted by Alex Crowder on 03.18.2014

Goldust and Cody Rhodes fought The Real Americans in tag team action, Undertaker appeared and more! Check out 411ís complete WWE Main Event report for all the details!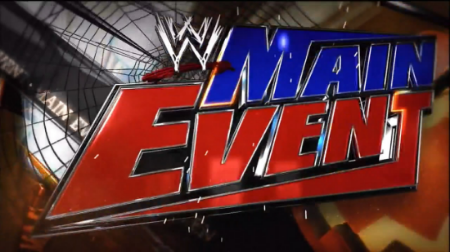 WWE MAIN EVENT 3.18.14



-Recap of Goldust and Cody Rhodes vs. Real Americans from Smackdown last week



Goldust and Cody Rhodes vs. The Real Americans(Cesaro and Jack Swagger)


Goldust will start things off with Jack Swagger. Swagger gets a headlock and shoulderblocks Goldust down taunting. Goldust is sent to the outside. We the people chant starts as Goldust comes back in and gets a headlock on Swagger. Goldust with the inverted atomic drop, throat thrust, and an armlock takedown. Cody is tagged in as they continue to work Swagger's arm. Swagger regains the advantage and tags in Cesaro who uppercuts and knees Cody. Cesaro throws Cody out, but he skins the cat. Cody with a leaping clothesline for 1 on Cesaro. Cesaro pushes Cody to the ouside. Cesaro distracts the referee allowing Swagger to pull Cody down against the apron. Cesaro pounds on Cody on the outside of the ring before throwing him in for a 2. Cesaro goes for the pin again getting 2. Cesaro with a sleeper, but the crowd gets behind Cody helping him back to a vertical base. Cesaro stops his momentum with a backbreaker. Double back elbow on Cody as Swagger is tagged in. Front facelock by Swagger, and the crowd gets behind Cody. Cody tries to fight out, and Swagger goes for a belly to back suplex. Cody flips out and gets a disaster kick. Both participants make a tag sending Goldust and Cesaro back in. Goldust with the throat thrust, inverted atomic drop, and a running knee. Swagger tires to stop him but Goldust hits him off with a diving fist drop. Code Red for two by Goldust! Goldust sends both Swagger and Cesaro out. The flying flip senton onto Cesaro, and Cody with a beautiful cross body on Swagger. Goldust rolls him in for two. They run the ropes and Cesaro catches the leapfrog by Goldust into a nice tilt-a-whirl backbreaker for 2.

-commercial break

Swagger is working Goldust's arm and hits him with a block sending him to the outside. Cesaro jumps outside to meet Goldust and clobbers Goldust with a lariat. Cesaro with a 1 count before Goldust's shoulder reaches the rope. Cesaro pulls him to the middle for 2. Cesaro with a front facelock as the crowd gets behind Goldust. Cesaro charges Goldust who kicks his face and hits a hurricanrana. Goldust goes for tag, but Swagger is tagged in first. Swagger with the Vader Bomb, while Cesaro leaps over Swagger's shoulders with the double foot stomp! A gutwrench suplex connects for Cesaro. Another tag to Swagger. Swagger grabs Goldust in a bearhug. Goldust gets out with a stiff throat thrust. Goldust hits a springboard back elbow to send Swagger to the ground! Goldust is close to the tag but Cesaro is tagged in. Cesaro hits Cody off the apron. Goldust is hit with corner European uppercut. Cesaro with the big swing and a scoop powerslam for Swagger gets 2. Cody breaks up the count. Goldust is stuck in the Real American corner. Goldust hits Cesaro off and tosses Swagger to the outside. Goldust makes the tag to Cody. Cody is on fire sending Swagger down and hitting a corner sunset flip for 2. Cody Rhodes gets the Goldust throat thrust. Cody hits both Real Americans with a springboard front dropkick. Cody goes for Cross Rhodes, but Cesaro comes in as Cody ducks. Snap scoop powerslam by Goldust to Cesaro. Cody with moonsault on Swagger for 2. Cody goes for disaster kick, and Swagger reverses into the patriot lock! Cesaro pulls the bottom rope and Goldust knocks him to the ground ending that. After that, Cody hits Swagger with cross rhodes for 3!

OFFICIAL RESULT: Cody Rhodes and Goldust @ 14:00 via pin
MATCH THOUGHTS: No surprise here, great match between two awesome tag teams. That is why I love reviewing this show, I usually get at least one good match. Goldust at 45-46 is better than he has ever been! I would love to see more work from these two maybe involving the Los Matadors.

-commercial for Slam City

-they promote Undertaker being on the Main Event later tonight

-yes movement shirt promotion

-Undertaker vs. Brock Lesnar advertisement

-John Cena vs. Luke Harper on Smackdown. That could be pretty good.



Funkdactyls(Cameron and Naomi) vs. Layla and Alicia Fox


Alicia Fox starting off with Naomi. They go for the lockup but Fox elbows out whipping Naomi, who leaps over and whiffs on the O'Connor Roll. The bridge over O'Connor roll however works well for 2! Cameron is tagged in and a double suplex hits for the Funkdactyls. A double legdrop as Cameron takes control of Alicia Fox. Fox elbows out and whips Cameron missing the clothesline. Nice wheelbarrow armdrag by Cameron to Fox. The returning Layla is tagged in and dances taunting Cameron. No problem with that. This next move, uh no idea what it was. I think they botched it. Cameron with a drop toe hold and a clothesline. Layla finally gains the advantage with a kick. Layla with a sleeper on Cameron, as the crowd gets behind Cameron. Layla hairpulls her to the ground and taunts. Layla gets the front facelock and tags in Fox who kicks Cameron in the gut. Fox continues to work the arm and elbow. Northern Lights Suplex gets 2 for Fox! Fox knees Cameron and tags in Layla who gets the corner foot choke. Layla with a snapmare. Layla misses the elbow. Naomi gets the tag and a dropkick. A rolling senton for Naomi. Naomi gets the booty shaking headscissors. Another headscissors gets 2 for Naomi. Cameron tackles Layla. Naomi hits the rear view on Fox. Naomi pulls Fox to the corner. The split legged moonsault gets 3 for Naomi!

OFFICIAL RESULT: Funkdactyls @ 5:00 via pin
MATCH THOUGHTS: Not too bad, but Cameron and Layla were a bit disjointed. They were pretty sloppy. I did think the Naomi and Fox parts of the match were good. Next time, I hope it is just Naomi and Alicia Fox.

-Another Scooby Doo Wrestlemania Mystery Commercial

-Arnold and Joe guest star on Raw as Arnold puts over the Yes chants! Maybe, Arnold is a Daniel Bryan fan.

-Raw rebound featuring Triple H's brutal beatdown of Daniel Bryan.



Big Show vs. Titus O'Neil


Titus and Big Show start with a showdown. Titus pushes Show's face away and taunts him. Show sends him to the outside and hits the big overhand chop, on Titus against the guardrail. Show starts pounding on Titus hitting another loud chop. The crowd is chanting something, but cannot tell what. Big Show hits the shushed chop. Show misses a clothesline and Titus hits a chopblock. Titus starts stomping Big Show down. Titus with that obnoxious dog bark taunt. A big leg drop by Titus for 2. Titus with the nose pull and sleeper hold. The referees admonishes Titus for that. The crowd is into Big Show. Show powers out with a belly to back suplex. Titus recovers first. Show lumbers towards Titus who hits a boot to the face. Titus hits Clash of the Titus(Sky High) on Show for 2! Titus continues to pound Show down, helping the crowd start a Big Show chant. A big elbow drop from Titus for 2. Titus tells the ref it should have been 3. Titus charges Show and hits the corner splash. Titus continues to taunt the crowd. Titus runs again and is caught in a goozle by Show who hits the KO punch for 3.

OFFICIAL RESULT: Big Show @ 4:00 via pin
MATCH THOUGHTS: Titus is slowly improving his heel work; however, Show winning is not the right result if they wanted to push him. I honestly think Titus should have won. The loss would not hurt Show too much. Okay little match nonetheless.

-Bray Wyatt John Cena feud recap

-Good Undertaker Wrestlemania package highlighting his older age being a disadvantage. Brock Lesnar is put over well in this promo video.

-Paul Heyman has arrived with a mic. Heyman introduces himself, and he is the advocate of the beast incarnate, conqueror Brock Lesnar. Heyman acts scared of The Undertaker. Heyman says Taker will get disrespected by Lesnar at Wrestlemania, so Heyman will not disrespect the Taker tonight. Heyman has to deliver a message and puts down Texas causing the crowd to boo. Heyman says he will be brief with the message. Heyman says the most prestigious commodity in the WWE is the World Championship. The streak is of equal if not greater value at Wrestlemania. 21-0 is unthinkable in Heyman's opinion. Heyman is not suggesting or predicting the streak will end. No, Lesnar says the streak will end and that is a fact. Lesnar will conquer the streak.

-Undertaker's music hits as Heyman is ready to escape. The Undertaker appears behind Heyman who looks mortified. Heyman pleads and begs. Taker goozles him not caring. Taker says one reason Heyman will walk out of here tonight. Taker wants Heyman to personally deliver a message to Lesnar. When the Undertaker gets to New Orleans he is going to slay the Beast. Once that is done, he is going to take his rotting corpse and throw it to the eternal pits of hell. Undertaker will be on Raw next Monday night if Lesnar does not understand the message.

FINAL THOUGHTS: Another good main event with a great tag team match. The tag team match was match of the night as you may have guessed. The divas match was okay, but could have been better if it was a singles match. Titus and Show deserved more time with Taker's promo ending about 3 minutes before 9. They also mentioned a four way tag match that will determine the number 1 contenders for the tag team championship. Sadly, I missed which teams. Good show, and thanks to anyone who read the recap!
comments powered by