SPOTLIGHTS
Tremendous Tirades 03.24.14: Monday Night Raw
Posted by Steve Cook on 03.24.2014

Not the best show overall, but a few moments that made me go banana.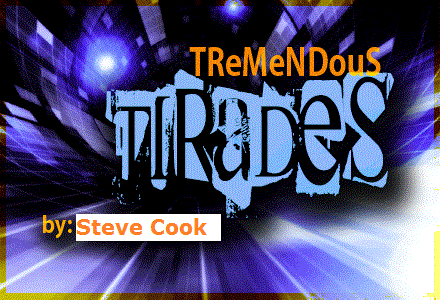 Introduction

Hi kids, it's your favorite Steve Cook! Since I think you all know how the Tirade works by now, I'll plug some stuff. I wrote about Ultimate Warrior vs. Randy Savage, which I thought was a Top 5 WrestleMania match. Jeremy Lambert & I are doing NCAA Tournament/Total Divas podcasts over at mancavethoughts.com. I did a Sports Media Hot 100! Check all that out before or after you read this, it's all good.
---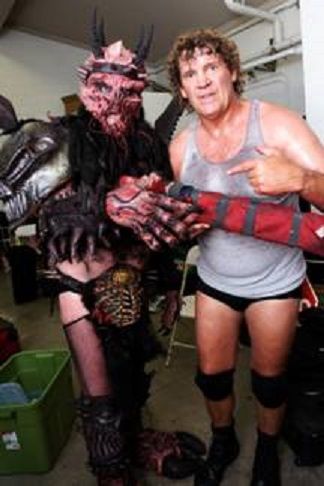 WWE MONDAY NIGHT RAW: RIP ODERUS URUNGUS
Back in 2006 I went to a GWAR concert. I even wrote about it in the 411 blog! Remember when 411 had a blog? Sad to hear the front man passed away over the weekend, there was never anything quite like a GWAR show & Oderus will be tough to replace. He wrestled Tracy Smothers once & forced the wild-eyed Southern Boy to leave Earth! Good times.


We open with clips of Daniel Bryan getting murdered last week. I still haven't heard if Triple H got fined for that chair to the head or not.

Hey, here's Batista & Randy Orton!: Stephanie comes out to run through the usual Authority talking points against Daniel Bryan & explain how the McMahons lead everybody. The Brooklyn hipsters start with the CM Punk chants, which peter out as usual. Randy Orton comes out. Of course he kisses up to Stephanie & Triple H, but goes on about how he might have to beat Triple H. These scripted lines about Stephanie are tremendous. Batista comes out to insult everybody involved. DEAL WITH IT. Speaking of which, why does Batista's new t-shirt not say "DEAL WITH IT"? Microphone issues! Somehow this turns into a discussion of who's drooling on Stephanie, and Batista gets slapped! The sunglasses fly off! Steph leaves so Batista can spear Orton.

Well, that was 15 minutes. Even without the technical issues and the crowd having little interest in anything these people had to say, not much good could have happened here. Stephanie got to be the dominant female and slap somebody, Orton got beat up, Batista posed. Rinse & repeat.

Oh, and we also got this, which was bound to happen one of these weeks:




Rating (1-10): 4.0

Intercontinental Title #1 Contender Fatal 4-Way: Alberto Del Rio vs. Christian vs. Dolph Ziggler vs. Sheamus: Big E sits at ringside but is not on commentary. That's probably for the best. Sheamus with a fall away slam on Christian into the barricade. I assume that's a tribute to the guy rumored to be announced for the Hall of Fame tonight. Sheamus does his clubbering, then goes up top so Ziggler could hit him with an X-Factor. Del Rio kicks out of the Zig Zag. He breaks up Sheamus's Brogue Kick attempt & locks in the cross arm-breaker, which leads to a Zig Zag & then a Killswitch from Christian. ONE MORE MATCH! And hey, Christian might actually win it since it's Big E on Main Event. Solid stuff here with a fun finish. I had a tough time caring about this when it started but they drew me in.

Rating (1-10): 7.0


Bray Wyatt is a creepy mofo & he talks. Do people generally think he's going to win at WrestleMania? I hear this occasionally and am confused. He is wrestling John Cena, you see.

Sin Cara (w/Scooby Doo & Mystery Machine) vs. Damien Sandow : You know, if Sandow still had a character he would be really unhappy with the presence of a cartoon dog at ringside. He doesn't, so Sin Cara squashes him. I knew Sandow was a non-factor, but dang. And if this is the entirety of Scooby's Raw appearance…what a letdown!

Rating (1-10): 3.0

Los Matadores (w/El Torito) vs. Ryback & Curtis Axel: This doesn't go too far before the Shield comes out to distract Rybaxel & Los Matadores get the win. Diego, Fernando & El Torito SNEAK off & the Shield attack Ryback & Axel! Ryback gets speared by Reigns & eats the Triple Powerbomb. Ryback's thinking "Damn, I thought this stopped happening a year ago!"

So this happened because Ryback & Axel were part of an attack on the Shield on Smackdown. I don't think this bodes well for the other people involved. They better hope they aren't booked tonight.

Rating (1-10): 4.0

The Cole/HHH Interview: Michael Cole & Triple H traditionally do a weekly interview on WWE.com, but this week they decided to do it on Raw. I'm not sure Brooklyn is the best place to do this, but whatever. This interview is establishing that Triple H has multiple personalities. Triple H complains about the fans being soft, and how he will start the Reality Era.

I think this is the true image of the Reality Era: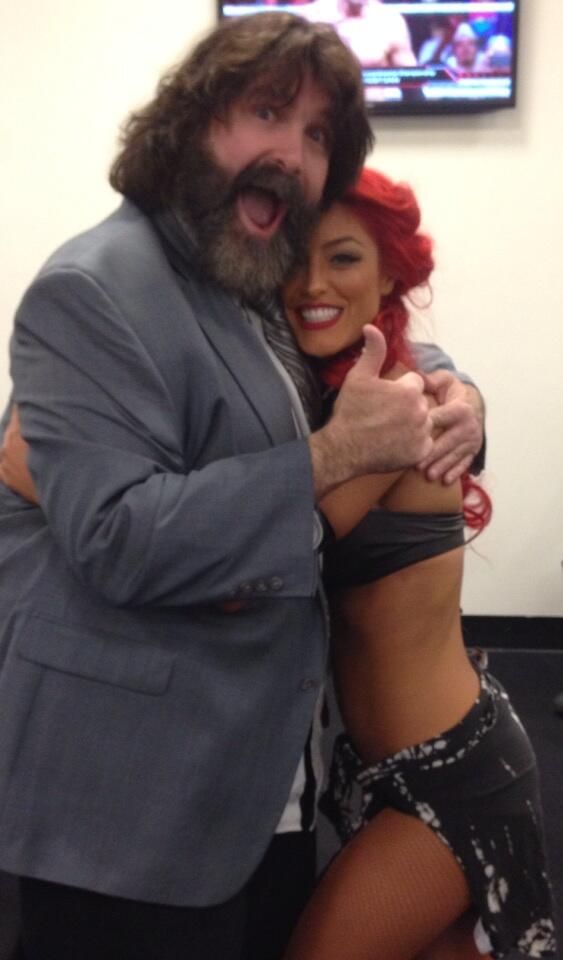 Rating (1-10): 5.0

Fandango (w/Summer Rae) vs. Cody Rhodes (w/Goldust) : I can't believe Cole's trying to pass Summer off as a stooge when what she did on last night's Total Divas was admirable. Typical wrestling logic. I'm on Team Red & Gold all the way, it doesn't get better than Eva Marie & Summer Rae in my book. Oh, there's a match. Goldust does some goofy dancing, Summer falls over, Fandango gets distracted & Cody hits the Disaster Kick for the win. This was slightly better than the two previous matches. I think the real money match here is between Goldust & Summer Rae.

Rating (1-10): 5.0

Inside the Actors Studio with Hulk Hogan, Arnold Schwarzenegger & Joe Manganiello: Hogan comes out to talk about Mr. T brother, then Arnold comes out to talk about inducting Bruno last year & being here this year with Hogan & the pythons. Apparently Arnold was tight with Andre the Giant, brother. He wants to enter the battle royal, but the Miz comes down. He says he will win, yadda yadda yadda, he gets slapped by Arnold & Joe. I have no problem believing that they could kick Miz's ass without breaking a sweat.

Rating (1-10): 5.0

Titus O'Neil vs. The Big Show: Titus goes on offense & the fans chant for CM Punk. I mean, usually I get on people for stuff like that, but you gotta give the fans something to work with. Titus is wearing Scooby Doo trunks, so there's that. Spear & knockout punch by Big Show. This was a match and it was there.

Rating (1-10): 3.5


The Shield wants to know where they stand with Triple H & Stephanie. Maybe they're not turning after all, because what kind of face kisses up to Triple H & Stephanie? I mean, I'd buy this if Roman called Stephanie "baby doll".


John Cena washes his face. It makes me yearn for the days of everybody WALKING backstage. Now we get people washing their face. What's next, people picking their nose & eating the boogers?

John Cena vs. Luke Harper (w/Bray Wyatt & Erick Rowan): I like how Bray says the name of the town he's in & people clap along with his theme music. He's an awesome babyface. That would usually be something I'd criticize a heel for, but with Bray's character being a burgeoning cult leader that wants people to follow the buzzards, it makes sense. Crowd is pretty well behind Harper in this one. I know some people were disappointed that Cena vs. Harper went 5 minutes on SmackDown, but that's why we have rematches. Harper looks like the kind of guy that has actual skeletons in his closet. That's a deranged man right there. Why do people that shouldn't be doing ranas keep trying to do ranas? Cena did one here and it looked like crap. Same thing with Goldust last week. Let the little guys do them so they look cool and people think doing a rana is impressive and don't go "well anybody can do it". Harper is proving he belongs in this situation. Cena lifts Harper for the AA, the lights cut out & Cena is tied up on the ropes with a sheep mask on! I'm going to assume this is a no-contest. The fans think it's awesome.

Now that was some good stuff. The non-finish doesn't bother me for two reasons: it was on Raw, and the visual with Cena in the sheep mask was awesome. I've said before that Luke Harper is a big time ballplayer waiting to happen, and just like Cesaro he stepped up to the plate against the #1 man in the company.

Rating (1-10): 8.5

Naomi (w/Cameron) vs. AJ Lee (w/Tamina): AJ wusses out of the match and gets counted out, but Vickie Guerrero, who AJ insulted on SmackDown commentary last week, decides that AJ will compete in the Vickie Guerrero Divas Championship Invitational against Naomi, Cameron, Brie Bella, Nikki Bella (damn), Natalya, Eva Marie, Emma, Aksana, Alicia Fox, Summer Rae, Rosa Mendes, Layla & Tamina! AJ's title reign may or may not be in trouble, kids.

Although Nikki was looking way, way too good tonight, I'm obligated to support Red & Gold at WrestleMania. At some point I'm going to have to pick between them in the Hot 100 & it'll break my heart.

Rating (1-10): 5.0


Razor Ramon will be part of the Hall of Fame Class of 2014, continuing our theme of "Speeches that would have been a train wreck a few years ago". I will say that I was a huge Razor Ramon fan and was sure he'd be WWF Champion. Interesting he's going in as "Razor Ramon" & not "Scott Hall". I'm guessing Scott Hall, Hollywood Hulk Hogan & Kevin Nash go in together as part of a group at some point.

Seth Rollins & Dean Ambrose (w/Roman Reigns) vs. The Real Americans (w/Zeb Colter): This match is tough. Who do I root for? The Shield kicks ass, but WE THE PEOPLE is also awesome. Rollins & Ambrose are expected to be a tag team combination for quite some time, so it makes sense for them to get this slot over the traditional Rollins & Reigns duo. I get the feeling that Cesaro & Ambrose would be a really fun singles match. Rollins trying in vain to grab Swagger before he runs across the ring to do the Vader bomb is awesome. Ambrose is a shockingly great Ricky Morton. CESARO SWING! Ambrose does some awesome powering up after the commercial and does a Jawbreaker Lariat like he's Nigel McGuinness! Rollins with the hot tag & he's mocking the Real Americans like the prick we know & appreciate him as. Rollins is just flying around like a maniac now & people are loving it. These men must remain good guys! Rollins finishes Swagger with the Peace of Mind (formerly known as the Blackout, formerly known as the Curb Stomp)!

Rating (1-10): 8.0


Reigns Superman punches & spears people after the bell because why not? They clear off the table and it's time to Triple Powerbomb Cesaro! Lawler points out that it's all Kane's fault. Kane comes out with the New Age Outlaws, who are wearing suits for the first time in recorded history & announces they will face the Shield at WrestleMania.


Can we all agree that the Shield must be together forever? I don't want Rollins & Ambrose to turn on Reigns. They should all be friends while Reigns gets his singles push & Rollins & Ambrose tear up the tag team scene & team with Reigns in key situations. Not doing this doesn't make sense to me.

Beast vs. Streak: Paul Heyman talks about how Undertaker's streak will be ended by Brock Lesnar. Brock doesn't want to promote the match, he wants the Undertaker out there right now! So we get some druids & a casket & some Celtic chanting. Brock does not look impressed by all this. He has a new shirt that says EAT SLEEP BEAT THE STREAK, if you're keeping score of these things. He stomps on the casket! Turns out there's nobody inside. IS THIS SOME KIND OF JOKE? Brock is displeased. Oh I hope he beats up the druids. Those assholes have had it coming for years. Well, now he's in the casket. And he's in the ring. Brock takes a clothesline bump over the top onto the casket! Damn, did he learn nothing from Shawn Michaels? PLAY UNDERTAKER'S MUSIC.

Nothing too crazy here, typical Undertaker WrestleMania build stuff. But the people seem to eat it up, so go with it.

Rating (1-10): 7.0


End scene.


Thanks for reading.



The Tirade



This show had some high highs. I really liked the stuff with John Cena & the Wyatt Family. The Shield/Real Americans tag was a good piece of business. The Undertaker stuff was what it was, I dug it. The Fatal 4-way picked up late. Besides that...yeah, a lot of useless stuff. No Daniel Bryan, instead we got Batista ripping his pants & Triple H trolling an ESPN writer. I'm sure some people liked Hogan & Arnold, but it didn't do much for me. Scooby Doo didn't even solve any mysteries! If you look at the show as a whole it was kind of a disappointment for WrestleMania season, though there were some good moments.

Show Rating: 6.0

As a reminder, I will be going by the 411 scale…

0 - 0.9: Torture
1 - 1.9: Extremely Horrendous
2 - 2.9: Very Bad
3 - 3.9: Bad
4 - 4.9: Poor
5 - 5.9: Not So Good
6 - 6.9: Average
7 - 7.9: Good
8 - 8.9:Very Good
9 - 9.9: Amazing
10: Virtually Perfect

The final rating is not simply an average of the rated segments above. The rating takes them into account as well as the segments that are small but not scored, the flow of the show, the overall booking, build to PPV, crowd reactions, and so on and so forth.




---
Have you checked out the Csonka Podcasting Network? If you haven't, you should We run anywhere from 15-20 shows a month, discussing pro wrestling, the world of MMA, the NBA, general sports, popular TV series of the past, bad movies, battle rap, interviews, MMA & Wrestling conference calls and more! Around 10 different personalities take part in the various shows, which all have a different feel; so you'll likely find something you like. All of the broadcasts are free, so go ahead and give a show a try and share the link with your friends on the Twitter Machine and other social media outlets! Running since May of 2011, there are currently over 400 shows in the archive for you to listen to.



Steve Cook is a Gemini and enjoys drinking the occasional alcoholic beverage or nine, long walks on the beach, objectifying women and winning fantasy football championships. He graduated from the University of Louisville in 2006 & has a B.S. in Political Science with a concentration in Law & Public Policy. He has been a wrestling fan since 1990 and has been writing for 411 since August 14th, 2004; contributing nothing but headaches & utter frickin' chaos to the site. He is a living legend & the last of a dying breed.

Your heart is free. Have the courage to follow it…TO CSONKA'S TWITTER!
Follow Cook as well, it's a good time.

http://www.twitter.com/411wrestling
http://www.twitter.com/411moviestv
http://www.twitter.com/411music
http://www.twitter.com/411games
http://www.twitter.com/411mma
comments powered by