SPOTLIGHTS
411's WWE Main Event Report 3.25.14
Posted by Alex Crowder on 03.25.2014

Sheamus, Alberto Del Rio, and Dolph Ziggler lock up, as the winner receives a championship match later in the night and more!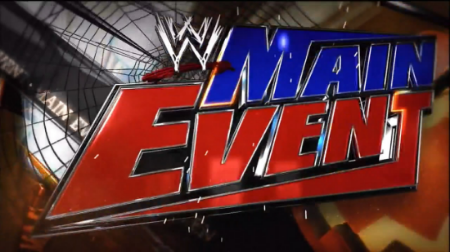 WWE MAIN EVENT 3.25.14



-Christian is apparently unable to participate in an IC match due to a concussion. Another number 1 contender matchup is happening now between the remaining participants. The winner will face Big E later tonight.



Number 1 Contenders Match for IC Championship Sheamus vs. Alberto Del Rio vs. Dolph Ziggler


Dolph gets the biggest pop of the 3. All three men brawl in the corner with Dolph and Sheamus mostly beating on Del Rio. That changes quickly, as they start brawling. Alberto comes back stomping away on Sheamus then throwing Dolph out of the ring. Sheamus meets Del Rio with a lariat. Sheamus with three falling knees on Del Rio for 2. Big E continues to watch on from the outside. Sheamus hits the rolling fireman's carry slam on Del Rio. Now Dolph is back in as Alberto retreats. I think a Let's Go Ziggler chant started. They lockup but Sheamus shoulder blocks Ziggler down. They circle before Dolph gets the go behind on Sheamus, but he elbows out. Again, Sheamus with the shoulder block and runs again to be met with a beautiful dropkick by Ziggler. Sheamus with a running forearm sending Dolph down. Dolph gets a roll up on Sheamus for 2 as Del Rio distracts him. Sheamus kicks out and takes control again. Sheamus misses the back body drop and Ziggler tries to counter with a knee that misses. Sheamus calls for the apron forearms on Dolph but Del Rio hits a kick to the head. After that, Alberto sends Dolph into the barricade.

-commercial break

Del Rio pinning Ziggler for 1..2.kickout as we return. Dolph fights out of a sleeper but Del Rio catches him in a tilt-a-whirl backbreaker for 2. Sheamus tries to come in but a front dropkick by Alberto sends him back out. Del Rio goes up top and Ziggler catches him with a dropkick. Both men recover slowly as Dolph hits a flying forearm, then a splash and falling neckbreaker for 2! Del Rio with a back kick but ends up between the top and middle rope. Sheamus hits 10 beats as the crowd chants the numbers. Sheamus catches Ziggler in the Irish Curse Backbreaker as Saxton calls it. Quickly, he does the same to Alberto. That only gets 2 on Del Rio. Sheamus calls for the Brogue Kick and the crowd seems pumped, yet Ziggler ends his momentum with another dropkick. Del Rio stomps Ziggler in the head and goes after Sheamus, who kicks him down and athletically flips onto the top rope. Del Rio with a bridging german suplex on Ziggler for 1..2..no kickout! Now, Sheamus comes off the top with the battering ram for 2. Alberto goes for the armbreaker but Sheamus sees it coming. Sheamus dumps Del Rio with a lariat. Ziggler hits an awesome DDT reversal, 1..2..then Sheamus kicks out. The crowd is buying the near falls. Dolph's next neckbreaker is reversed into White Noise, which is reversed into a victory roll. Sheamus reverses that too into the Cloverleaf. Del Rio with a superkick on Sheamus, 1..2..kickout! Now Ziggler hits the fame asser on Del Rio for another close count at 2. Ziggler goes for Zig Zag but Sheamus Brogue Kicks him clear out the ring! Alberto rolls up Sheamus for 2, but Sheamus hits White Noise 1..2..no! Del Rio kicked out of White Noise. Sheamus goes for another cloverleaf but Alberto breaks out and gets the cross armbreaker on Sheamus in the middle of the ring. Sheamus lifts out of the cross armbreaker and misses Brogue Kick on the rope. Del Rio goes for a backstabber on Sheamus but Ziggler gets a Zig Zag on Del Rio as he does so 1..2..3.

OFFICIAL RESULT: Dolph Ziggler @ 15:00 via pin
MATCH THOUGHTS: I'm surprised how over Dolph stays despite his booking. The match started slow but really picked up towards the end. The near falls were great and the crowd was hot for Dolph. Great opener.

-Dolph is interviewed as the crowd goes crazy for him. Ziggler says he is going to Wrestlemania to win The Andre The Giant Battle Royal as the IC Championship. Dolph taught Big E almost everything he knew. Big E is no showoff but he is IC Champion. They even mention Dolph's World Championship run with Big E by his side. Nice continuity.

-Raw Recap with Batista, Stephanie, and Orton. I do like seeing Stephanie slap Batista's sunglasses off again though. Still, was better when Jericho made fun of Stephanie.

-Batista is expected to address us on Smackdown.

-Total Divas commercial



10 Woman Tag Natalya, Eva Marie, Cameron, Naomi, and Emma vs. Alicia Fox, Summer Rae, Layla, Aksana, and Tamina Snuka


AJ joins the announce team which I have no problem with. Layla starts with Natalya. Natalya starts throwing clotheslines. A snap suplex for 2 on Layla. Natalya tags in Emma. AJ steals boyfriends a lot apparently. Emma gets the go behind and O'Connor Roll for 2 on Layla. Emma gets the Tarantula on Layla, then Emma dropkicks her down. Alicia Fox is tagged in and Emma takes her to a corner and tags in Eva Marie. Eva Marie with a headlock takedown, but Alicia regains the advantage. Eva starts elbowing the other divas as they all jump in. Big brawl as all 10 divas enter the ring. Order is restored as Alicia gets an arm ringer on Eva. Alicia hits the bridging northern lights suplex for 1..2..kickout. Summer Rae tags in putting her knee into Eva's neck. Aksana in a good heel move makes sure to kick Eva when she is tied up in the ropes by Summer. Alicia Fox comes back in and snapmares Eva Marie and misses the split leg drop. Alicia tags in Tamina but Eva tags in Naomi. A botched hurricanrana, as Naomi starts to control Tamina hitting a crossbody for 2. Aksana and Alicia Fox make the save, and all the divas come back in leaving Eva Marie and Emma standing. Tamina lariats both of them down, but Naomi comes back in until a superkick hits for Tamina 1..2..3.

OFFICIAL RESULT: Tamina, Aksana, Layla, Summer, and Alicia @ 7:00 via pin
MATCH THOUGHTS: The Eva Marie, Layla, and Tamina portions were a little disjointed. Nothing offensive, but too short for me to really get into. AJ was good on commentary and put over the Divas match.

- Tamina does not seem happy with AJ celebrating with her. AJ hugs Tamina who seems more and more irritated by her presence.

-Fatal 4 Way at Wrestlemania: Usos will defend the Tag Team Championship against Los Matadors, Real Americans, and Rybaxel. If they took out Rybaxel and gave those teams time it could be a sleeper. Either way, should be good.

-Bray Wyatt Cena Promo. The promo is extended this time including the segment where Cena ended up in a sheep mask. They even kept in the This Is Awesome chant. Bray Wyatt is pretty much saying everything that Cena Haters have said.

-Bad News Barrett is here. I think this guy is gold, but that's just my opinion. He's got some bad news, It is clear that Cena is freaked out by Wyatt and The Wyatt Family just like all of you get freaked out every time you look in the mirror. Everyone should wear a sheep mask, so they'll never be confronted by the reality of your hideous faces.

-Hall of Fame advertisement



Intercontinental Championship Dolph Ziggler vs. Big E(c)


The crowd is solidly behind Dolph for this one. They lockup and Big E overpowers Ziggler easily. Another lockup with the same result. A clothesline hits for Big E sending Dolph to the ground. Ziggler goes underneath Big E grabbing the go behind. Big E reverses that with a headlock takedown for 1. They fight back to a vertical base, as Big E sends him back down with a headlock takedown. Ziggler pushes Big E to the ropes. They run the ropes until Ziggler hits a dropkick sending Big E down. Both men are up as Ziggler uses his speed to go underneath. Big E fights out though and whips Ziggler. Dolph leaps over the press attempt. Another stiff clothesline for Big E

-commercial break

We return with Big E in control missing a shoulder thrust and hitting the post. Ziggler slowly recovers and ducks under a clothesline hitting a cross body with punches. A corner splash for Ziggler and a Rude's Awakening for 1. Ziggler misses the fame asser and Big E starts hitting clotheslines. Belly To Belly Suplex hits for Big E who runs the ropes too many times allowing Ziggler to hit a dropkick. Ziggler tries a clothesline and is caught in a Ura-Nage by Big E 1..2..kickout. Dolph hits that beautiful jumping DDT 1..2..kickout. Big E with a falling clothesline for a close 2 count. Big E puts the straps down, but Ziggler hits a fame asser 1..2..kickout and Dolph can't believe it. Ziggler misses a superkick, and Big E hits the Big Landing 1..2..3..

OFFICIAL RESULT: Big E @ 8:00 via pin
MATCH THOUGHTS: Good match. My only gripe is that 6 minutes remain in the show. Why not let them use those 6 mins for the match.

-Dolph and Big E hug showing respect for each other.


FINAL THOUGHTS: Good show. The opening match ended up being match of the night, despite a slow start. The Divas match was okay, and Big E vs. Ziggler was another good match. Until then, I'll be back next week. Thanks to anyone that read the coverage.


comments powered by