SPOTLIGHTS
411ís WWE Main Event Report 4.01.14
Posted by Alex Crowder on 04.01.2014

The Miz faced Sheamus one on one, while Nikki Bella took on Tamina on the road to Wrestlemania!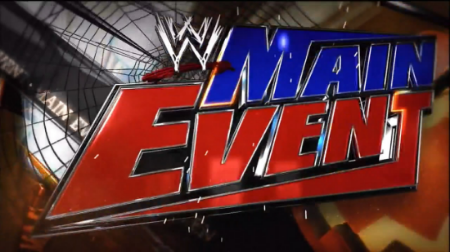 WWE MAIN EVENT 3.11.14





The Miz vs. Sheamus


Sheamus locks up with Miz to start this one and pushes him to the corner. They lock up again as Sheamus grabs a headlock slamming him down. They get back to a vertical base as Sheamus refuses to let go of the headlock. Miz takes advantage of the break kicking to the midsection before latching on with his own headlock. Sheamus fights out hitting a shoulderblock. After that, Sheamus hits a tilt-a-whirl backbreaker. 1..2..kickout. Miz goes to the outside leading Sheamus in and trying to attack him to no avail. Sheamus starts pounding on Miz in the corner. Miz finally gains momentum with a dropkick to the knee. He attacks the arm relentlessly and sends Sheamus into a corner. Sheamus gets a kick and stiff clubs to Miz's back. Sheamus and Miz run the ropes, and Miz uses that chance to lower the rope sending Sheamus to the outside. Quickly, Miz hits a front dropkick baseball slide. Miz tries to hit him with a crossbody but Sheamus catches him in a fallaway throwing him into the barricade!

-Commercial break

Sheamus has Miz in an armlock. Miz fights out only for Sheamus to unload on him in the corner. Sheamus then sends him to the outside with a strong clothesline. Miz runs at Sheamus who on the apron leapfrogs over him showing great athleticism! He goes for a running powerslam into the post but misses hitting his head on the post. Miz follows that up with a running big boot. Back in the ring, and Miz hits him with a seated kick to the face. A running clothesline hits for Miz who goes up top hitting a double axe handle. 1..2..kickout. Miz grabs a sleeper now. Sheamus fights out but misses a clothesline that Miz counters into a neckbreaker. He then chokes him out on the ropes. They start trading strikes until Miz big boots the midsection. 1..kickout. Miz now goes to a chinlock. Miz hits the kitchen sink knee to the midsection and taunts pointing to the Wrestlemania sign. Miz runs right into a clubbing clothesline. Sheamus with more clubbing forearms, shoulder thrusts, the knee trembler and he finishes it up hitting a rolling senton on the Miz. Miz uses a hotshot on the ropes to regain the advantage. He goes up top for the ax handle and is caught in the Irish Curse backbreaker. Sheamus goes for White Noise, but Miz counters it. Sheamus continues to go for it until Miz hits an implant DDT. 1..2..kickout. Miz works Sheamus' knee in the corner and goes for the figure 4. Sheamus battles out and goes for the Cloverleaf. Sheamus misses the Brogue Kick, and Miz goes for skull crushing finale. He ends up in the rope for Sheamus' ten beats. Now, his turn to go up top but Miz sees it coming and pulls him off. Miz gets the figure 4 in the center of the ring. Sheamus grabs the bottom rope escaping. Miz goes for it again but Sheamus is up and hits Brogue Kick. 1..2..3.

OFFICIAL RESULT: Sheamus @ 14:00 via pin
MATCH THOUGHTS: I'm not a big fan of either guy, but I got into it. Sheamus seems to be on a roll lately. I think anytime that two even decent wrestlers get time like that, the result is good. That was a better match than I expected.

-Promotion for the Andre the Giant Invitational

-Wrestlemania advertisement. I'm disappointed to find out that the Tag Team match is preshow because I was looking forward to it. I must have missed that on Raw.

-Good John Cena and Bray Wyatt promo, and this just proves that WWE can still have a great match promo when they want!

-The Vickie Guerrero divas championship invitational is highlighted

-The Bella twins are interviewed. Brie says her preparation is the same and she is used to the chaos for the championship match at Wrestlemania. Nikki is more prepared than ever for Wrestlemania. Brie and Nikki cannot agree on who will be the new Divas champion, but can agree that there will be a new champion.




Nikki Bella vs. Tamina Snuka


The stream is cutting out while the Bellas are coming out. Luckily, I missed nothing it started right back where it froze. AJ accompanies Tamina to the ring. Tamina and Nikki circle each other before going into a lockup that Tamina wins. Tamina gets the arm ringer that Nikki flips out of reversing. The stream froze again and ends up in the right place. The quality went down drastically though. Nikki hits a dropkick and gets a triangle choke on Tamina. Nikki beats her face into the mat while in the triangle choke. Pretty innovative actually, and Tamina escapes the triangle choke as the stream freezes again. Nikki gets the spinning headscissors on Tamina. Tamina catches Nikki with a hard clothesline and finally takes her vest off. Tamina gets a cover for 2. Tamina admonishes the referee for the 2 count. Tamina pulls Nikki up by the hair and headbutts her. Tamina gets a chinlock as a Let's Go Nikki chant is started. AJ cheers for Tamina on the outside. Tamina whips Nikki who kicks her while upside down from the corner. A running clothesline, dropkick, and back body drop on Tamina for Nikki. Nikki snapmares Tamina onto her knee in a nice move, but her momentum is halted when Tamina sends her throat into the rope. Nikki is on the outside as Tamina makes sure to kick Brie Bella down in a nice heel move before sending Nikki back in the ring. Tamina hits a kick sending Nikki Bella down and hits a Superfly Splash. 1..2..3.

OFFICIAL RESULT: Tamina @ 6:00 via pin
MATCH THOUGHTS: Nikki Bella surprised me, probably because I never watch her matches. Nikki has improved since the last time I paid attention. A decent little divas match. That could have been even better with time.

-An advertisement for Ultimate Warrior: The Ultimate Collection (that should be good)

-Advertisement for Hulk Hogan on Smackdown

-Raw recap featuring the Beast Incarnate Brock Lesnar finally getting the better of the Undertaker

-The stream froze again during the Raw Recap. The Network holds up better for live events than taped or past events it seems. I hope that is not a problem during Wrestlemania. The quality remained better this time at least and didn't go down like the last match.

-Hall of Fame induction ceremony advertisement

-Wrestlemania advertisement

-A raw recap of Randy Orton facing Batista in a No DQ Match. Stephanie might be the most obnoxious announcer I've ever heard and that includes Art Donovan or whatever his name is. That is good heel work though. Honestly, I don't mind seeing this again knowing the end result. Orton even pulls out the vaunted kendo stick to beat down the Animal. The crowd goes insane, as Bryan comes out of nowhere and pounds Triple H's head in. Orton tries to pull him off to no avail. The crowd response is great. Orton finally pulls him off sending him into the stairs. Even in his home town, Bryan is more popular than Batista. Batista spears Orton down and lifts Bryan only to get hit with the knee. Bryan hits the suicide dive on Triple H, as Triple H sells this beautifully like a coward afraid of Bryan. Daniel beats the hell out of him with a kendo stick. Bryan finishes things off by hitting Orton with the knee. Yes chants galore. Triple H actually gave one of his best sell jobs during that beating.

FINAL THOUGHTS: Not a bad show for being mostly recap. The two matches were good, so that is all you can ask for. Thank you to all who read the recap.
comments powered by