SPOTLIGHTS
411's Evolve 28 Report 4.03.14
Posted by TJ Hawke on 04.04.2014

Evolve continues to be an awful wrestling promotion. I forgot how frustrated it could make me.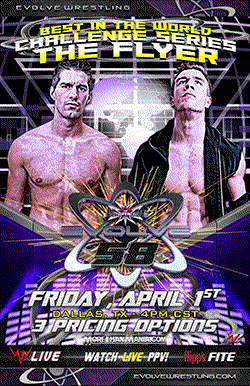 EVOLVE 28



My internet is being awful right now, but the picture looks good. I want to make clear the issues are on my end and not WWN's end. Hopefully, it will all work out.

Biff Busick vs. Drew Gulak
This is the sixth match these two have had in the last few years. Gulak defeated Busick in the finals of the 2013 Evolve Style Battle tournament. Their other matches were in Beyond Wrestling and Wrestling Is.

Things started a little slowly, and my internet made my stream a little choppy. The latter is definitely causing me not to properly appreciate the work being done. This could be a very long night for me (or I may quit very early). Busick got control and applied a bearhug variation, but Gulak suplexed his way out of it. Gulak then got control and got a rollup, but Busick survived. Busick then got a sleeper. Gulak survived and delivered some hard chops. The stream continued to suck. I'm reading I'm not the only one with problems, which may mean it's not entirely my internet issues. I know this must make for some enthralling reading. Busick avoided a diving lariat, but Gulak then connected on a discus lariat that turned Busick inside out for a nearfall. Busick got another sleeper. The crowd has been fairly lively for this (other than Green Lantern Fan who looks like his usual miserable self). Busick dropped Gulak on his head with a suplex and then hit two big lariats for nearfalls. Gulak got the Gu-Lock, and LLLL helpfully pointed out on commentary that Busick had never escaped that before. Busick then escaped and got the sleeper. Gulak tapped out!

I don't think Busick had ever defeated Gulak before. The match seemed like a strong opener, but my streaming issues (whether it was on my end or WWN's) preventing me from really appreciating the match.

Correction: Busick won with a Rear Naked Choke.

WWN has apparently decided to "restart the system." I guess it was not just me with the problems.



Green Ant vs. Maxwell Chicago
As much as I enjoy Maxwell, this is a very big waste of Green Ant.

Green Ant throttled Maxwell at the start. Maxwell tried to bring the match back to his wheelhouse. Green Ant agreed to take a headlock but then just hit Maxwell with a backbreaker. The stream is working perfectly! Yay! Maxwell sent Green Ant into a turnbuckle and then hit a butterfly suplex. Green Ant quickly got back control though. This match isn't too bad or anything, but why is Green Ant beating up a lovable loser? Maxwell hit a "triple jump"swinging neckbreaker. He then hit a comedic dive. Better than a middle rope tope sucida. Maxwell has successfully gotten over. Green Ant predictably got heat from the crowd for coming back. Booking babyfaces is very hard. Maxwell went for a top rope move, but slipped and then jumped into a superkick. Green Ant hit a Michinoku Driver and then applied the cloverleaf. Maxwell tapped out.

Both men came into the match over. Maxwell then got over even more, which caused the fans to turn on Green Ant. I don't know. Seems fairly stupid to me, but I doubt Green Ant's weekend will be affected much as a result. The match itself was fine besides the weird dynamic created with the crowd. A year or so ago, I would have been more annoyed by the booking of Green Ant here. I just do not care enough about independent wrestling these days to do more than roll my eyes, laugh, and move on. This match did not accomplish anything beyond being moderately entertaining in the moment. That is fine, but Green Ant should be so much more wherever he goes.
Match Rating: **1/2



Caleb Konley (w/ Su Yung & Mr. A) vs. AR Fox
I think AR Fox vs. the Premiere Athlete Brand is a thing in WWN, but I do not really know.

Fox got a fairly sizable pop coming out. He ran through Konley, his awful hair, and leopard print gear at the start of the match. Fox got his shit in, and the crowd ate it up. Caleb eventually cut off Fox and then worked him over. Fox came back with a Twister. Fox hit Mr. A with a kick and then did a very labored setup for a Lo Mein Rain. Konley got his knees up to block a senton. They started going back and forth. Konley hit a nifty Spaceman Moonsault for a nearfall. Konley applied the O-Face submission, but Fox escaped and hit Chris Sabin's finisher (the name is escaping). Ok, Jon Davis was right. This match was better than I thought. Konley then murdered Fox with a diving DVD onto the apron. One of the stupidest things Fox has ever done. Again. Konley brought him back into the ring, but Fox caught him with a small package. I guess you could say this was similar to the Tyler/Danielson finish from ROH's Breakout 2008. I guess.

The Premiere Athlete Brand attacked Fox after the match.

As you would expect, these two really tried to have the best match possible. They busted out some nifty exchanges and even saved the biggest spot for the end. Yay. Was the ending annoying? Yes. I understand the reasons for doing it, but that does not mean I care at all or enjoyed it.
Match Rating: ***1/2



I took a bathroom break and came back to...
Moose vs. a jobber
Moose won.



The Bravados (Lancelot & Harlem Bravdado) (c) vs. The Gentleman's Club (Chuck Taylor & Orange Cassidy) [Open the United Gate Championships]
Moose was with the Bravados, and Drew Gulak was with the Club.

The match started as a brawl. Cassidy tried to hit Moose with a dive, but Moose caught him and tossed him back to the ring. The Bravados then worked over Cassidy. Cassidy eventually escaped and tagged out to Sexy Chucky T. Chuck's haircut makes him look like a Bravado. The teams started going back and forth. A Gulak distracted allowed the Club to get a genuine nearfall, but they cheated twice to do so. The crowd quickly cooled off on this. The Club then had the match won, but Bryce Remsburg got pulled to the floor by a Bravado. A very CREATIVE finishing sequence. Chuck accidentally knocked Cassidy off the apron and then ate the Gentlemen's Agreement: 1...2...3

Orange Cassidy walked out after the match and left the building.

Fail. I don't have the motivation to tear that apart more than that.
Match Rating: *



Intermission

Random links!
The only Wrestlemania blog worth following!


I have a second wind. The first half was only okay. The opener was probably good, but I couldn't tell. The Fox/Konley match was really good with a finish that did it no favors at best and brought it down a lot at worst. The tag title match was a failure in my eyes. The booking of the closing stretch was convoluted, poorly executed, and represents tired af booking tropes. I'm sick of wrestling companies getting "creative" with their finishes. It really alienates me from the product. Granted, this is exactly what I came to expect from WWN companies over a year ago, which is why I stopped watching them on tape (I've been to three live shows). This is what they are, and I have accepted that. I'm not invested too much into this show, and thus, I'm not all that worked up about the booking. It needs to be stated how poor it's been though. The intermission has been long af. Stop that.



We FINALLY come back and are graced with Larry Dallas and LLLL in the ring. I could not understand anything that they said. I think LLLL cut a promo on him though. This interview segment was the necessary cooldown from the hot 45 minute intermission. Fucking christ, some of us actually have real jobs and have to be up in the morning. The last hour plus of this WWN Experience has been some bullshit.



Ricochet vs. Tony Nese (w/ Su Yung & Mr. A)
Make it fast, fellas. Ricochet is the Open the Dream Gate Champion and thus, not losing this match.

It's 11:30 on a work night, and these guys are doing Rob Van Damn stalling. Mr. A interfered, and Nese started to work over Ricochet. It went on a for a bit. It was not interesting. Ricochet eventually made a comeback. They started going back and forth. I'm at the point where almost every single wrestling match is the same to me. Especially on the indies. Am I growing up? Is wrestling no longer for me? Ricochet hit a big dive. Nese avoided the Benadryller and hit a combination of movez. Ricochet eventually hit his Meteora and the Benadryller: 1...2...3

This match was lacking in emotion, and I never really got invested in it. The crowd seemed to be more into it than I was though. So, yay? I've been having trouble getting into Ricochet's stateside matches recently though. Hopefully, the Gargano match tomorrow is much better. Also, Ricochet's new finish is awful.
Match Rating: ***

Ricochet cut a promo after the match. Gargano came to the ring. WHY IS EVERYTHING ON THIS SHOW TAKING FOREVER???? Gargano attacked Ricochet. Rich Swann made the save...

Johnny Gargano vs. Rich Swann
Swann was running through him until Gargano dropped him on the apron to cut him off. Heat segment. Swann came back. They traded punches. Swann got some momentum. They went back and forth until they both collapsed. Surprisingly, I believe that was the first time that spot was done tonight. They went back and forth some more. Lawn Dart on the floor. Ouch. Lawn Dart in the ring. Gargano went to use the FIP tag title on Swann, but the referee caught him. Gargano then successfully used the Freedom Gate title for a belt shot: 1...2...3. Lololololol.

On a show with too many awful finishes, this was clearly the biggest wet fart of them all. This was one of those finishes that complete negates the work put in before the match. Awful stuff. My dander is getting up.
Match Rating: **3/4

Ricochet attacked Gargano from behind and hit him with his shitty finisher.



Chris Hero(c) vs. Trent? (w/ Su Yung & Mr. A) [Evolve Championship]
Hero came out in a ski mask. I did not get why. I'm okay with that.

Trent? sent out some very amusing tweets to hype up this match. I recommend you check them out. My friend is trying to convince me that this match will end in a draw. I will laugh my way to no sleep and being grumpy all day tomorrow. WWN is like a misbehaving child. You try to stay calm and easy-going. Then the kid keeps fucking up in the exact same way over and over again, and eventually, I cannot stay cool anymore. Now, I'm literally assuming the worst so my guard is up.

Nothing of note happened until Trent? cut off Hero with a superkick on the floor. Trent? then worked him over. Hero started to come back but then he choked himself in the ropes. Shades of Sami tripping last year! They started going back and forth. Trent? got control and then taunted Hero about getting fired and being fat. Hero fired up. Trent? hit the Jig 'n' Tonic for a nearfall. More back and forth action. REF FUCKING BUMP BECAUSE THIS SHOW DID NOT ALREADY SUCK. The Premiere Athlete Brand pounced. Hero fought back and took them all out. Busaiku Knee from Trent?: 1...2...NO! The crowd woke up at least. Hero blocked a second one and hit a Cyclone Kill: 1...2...no. Another Busaiku Knee: 1...2...no. LLLL said the kneepad was loaded. END THIS MATCH. PLEASE GO HOME. Hero hit a couple of kicks and another Cyclone Kill: 1...2...3

I hated just about everything in this match. Yes, they worked hard, but I did not enjoy it one bit. It was long for the sake of being long. Nothing about the match warranted the length whatsoever. There was a gosh darn ref bump for no earthly reason. UGH. Sorry folks. I should be able to form more coherent thoughts on why that sucked so hard, but I'm not Superman.
Match Rating: 1/2*



The 411: An awful show. Do not exchange money or time for it.

Thanks everybody for reading! You can send feedback to my Twitter or to my email address: Shabang728@gmail.com. Also, feel free to check out my own wrestling website, FreeProWrestling.com. Also, check out my Best of Chikara blog and an archive of all my 411 video reviews.
comments powered by