SPOTLIGHTS
Tremendous Tirades 4.03.14: EVOLVE 28
Posted by Larry Csonka on 04.04.2014

The slate of WrestleMania week events starts with a whimper…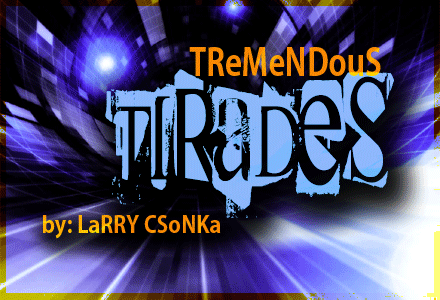 Introduction
As a reminder, this will not be another traditional recap, but instead it will be a mash up of the Rs, Instant Analysis and my usual Twitter ramblings I would do during the shows; completely uncensored and as the ideas flow unfiltered to the old keyboard. Remember, this is a review; and I am here to review the show. As always, I encourage discussion and even disagreement, just do so in a respectful manner. I will be doing the review for Raw and most PPVs and iPPVs going forward.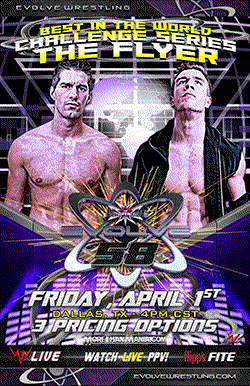 EVOLVE 28



Drew Gulak vs. Biff Busick : This is a rematch from the 2013 Style Battle Finals, which was one of my top 15 or so matches from 2013. They work a fun, but different style as compared to most of the EVOLVE/DGUSA roster; closer to Regal vs. Finlay style of match. Unfortunately the first show of the WrestleMania week has the first streaming issues of the week. It was choppy and lagging, and Gabe told people on Twitter to close your other programs if it is lagging. Pretty sure that it's your connection, not my Microsoft Word. And if I close that, how can I do this review? A few minutes later we were told to refer to the term of service if we still have issues…






This is why people hate iPPV. What sucks is that this was one of the matches I was looking forward too the most. I do appreciate Gabe doing customer service, which is more than a lot of people do when it comes to these issues (ROH I'm looking at you). Unfortunately I cannot discuss the match, as I couldn't see enough of it. I saw some good stuff in there, as expected, Gulak won via submission. I will have to go back and watch that on VOD.
Match Rating: Cannot Give Rating


They are rebooting their system.

Green Ant vs. Maxwell Chicago: For those unfamiliar with his work, Maxwell Chicago is a comedy wrestler. He can either be really good or really annoying, it just depends on the opponent and how much comedy that they work into the matches. Green Ant decided that he would have none of that comedy shit and beat the piss out of Chicago at the bell. This match had a much better mix of comedy and serious wrestling as opposed to many Chicago matches. Green Ant was serious and looking to just get his work done, while Chicago was Chicago in a good way. The crowd also understood Chicago, and they played along (holy shit chants for a standing Thesz press after faking a suicide dive and lots of shenanigans) and eventually were won over by Chicago. Green Ant won via submission (superkick followed by a cloverleaf @ 11:00), and while I would have booked Green Ant against someone else, this was solid. I felt this was a good follow up to the serious opener as well as placed well to get the crowd into things after the technical issues.
Match Rating: **


The iPPV issues from the opening bout have been repaired.

AR Fox vs. Caleb Konley of the Premiere Athlete Brand w/Su Yung and Mr. A: Fox has had an issue with the Premiere Athlete Brand (mainly Baretta and Nese) going back to when he had the EVOLVE Title, so the match with Konely is an extension of that. I also see Ricochet, Rich Swann & AR Fox and the Premiere Athlete Brand being the main competition at Mercury Rising in the six-man tournament. I was a big fan of Fox's EVOLVE Title run, and feel Konely has potential, but needs the right booking. As we all remember, the Scene surely wasn't that proper booking. At times they had really great ideas of what to do in the match, sometimes it worked very well, other times it came off very sloppy. The one thing that I did really like about the match is that it felt different from the first two matches. Match one was the technical match, match two was a comedy match, but this match was more of a fast paced, lightweight style match. This match was a big chance for Caleb Konley. He has gotten a lot of chances, more than almost anyone in the WWNLive family, but for one reason or another, it just never clicked. He had to deliver this weekend. The booking made Konley look great. He went move for move with the guy that held the EVOVLE Title for almost a year, he countered his trademark stuff and looked like he was at the level that Fox has been presented at. Konley countered Lo Mien Pain into a DVD off the top onto the apron, which got a huge reaction. Of course the finish was Konley rolling Fox into the ring and immediately getting rolled up for the win (18"00). Konely, Mr. A and Yung beat down Fox after the match. This was a tremendous match (best I feel Konley has looked) with a horrible ending that took away a bit from the in ring performances. Remember, the booking should enhance, not take away from the match.
Match Rating: ***½



The Bravado Brothers came out to introduce MOOSE, who murdered a jobber in short order. MOOSE is a former Atlanta Falcons football player that is on "Grandma Bravado's" payroll to take care of her boys.

Open The United Gate Championship Match: Champions The Bravado Brothers w/Moose defend vs. The Gentleman's Club of Chuck Taylor & Orange Cassidy w/Drew Gulak: At DGUSA: Revolt, Chuck Taylor and Orange Cassidy defeated champions Harlem and Lance Bravado via DQ, and then at DGUSA: Way of the Ronin, Harlem and Lancelot Bravado defeated Chuck Taylor and Drew Gulak. Both matches were more angle and story rather than action, and I hope that this one is better. They were advertising that " If Taylor & Cassidy Do Not Win, They Will Never Get Another Title Shot vs. Bravados," but commentary has not mentioned it one time thus far. Overall good action, back and forth and kept a good pace and had some good near falls. Unfortunately the crowd did not seem to care all that much about what was going on in the ring. Taylor got slamming into Cassidy, which led to the Gentleman's agreement and win for the Bravados (12:00). Orange Cassidy walked out on the Gentlemen's Club post match. Commentary finally played up the stipulation post match after dropping the ball. The Bravados continue to be in limbo as thy are more gimmick than performers now, Taylor is motivated but seems to get nothing, and the fact that they forgot the stipulation and never hyped on it during the match was not good. The whole thing was really not good. It was probably a good thing they went to intermission here, this whole thing felt cold…
Match Rating: *½


Intermission.


The intermission lasted about 45-minutes. They apparently had to fix a cable according to Gabe on Twitter.


Larry Dallas came out for an interview. You couldn't understand him and no one cared.

Gargano Picks Ricochet's Opponent: Ricochet vs. Anthony Nese of the Premiere Athlete Brand w/Su Yung and Mr. A: Gargano is on commentary, he does what he does for the kids. Ricochet challenges Gargano for the title tomorrow, and should win here. Ricochet is the Open The Dream Gate Champion and is awesome; Nese is really good and more importantly has been consistent for the past year, so this should be good. As you'd expect, Mr. A got involved early to allow Nese to get the advantage. Some tremendous exchanges by both men, that really got the crowd into things. They loved Ricochet, but got pulled into the back and forth action, thanks to the work from both men. Nese slipped off the ropes towards the end, doing a dead jump from the ring to the top for a SUPERRANA, but they effortlessly used it for Ricochet to hit Chocolate rain and the driller kick (Benadryller) for the victory (18:00). Not really a fan of that for his finish. Nese had the unfortunate slip, but they made it work very well, one of the better recoveries you'll see. Overall a good match, almost on par with Konley vs. Fox, but it was missing something.
Match Rating: ***¼


Ricochet cut a post match promo and Gargano came out as well, but I really couldn't make out what they said, due to the audio quality. Eventually Gargano attacked Ricochet, and Swann made the save. That led to the next match.

Ricochet Picks Gargano's Opponent: Johnny Gargano vs. Rich Swann: These former stablemates have had a couple singles matches and several tag matches against each other. During the commentary of the Ricochet match, they sold that Gargano may be overlooking Swann. Gargano should be dropping the title tomorrow, and shouldn't be losing here. Big time back and forth action in this one, playing off of their past matches. Gargano was doing anything he could to win, including the Gargano escape, dropping Swann head first onto the apron and using the lawn dart into the steel post. Swann survived, and Gargano finally used a belt shot to retain. Swann has grown tremendously as a performer, which I have discussed so many times. He is a great face "MOVES" wise, but is also now learning to work well as a face to get sympathy and get the crowd behind him from that aspect. Tons of hard work here, and it felt as if we were going to get a great match, and then it just ended as we got another lame finish (15:00). Remember, the booking should enhance, not take away from the match.
Match Rating: ***


Gargano beats down Swann after the match, but Ricochet makes the save and poses with the title.


EVOLVE Championship Match: Champion Chris Hero defends against Trent Baretta of the Premiere Athlete Brand w/Su Yung and Mr. A: Hero has been having good outing since his WWE release, while Baretta has been one of the more consistent performers for the WWNLive universe, also delivering several good matches. This is honestly one of the matches I was really looking forward too for the WrestleMania weekend. At one point Hero looked to do a dive, well tease the dive and kind of flip back into the ring, but got caught in the ropes and almost Foley'd himself. I totally dig Hero's style; because he mixes so many elements into his matches that each one comes off differently, which is appreciated. Another thing I appreciated from the action here is that it felt as if they had a purpose, with it being a title match and all. Some of the other matches, finishes aside, had that "this is a match" feel, the way this was worked made me feel that this was important. At one point Baretta told Hero that he was nothing, that Claudio was at WrestleMania and that Hero was released for being fat. That led to Hero firing up and then they just started kicking the shit out of each other and kicking out of each other's big moves. AND THEN THE REF BUMP as Hero elbowed the ref on accident. Sure, why the hell not. Nese and Konley hit the ring, and hit a DVD and 450 on Hero. Hero avoided the splash from Mr. A, and then fought off the Premiere Athlete Brand. Baretta then used a loaded kneepad and couldn't get the win. Hero fought back with rolling elbows and won (30:00). The crowd seemed to like it, but it was way too overbooked for my liking and that took away from the overall match, which I felt was going really well; remember, the booking should enhance, not take away from the match. I know, I am repetitive, but so was the booking.
Match Rating: **½



End scene.


Thanks for reading.


The Tirade


After some iPPV issues during the first match, WWNLive got things together and as far as the stream went, delivered a good show. I do want to mention that they really need to work on the lighting of these events. While not as bad as some past events, at times the image was too dark, and made it difficult to watch. They also need to do something about the audio for the house mic, or drop the promos all together, because they are a struggle to decipher. They do not need "WWE production" levels, but the show needs to be a bit easier to watch. You cannot, in my opinion, build a loyal fan base when these issues keep happening.

This show clocked in at near four hours due to the reboot of the system and long intermission and felt every minute of it. There was some good wrestling, but all of that seemed to be negated by the poor booking and bad finishes of the matches. Everything I looked forward too just ended upcoming off poorly. Unfortunately, I cannot call this a good start to the WrestleMania weekend. This was simply frustrating to watch.

Due to not being able to watch the opener, I will not be able to give a final score at this time. I will try to catch the opener on VOD and update the score later.

Show Rating: n/a

As a reminder, I will be going by the 411 scale…

0 - 0.9: Torture
1 - 1.9: Extremely Horrendous
2 - 2.9: Very Bad
3 - 3.9: Bad
4 - 4.9: Poor
5 - 5.9: Not So Good
6 - 6.9: Average
7 - 7.9: Good
8 - 8.9:Very Good
9 - 9.9: Amazing
10: Virtually Perfect

As a reminder, this is not a basic "how good was the show" number like a TV show, as I have always felt that a PPV is very different from a regular show. I have always judged PPV on how they built to a match, the match quality, crowd reactions to matches and angles, the overall booking, how the PPV leads into the future, PPV price and so on and so forth. I have added this in here for an explanation since so many have asked, and I have previously discussed it on podcasts. I understand that this may seem different, but that is how I grade. Obviously your criteria may be different.

Have you checked out the Csonka Podcasting Network? If you haven't, you should We run anywhere from 15-20 shows a month, discussing pro wrestling, the world of MMA, the NBA, general sports, popular TV series of the past, bad movies, battle rap, interviews, MMA & Wrestling conference calls and more! Around 10 different personalities take part in the various shows, which all have a different feel; so you'll likely find something you like. All of the broadcasts are free, so go ahead and give a show a try and share the link with your friends on the Twitter Machine and other social media outlets! Running since May of 2011, there are currently over 500 shows in the archive for you to listen to.



Larry Csonka is a Pisces and enjoys rolling at jiu jitsu class with Hotty McBrownbelt, cooking, long walks on the beach, Slingo and the occasional trip to Jack in the Box. He is married to a soulless ginger and has two beautiful daughters who are thankfully not soulless gingers; and is legally allowed to marry people in 35 states. He has been a wrestling fan since 1982 and has been writing for 411 since May 24th, 2004; contributing over 3,000 columns, TV reports and video reviews to the site.


Your heart is free. Have the courage to follow it…TO CSONKA'S TWITTER!

http://www.twitter.com/411wrestling
http://www.twitter.com/411moviestv
http://www.twitter.com/411music
http://www.twitter.com/411games
http://www.twitter.com/411mma
comments powered by