SPOTLIGHTS
Tremendous Tirades 4.05.14: SHIMMER 62
Posted by Larry Csonka on 04.05.2014

SHIMMER 62 delivers as Cheerleader Melissa and LuFisto steal the show, even if the booking wasn't helping them…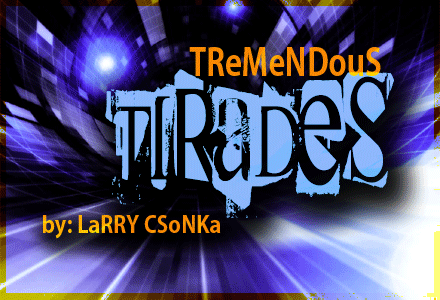 Introduction
As a reminder, this will not be another traditional recap, but instead it will be a mash up of the Rs, Instant Analysis and my usual Twitter ramblings I would do during the shows; completely uncensored and as the ideas flow unfiltered to the old keyboard. Remember, this is a review; and I am here to review the show. As always, I encourage discussion and even disagreement, just do so in a respectful manner. I will be doing the review for Raw and most PPVs and iPPVs going forward.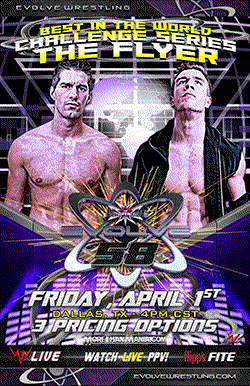 SHIMMER 62
EVOLVE 28 review.

2014 - A Wrestling Odyssey review.

The show started 26–minutes late.


Daffney is the host and ring announcer for the show.


The static sound from last night returned for a bit, but they fixed it.

Nevaeh & Sassy Stephie vs. Solo Darling and Heidi Lovelace: Nevaeh & Sassy Stephie were on the Wrestling Odyssey show yesterday. I've been a bit disconnected from the SHIMMER & SHINE products, and haven't seen a lot of Solo Darling and Heidi Lovelace. From what I saw yesterday Nevaeh & Sassy Stephie are a good heel team, while Lovelace and Daring are the happy go lucky face team. The heels had the heat on Daring, Lovelace got the hot tag and ran wild, and got the crowd behind her well. Nevaeh & Sassy Stephie eventually won clean with a double team spinebuster, which felt like anticlimactic finish. Completely fine opener, and with Daring being the debuting star, her taking the fall was both fine an expected in the match. This was a solid way to kick off the show.
Match Rating: **


They took a break to fix some lighting issues. The building was nice and bright, and when they came back it was darker,

Veda Scott vs. Leva Bates: Leva Bates came out dressed as Gambit from the X-Men. Bates is a really fun performer, and I think Scott has been improving. This is a match of fan favorites. Solid action, quick back and forth and Bates got the win. Bates is over with the SHIMMER crowds, and is more established overall so I expected her to win. Scott did well, and wasn't completely squashed either. Bates won with the Pepsi Plunge (Pedigree off the ropes). They hugged after the match; the crowd liked it and like the opener, it was perfectly fine.
Match Rating: **


Amber Gertner is an extremely horrible commentator. I mean distractingly, taking you out of the show horrible.

Vanessa Kraven vs. Kay Lee Ray: Vanessa Kraven is a big chick (supposedly over 6 feet tall), especially compared to Ray. Ray is billed as a risk taker and high-flyer, so we'll have the basic monster vs. little person match. Both are making their SHIMMER debuts. Kraven controlled most of the match, with Ray doing the big babyface comeback and hitting her senton and dive to the floor. She countered a powerbomb into a sunset flip and scored the win. They spent the match selling Kraven as on the level of Eagles and Havok, and then had her lose. The commentary, especially Amber Gertner, has not been good for many reasons on this show this far. Something like that is one of them, you cannot build up someone like that only for them to lose. But that's just my opinion. They worked the formula well, they both worked hard and we got a good match at the end of the day. Both should be used more for SHIMMER and or SHINE, but again, commentary has to be careful as to how they hype someone. I feel that they hurt Kraven a bit with their over hyping.
Match Rating: **¾


The crowd has been responding well to everything this far. They are fans of the promotion, they know who everyone is, and are helping the show with their participation.

Non-Title SHINE Title Match: Ivelisse © vs. Kimber Lee: Ivelisse was added to the card due to Barbi Hayden having travel issues. Ivelisse had a good outing with Jazz at the Wrestling Odyssey iPPV. I am a huge fan of Ivelisse, and in the small sample of Lee's work I have seen, she has been good so this has a lot of potential. Good fire from both ladies, and they worked a really hard-hitting and physical match; very different from the previous matches so it felt especially fresh. Ivelisse won with the running code red. Great effort from both ladies, I apparently need to see more Kimber Lee as I really liked her here. Ivelisse delivered, and is having a good weekend representing herself and SHINE. Again, why TNA passed on her I will never know. This was very good stuff.
Match Rating: ***½


I hate that they "fixed" the lighting. It is too dark again, like the previous shows this week.


Nicole Matthews came out for promo time. She says her second best friend Madison Eagles will help her challenge for the tag titles since Portia Perez cannot be here.

Candice LeRae vs. Athena: Candice LeRae is making her SHIMMER debut. LeRae gets a ton of praise for the work she does in PWG and had a big fan following. Athena has gained a lot of momentum over the past few years, including a big win over Hamada in SHIMMER. I haven't seen a lot of Athena, and what I saw was older stuff, but she is damn impressive. Her work, the selling (RVD like on the DDTs and such), the entire package is great and if you are a fan of women's wrestling an don't know who she is, make sure to seek her out. Candace did very well in her SHIMMER debut, they gave her a lot against the more established talent, and she delivered for her part. I think that this was the best possible opponent for LaRae, as they seemed to bring out the best in one another. I certainly hope LaRae gets more chances with SHIMMER. Athena won with the "O-Face," which looks like a top rope blockbuster, but ends in a stunner. It's rather awesome. Athena feels like something special when you watch her, and I feel after that I need to see more of her.
Match Rating: ***½


It's cute how commentary can joke about "having drinks" and or "I've been intoxicated" on commentary while doing their best to ruin the show, specifically Amber Gertner.


Martinez cut a promo, but the sound, like the other shows, isn't the best. It's an open challenge for her title.

NCW Femme Fatale International Title Match: Mercedes Martinez © vs. Courtney Rush: I like that they are having this match on the show. The SHIMMER tag titles have changed hands on a NCW show, and they seem to have a good relationship. Courtney Rush also regularly works there, so they are keeping it in the family, and hopefully getting some publicity. Lost my feed for about a minute there, which was the first streaming issue of the show. This was another good match, rounding out a very strong first half for SHIMMER. It was slower than the previous two matches, but it worked overall. Martinez has been delivering for years, and Rush keeps improving. The finish was a bi tout of nowhere for my tastes, but it was another good match.
Match Rating: ***



Intermission time. The intermission lasted 23-minutes.


Nikki Storm came out and cut a promo. Horrible audio meant that I couldn't hear this promo. Again.

Nikki Storm vs. Thunderkitty: I haven't had a chance to see anything from either lady. Ok, you know when your friends want to show you a picture of their baby, and they say it's the most beautiful baby in the world, and then you see the picture and it's ugly as sin? But you don't want to be THAT friend that tells them, so you just look and smile and say, "that's a baby!" Well, this was a wrestling match; an ugly wrestling match that you should never watch.
Match Rating: DUD


Hikaru Shida vs. Evie: Much like the last match, I haven't had the chance to see either lady. Lets hope this one works out for the better. After the previous match killed the positive vibes I had going for the event, Hikaru Shida vs. Evie brought them all back. Again, this was my first time catching these ladies in action, and they delivered. Some good mat wrestling, a good pace, good crowd reaction to the work that they did and some intense striking. This was an extremely impressive performance from both ladies, the best match in the show thus far, and I certainly want to see more of them in the future. For as bad as the previous match was, this one pretty much made me forget about it.
Match Rating: ***¾


SHIMMER Tag Team Title Match: Kellie Skater and Tomoka Nakagawa © vs. Nicole Matthews and Madison Eagles : Kellie Skater and Tomoka Nakagawa have held the tag titles for over 350 days, and have defended the title six times. Nicole Matthews has held the tag titles two times (with Portia Perez). Madison Eagles is a former SHIMMER champion, defending the title nine times over 539 days. Skater and Nakagawa ran wild early, but then the heels got control and worked over Nakagawa. Eagles and Matthews played a game of one ups-womanship while working over Nakagawa. This of course would set up the issues late in the match between the headstrong heels, and allowing the champions to retain their titles. Booking wise it was by the numbers, but in a good way as SHIMMER heads into their tapings next week. Overall another strong match from competitors you expect to have a good outing.
Match Rating: ***¼


2 Out of 3 Falls – 90 Minute Time Limit SHIMMER Title Match: Champion Cheerleader Melissa vs. LuFisto: Back at SHIMMER 20 in 2008 they had the "SHIMMER match of the year". They also faced at SHIMMER 60, Melissa retained but got busted open by LuFisto and needed stitches. Melissa is the only two-time SHIMMER champion, and has held the title since last WrestleMania weekend (April 6th, 2013) and she has defended the title six times. The early part was about what you'd expect when planning to work or to tease working a long match. Deliberate, slower paced and mat based. Melissa is so good as a heel, she does all the small things to make you hate her and to get heat. They also did some tremendous counter wrestling, playing off of their past matches, and showing that they know each other. LuFisto scored the first fall with the Mangle-izer (think Sister Abigail). Melissa immediately hit the air raid crash to even things up. That happened at about the 20-minute mark. I hate that booking in two of three falls matches. At the 30-minute mark they went wild with a striking exchange and suplexes (German and Tiger) leading to LuFisto working a guillotine. And FUCK. Just as I was about to say such nice things, they did a ref bump. Martinez ran in and hit LuFisto with the title and that allowed Melissa to retain the title. I guess that the good news is that unlike other shows this weekend that was the ONLY shenanigan filled finish on the show. But, I have seen so much of that recently that it is becoming infuriating. This was seriously heading towards a MOTY candidate, but the cheap, cliché, over done and lazy ending hurt the match. There has to be a way to keep Melissa as champion without using the belt shot crutch. The finish was one that just made you bang your head off the desk, because it felt like a betrayal of the in ring work. Remember, the booking should enhance, not take away from the match. This was an outstanding performance by both ladies, they should be commended.
Match Rating: ****


End scene.


Thanks for reading.


The Tirade

I need to note, again, that the lighting and audio are still problematic, just like starting late is an issue. Again, I do not need or expect WWE level production, but the show needs to be clean.

As noted in the report, the commentary for the show was largely horrible, and it did a disservice to the work of he ladies in the ring. Constantly joking around, Gertner sounded confused at times and just saying stuff that just didn't make sense while laughing it off. They made jokes, and I have no idea of Amber Gertner was actually intoxicated or playing a gimmick but she was absolutely horrible.

For the most part this was a well booked show. Only one bad match, with everything else being good to very good and everyone working hard. I was so happy heading into the main event, because I have seen so much poor and lazy booking this weekend that I thought this show would escape that. I was wrong. As far as the in ring goes, this is a good show, and if you are a fan of women's wrestling, they brought it in the ring for sure. The main event (outside of the finish) is great, and Hikaru Shida vs. Evie is just a notch below it. I also thought that they did a good job of mixing in some fresh faces to liven up the card. Overall I felt that SHIMMER delivered very well on the biggest weekend of the year.

Show Rating: 7.9

As a reminder, I will be going by the 411 scale…

0 - 0.9: Torture
1 - 1.9: Extremely Horrendous
2 - 2.9: Very Bad
3 - 3.9: Bad
4 - 4.9: Poor
5 - 5.9: Not So Good
6 - 6.9: Average
7 - 7.9: Good
8 - 8.9:Very Good
9 - 9.9: Amazing
10: Virtually Perfect

As a reminder, this is not a basic "how good was the show" number like a TV show, as I have always felt that a PPV is very different from a regular show. I have always judged PPV on how they built to a match, the match quality, crowd reactions to matches and angles, the overall booking, how the PPV leads into the future, PPV price and so on and so forth. I have added this in here for an explanation since so many have asked, and I have previously discussed it on podcasts. I understand that this may seem different, but that is how I grade. Obviously your criteria may be different.





Have you checked out the Csonka Podcasting Network? If you haven't, you should We run anywhere from 15-20 shows a month, discussing pro wrestling, the world of MMA, the NBA, general sports, popular TV series of the past, bad movies, battle rap, interviews, MMA & Wrestling conference calls and more! Around 10 different personalities take part in the various shows, which all have a different feel; so you'll likely find something you like. All of the broadcasts are free, so go ahead and give a show a try and share the link with your friends on the Twitter Machine and other social media outlets! Running since May of 2011, there are currently over 500 shows in the archive for you to listen to.



Larry Csonka is a Pisces and enjoys rolling at jiu jitsu class with Hotty McBrownbelt, cooking, long walks on the beach, Slingo and the occasional trip to Jack in the Box. He is married to a soulless ginger and has two beautiful daughters who are thankfully not soulless gingers; and is legally allowed to marry people in 35 states. He has been a wrestling fan since 1982 and has been writing for 411 since May 24th, 2004; contributing over 3,000 columns, TV reports and video reviews to the site.


Your heart is free. Have the courage to follow it…TO CSONKA'S TWITTER!

http://www.twitter.com/411wrestling
http://www.twitter.com/411moviestv
http://www.twitter.com/411music
http://www.twitter.com/411games
http://www.twitter.com/411mma




comments powered by