Tremendous Tirades 4.05.14: DGUSA – Mercury Rising 2014
Posted by Larry Csonka on 04.06.2014

Watch the first match because it's great; and then run, run away…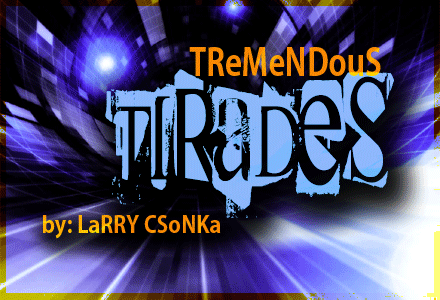 Introduction
As a reminder, this will not be another traditional recap, but instead it will be a mash up of the Rs, Instant Analysis and my usual Twitter ramblings I would do during the shows; completely uncensored and as the ideas flow unfiltered to the old keyboard. Remember, this is a review; and I am here to review the show. As always, I encourage discussion and even disagreement, just do so in a respectful manner. I will be doing the review for Raw and most PPVs and iPPVs going forward.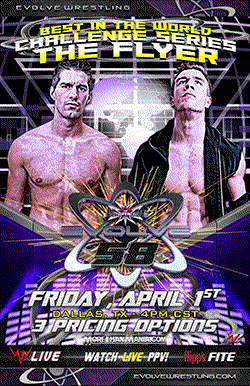 The Six Man Tradition Continues: DGUSA Mercury Rising is known for the Six Man Tag Team Tradition. We are taking it to the next level this year with a Six Man Tag Team Tournament. Each member of the winning team will get to book themselves in any future match they want. The format will see three first round matches. The three winners will then meet in a three-way six man tag team mega elimination match!
DGUSA – Mercury Rising 2014
EVOLVE 28 review.

2014 - A Wrestling Odyssey review.

SHIMMER 62 review.


DGUSA Six Man Tournament First Round Match #1: Ricochet, Rich Swann & AR Fox vs. Chris Hero, Roderick Strong & Masato Tanaka: I had one big fear about this match, and that was that it would feel like it was going through the motions because we knew the winner. What do mean? Hero and Tanaka had to be on early because they are working the WrestleCon event. In the past when matches like this happen, the guys often mail it in because they are saving their energy and the match simply suffers. That was not the case here, as this was 30-minutes of balls to the wall action with everyone busting their ass and working hard. This would have felt right at home as the co-main event or main event of ay show this weekend. This was tremendous fun; you couldn't have asked for a better start to the show.
Match Rating: ****

Chuck Taylor vs. Maxwell Chicago: With the Gentlemen's Club officially disbanded, they were apparently out of the DGUSA Six Man Tournament and Taylor was in singles action with Maxwell Chicago. Lots of goofiness as Taylor initially didn't want to wrestle due to his emotional state. No finish as Taylor went to the floor and the Premiere Athlete Brand attacked Chicago. They destroyed poor Maxwell as Taylor watched on.
Match Rating: NR


Su Yung ran down Taylor, and said that he had to forfeit or fight. Taylor opted to fight.

DGUSA Six Man Tournament First Round Match #2: Trent Baretta, Anthony Nese & Caleb Konley w/SU Yung and Mr. A vs. Chuck Taylor: Taylor fought off the Premier Athlete Brand as best he could. The numbers obviously got the best of Taylor, but then Biff Busick ran out to apron looking for a tag to help Taylor. Busick then ran wild and he and Taylor were looking good, and then Larry Dallas, Teddy Hart and his cat appeared. Hart helped fight off the Premiere Athlete Brand, and then, for no reason, turned on Taylor and Busick, hitting both with his powerbomb into back stabber combo. He yelled at the crowd while the cat appeared to be attacking Larry Dallas. The crowd chanted this is stupid for that. AND AFTER ALL OF THAT Nese snuck in and scored the pin on Taylor. They then chanted fire Russo. Yes, you see, through out all of the bullshit, the match was still going on. This made no sense, and everyone that watched it is now stupider for doing so. For a promotion that likes to act high and mighty compared to WWE and TNA, they can do stupid with the best of them. I am amazed that the same company that booked that opener booked that bullshit.
Match Rating: DUD

DGUSA Six Man Tournament First Round Match #3: The Bravado Brothers & Moose vs. Fire Ant, Green Ant & Lince Dorado: Overall a good six-man tag match, and Moose played his role as the power man well. The guy still needs work, but he isn't horrible. They worked hard, but the crowd just did not care because they were still pissed off from the Teddy Hart angle. And who could blame them. Sapolsky tried to be cute with the Kayfabe on Twitter and posted "I have no idea what just happened in that ring," but he is responsible for it. Own it dude. Yesterday I mentioned how the Colony was a great addition to the roster, and could fill the void and could be good challengers for the titles. Getting the win tonight solidifies that, and makes sense. While they worked hard, the match felt like it had no energy and was a struggle to get reactions.
Match Rating: **½


Colony promo, audio is bad again, it sounds like "rabble, rabble, rabble;" but I assume they want the title shot I discussed.


Intermission time, the intermission lasted 30-minutes.

SHINE Title Match: Ivelisse © vs. Mercedes Martinez: This is a rematch from SHINE 17, which was Ivelisse's first title defense. The women have had a good weekend overall and I really enjoyed today's SHIMMER event, but this match was solid, but just there. Both ladies worked earlier today, and I am not sure if that had anything to do with tonight's effort, but it had no sizzle. Add in the fact that the crowd was not into it all that much, and the fact that Martinez may have been legit injured or shaken up and what we got was just ok. Not bad at all, but nothing special at all. Ivelisse retained.
Match Rating: **

Johnny Gargano vs. Low Ki: Gargano is fresh off losing his title to Ricochet last night in a tremendous match. Ki returned last night and lost in a very good match to Trent Baretta. Well the worst part of this is the fact that the crowd still does not care about anything. They have been dead since that Teddy Hart angle. You hear about things killing a crowd, and well, that angle was it. That angle killed a crowd that seemed perfectly fine early in the show, and that is a shame. The match was odd. They worked for 14-minutes, they did stuff, they stuff they did was fine, but I never felt as if it really built to anything. There were times I thought it would, but it just never did, and then it ended with Ki hitting the Ki Krusher for the win. It was fine, but for the co-main event, came off weak.
Match Rating: ***

DGUSA Six Man Tournament Finals - Elimination Match: Ricochet, Rich Swann & AR Fox vs. Trent Baretta, Anthony Nese & Caleb Konley vs. Fire Ant, Green Ant & Lince Dorado: This was pretty much the main event that I figured we'd get, and I was excited for it. Unfortunately this was the weakest "Dragon Gate Six Man" they have ever offered. Let me say that it wasn't bad, but as the main event of one of your biggest shows of the year, it was a disappointment. And again, this crowd just did not care. They were still pissed from earlier, and they just rebelled because they refused to care, which made it come of poorly. When there is next to no reaction, only for some big spots, and then the fire Russo chants, it is bad. The match was short, the Colony were treated as after thoughts after the work they did to get them over and announce a title shot; they felt like an after thought to everyone else. I don't think they should have done the elimination rules here. I like the Premiere Athlete Brand winning, and it was expected, but this wasn't the main event anyone was looking for.
Match Rating: ***


End scene.


Thanks for reading.


The Tirade


I need to note, again, that the lighting and audio are still problematic, just like starting late is an issue. Again, I do not need or expect WWE level production, but the show needs to be clean.

DGUSA: Open the Ultimate Gate 2014 was an excellent show, and while it had some problems, I was really looking forward to tonight's effort. Unfortunately I was left wanting. Have you ever heard the expression "peaked too soon"? That was this card. Watch Ricochet, Rich Swann & AR Fox vs. Chris Hero, Roderick Strong & Masato Tanaka, it was a tremendous opener and I loved it. But turn it off after that. Run away. Do not watch. There was some solid stuff, but the overall booking of the product finally caught up to itself, the fans rebelled, and the rest of the show suffered. I hope Teddy Hart was worth it.

Show Rating: 5.0

As a reminder, I will be going by the 411 scale…

0 - 0.9: Torture
1 - 1.9: Extremely Horrendous
2 - 2.9: Very Bad
3 - 3.9: Bad
4 - 4.9: Poor
5 - 5.9: Not So Good
6 - 6.9: Average
7 - 7.9: Good
8 - 8.9:Very Good
9 - 9.9: Amazing
10: Virtually Perfect

As a reminder, this is not a basic "how good was the show" number like a TV show, as I have always felt that a PPV is very different from a regular show. I have always judged PPV on how they built to a match, the match quality, crowd reactions to matches and angles, the overall booking, how the PPV leads into the future, PPV price and so on and so forth. I have added this in here for an explanation since so many have asked, and I have previously discussed it on podcasts. I understand that this may seem different, but that is how I grade. Obviously your criteria may be different.

Have you checked out the Csonka Podcasting Network? If you haven't, you should We run anywhere from 15-20 shows a month, discussing pro wrestling, the world of MMA, the NBA, general sports, popular TV series of the past, bad movies, battle rap, interviews, MMA & Wrestling conference calls and more! Around 10 different personalities take part in the various shows, which all have a different feel; so you'll likely find something you like. All of the broadcasts are free, so go ahead and give a show a try and share the link with your friends on the Twitter Machine and other social media outlets! Running since May of 2011, there are currently over 500 shows in the archive for you to listen to.



Larry Csonka is a Pisces and enjoys rolling at jiu jitsu class with Hotty McBrownbelt, cooking, long walks on the beach, Slingo and the occasional trip to Jack in the Box. He is married to a soulless ginger and has two beautiful daughters who are thankfully not soulless gingers; and is legally allowed to marry people in 35 states. He has been a wrestling fan since 1982 and has been writing for 411 since May 24th, 2004; contributing over 3,000 columns, TV reports and video reviews to the site.

Your heart is free. Have the courage to follow it…TO CSONKA'S TWITTER!

http://www.twitter.com/411wrestling
http://www.twitter.com/411moviestv
http://www.twitter.com/411music
http://www.twitter.com/411games
http://www.twitter.com/411mma
comments powered by