SPOTLIGHTS
411's WWE Hall of Fame Induction Ceremony Report 4.05.14
Posted by Mike Chin on 04.06.2014

Celebrating The Ultimate Warrior, Carlos Colon, Razor Ramon, Lita, Jake Roberts, Paul Bearer, and Mr. T (and his momma).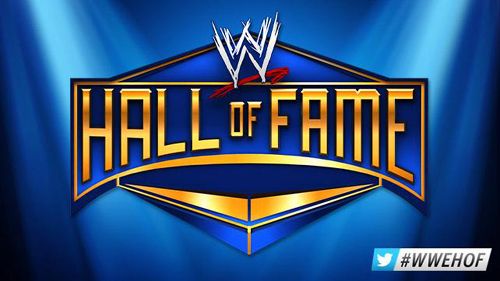 411's WWE HALL OF FAME COVERAGE



Hall of Fame coverage starts now... at the red carpet!

Michael Cole provides voice over, talking about the history of the Hall of fame, before introducing red carpet co-host Maria Menounos. They discuss the fact, like 'Taker, they're each undefeated at Wrestlemania. Renee Young is chilling on the red carpet, and excited to be there as well. Cole puts over the international media present for the event.

Roman Reigns says this a big night for WWE, and notes it's his first time at the ceremony as a WWE superstar. He discusses the Shield being tighter and tougher than they were a year ago.

Byron Saxton is here, too, and interviews The Miz... and Maryse! She's still got it, *clap, clap, clap-clap-clap*. Pat Patterson hangs out in the background and we cut to a Hulk Hogan before Miz can finish. Burn.

Hogan says this is as big as it gets to be host. He has his wife Jennifer, and kids Brooke and Nick with him as Jimmy Hart lurks behind them all. Hogan alludes to making rules and calling young guys out tomorrow night.

Menounos recounts a time Hogan joked about bodyslamming her and the prospects of him going through with it this week.

Pat Patterson talks about the Hall of Fame being real.

Randy Orton in the house, but his comments get drowned out by Hogan chants. He goes on to say legends are everywhere and the Hall is about respecting and honoring the legends. He talks with young about the night being live and unedited, and about Warrior's upcoming induction speech.

Fandango and Summer Rae join Cole and Menounos. Cole says Menounos is a real dancer. Vintage Cole.They recall how Fandango was a bigger deal one year ago, debuting against Chris Jericho, though Fandango does his best to put over the battle royal tomorrow, then they cut to talking Total Divas.

The Usos are here. They talk about inducting Rikishi last year and looking forward to seeing Carlos Colon go in the Hall tonight. Naomi puts over Lita.

Booker T and Sharmell are here and talk about going in the Hall last year. Booker is excited to see Lita go in tonight and recommends all the guys recognize their wives' contributions to their careers.

Dolph Ziggler talks about the battle royal. Menounos asks who he's most worried about and he notes the many times Sheamus has kicked him in the face.

Roddy Piper is here with his son. Piper says it's a great night. He says he's looking forward to hearing what Mr. T has to say. Are those gritted teeth I'm seeing? He jokes about going after him. Or is he joking...?

Alicia Fox weighs in about speaking at the ceremony being nerve-wracking, and goes on to complain about the train of her dress tripping her up. They talk about Lita--many, based on the pre-show, she may be the most over inductee among the current roster!

Jerry Lawler balks at not being invited to host the red carpet proceedings, though he will be on stage to host the actual ceremony. He talks about it being an honor to be a big part of the event each year, though he notes his most memorable moment at the ceremony was William Shatner inducting him into the Hall years ago.

Natalya and Tyson Kidd are joined by Nattie's little sisters. Kidd comments on how normally when the Hart family is around that means a cast of 40-50 people, so this is a small crew. Natalya warns Kidd to settle his tea kettle when he alludes to Total Divas gossip. The Natalya-Summer Rae feud gets a quick mention en route to discussion of the Divas Invitational tomorrow.

Tamina Snuka puts over her family's history with WWE and gets emotional about it. She discusses how everyone wants to make it in the hall eventually.

Rock's mom and daughter are here and mom says she'll be proud to see Duane go in someday.

Menounos sings Big Show's theme song to introduce the giant. They talk about the battle royal and Show being a target as a "Hooooo" chant sounds in the background. Jim Duggan in the house? Sure enough, we cut to Hacksaw as Big Show talks about trying to fill Andre's boots. He goes on to call Jake Roberts and Warrior iconic. Menounos takes a selfie of her, Show, and Cole.

Stone Cold is here! He calls it a great class going into the Hall tonight. He says he most looks forward to Bray Wyatt-John Cena tomorrow night. He goes on to say if anyone can break the streak, it's Brock Lesnar. He plugs The Steve Austin Show and says his favorite Wrestlemania moment was winning the strap from Shawn Michaels, before recounting his matches with Bret Hart and The Rock, plus Savage-Steamboat.

Cody Rhodes and Eden join Saxton and recounts the real emotion of inducting his father years ago and calls a Hall of Fame induction the biggest feather you can add to a superstar's cap. He calls the induction speeches motivating.

Alberto Del Rio and his young son, and nephew are here. He talks about being proud to induct Mil Mascaras, then about the importance of performing for not just 75,000 fans tomorrow, but his family.

Hoooooooooooooooooo! Jim Duggan gets some mic time. They talk Legends' House and rooming with Roddy Piper in the house. He calls Tony Atlas a pain in the butt. He says he's excited for Jake Roberts' induction and references Roberts being in his wedding party. He says he's looking forward to 'Taker-Lesnar tomorrow.

Zeb Coulter is here. He says New Orleans is a great wrestling town, and it's great to see guys he competed against years ago get recognized. He notes Razor Ramon, Jake Roberts, and Carlos Colon as particularly worthy inductees. Cesaro shows up and gets a big "We the people" chant from the crowd.

John Cena and Nikki Bella are here. Cena says this is a class for the ages and we should hear some interesting speeches. Menounos and Bella talk about having a singles match in the future and recount grappling at Axxess last SummerSlam. Cena talks about how historic WrestleMania 30 is and he sees new talent making their mark tomorrow night--including Bray Wyatt.

Cesaro says he respects everyone in the hall and the history of the business. Saxton asks how he would have done against The Ultimate Warrior back in the day. Cesaro says Warrior is raw power, and says he is power and finesse so it would have been the ultimate match-up.

Triple H and Stephanie McMahon-Helmesley are here. McMahon-Helmesley calls it one of her favorite nights and a true celebration. Triple H notes Hogan is back and Warrior is going in the Hall. He says he's a huge history buff so this is the biggest night of the year to him.

Santino Marella and family take a picture with Young using their Twitter mirror. Say what? I guess that's a thing. They share that the official hashtag for the night is #WWEHOF.

Arn Anderson! Double A says you can feel that something special is going on tonight and puts over the honor of going into the Hall of Fame. He calls it "the end of the rainbow" and references young talents aspiring to this goal--and if they don't they're spinning their wheels.

Business is about to pick up: Bruno Sammartino is here! They discuss the life-sized statue of Sammartino shared at Axxess yesterday. They discuss Bob Backlund and Sammartino's mutual respect with him. They talk about WrestleMania tomorrow night and Sammartino's excitement for tomorrow's WWE Championship match and 'Taker-Lesnar.

Yes, yes, yes it's Daniel Bryan. Bryan talks about the night being fun and looking forward to hearing Warrior and Jake Roberts. Brie Bella is excited for Lita to go in. They reference Bryan's Wrestlemania Diary on WWE.com and how overwhelming the week can be. They talk about getting their workouts in and Bryan always carrying a water bottle to stay hydrated.

Ted Dibiase talks about entering the Hall being a humbling experience and how it made him think of all the people who came before him and paved the way. He talks about it being fun seeing fans at Axxess and hearing them share their stories and memories.

Zack Ryder says he's a huge fan and talks about having tonight's inductees' action figures growing up, and going to Wrestlemanias 10 and 20. They put over tomorrow's battle royal.

Sergeant Slaughter talks about watching the Hall of Fame grow and says he's looking forward to seeing The Ultimate Puke go in the Hall tonight.

Damien Sandow calls the ceremony one of the best nights of the year in WWE. He says he's excited to see Carlos Colon go in because he used to work for him for some time, and says this is his favorite Hall of Fame class.

Mick Foley says it's great to be back "Right here, in New Orleans, LA." He says he expects Jake Roberts's speech to make him cry tonight and when asked to describe the night, he calls it "indescribable."

On to the ceremony!

Jerry Lawler plays host to the event. He says that he's honored to share the stage with this year's inductees and introduces a 'Mania history montage, set to Kid Rock's "Celebrate." A well put together package, though a fair bit of the footage isn't actually from Wrestlemanias, particularly to highlight celebrity participation in WWE, including several celebrity hosts of Raws past. Nitpicking aside, a fun look back.

Here comes Trish Stratus to induct Lita!




Lawler introduces her as a new mother, entrepreneur and Hall of Famer... then as one of the hottest Divas ever. Stratus says she was excited for LIta to ask her to induct her. She references being Lita's kinda-sorta maid of honor when she kinda-sorta married Kane, then references Amy Dumas being the real-life godmother for her children. She talks about their careers paralleling each other, and having both her first and last matches opposite Lita. Stratus talks about their chemistry and sense of familiarity. She talks about main eventing Raw with Lita. She recalls Lita's red hair and moonsaults and how she was relate-able for female fans growing up in her era. Stratus discusses Team Extreme and Lita being an equal one-third of the group, creating a dynamic for boys and girls to relate to. She says she and Lita are still tight--like peas and carrots, or wrestlers and spray tan. She references Lita being a four-time champion, best-selling author, and says she revolutionized the way one wears a thong.

Here comes...



Lita






Lita wears a sleeveless red dress that puts her tattoos and chest front and center (come on, you were thinking it, too... if you were watching and still reading this write-up (thanks for that by the way)). Thank you, Lita chant from the crowd. Lita talks about calling a travel agent to book a flight for Mexico to start her career because she wanted to learn about wrestling via lucha libre. She went to Mexico City with a tourist guide and three years of high school Spanish. There was a travel advisory not to travel unless you had official business--and becoming a pro wrestler was official business for her. She talks about asking the person at the front desk of her hotel where to find lucha libre--only for him to be from Spain and not know what she was talking about. She found her way to the Arena Mexico, only to find the circus was in town that week instead of wrestling. She went to the B-arena and sat next to a long-time fan. She stood out as a "gringa in a sundress" and staff came to talk to her, and she told him she wanted to get involved in the show. The commentators invited her to join them in their booth. She says she marveled at the show and she says she knows everyone can relate because that's what we'll all feel tomorrow watching WrestleMania. She talks about training with men and how she took pictures of her bruises at the end of the day. Val Venis was down there at the same time as El Steel and she appeared on TV for the first time with him. One of the wrestlers left his mask, she took it and presents it on stage.

Lita cites Rey Mysterio Jr. as an inspiration for her as a rock star, an athlete, and a super hero. She watched him wrestle and took notes to learn how to be a wrestler. She went to the hotel where wrestlers stayed to try to meet him, but did run into Arn Anderson who went out of his way to facilitate her meeting Mysterio, since fans like her let men like him live their dreams. Double A bullied the front desk worker into giving him Mysterio's room number--only for Mysterio to step out of the elevator and walk right into them. The Enforcer said they each owed him a Miller Lite and walked away. Stratus came out with a tray with two cans of Miller Lite for Anderson while Lita and Stratus drank wheatgrass shots. Anderson gave the second beer to Mysterio. Pretty cool moment!

Lita worked the indies and ended up in ECW for six months. She teamed with Road Kill and Danny Doring at the Heat Wave PPV, only for Doring to propose to her not with a ring, but a condom. Yikes.

Lita moves on to cite wearing the most "slut-tacular" wedding dress ever to wed Edge. She also gives a quick summary of Kane tormenting and kidnapping her to court her, leading to giving Gene Snitsky the catchphrase of her career, "It wasn't my fault." She talks about meeting a fan who knitted her a baby blanket but felt self-conscious about giving it to her after she "lost her baby"--something she tried to explain to the fan, only to traumatize her by smartening her up to the business. Lita calls Kane one of her favorite people to work with and says she still has the baby blanket.

Lita says James Cameron picked her to appear in the season finale of Dark Angel. She got dropped on her head in a stunt gone wrong, which led to a stunt double being hired to do her signature moves for her on camera. It turned out her neck was broken neck--which she learned of on the same day as the release date for her bobble head. She watched Raw that night and felt uncomfortable not being there. She needed emergency surgery or she might have been paralyzed. The doctor said she needed surgery and she'd never be able to wrestle again. She decided she wanted to talk to Stone Cold for advice. Stone Cold guided her through meeting Dr. Youngblood--he said he'd go with her to get fixed up then they'd grab some BBQ. Everything went according to plan and her career continued.

Lita thanks everyone who took a chance on her. She runs through past promoters and road partners, including her days with MCW, Steel Domain, and The Funking Dojo. She thanks Tommy Dreamer for always being honest, including telling her when she got fat. She gives a shout out to Victoria for the first ever women's steel cage match they had. She cites Manami Toyota whom she's never met but who she finds amazing. She credits Luna Vachon with having her back from the day they met. Terry Taylor, Tom Prichard, Jim Ross, Mickie James, Essa Rios, The Hardys, The Dudleys, and Edge and Christian get their props. She thanks her "bestie" Trish Stratus and says they're the perfect yin and yang together, and says her proudest accomplishment is their friendship which will last a lifetime. She credits her mom and brother--she never heard she would fail from them. She credits friends Monster Jock and Anthony, the hard rock and punk scenes that helped shape her--standing for things that weren't popular in the mainstream. VFW halls and dirty basements were her churches and these bands still inspire her. She encourages everyone to find their punk rock, their lucha libre, their professional wrestling and let it lead you to your life. Heck of a speech from Lita!

Next up is Jake Roberts! Which means our next inductor is… DDP!




To quote a tweet from Lance Storm the other day, if my mother starts doing DDP Yoga is it still not yo' mama's yoga? OK, OK. DDP says he's proud and humbled to be here tonight, citing that it's his 58th birthday. Cue the happy birthday chant from the peanut gallery. Page says he can't think of anything better than two of his boys rising up to receive the recognition they deserve. He thanks Triple H for that.

Page says without Dusty Rhodes there is no Diamond Dallas Page, who gave him every break he had coming into wrestling and has been his mentor and friend for over twenty years. He says he was lucky to have not just one but two mentors. In 1994, DDP got injured and fired. Roberts checked in on him and ended up living in DDP's basement, with Page's wife Kimberly giving the condition there could be no snakes in the house. Page says he learned a ton about psychology sitting with Roberts and critiquing matches on TV, and that Roberts got him bookings with him on the road. He goes on to tell the story of Roberts having a 12-foot black cobra in the house--DDP ran for his life, but Kimberly was laughing about it.

Page got booked to wrestle in Asia and wanted a high five. Roberts wasn't in a celebratory mood because he had lost his snake--he wasn't scared of the snake, but he was scared of Kimberly's reaction. Page and Roberts went looking for the snake, only to find it hiding in a vanity. Roberts left it there for three days--DDP didn't love that.

DDP says Roberts taught him how to behave in and out of the ring, and prepared him for world championships and main events--a debt he's been working on paying back ever since. Page calls him the guy who wrote the book on ring psychology--each word, each glance, each thing he did in and outside of the ring had purpose. His interviews were mesmerizing, his work in the ring flawless. He cites feuds between Roberts and Ricky Steamboat, Rick Rude, and Randy Savage as some of the greatest in the history of sports entertainment.

Fast forwarding to recent times, Page talks about living with Roberts in the accountability crib. Eighteen months ago the guys had a fantasy dream of being on stage for the Hall of Fame (no mention of Roberts's bid to be part of the Royal Rumble) and here they are. He says dreams can come true when you put the work in, and you should never underestimate the power you give someone when you believe in them, or the power you give yourself by believing in you.

Presenting...



Jake Roberts






Roberts says he always loved professional wrestling and he's always loved the men who did professional wrestling because they're special men and they're a breed of their own. He says when he was coming up he saw a lot of people like Hiro Matsuda, Fritz Von Erich, and Bruno Sammartino who had such love for what they were doing. He hated wrestling because his father wrestled and he never got to see him, so he blamed wrestling, but it was really the man who was to blame--he was hell-bent on being a wrestler and Roberts couldn't understand that at the time--but he'll be damned if he didn't do the same thing, walking away from the responsibilities of raising his family. He didn't have a minute to spare any day because he loved wrestling. He says he should have shared the time more wisely. He doesn't regret loving wrestling because there's nothing like it--walking out to the ring and controlling emotions--making a child smile, making an old woman try to cut your ass, making a young woman smile. You take people up, you take people down, you turn them around, you spank them on the ass, and tell them to sit in a corner. That's addictive. He says it hurts because he can't play anymore. He can still get a few cheers, still DDT someone. The fans chant you've still got it. Jake says no, you're wrong--his heart and his mind still want it, but it reaches a point where you can't do it justice. When he fell in love with that woman he calls a ring, he couldn't cheat on her--it's the only woman he never cheated on and he was a rotten son of a bitch. He talks about drugs and alcohol becoming problems for him. He says there comes a point when you don't want to carry on, your career is gone ,and all you have in your heart is shame and you can't do what you want anymore and you don't have much of anything left. He says he was jealous of his friends who had passed away and got angry with God, but didn't want to commit suicide and hurt his children more. But for some reason, one person stuck a hand out to him--DDP.

Roberts said not just anyone could help him. He was doing drugs every day and didn't want to live anymore. DDP is the most positive son of a gun on the planet and wouldn't shut up. He says, "Dallas saved my life." He talks about not having insurance, and DDP coordinating the IndieGoGo campaign to raise money for a surgery. Roberts didn't think anyone cared, but the fans donated $30,000 over night and it made him realize people did care. Roberts says he's so happy tonight because he has special people here--family. He says he has a hero who is 18 months old. He brings the boy on stage. The kid was born sickly, but Roberts says he'll be here in twenty years for Wrestlemania 50. He has the rest of his family stand up and thanks them for giving him a second chance, and WWE for giving him another chance, too. That one teetered on the edge of the dark side, but ultimately it's pretty great to see Roberts at peace and well on the Hall of Fame stage.

Hornswoggle is here. Being chased by El Torito. Because they were worried about not having enough material to cover two and a half hour show... when we/re 2/7 inductees in and past halftime? El Torito gores Lawler's crotch. Yeah...

Change of plans, it's not Hulk Hogan, but rather Mean Gene Okerlund inducting Mr. T! Okerlund recalls Wrestlenania 1, which saw Mr. T team with Hulk Hogan to face Roddy Piper and Paul Orndorff, with Bob Orton in their corner. He says that tomorrow will be a day to remember. Okerlund refers to Mr. T's role in The A-Team and Rocky 3, lauds T's sense of fashion, and cites his "funny haircut." And then we get Mr. T's son, T Jr. Really--we need another inductor--and one who's still not Hulk Hogan? OK...

T Jr. keeps it short and sweet, then Mr. T is here.



Mr. T






Mr. T says he's proud to be here and stand among the very best in wrestling. He gives thanks to God for making this all possible, and stops to pray. He pays tribute to his mother. With all due respect, this speech comes off awfully stilted. There's a difference between an actor who works from scripts and a wrestler who delivers promos, I suppose. T credits his mother for raising him and his siblings all on her own, save for the help of God. He's the baby boy of the group. The kids stayed clear of drugs and crime out of love for their mother. They've come a long way, and he says it's not how you start, it's how you finish. He says they were down but never out, and his mother said no one can keep a good man down. Beneath the mohawk, tough talking persona, and bad attitude is an old-fashioned momma's boy, he says.

T says mothers are one of God's greatest creations--his mother, your mother, all mothers. because no one makes as many sacrifices than a mother. He talks about his mother being tired, working hard, working through discomfort, and that the universe piled up credits. "Her urinary tract had to work for two," T says of his mother's pregnancy. He cites his musical masterpiece, "Treat Your Mother Right," which he reveals for the first time that he dedicated to his mother so she would know he loved him every day--not just her birthday, Christmas Day or Valentine's Day, but also on President's Day and many other holidays. The crowd begins to reply with a what chant for each day he calls out. Bob Backlund looks on incredulously while Steve Austin cackles at the chant. A yes chant follows. Mr. T clarifies for everyone, "I'm just trying to tell you how I feel about my mother." This is awesome chant from the crowd. Mr. T reiterates it's not where you're coming from but where you're going that counts. His family was poor financially but rich spiritually, because his mother taught them well. He references his mother whipping his behind with a leather strap when he needed discipline and that she never left his bedside when he got sick. When he was nine years old he drew a picture of a house and said he would grow up to box and play football, and said he'd buy his mother a house and lots of pretty dresses. She said he would if it was God's will. Lo and behold, he did grow up to big and strong, an bought his mother a house and pretty dresses. He talks about staying out of trouble for fear of bringing disrespect to his mother. T goes on to thank his brothers by name, lauding their athletic careers, military service, and that they never raped anyone. He notes one brother succeeding as a police officer, another a fireman. He congratulates his daughter, Lisa who couldn't be there tonight because she's studying for her doctorate. He thanks his main man, his son T Jr. for being a good son and congratulates him on earning a Master's degree.

Kane's music hits. Kane quietly tells him to get the f' off the stage. T says his time is up and apologizes. Second to dragging him off stage by a hook, that's about the best way you could handle that situation...

Kane is here to induct Paul Bearer!




Kane says he was sorry to run off Mr. T talking about his mother, but he needed time to talk about his daddy, Paul Bearer. Kane discusses William Moody growing up a wrestling fan and going on to get in the business alongside buddies like Robert Gibson and Michael Hayes. Bearer's first job in wrestling was as a photographer. He joined the Air Force, but would still attend wrestling shows. He went on to work as a mortician. He wrestled as Mr. X, but had a short-lived and uneventful figure before he started as a manager under the moniker Percy Pringle in Florida and then Texas. In 1990, Moody signed with WWF to join The Undertaker as Paul Bearer.

As ghastly as 'Taker was, the addition of Bearer's shrill voice and mannerisms really put him over the top as the greatest character in WWE's history. As tends to be the case in WWE, the closest of friendships gave way to the most heated rivalry as bearer went on to manage people like Vader and Mankind going against The Undertaker. From there, Bearer brought up The Undertaker's deepest, darkest secret--"me." Kane calls their angle the greatest piece of epic storytelling WWE has ever done and calls Bearer the bridge between the Undertaker and Kane characters. Kane traveled with Paul Bearer--Bearer would manage the travel arrangements and turn Kane onto country music. After his character was revealed as Kane's father, he reminded Kane who his daddy was at every opportunity.

Kane talks about coming to shows in a ski mask to hide his identity and talks about Bearer ribbing him by pointing him out to a mass of fans while he was driving. He says that without a Paul Bearer there would never have been a Kane, and for that he'll always be grateful. He talks about Bearer's periodic returns which tended to end in his demise. From there, he talks about Bearer forming relationships with fans, and still managing as Pringle at indy shows. Kane talks about Bearer's funeral and how he was struck by the outpouring of love from the fans. He says Bearer was an international superstar. He cites Bearer's final curtain call, posthumously playing a part in The Undertaker's Wrestlemania 29 program with CM Punk (not mentioned by name).

Michael and Daniel Moody, Bearer's real-life sons, accept the induction on his behalf.




One of the brothers thanks the fans for getting to share their father with him. He goes on to say "Oh yes!" in Paul Bearer style.

The Undertaker's DONG arrives and the lights go out. 'Taker emerges from the mist in his robe, urn in hand and does his signature pose on one knee, gesturing toward an image of Bearer, projected on the screen.

Kevin Nash is here to induct Razor Ramon.




Nash says The Bible says gray hair is a sign of wisdom, and goes on to say that Ramon told him to speed up his speech--the young guys are going to have to bounce around the ring tomorrow. Nash talks about being called to come to the WWF in 1993, and how he started as Shawn Michaels's bodyguard, which means he got to sit ringside and watch two of the greats of all-time--Shawn Michaels vs. Razor Ramon. He also got to watch them in the car and learn from them there, too. He challenged Ramon for the IC strap. He calls Ramon a great friend, but also a mentor. He says that he, Ramon, and Michaels would travel together, talk down the price on cheap hotel rooms for the three of them to stay in together. He says they like to say they were just being cheap, but then claims no one liked them, so they figured they'd be safer sticking together. He says the business gave him four brothers--Michaels brought him to the dance, Ramon kept him there. Nash didn't think anything would be more emotional than watching Michaels go into the Hall, but he was wrong.

Introducing...



Razor Ramon






"Hey yo." Ramon has a toothpick in his mouth and says he saw his first wrestling show at eight years old and fell in love. He had his first match in his early twenties and discovered that no matter how his life was going in the real world, when he stepped through that curtain, he had power and control, and he was digging it. Later in his life, if you asked how he was doing, the standard response was, "Better than you, chico." He learned that he could form relationships with audiences and it was a powerful thing to him, whether he was playing hero or villain. He thanks the wrestling fans. Thank you, Razor chant from the crowd.

Ramon says he's had the privilege of working with and being mentored by great talents. He says in his lifetime, he's learned hard work pays off, dreams come true, and that "bad times don't last, but bad guys do."

The music hits and The Kliq is here! Shawn Michaels, Triple H, Kevin Nash, and Sean Waltman sneak out from the back to trade hugs and pose for photos, each man holding up the Wolfpack sign.

Just when you think it's safe to proceed with a Hall of Fame ceremony, Bad News Barrett has a few words. Yep, really needed some extra filler to take up this show. (I'm actually loving the speeches on the whole, but man are they running over time.) Barrett says everyone in the crowd should remember this moment because this is the closest any of these pathetic wannabes will ever get to the WWE Hall of Fame. Cody Rhodes gives him a standing ovation.

Next up, Carlito, Primo, and Epico are here to induct Carlos Colon!




Carlito says it's nice to hear a WWE crowd chanting for him after the indy shows he's been working. WWE needed a buffer between The Kliq and Warrior--send out the Colons. Now there time has been cut... some things never change. Burn. We get a recap of Carlos Colon being born in 1948 in Puerto Rico, raised in NYC by his mother--a single mother raising four children in Harlem. She had a heart of gold. Carlos Colon grew up watching greats like Antonino Rocca and Bruno Sammartino. He started training at age 14, but promised his mother he would graduate high school. he graduated on a Monday. On a Tuesday he was in the ring. He traveled from territory to territory before ending up home in Puerto Rico, where he founded Capital Sports Promotions. He brought in greats like Andre the Giant, Yokozuna, Harley Race, The Funks, Roddy Piper, and Dusty Rhodes. His promotion got big enough he expanded throughout the Caribbean. The company had a unique style which may have inspired ECW, because they had some truly brutal, bloody brawls, and the fans were wild, too. Here comes...



Carlos Colon






Colon says he never imagined he'd be standing in front of the whole WWE Universe accepting an induction to the Hall of Fame. He started his career traveling between territories and countries. He met his wife Nancy in Canada who stood beside him for all of his ups and downs. He says life on the road wasn't glamorous--driving all over on a 3,000 a month guarantee--miles that is. Still, they found time to form a family, which has carried on the wrestling tradition. He thanks Abdullah the Butcher, Harley Race, Ric Flair, Dusty Rhodes, Tully Blanchard, Dutch Mantell, The Funks, The Brisco Brothers, and The Wild Samoans. He says he's proud to join his countryman Pedro Morales in the Hall. He goes on to say a great deal in Spanish, which, unfortunately, I can't translate for you (feel free to chime in, comments section).

It's time for the ultimate induction. Linda McMahon is in the house!




McMahon says it has been a fantastic evening. She says when Warrior asked if she would induct him, she said she was flattered and would be honored to do it. She says this is her favorite night--honoring past stars and motivating current ones. She says she has no doubt The Warrior will inspire fans tonight in inimitable fashion, and that he's a truly unique individual. She notes Warrior's legal name change to simply "Warrior." She says that when Warrior's music would hit and he charged to the ring, it brought a smile to her face. She imitates Warrior's cheeks puffing in and out, and recalls the charge of him running to the ring and lapping around it. She says she honestly thinks he couldn't stop. He shook the ropes until the turnbuckles begged for mercy. She says Warrior was, by and large, a loner in the locker room and on the road. He was a perfectionist and wasn't always the easiest to be around, or to convince that his idea wasn't always the right idea. When he came back to WWE his last time, he asked that Linda McMahon be his personal contact because she understood his philosophy--but there were times when he would call her, overwrought and she'd need to put him on speaker and turn the phone volume all the way down to get some work done while he vented through his frustration.

McMahon says that during one of Warrior's rants, he called her mom and he says she told him he was acting like a petulent child and if he were there she'd put him across her knee, and they both laughed about it. She says Warrior was never afraid to challenge the status quo, and didn't suffer excuses. He's a devoted husband, father, and patriot. He's a true WWE icon and legend. He's the man who said, "If your first thought of the day is, 'I can't,' that you can be sure that you won't." He's...



The Ultimate Warrior






Warrior snarls into the mic and says this is the most anticipated speech in the history of sports entertainment. He says his wife came into his life in 1996 just when he came back to wrestling, and they've built an incredible life together and he loves her. She blows him kisses from the crowd. Warrior also recognizes his mother for providing for him and supplying him self-discipline,and he says he loves her too Man, let's book a Mr. T's Mom vs. Carlos Colon's Mom vs. Warrior's Mom triple threat for tomorrow night! He goes on to talk to his daughters, and says the most awesome thing he'll ever do is to be their father.

Warrior talks about being backstage with younger talent after so many years on the road. He says he was talking to himself and the kid beside him said it was a dream come true to see him go into the Hall of Fame. Warrior said he wasn't excited for the Hall, he was pumped to get into DDP Yoga. "All seriousness aside," it's inspiring to see DDP Yoga help people overcome their self-destructive ways. He thanks Triple H for putting in the effort to make this induction happen. The delay is turned on we're losing some *key* words from Warrior's dialogue but he talks about enjoying meeting with Triple H and the other big wigs in Stamford. He suggests people practice his brand of self-destruction--because regardless of what he may have done, he still got to come back and headline the Hall of Fame induction ceremony at the 30th WrestleMania. One more match chant from the crowd. Warrior says they're being kind.

Warrior says he's never interacted with anyone in wrestling who hasn't taught him something, even if it was demonstrating things he didn't want to do. He looks back at starting out in wrestling alongside Sting. They trained together then worked under Jerry Jarrett, then moved to Mid-South. He says he somewhat fashioned his clothesline after the stiff ones Ted Dibiase gave him at that point in his career. He went on to WCCW as The Dingo Warrior, which he calls a poor man's Ultimate Warrior. He recalls working with George Scott. He got the call from WWF--he wishes they could put the F back in (the crowd gives him a yes chant). He got a tryout match when WWF was in town and got the job.

Warrior recalls working with a number of WWF talents of the day. He recognizes Steve Lombardi receiving his "green" punishment for a long time and helping him out. He said the boys have a good bullshit detector and aside from the stories told on the Self-Destruction DVD about him being an a-hole pissing him off, they broke his heart. He said that if people didn't have the personality to get along with the boys, they didn't last long. He references people who couldn't hold up to ribs being out of their quick, referencing The Bulldogs messing with people's bags. Warrior says he was and is a good guy.

Warrior thanks the superstars you never see--not the invisible man, but the people behind the scenes at WWE, some of whom have been with the company 25-30 years. He talks about the ring guys who came in early set up rings, took them down, drove to the next town, got a couple hours of sleep and repeated, only to ask the stars if they could get them anything. Warrior says when he thinks about the Hall of Fame he thinks about honoring people. Warrior's first WrestleMania was WrestleMania 4. He says they're already getting ready for WrestleMania 31, and there will surely be a Wrestlemania 75. Maybe they should start inducting people from behind the scenes, maybe call it the Jimmy Miranda Award, in tribute to man who sold merchandise for WWE from town to town and always kept a positive attitude.

Warrior says he may not be there this evening if it weren't for the Ulitmate Warrior fans. He says The Ultimate Warrior is a legend, and the Ultimate Warrior fans are legendary. They fought over the years against lies and mis-characterizations about a wonderful, fun time in wrestling, and he's here tonight because of those fans. Thank you, Warrior chant. Warrior says no. The fans chant yes. Ha!

Warrior says when fans thank him at signings he turns it right around to thank them for the life he's had, what he's been able to learn, how appreciative he is to have had the chance to be himself. He says people like him and Sting got to stick around because they were respectful and appreciated the veterans who let them into the business. He says that he knew what he was doing was worth something and would count for something. He said that's something when you can calculate your success based on the hard work you put into it. People would tell him to stop sometimes, but one person who didn't was Vince McMahon, who gave him the opportunity to use his imagination and go as far as he could with it.

Warrior recalls getting an appointment with McMahon. He recalls people saying that they'd give McMahon a piece of their mind because they didn't get paid for their spots; when they met with Vince, they left with bobbly heads. He saw it happen to Bad News Brown. Psychology in the ring was one thing. Psychology with Vince was another. Warrior kept a journal. He brought his notes to McMahon with a list of ideas for how he could better help the company. He could see that McMahon knew he was dedicated and from there would give him a meeting whenever he wanted it.

Warrior says it's incredible to experience the magic of working in the business, traveling down the road like it was vacation, showing up to the comforting, supportive atmosphere of the locker room. He misses that. It was awesome to be larger than life that he was, to play make-believe at being a tough guy. He says there are a few legitimate tough guys in wrestling and the rest of us play that role--becoming a character people believe in. A hero. He says it hit him the first time he worked with Make-A-Wish, and praises John Cena's work with the Foundation for doing more than any other entertainer. Warrior says he knelt down by a kid in a wheelchair and he could see a reflection of himself in the kid's eye and it was a gift to experience that.

Warrior says wrestlers don't put on the gear of other sports on, but all other athletes put on wrestling gimmicks, like Ray Lewis as The Ultimate Warrior when he retired. Warrior says WWE gives you a gear bag, which you can use in all other parts of life. People say Warrior doesn't respect the business, but he doesn't go a day without thinking about the business. Wrestling didn't just give him what he needed to make a match work, it gave him everything he needed to make his life work.

Warrior appreciated becoming friends with blowing up in the ring. His entrance blew him up, but he kept going, then blew up even more. Experiencing pushing his body that far is the experience he misses the most. He recalls getting three hours of sleep, getting on the road, and wrestling again. He says you can do so much more than you think you can. He says being with WWE gave him incredible experiences.

He says everyone was talking about what he might say and how he might act tonight. A lot of people say I don't know how to draw the line between a work and real life. But from what he sees in social media today, everyone works their gimmick all the time. But his gimmick is his. The Ultimate Warrior represents everything you need to get something done--the intensity that came out of that character. He cites people worrying he would rant or point fingers at people. He says he was always respectful to people. The DVD was wrong. It made him angry, but it was also hurtful.

Warrior says he's honored to be an inductee, proud to be here this evening, and proud to have signed a multi-year deal as an ambassador for the company.

He says in 1991 he teamed with Hogan and got a letter from Vince McMahon. The letter said you think you're a legend in your own mind. Warrior says he was just a kid doing the best he could. But he says McMahon was a good fortune teller, because now Warrior is a legend and he's proud of that.

Warrior says it's not easy being an athlete participating at that level, then realizing you can't do it anymore and stepping up to the next level of your life. Wrestling needs people who step up to the next level when their time is up and help the next generation move up. He tells the young guys, your time will come and go, and you need to prepare yourself for the incredible things you can do with the rest of your life.

He thanks everyone for coming to see him and tells them to enjoy Wrestlemania.

That's a wrap! Thanks for reading.
comments powered by