SPOTLIGHTS
Tremendous Tirades 04.07.14: Monday Night Raw
Posted by Steve Cook on 04.07.2014

It's the biggest Raw of the year, and it looks like we live in interesting times.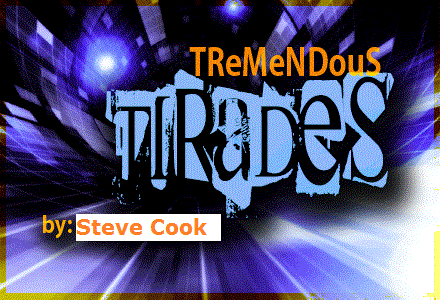 Introduction

Hi kids, it's your favorite Steve Cook! It's the night after WrestleMania, which means that it's the biggest Raw of the year. Over the last couple of years they've taken to holding this Raw in an arena in the same city as the football stadium WrestleMania is held in. It typically results in a hot crowd, as the die-hards that have flown in from all over the place and made sure to stick around for the night after are still jacked up over the show from the night before. Sometimes they're happy. Sometimes they're not. Either way it usually results in good television. I'm excited to be here, so let's get to it.
---
WWE MONDAY NIGHT RAW: YEAH, COOK'S HERE
The Daniel Bryan Monster video package opens the show.

The Champion vs. The Authority: It's a big Daniel Bryan love-in to start things, as you'd expect. Also as you'd expect, the Authority makes an appearance. Triple H says he won't get in the ring as he prefers the apron, so Bryan gets up in his face & yeses. H reminds us that it's his show, there's not a damn thing we can do about it, and he storms off in a huff. It'll be Bryan vs. Triple H for the title later tonight! Now we worry for the next 3 hours that Triple H will win the title the night after WrestleMania, and we'd like to think it's a foregone conclusion he won't, but we also thought Undertaker vs. Brock was a foregone conclusion. It's gonna be an interesting ride and man people are gonna freak out along the way.

Rating (1-10): 7.0


Apparently people are still yessing during the commercial. Why not?


Randy Orton & Batista want their title matches. Triple H promises he'll take care of Bryan tonight and then they'll get their matches. Steph books them against the Usos in a tag title match tonight. Orton & Batista protest, but H says that they should all get on the same page. Hmmm. Lots of title shots for Evolution tonight. I think Flair should challenge for the US belt & Stephanie should challenge for the Divas title. Then they can all win, and the reaction to Undertaker losing will look calm & rational.

The Wyatt Family vs. John Cena, Sheamus & Big E : John Cena & Bray Wyatt start, and as you can guess the people chant for the guy that isn't Cena. Sheamus is also not very popular, even though Bryan's done well since WrestleMania 28 I don't think some people will ever forgive him for that night. Big E gets some positive reaction since he hasn't done anything to piss people off yet. Luke Harper is very popular, not quite on Bray's level but a solid #2. Damn it Cena, don't kick out of the DDT! That's a Hall of Famer's move! I've lost track of what the fans are singing, but it seems like fun. Let's Go Cena/Cena Sucks I can recognize. Big E gets the hot tag but it doesn't last long. Harper with a dive! Bray does the creepy spider walk & gives Big E Sister Abagail's Kiss for a 3 count! The fans go nuts! Michael Cole has never been more confused, but it seems that fans are drinking Bray's Kool-Aid. Pretty good 6-man taken to even another level by the fan reaction.

Rating (1-10): 8.0


Looks like Bo Dallas is on his way back to the main roster. His character work in NXT has been great so I expect him to make a bigger impact than last time. I am a Boliever.

Summer Rae & Fandango vs. Emma & Santino Marella : Emma getting in the ring more would help her standing with the Raw audience. Her & Summer run through the Dilemma & then the Emma Lock. Santino takes Fandango out & Summer taps! Not enough time here to be a thing. I suspect they'd have a fun match on SmackDown. Fandango was popular here, but I don't think we'll hear people singing his theme music the rest of the night this year.

Rating (1-10): N/A

Ate. Slept. Broke the Streak.: Looks like Taker got at least one good shot in on Brock. Paul Heyman is pretty happy about all this, as you would imagine. He mentions how Vince rode to the hospital with Undertaker, and how the Dead Man is being treated for a severe concussion. Heyman shoots on the announcers & Hulk Hogan because that's what he does. Everybody else is wannabes, Brock Lesnar is the One. He's mentioning everybody remotely associated with WWE here. I think the man missed his true calling as a televangelist. In any event, Heyman cut an awesome promo here. Managers are fun, aren't they?

Rating (1-10): 8.5


Looks like Adam Rose is also getting a call-up. That didn't take long. His entrance was awesome the first time. Then they changed the music & it wasn't quite the same. I like the guy but the jury's out. He does have a bus, so that's fun.

WWE Tag Team Title Match: The Usos vs. Batista & Randy Orton : The fans have been waiting for a good excuse to do a CM Punk chant, and a Batista/Orton match is as good an excuse as any. Batista & Orton basically murder the Usos on the outside & everybody gets counted out. Way to make the champs look good! I guess we have Batista & Orton on the same page, which may not bode well for later tonight. The main issue I have here is the Usos got treated like they were Zack Ryder & Yoshi Tatsu, which isn't good.

Rating (1-10): 4.0

Rob Van Dam vs. Damien Sandow: RVD still has it. It's the same thing he's always had, but it's entertaining enough to keep people interested. Glorified squash here, which makes sense because it's RVD's comeback & Sandow's obviously not doing anything anytime soon. How long's his contract? I'm sure he could do well in Impact or GF Wrestling.

(Say "GF Wrestling" out loud. Sounds like "Jeff Wrestling" with a southern twang, right?)

Rating (1-10): 6.0

Rey Mysterio vs. Bad News Barrett: The crowd goes crazy for Bad News Barrett's in-ring return! He has some bad news, but Rey attacks before he can deliver it! BOO THAT MAN. Rey keeps appearing in these instances where he's going to get booed. I'm convinced he's a heel at this point. Bad News gets the win, as well he should. The man's got potential, and hopefully this will be the time he can act upon it.

Rating (1-10): 6.5


Adam Rose tours the Exotic Express & introduces us to his current ex-girlfriend & his future ex-girlfriend. Good times.

Alexander Rusev (w/Lana) vs. Zack Ryder : Lana is the Ravishing Russian, if you're scoring at home or even if you're alone. It's tough to feel sorry for Ryder when he's actually appearing on a Raw episode. Rusev MAKES RYDER HUMBLE. We'll see what he's capable of in the next few months, I'm sure. Squash City, more so than the last 2 matches since I think this went a minute.

Rating (1-10): N/A


I enjoyed the Hall of Fame Ceremony on WWE Network. It's funny because I read people saying for years how it sucked that the inductees' speeches had time limits. How dare they not get enough time to talk, right? Then they decided to air it live on the Network & weren't worried about time limits, and everybody was all like HOW DARE THEY TALK SO LONG. Make up your damn minds, people.


The Ultimate Warrior returns to Raw next! Oh this has such, such potential.

THE ULTIMATE WARRIOR SPEAKS: Warrior has a big Warrior-style coat on over his suit. He doesn't run down to the ring, but he does shake the ropes! He puts on a Warrior mask & goes into Warrior Mode. I'm kinda shocked he kept it under 5 minutes. Maybe him as an Ambassador will actually work? I think his HOF speech & the production of the new DVD got out his feelings about the old DVD, and now everybody's on the same page.

Rating (1-10): 10.0


WWE doing commercials thanking fans is a pretty great idea. The more people feel involved, the more they react & get involved. Apparently the live crowd chanted "You Are Welcome", "US US US" & "We Are Awesome". At least they got it out of their system during the commercial.


I will not miss Kid Rock's song.


AJ's been champion for 295 days, so she comes out & talks about how great she is. PAIGE! PAIGE IS HERE! It's about damn time! She's here to do what nobody else would. After some back & forth AJ smacks Paige down and decides she'll defend the title against her right now!

WWE Divas Title Match: AJ Lee (w/Tamina) vs. Paige : AJ on the early offense, then she tries to lock in the Black Widow, Paige fights out, hits the Paige Turner & it's over! Paige!!!!!!!!!!!!!!!!!!!!!!!!!!!!!!!!!!!!!!!! Can you tell I'm a fan? She's been the best women's wrestler under WWE contract for at least two years now, and winning the Divas strap her first night in seems deserved. Good for AJ too. She deserved to have somebody like Paige that was deserving of the honor take the belt off of her. It would have been a waste to go with somebody less.

Rating (1-10): 10.0


"Paige got to meet me on Saturday, be at Wrestlemania on Sunday, win the Divas title on Monday. Best 3 days of her life?" - 411's Jeremy Lambert


Lambert gets his own bullet point because he gave Eva Marie my number.


Bolieve!


Time to present the Andre the Giant Memorial Battle Royal Trophy! Hulk got the Superdome right this time. He talks about how he loved the Andre the Giant Memorial Battle Royal, and brings out Cesaro! Zeb Colter is with him, so I guess he's taking credit for Cesaro's win. Cesaro decides he's not a Zeb Colter guy…he's a PAUL HEYMAN GUY! OH MY! Heyman has signed the King of Swing out from under Zeb's nose! This is the difference between an A+ manager & a B+ manager from where I sit. Jack Swagger has taken exception! He knocks Cesaro out of the ring & busts the Andre trophy! This won't end well. Cesaro knocks Swagger out of the ring in response! Looks like we're going to have a Swagger/Zeb vs. Cesaro/Heyman feud…sounds good to me.


Oh, so it's a match. My bad.

Cesaro (w/Paul Heyman) vs. Jack Swagger (w/Zeb Colter) : So is the WE THE PEOPLE chant in favor of Swagger or Cesaro now? I'm so unsure about all of this. The announcers marking out over Cesaro's strength never gets old. It's almost Swing Time, but Swagger decides he's had enough & takes the countout. Heyman has hung on to the Andre statue part of the trophy. Probably easier to carry around. The match itself wasn't much, but the blow off here is coming later so that's fine. Heyman managing Cesaro & Brock is gonna get interesting somewhere down the road, and the insane strength both those guys have would make for a very, very interesting match.

Rating (1-10): 7.0


Shield vs. Wyatts on tomorrow's Main Event. Yeah I'm there.


Speaking of the Shield, they're backstage with Stephanie & Kane. Kane goes off on them, which Stephanie doesn't like. She's trying to convince the Shield that the Yes Movement is an injustice. I…I'm just not sure how the Authority can possibly think that the Shield is still on their side after what's happened over the last few weeks.


We are very low on time for a Bryan vs. HHH match. Like it's 10:57 as I type this & we're on commercial. I get the feeling this won't be a clean match.

WWE World Heavyweight Championship Match: Daniel Bryan vs. Triple H (w/Stephanie McMahon): Bryan makes his entrance. Randy Orton & Batista come on down. This doesn't look good. They both hit their finishers. Crowd's quieter than you'd expect, they're probably waiting for the finish. Here comes Kane. Choke slam! A 3MB chant! Well played, Nawlins. Well played. Here comes Triple H to make his full entrance. He & Steph eventually convince the referee to ring the bell since he values his job. Now the Shield comes on down. This will be interesting. A "Hounds of Justice" chant from the crowd. The Shield enters the ring. Kane & Batista/Orton enter the ring. Triple H tries to make peace, and REIGNS SPEARS TRIPLE H! SUICIDE DIVES ONTO ORTON & BATISTA! The Shield is laying waste to the Authority! Triple H begs off…and he eats a Busaiku knee from Bryan! The Shield & Bryan stand tall in the ring! After a year of battling each other, they are now on the same side! Now that's a baby face side we can all get behind!

Rating (1-10): 8.0


End scene.


Thanks for reading.



The Tirade



Lots of awesome stuff happened tonight. The Shield are finally established as the Hounds of Justice they are, and have turned their attention to the Authority, or Evolution 2.0 or whatever you want to call them. Daniel Bryan survived the night as champion. PAIGE DEBUTED & WON THE DIVAS TITLE. Cesaro is a Paul Heyman Guy, a development which promises to be interesting. The Ultimate Warrior was there! Not much to complain about tonight, and some interesting debuts either happened or were teased, so there should be some good material going forward. You can tell it was good TV because I didn't find pictures to put in the column.

Show Rating: 9.0

As a reminder, I will be going by the 411 scale…

0 - 0.9: Torture
1 - 1.9: Extremely Horrendous
2 - 2.9: Very Bad
3 - 3.9: Bad
4 - 4.9: Poor
5 - 5.9: Not So Good
6 - 6.9: Average
7 - 7.9: Good
8 - 8.9:Very Good
9 - 9.9: Amazing
10: Virtually Perfect

The final rating is not simply an average of the rated segments above. The rating takes them into account as well as the segments that are small but not scored, the flow of the show, the overall booking, build to PPV, crowd reactions, and so on and so forth.




---
Have you checked out the Csonka Podcasting Network? If you haven't, you should We run anywhere from 15-20 shows a month, discussing pro wrestling, the world of MMA, the NBA, general sports, popular TV series of the past, bad movies, battle rap, interviews, MMA & Wrestling conference calls and more! Around 10 different personalities take part in the various shows, which all have a different feel; so you'll likely find something you like. All of the broadcasts are free, so go ahead and give a show a try and share the link with your friends on the Twitter Machine and other social media outlets! Running since May of 2011, there are currently over 400 shows in the archive for you to listen to.



Steve Cook is a Gemini and enjoys drinking the occasional alcoholic beverage or nine, long walks on the beach, objectifying women and winning fantasy football championships. He graduated from the University of Louisville in 2006 & has a B.S. in Political Science with a concentration in Law & Public Policy. He has been a wrestling fan since 1990 and has been writing for 411 since August 14th, 2004; contributing nothing but headaches & utter frickin' chaos to the site. He is a living legend & the last of a dying breed.

Your heart is free. Have the courage to follow it…TO CSONKA'S TWITTER!
Follow Cook as well, it's a good time.

http://www.twitter.com/411wrestling
http://www.twitter.com/411moviestv
http://www.twitter.com/411music
http://www.twitter.com/411games
http://www.twitter.com/411mma
comments powered by