SPOTLIGHTS
411ís WWE Main Event Report 4.08.14
Posted by Alex Crowder on 04.08.2014

The Shield faced The Wyatts in a 6 man tag. Dolph Ziggler faced Real American Jack Swagger and more! Check out 411ís complete WWE Main Event report for all the details!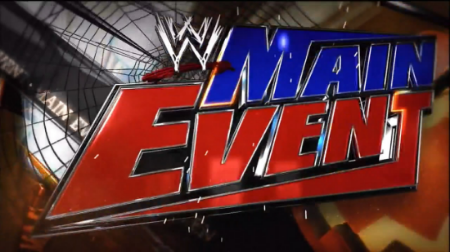 WWE MAIN EVENT 4.08.14



-Match times are not exact

-Recap of Wrestlemania XXX with Daniel Bryan winning the championship! Following that is Daniel Bryan on Raw with all the chants kept in before Triple H interrupts. They finish the recap off with the main event of Raw. Both Batista and Randy Orton attack Daniel Bryan leaving him laid out. Corporate Kane comes out tacking onto the beating. Triple H still makes Daniel Bryan defend the championship after taking 3 finishers. Of course, the Shield comes out pissed because Triple H had them attacked. We see Roman Reigns spear Triple H, then The Shield taking out all of the authority. Daniel Bryan makes sure to hit the knee on Triple H. The show ends in yes chants!

-Wow, we start off with The Shield and The Wyatts.



The Shield vs. The Wyatts


The Shield enters through the crowd first. The Wyatts follow suit. The crowd already begins to cheer as all three of the Wyatts approach the ring. Bray asks have we done this before. Dean Ambrose starts off with Eric Rowan who keeps on the sheep mask. Ambrose slaps it off only for Rowan to throw him in the corner. They trade strikes until Ambrose sends him down with a back elbow from the second rope. Seth Rollins is tagged in leading to a double suplex. 1..2..kickout. Rowan regains the advantage pounding Rollins down like a madman. Rowan whips Rollins and eats his boot when running to the corner. Rollins starts pounding Rowan down leading to a whip reversal. Rollins went for a crucifix into an armbar while Rowan is standing. Pretty innovative technique by Rollins similar to a triangle choke that keeps Rowan grounded. Everyone comes into the ring as the submission is broken. They taunt each other bringing us to our first commercial break.

-commercial break

We return with Bray and Seth. Bray hits Rollins with a spinning belly-to-back suplex dropped on his knee. Bray goes into a chinlock of some kind before tagging Rowan back in. Rowan cuts off Rollins' breathing. The referee is distracted admonishing him. Luke Harper gets a cheap shot in while Rollins is laying on the ropes. Another belly-to-back suplex gets a nearfall for Rowan. This leads to a Luke Harper tag. Luke Harper hits a clothesline in the corner. Luke gets a back elbow on Rollins and ends up flipping Rollins to his feet. Seth crawls towards the wrong corner. He reaches Roman Reigns who is a house of fire. Reigns takes out anything that moves. Reigns hits a flying lariat on Luke Harper. A tag to Ambrose leads to the belly-to-back suplex neckbreaker double team. 1..2..kickout. Luke gets a big boot for a nearfall. Now, Bray is tagged in and hits the corner splash. He makes sure to taunt Ambrose while he is down. Another tag bringing Rowan back in who quickly hits a body slam. The cranium crusher for Rowan and Ambrose bites his fingers to escape. Rowan hits a side slam for a 2. Luke Harper is tagged back in. Luke with stiff european uppercuts. They start trading slaps until Harper makes another tag to Rowan. Rowan continues to dominate Ambrose fish hooking him and pulling his nose. The crowd gets behind Dean who fights to a vertical base. Rowan tries to toss Ambrose out. Ambrose skins the cat only to get met with a brutal knee by Rowan.

-commercial break

We return with Bray in who tags Harper in immediately. Harper gets the gator roll on Ambrose and rolls that into a tight headlock. The crowd starts rallying behind Ambrose. Dean is fighting it like a maniac, and he finally escapes with a jawbreaker. They both start trading strikes until Harper grabs his legs sending him face first into the mat! Bray is tagged back in. The patriarch of the Wyatt family starts pounding on Ambrose. Rowan comes back in hitting Ambrose with a jumping knee drop. Rowan whips Ambrose into the corner catching him in a bearhug. Dean fights back with the crowd behind him. Rowan's powerslam attempt is reversed into a rear naked choke. Rowan simply falls on his back crushing him into the mat. 1..2..kickout. Harper back in for more punishment on Ambrose. Ambrose chant breaks out as he hits a hard clothesline. Dean almost gets a tag before Bray comes in cutting him off. Bray goes for the corner splash but meets a boot to the face. Dean stays on top but Bray headbutts him and goes on top with him. Bray goes for the superplex but Ambrose fights back. The crowd is getting into it allowing Dean to headbutt his way out. Dean goes up top but is caught in the Ura-Nage by Bray. 1..2..kickout. Everyone comes in leading to a brawl. Luke Harper hits his awesome suicide dive on Reigns. The cover of the table is taken off by Harper. Wyatt does his taunt lifting Dean up going for the kiss. Ambrose reverses that with a roll-up. 1..2..kickout. Dean hits a DDT. Ambrose makes the hot tag to Seth Rollins. Seth dropkicks Harper to the outside and does the same for Rowan. Rollins with his own suicide dive. WOW, a tope hits Rowan right after from Rollins. This is awesome chant. Rollins hits corner forearms goes for another and flips over. Seth hits Wyatt who tries to stop his momentum. Rollins hits a Shinraui on Rowan. 1..2..cover broken up by Harper. Dean goes crazy sending Harper out, but Wyatt hits him out. The superman punch by Reigns on Wyatt. Rowan dumps Reigns out. Rollins hits kicks to the heads on both Rowan and Harper. The seated dropkick for Reigns and a curbstomp by Rollins leads to a headlock driver on Rowan. 1..2..3 for Ambrose!

OFFICIAL RESULT: The Shield @ 19:00 via pin
MATCH THOUGHTS: What can I say about that. It started slow but ended amazingly. I could barely recap it towards the end because they went at such a fast pace. Amazing match that told a completely different story than the match they had at Elimination Chamber, yet equally incredible. Everyone should check it out if they are not watching Main Event right now. I don't really do technical ratings but in entertainment call it 4 ½ out of 5.

-Interview time with The Shield. Seth Rollins says it felt good and that no one can stop a united Shield. Dean Ambrose is choking while trying to talk. He tells the others to finish the promo. Rollins talks with Ambrose who catches his breath. He can barely talk because his rib hurts. Dean Ambrose says they face any test that gets in their way. Seth Rollins says they are not faceless, nameless, or expendable. They are not anonymous. Roman Reigns hits on Renee. He says Cajun Dome do I have a name? He asks what his name is as the crowd starts a Roman Reigns chant. Seth Rollins is laughing. Hopefully, Ambrose's ribs are not too bad. He seems fine now. Triple H his name is Roman Reigns and he speared you Monday night. The Shield is standing right here. Seth Rollins and The Shield are prepared for War since the moment they stepped foot in the WWE. There is no greater injustice than the authority. Triple H fired the first shot, but The Shield will own this war. You can believe that and believe in the Shield.

-commercial break

-Adam Rose exotic express promo

-the streak being broken is recapped

-the Wrestlemania history recap with that Kid Rock song



Jack Swagger with Zeb Colter vs. Dolph Ziggler


I notice Swagger uses the same theme as Cesaro still. The we the people chant is still over for Swagger.

-commercial break

-the video thanking the WWE Universe is aired

Swagger's theme is still playing as Colter has the mic. Colter says Cesaro showed his true colors after everything they did. Cesaro backstabbed them proving everything they ever said about immigrants. Paul Heyman is a thief, and Cesaro is a liar. They deserve each other. Colter asks for every real american to rise and say we the people. The crowd obliges him. Dolph Ziggler comes out to a good ovation. Dolph starts off with a dropkick, and a quick miss leads to a Swagger bomb for 2. Jack attacks with corner knees. Swaggers hits a short arm clothesline. 1..2..kickout. Jack gets a butterfly lock of sorts and the crowd gets behind Dolph. Dolph hits a back elbow and back body drop to the outside. Ziggler gets a chance to recover. Swagger misses a clothesline and is caught with a cross body and punches. Dolph catches him in corner punches and goes for a falling neckbreaker. Swagger reverses that and they run the ropes leading to a chop block. Jack regains the advantage missing the Swagger bomb. Ziggler goes for a DDT is caught, but goes over for a sunset flip. 1..2..kickout. Patriot Lock by Jack, yet Ziggler fights out. Ziggler with a fame asser for a nearfall. Dolph sells his leg wonderfully as a Let's Go Ziggler chant start. Swagger gets a running knee for 2. The crowd is behind Dolph Ziggler tonight. Jack lifts him for a gutwrench powerbomb, but that is reversed and a DDT for Ziggler. 1..2..kickout. Dolph goes for something else but is caught into an Electric Chair leading to a victory roll. 1..2..kickout. Swagger ends up catching him with the Patriot Lock causing Dolph to tap.

OFFICIAL RESULT: Jack Swagger @ 5:00 via submission
MATCH THOUGHTS: Good little match in 5 minutes. These two made the best of little time. The crowd was into it and so was I.

-Rusev's destruction and raw debut is highlighted

-commercial break

-Daniel Bryan journey promo next!

-Bolieve promo for Bo Dallas



Sin Cara vs. Alexander Rusev


Sin Cara makes his way to the ring. The ravishing Russian Lana comes out. Always a welcome addition to any event, and she wants us to rise for the Super Athlete. Alexander Rusev comes out. I have to admit I really like his theme for some reason. Rusev misses a corner splash. Sin Cara using kicks and high-flying moves to keep Rusev on guard, but that does not last. Rusev quickly turns the tide with a side kick. Rusev lifts him in a sort of Ura-Nage technique. The accolade on Sin Cara making him tap immediately.

OFFICIAL RESULT: Alexander Rusev @ 1:00 via pin
MATCH THOUGHTS: A squash match that solidifies Rusev's dominance. At least, he is really athletic for a big man.

-Smackdown this week will have Daniel Bryan and The Usos vs Kane, Randy Orton, and Batista.



FINAL THOUGHTS: Great show mostly because The Shield and The Wyatts match. Swagger and Ziggler was pretty good too. Rusev remained completely dominant. Nothing more to ask for, but I suggest everyone catch it for The Shield and Wyatt match alone.

comments powered by