SPOTLIGHTS
Tremendous Tirades 04.14.14: Monday Night Raw
Posted by Steve Cook on 04.14.2014

A tournament starts to determine Big E's next challenger, Kane decides he wants to be Daniel Bryan's next challenger, and the Shield runs into Evolution!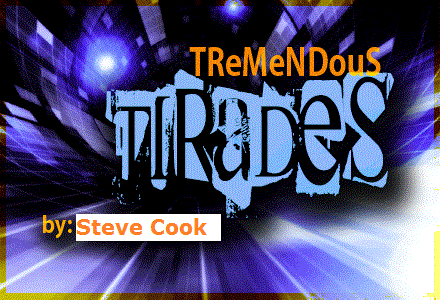 Introduction

Hi kids, it's your favorite Steve Cook! Larry should be back in this slot very soon, but you've got me for another week. At least try to hide your disappointment until the column's done! Personally I like doing my semiannual wrestling news columns better, but it is what it is. We've got a ridiculously loaded first round in a tournament for the #1 contendership to the IC strap tonight, Paige & John Cena tonight. Raw Thoughts ahoy!
---
WWE MONDAY NIGHT RAW – IN MEMORY OF WARRIOR
One week ago Warrior was making his first appearance on Raw since 1996. Little did we know that it would be his last. Certainly our condolences go to his family, and even though it probably seems weird to non-wrestling fans, I do think it's awesome that he mended his fences with WWE and was paid a proper tribute while he was still around to appreciate it. As I said in last week's news column, I tend to associate Warrior with Randy Savage since they were feuding when I was early in my wrestling fandom, and one of the many things I hated about Savage's death was he didn't get the tribute from WWE that he deserved while he was alive.


We start with the Superstars on stage, many wearing Warrior shirts. Jerry Lawler announces we will pay tribute to the Ultimate Warrior, then we get a music video with insight from Hulk Hogan, Triple H, Stephanie McMahon & of course, Warrior. That speech from last week was way too accurate. The bell sounds ten times. Lawler invites us to join them tonight as they celebrate the life of the Ultimate Warrior! Play Warrior's music!

1st Round IC Title #1 Contender's Tournament Match: Rob Van Dam vs. Alberto Del Rio: It seems they've decided to try & make the Intercontinental Title matter again by having this tournament with a ton of former champions competing for a shot at Big E. Makes sense. Now they just need to either rehabilitate the US Title or make Dean Amborse stop wearing it. Most of us have forgotten he holds the title anyway so it wouldn't make much of a difference. Some nice back & forth from ADR & RVD early on. Both are solid performers in need of direction. RVD just came back so at least he has an excuse. And even when he botches something he connects with something else eventually. Juicy Drop sounds like something that Juventud Guerrera should be endorsing. RVD hits the Frog Splash and wins. Well you can't have him lose to ADR, that means nothing. Losing in the next round…now that'd put somebody over. Good match.

Rating (1-10): 6.0


Daniel Bryan is not here tonight since he's on his honeymoon with Brie Bella. I think we can forgive him.


SummerSlam 1988 was a very memorable moment for Ultimate Warrior. Dumbass Honky Tonk Man didn't care who his opponent was. Whoops.


Toys R Us is having a contest where you can pose with an action figure on Instagram & get a $1000 gift card. The commercial has a pretty nice MILF, which is why I mention it here.


Evolution - Ric Flair + Stephanie McMahon talks backstage. Batista & Orton decide that Triple H's problems are his problems.

The Brotherhood vs. Rybaxel: I think there was a point where this match would have been more than an afterthought for the announcers to build other angles during. Maybe. Things kinda pick up with the hot tag from Cody, until a not so good moonsault. He Disaster kicks Axel, but Ryback counters an attempt with a clothesline & gets the win. Huzzah. Not much to see here,

Rating (1-10): 5.0


Bolieve!

Paige vs. Alicia Fox: JBL needs to stop screaming. Alicia is actually a really talented wrestler when she gets a chance to show it, and no better time for her than when she's wrestling a super talented wrestler that's supposed to be an underdog even though she's the champion. Sure enough, Paige gets the advantage…and it's the SCORPION CROSSLOCK! Alica taps & it's over! PAIGE WINS! PAIGE WINS! PAIGE WINS!

Rating (1-10): 10.0

The Usos vs. Randy Orton & Batista: Nice Warrior face paint for the Usos tonight. You know, Orton & Batista work real well together for guys that have hated each other for years. The Shield decide to attack Orton & Batista because why the hell not, and the bell gets ringed. Reigns knocks Batista cold with a Superman punch! Apparently the Shield will be Batista & Orton's problem now.

Rating (1-10): 6.0


The next Ultimate Warrior moment is WrestleMania VI. Definitely the best Hogan vs. Warrior match.


Triple H pops up backstage to tell Orton & Batista that he told them. There ya go.


Paul Heyman promo time! Eventually he introduces Cesaro after mentioning Brock Lesnar ended the streak 49 times. I'm sure it'll be nominated as a Promo of the Year by 411 writers though.

Cesaro vs. Mark Henry: Two freakishly strong men going at it here. Cesaro is on his way up & Mark Henry is on his way down, so you know how this one's going. After some brief action Cesaro knocks Henry down with a flying uppercut & Neutralizes him for the 3 count. Right decision.

Rating (1-10): 6.0


Triple H tells Brad Maddox to tell the Shield they have a match tonight. I want Brad Maddox's job. Other than JTG I'm not sure who does less for their money.


LANA~! As long as she's around, Paul Heyman can only be the 2nd best manager in WWE.

Alexander Rusev vs. Xavier Woods: This ends before I even notice it began, as Rusev makes Woods humble within less than a minute. R-Truth comes to Woods' aid, and Rusev takes him out too. I still don't care much about anything involving Rusev other than Lana.

Rating (1-10): N/A


SummerSlam 1990 featured Ultimate Warrior defending the WWF Title against Rick Rude in a steel cage. The buildup to SummerSlam 1990 was when I started watching pro wrestling. Ah, memories.


If you haven't seen the Journey to WrestleMania special yet I highly recommend it. That Daniel Bryan seems like a pretty cool cat.

Jack Swagger vs. Sheamus: Two big bulls going at it here. Gonna be a bit of a slobber knocker, as the kids say. Swagger sidesteps Sheamus's flying shoulder block & locks in the Patriot Lock. Sheamus kicks out of it, but Swagger knocks him out of the ring, then beats him round ringside. It's cool though, Sheamus does get the win with the Brogue Kick. That knee still gives him problems after the match though, that might not bode well for the next round.

Rating (1-10): 6.0


Adam Rose's bus will get to Raw one of these days.


It's Warrior Week on WWE Network!

Damien Sandow vs. Big Show: Sandow insists he will not be silenced & we will listen to every word he has to say. He runs down his accomplishments before Big Show choke slams him. Oh, this is going on a lot longer than I expected. He does get a "You Deserve It" chant, which I assume is for the butt whooping he'll get eventually. Yup, Show knocks Sandow out. I kinda like the idea, but Sandow's beyond saving at this point. He'd be a great Global Force Wrestling Champion.

Rating (1-10): 4.0

Bray & John Discuss Things: The Alabama fans are way into the Wyatt Family, clapping along with the theme music. Bray gets deeper & deeper each week, it seems. He has never lied to us! Bray won't let John Cena lie to the kids anymore! He invites Cena to come out & play! Cena admits the last thing people want to see him get is a push right now, and he asks Bray why he's so serious. Rowan's a jokester, Harper likes to streak, and Wyatt is a ladies' man. Apparently Cena found Sister Abagail on Myspace (is that still a thing?), and she looks a lot like Bray. Cena then found their momma on Tinder, and she also looks like Bray. Apparently there's a new member of the family born a month ago, and TMZ found her…she also looks like Bray. Super Serious Cena returns & challenges Wyatt to a steel cage match! Bray's all for having a good time. He's got the whole world in his hands!

The Bray parts were great. The Cena photoshop stuff was the usual WWE photoshop ridiculousness. I gotta go in the middle on this one unfortunately.

Rating (1-10): 6.0

Santino Marella & Emma vs. Fandango & Layla: Fandango broke up with Summer Rae last week after their loss to Santino & Emma. Some people think Layla is an upgrade from Summer Rae. Some people are insane. In any event, Emma dominates Layla early on, but a distraction by Santino leads to Layla getting the win. Yay? Not enough to judge here.

Rating (1-10): N/A


Stephanie dresses Kane down because, well, she hasn't dressed anybody down yet this week. After getting bitched at, Kane decides to take his mask out of its box. Apparently he'll be getting a crack at Daniel Bryan sooner rather than later. Well, Kane does usually get one PPV title shot a year so it makes sense.


Bo Dallas is so inspirational. I want to Know More Bo.


We go back to Warrior's last appearance on Raw last week. Again, it's really creepy that he gave his own eulogy. I hate to keep belaboring the point.


Adam Rose tells the bunny not to be a lemon, be a Rosebud!

Dolph Ziggler vs. Bad News Barrett: Ziggler is wearing a Warrior shirt, Barrett has a fun new cape. Barrett tries to start a Bad News chant, but he's in that death slot before the main event so it doesn't work. I think a Barrett vs. Ziggler match with a European crowd would be pretty interesting. This crowd is more interested in CM Punk, which is kind of funny because these are the types of guys that the fans so interested in CM Punk would normally want to see more of & typically complain about not getting pushes. MAKE UP YOUR MINDS PEOPLE. And now they're chanting it's awesome. Fucking horrible.

Bad News gets the win, and lets us know he has some bad news! He'll be the next Intercontinental Champion. Does he really want that? It didn't go so well for him last time. The match was decent, but the bipolar fan reaction takes it down a notch.

Rating (1-10): 7.0


We get a video package reminding us that Kane is more than the ineffective Director of Operations.

The Shield vs. Alberto Del Rio, Jack Swagger, Fandango, 3MB, Titus O'Neil, Rybaxel, Alexander Rusev & Bad News Barrett,: Yup, it's the good ol' fashioned HANDICAP MATCH! Rollins gets caught in the bad guys' corner & is in deep doo-doo. He sells for O'Neil & Ryback because somebody has to. Reigns spears somebody & all heck breaks loose. Rollins takes everybody out with a dive! The Shield stands tall in the ring, but the numbers game catches up with them. Then we hear the Evolution theme music! The band is back together! I always liked their theme music. They take out whatever's left of the Shield, which isn't much. Reigns fights back briefly, but that doesn't work. Orton & Batista hit Rollins with their finishers because they want Rollins to sell them. Ambrose gets the double finisher, and Reigns gets a Pedigree. You know you're the Chosen One when Triple H Pedigrees you. Alabama does not believe in Evolution. This does not surprise me.

Rating (1-10): 7.0


End scene.


Thanks for reading.



The Tirade



No, this show wasn't on the same level as last week's show. That was a post-WrestleMania show in front of a hot crowd. This was a show in front of a questionable crowd without the champion or John Cena wrestling. That'll take things down a few notches. I expect things to be better next week when D-Bry's honeymoon is over. Well, except for the part where he's feuding with Kane...

Show Rating: 6.0

As a reminder, I will be going by the 411 scale…

0 - 0.9: Torture
1 - 1.9: Extremely Horrendous
2 - 2.9: Very Bad
3 - 3.9: Bad
4 - 4.9: Poor
5 - 5.9: Not So Good
6 - 6.9: Average
7 - 7.9: Good
8 - 8.9:Very Good
9 - 9.9: Amazing
10: Virtually Perfect

The final rating is not simply an average of the rated segments above. The rating takes them into account as well as the segments that are small but not scored, the flow of the show, the overall booking, build to PPV, crowd reactions, and so on and so forth.




---
Have you checked out the Csonka Podcasting Network? If you haven't, you should We run anywhere from 15-20 shows a month, discussing pro wrestling, the world of MMA, the NBA, general sports, popular TV series of the past, bad movies, battle rap, interviews, MMA & Wrestling conference calls and more! Around 10 different personalities take part in the various shows, which all have a different feel; so you'll likely find something you like. All of the broadcasts are free, so go ahead and give a show a try and share the link with your friends on the Twitter Machine and other social media outlets! Running since May of 2011, there are currently over 400 shows in the archive for you to listen to.



Steve Cook is a Gemini and enjoys drinking the occasional alcoholic beverage or nine, long walks on the beach, objectifying women and winning fantasy football championships. He graduated from the University of Louisville in 2006 & has a B.S. in Political Science with a concentration in Law & Public Policy. He has been a wrestling fan since 1990 and has been writing for 411 since August 14th, 2004; contributing nothing but headaches & utter frickin' chaos to the site. He is a living legend & the last of a dying breed.

Your heart is free. Have the courage to follow it…TO CSONKA'S TWITTER!
Follow Cook as well, it's a good time.

http://www.twitter.com/411wrestling
http://www.twitter.com/411moviestv
http://www.twitter.com/411music
http://www.twitter.com/411games
http://www.twitter.com/411mma
comments powered by