SPOTLIGHTS
411ís WWE Main Event Report 4.15.14
Posted by Alex Crowder on 04.15.2014

A battle royal to determine the number 1 contender for Paigeís Diva Championship at Extreme Rules takes place, while Bad News Barrett faced off against Sin Cara and more! Check out 411ís complete WWE Main Event report for all the details!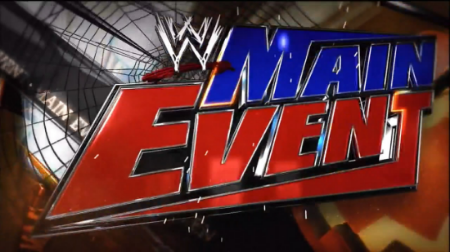 WWE MAIN EVENT 4.15.14



-Jinder Mahal starts insulting El Torito, and he thinks Torito is a bunch of bull. 3MB has a mascot of their own which is Hornswoggle as a midget Heath Slater. Torito does not seem pleased by this development.



Los Matadores(Diego and Fernando) with El Torito vs. 3MB(Drew McIntyre and Jinder Mahal)


Jinder Mahal gets a headlock on Fernando and sends him down with a shoulderblock. Both run the ropes until Fernando hits a hurricanrana tagging in Diego. Jahal hits a jawbreaker and tags in Drew. Diego with a headlock of his own and backflips over Drew's back, when Drew runs towards him, and Diego keeps the momentum with a springboard cross body for 1. Diego uses his athleticism to keep Drew off-guard until Hornswoggle distracts him. Torito misses a charge on Hornswoggle. They start brawling and roll over the referee causing him to throw out the match.

Torito causes Mahal to run into Diego's head causing a low blow. Fernando is low blowed by Hornswoggle. Torito kicks Mahal in the nuts sending him down. Now, Hornswoggle taunts Torito who returns the favor. They keep brawling and rolling all over the place until Torito gets the advantage. 3MB regroups on the outside. Torito goes for a tope but Los Matadores hold him back as the crowd chants let them fight.

OFFICIAL RESULT: No Contest @ 4:00
MATCH THOUGHTS: Not really much to say. This was more a vehicle to promote Torito and Hornswoggle. The crowd seemed into though.

-promotion for Swagger and Big Show later

-they promote Warrior week too by showing a Warrior highlight

-commercial break


-Barrett is afraid he's got some bad news. Sin Cara is stepping into the ring with the next IC Champion. Cara's friend Scooby Doo won't help him because this is real life. Barrett confirms that Cara is still a joke in reality.



Sin Cara vs. Bad News Barrett


Barrett starts off with some stomps as the crowd chants for him. Sin Cara ducks a charge from Barrett causing him to flip out the ring, before hitting a beautiful suicide dive on Barrett. Cara up top but Barrett sees it coming and plays to the crowd. Barrett connects with a running knee to the midsection for 1. Barrett pounds on his head before hitting a knee drop on Cara's head. Barrett lifts Cara with a pump handle slam. 1..2..kickout. Barrett starts a Bad News chant that gets going, yet he tells them to shut up anyway just like a true heel. Cara back flips out and hits a springboard cross body. Next, the headscissors takedown hits Barrett and a back elbow. 1..2..kickout. Sin Cara hits a nice kick to the head of Barrett. He goes up top taunting and missing a senton but landing on his feet. Barrett hits winds of change (black hole slam) and revs up the Bull Hammer. Barrett clobbers Sin Cara with the Bull Hammer. 1..2..3.

OFFICIAL RESULT: Bad News Barrett @ 3:00 via pin
MATCH THOUGHTS: Bad News Barrett seems to be having the time of his life and it shows. This was good for 3 minutes. I only wish it got a little more time.

-commercial break

-the Warrior tribute is shown in nice touch

-a package featuring highlights of Warrior's career is shown with thoughts from Hogan, Triple H, and Stephanie. Also, I must mention that the hall of fame ceremony and his appearance from Raw is shown along with the promo.

-from Raw a recap of the bell toll is shown too along with the fans and Warrior chant

-Warrior's greatest matches will premiere at 10 pm eastern on the WWE Network

-commercial break

-recap of Paige ending AJ's 295 day reign with the Divas Championship after Wrestlemania



Battle Royal No 1. Contender for the Divas Championship at Extreme Rules: Nikki Bella vs. Naomi vs. Cameron vs. Emma vs. Tamina Snuka vs. Alicia Fox vs. Aksana vs. Eva Marie vs. Layla vs. Natalya


This match consists of ten divas making it harder to recap. For now, everyone is just brawling until Layla kicks Eva Marie off the apron eliminating her. Emma gets the Tarantula on Aksana. Nikki Bella tries to dropkick Emma off who skins the cat. Nikki sends her off anyway and Aksana follows. Natalya attacks Nikki and Layla misses a cross body on Natalya hitting mat only and is eliminated by Natalya. Tamina takes out Nikki Bella with a superkick. Tamina and Naomi exchange moves until Tamina dumps her out with a Samoan Drop. Cameron gets pissed and attacks Tamina relentlessly only to get dropped on her head. Tamina kicks her out too. Nikki Bella tries to eliminate Alicia Fox to no avail. Alicia grabs her hair from the outside. Tamina grabs Nikki pushing her into Alicia sending her out. Tamina kicks Nikki out too; Tamina superkicks Natalya off the apron giving her the victory.

OFFICIAL RESULT: Tamina @ 5:00 via over the rope elimination
MATCH THOUGHTS: I'm not a huge fan of battle royals, but this worked well. Tamina looked extremely dominant for her match with Paige. This also continues the story with Tamina and AJ too.

-commercial break

-Adam Rose promo

-Kane and Daniel Bryan are both promoted to be on Raw next week

-they talk about the Steel Cage match between Bray Wyatt and John Cena at Extreme Rules

-The Shield and Evolution feud is recapped. The Shield facing 11 opponents in a handicap match last night is shown. The Shield being decimated by their opponents is shown along with the spear and dives by the Shield. The numbers game got to them though leaving them laid out. Evolution's theme hits as they enter the ring. They even show old clips of Evolution beating people down. They start beating down the weakened members of The Shield. Every finisher they took is shown with Evolution standing tall.

-Triple H will address his actions on Smackdown



Jack Swagger with Zeb Colter vs. Big Show


Zeb Colter is holding a deport Cesaro sign. Jack Swagger holds the other side of the sign that says I don't miss the swiss.

-commercial break

-Legends House promo premiering this Thursday on WWE Network

Zeb Colter is a real american as he gives us a history lesson. He will say names what do they have in common. He mentions Benedict Arnold, and other historical traitors along with Cesaro. Cesaro validated everything he said about sneaky immigrants. Colter says Heyman cannot get a woman if his life depended on it. He also throws a bunch of other insults to Heyman. Big Show is also a big problem just like Cesaro and Heyman. Big Show is the poster child for American laziness. He wants every Real American to rise and the crowd obliges with a We the People. Big Show comes out to a pop.

The match starts with Swagger getting a go behind on Big Show. Big Show powers out as Swagger runs the ropes right into a big boot. Show sends him into a corner and hits the corner chop. Show decides that is not enough hitting another and throwing him back into the corner. Show runs towards Swagger who kicks him in the face. Swagger hits a corner splash. Show puts his foot up for the other corner splash attempt but Swagger catches it slamming it to the mat. Swagger works the leg viciously hitting the chopblock, and driving his elbow into the left leg too. He says we the people while keeping the hold on Show. The crowd gets behind Big Show who leg scissors out. Swagger with another chopblock on the left knee. The swagger bomb crashed against Show's figure. He decides two Swagger Bombs (corner slingshot splash) will be better. 1..2..kickout. The kickout sends Swagger flying. Swagger though works back on that knee. Big Show finally kicks out after a few attempts. Swagger Sparta Kicks Big Show's chest sending him down. 1..2..kickout. Show with a big chop and slowly hobbles to his feet. Show hits slow running clotheslines and a flap jack to Swagger. Show calls for the Chokeslam. Jack reverses that into a victory roll and Patriot Lock. Swagger has it locked on in the middle of the ring. Show can barely crawl because he's in the middle of the ring trying to escape. Colter shouts encouragement. Big Show is fading quickly and looks like he nearly passed out. Big Show somehow gets out and gozzles Jack Swagger. The gozzle push and a knockout punch for Big Show. 1..2..3.

OFFICIAL RESULT: Big Show @ 7:00 via pin
MATCH THOUGHTS: This was match of the night simply for getting enough time. The match was pretty decent and Big Show sold everything really well. The only complaint would be Big Show staying in the Patriot Lock too long.



FINAL THOUGHTS: Decent little show tonight. It was nothing too extraordinary just an average episode of Main Event. Thanks to any who read the recap.


comments powered by