SPOTLIGHTS
411's Total Divas Report 04.20.14
Posted by Ryan Byers on 04.21.2014

This episode features women's health issues, sex therapy, a wedding, and concerns about interracial dating. No, it's not a clip show.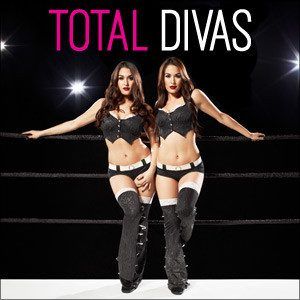 Do you like Ryan's exasperated ranting about Total Divas? If so, check out his exasperated ranting about numerous other wrestling-related topics on Twitter.

April 20, 2014 is a weird day. It's both Easter and the day on which more marijuana is consumed than any other. It's the birthday of both Adolf Hitler and George Takei. It's the 15th anniversary of the Columbine shootings. It's the day that Rubin "Hurricane" Carter died. I don't know what any of these things has to do with Total Divas, but they're all things that have been on my mind today.

We are in Tampa, Florida, where Nattie and Trinity are meeting up at a bar and talking about how they both feel they aren't pleasing their men enough. That's what you get for spending so much time on Daniel Bryan's erection-free bus. Trinity notes that she and Jon Uso have been engaged for over two years without setting a date, leading to a wager on a pool shot in which the two must get married within the next six months if the shot is made. Jon misses but knocks the balls in with his hand anyway to get our plot moving forward.

After the micro-theme song, Eva Marie and husband Jonathan are concerned about her stomach, which is supposedly badly swollen. Maybe she actually ate a sandwich for once in her life. Then they mention she's peeing blood. Okay, so maybe it was an Arby's sandwich. They drive to the hospital.

Now Nattie Neidhart is in a hotel lobby with Ariane and the Bella Twins. Ariane tells everybody that, in a conversation last night, it came out that Nattie did not know what "doggie style" was. Between this and the Summer Rae picture scandal, I'm starting to figure out Ariane's character on this show. She's a blabbermouth who tells on everybody. It's a shame Robert Reed isn't still alive, because he could get this all sorted out.





Anyway, all of the girls make fun of Nattie for being a prude, but she says she prefers things that way. She does this through an extended, awkward metaphor involving various types of coffee. She needs to give up on the coffee and go back to her tea kettle . . . which she should also settle.

Trinity and Jon Uso are in bed together, and Trinity's footie pajamas make their big return for season two. They decide that they're going to have a small wedding and they're going to have it almost immediately. Yes, Trinity's Uncle Buck is on the guest list.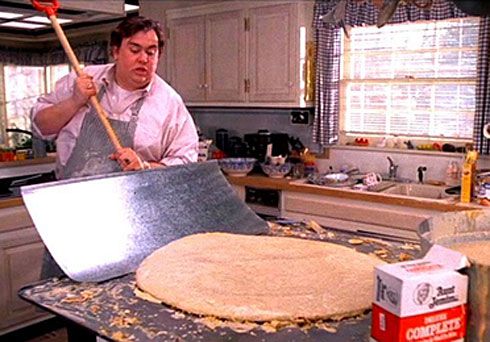 Jon says that he's going to invite his brothers and his mom but not father Rikishi, because they're "not on the same page." Trinity suggests that they try to work out their problems at Old School Raw, which is coming up shortly. So that nobody in the comment section calls me out for "missing" it, I will say that we are jumping back and forth within the WWE timeline again, because the Nattie vs. Summer Rae match that was a big plot point last week occurred at the Old School Raw tapings (you could tell because of the red, white, and blue ring ropes) and now we're back at the same show again, with the episode being edited in such a way as to make it look like it's a separate event. I personally am not as bothered by this as some people because it's pretty clear now that the Total Divas audience and the audience for main WWE programming are mostly separate, but there are readers who want these items noted for the record.

Back in Orlando, Eva Marie and Jonathan are at the doctor's office explaining her symptoms to a physician. She tells the doctor that her urine was bright red this morning. You weren't dyeing your hair while you were being, were you? That could explain it. She is whisked off to have a sonogram done, and it turns out that there is a ruptured ovarian cyst. This means that she is going to be on bed rest for some time, which prompts her to call WWE, who she is clear to loudly note are gracious in giving her all of the time off that she needs.

I don't care enough to go back and do the research, so I'm just going to throw this out there as an open question to the readership: Has there been a time since Eva Marie debuted that she's been on TV for long enough to plausibly have been sidelined dealing with this supposed medical issue?

No we're at Old School Raw. Trinity is pushing her Cookie Monster to go talk to his father, but he's getting second thoughts. Trin makes it into a racial issue, thinking that Rikishi might be upset because his son is marrying a woman who is black as opposed to Samoan. That can't be the case. The Rock was the product of a mixed race marriage, and Rikishi didn't show any ill will towards him. Hell, he still ran over Steve Austin with a car for the Rock and for . . . the people.

We get footage of Rikishi and Too Cool squashing 3MB on Old School Raw, and that leads in to the big conversation. After some hemming and hawing, Jon eventually invites his old man to the wedding, and Kish initially reacts with shock but ultimately gives his blessing.

Back at Eva's hospital, we're looking at more sonograms and find that she has an oddly shaped uterus. It essentially has two peaks whereas most uteruses have one. So she's got a Bactrian uterus and not a Dromedary.

Ariane, Nattie, and the Bellas are at the gym, and once again they're on Nattie about doggie style. (Bad choice of words, there, Ryan . . .) Ariane brings up her sex therapist from last season, the not-suggestively-named-at-all Dr. Milrod. Of course, the whole reason that Ariane went to the sex therapist last season was because she was the repressed prude not pleasuring her man, but if I was going to be critical of this show for recycling Ariane's storylines, I would've already mentioned that the "Eva Marie's deformed lady parts" angle is already remarkably similar to Ariane's heroic battle with fake endometriosis last year.

Ultimately it is decided that Dr. Milrod will pay Nattie and TJ Wilson a visit at their home. Careful, Nattie. The last time you had a Total Divas cast member at your house, you got slapped so hard that your nose started to bleed like a ruptured ovarian cyst.

Eva Marie is on the phone with her doctor, and she gets "bad news" that she doesn't want to tell Jonathan about. Well, if you don't want to tell him, I've got a guy . . .




After a commercial break, Gary Busey assembles the divas and teaches them to meditate.

Sorry, wrong show.

After a commercial break, we are at Casa Eva Marie, where Jonathan walks in wearing a sleeveless zip hoodie with no shirt underneath. Does this guy go shopping with Dave Batista? Eva is crying because she has been told that there is the potential she will not be able to have children, which is the one thing that Jonathan has apparently always wanted in his life. Jonathan, despite being dressed like a total dingbat, is fairly rational about the whole situation and says that 1) they need to focus on Eva's current problems first and 2) they should consult with a specialist before fully closing the door on whether she can reproduce. I would have also added, "3) maybe it's not the worst thing in the world if you can't reproduce," but I guess that's why Jonathan is married to Eva Marie and I'm not.

(Yes, THAT is the reason.)

They also talk about whether Eva's family has been made aware of the medical issues. She has not contacted them, and there are questions about whether they should be clued in given the tension between Eva and the family as a result of the marriage to Jonathan.

We are now in Hawaii, where the Uso twins and Trinity touch down for the wedding. They have a gorgeous oceanfront house reserved for the wedding, but communications between Jon and Rikishi are still strained.

Back with Jonathan and Eva Marie, the couple starts to get into a fight about whether Eva should have a conversation with her mother, as Jonathan says she should do it but she's still scared. Jonathan makes a call to mom and actually does a really good job of giving a speech that explains the situation and simultaneously tries to smooth things over. We learn that, despite his best efforts, Eva Marie's mother is still going to be a horrible, unreasonable harpy of a woman, as before she even asks what is wrong with her daughter she essentially says, "You thought you could live without your family, but here you are crawling back."

However, she eventually backs off when Eva explains what the situation really is and says that she's going to come out immediately. Well, that deescalated quickly.

Nattie Neidhart and TJ Wilson get their house call from Dr. Milrod. TJ explains that he doesn't know why the therapist's services are necessary. Nattie says that they can stand to "spruce things up." What are they going to do, reupholster his penis? Dr. Milrod suggests "sex-proofing" the house, which consists of her giving them a different sexual game of some sort to play in each room. I don't know what you think the suffix "-proofing" typically means in this context, but this sounds like the exact opposite of what I think of when I think about "-proofing" some area of my home. In short order, Dr. Milrod suggests inserting a banana into Nattie (Jim Cornette's ears just perked up), confining sexual relations in the office to "rear entry" (which TJ is creepily very excited about), and doing it in the foyer in full view of the neighbors.

If you have ever complained about WWE's product being lame because it is PG, please find and watch the foregoing scene, because it is hard proof that entertainment is not necessarily better just because it is more suggestive.

Back in Hawaii, Jon and Trinity's families are having a nice dinner, but Rikishi is still nowhere to be seen. Trinity pulls Jon aside to talk to her about the situation, and he spills the beans . . . Big Kish ain't coming after all. Jon says it's because of a "last minute appearance" he was booked for. Curse you, Jeff Jarrett! Your Global Force Wrestling upstart is tearing families apart!

Either this is pretty close to legit or brother Jey Uso is a way better actor than I ever would have given him credit for, because he's nearly in tears giving a motivational speech about how, even if Rikishi isn't there, they're still surrounded by people who love them and this wedding should go forward.

At a WWE event, Nattie reviews the outcome of her sex therapy session with the Bellas and Ariane. She says things went well and they show a flashback of the couple engaging in some roleplaying in which TJ was a burglar who broke into the home of innocent schoolgirl Nattie. Soooo . . . basically in one night they went from being completely and utterly vanilla to acting out a rape fantasy? That seems a bit extreme.

Next we get some clips of a Nattie/Aksana match. Oddly, a banana peel falls out of Nattie's crotch when she goes to apply the sharpshooter.

Okay, not really, but given how the show has treated her character so far, particularly as it relates to bodily functions, would you be surprised?

Now we're set for Jon and Trinity's wedding. There are only about twenty guests there. Hell, I figured there would be fifty times the number of Anoa'i's alone. Again, either this is the real deal or everybody involved should be on TV shows far more noteworthy than this one. Even Uncle Buck is crying.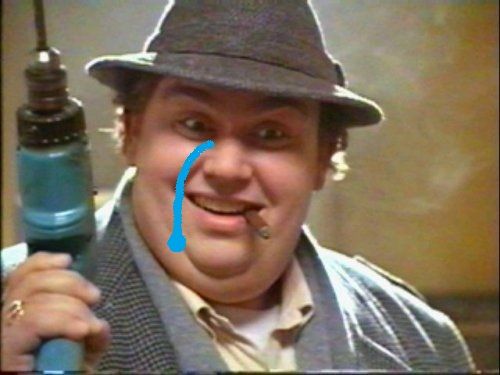 Seriously, though, it's a beautiful wedding

Hey, rather than lingering on that great moment, let's go back to Jonathan and Eva Marie! Her parents arrive at the apartment, with her father asking, "What's going on?" Good to see that your wife has brought you into the loop. Eva and Jonathan explain the situation, and Eva says that she would have "died on the floor" without Jonathan because there's no way she could have driven to the hospital herself. Yeah, because it's not as though there's any kind of service that transports people to hospitals when they are unable to do so themselves, nor is there a specialized, nationally recognized telephone number that somebody can call to almost immediately get that service to their doorstep. After talking over the situation, Eva Marie's family mellows to Jonathan somewhat since he has done right by their daughter, though it's apparent that they are still not ready to fully accept him.

Back at the wedding, Jon's mother gives a tearful speech welcoming Trinity to the family. Everybody's happy, everybody dances, and the show ends on an uncharacteristically positive note.

Overall: This show was quite the mixed bag. On one hand, I liked almost everything involving the Trinity/Jon wedding. As noted above, I suspect that was the real wedding, because everything came off so amazingly well. Even if some aspects of it were worked or recreated for the show, Trinity and Jon have always done a good job on the program of allowing their real relationship and love for one another come through to the viewers. Despite what some reality TV or pro wrestling executives may have you believe, sometimes it is just enjoyable and entertaining to watch two individuals who seem to be genuinely good people and who seem to genuinely care for one another be allowed to be happy. Of course, for the sake of television, they probably do have to face at least some adversity along the way, but focusing on characters when they are happy for the long haul in the story and having them come out happy on the other end of their tribulations is not awful.

My biggest negative comment regarding the show is that it all felt quite derivative. Weddings obviously aren't anything new on the show, but I'm not even necessarily complaining about that aspect being redundant because on a show highlighting people's romantic relationships in their late 20s and early 30s, marriage is obviously going to be a big part of the game. What I am complaining about is the fact that literally every other storyline on the show felt like it was being recycled from last season. As noted above, Nattie and TJ's encounter with the sex therapist as a retread of Ariane and Vinny doing the same thing. Eva Marie's gynecological grief came off as remarkably similar to Ariane's issues a season ago, right down to my being highly suspicious of their legitimacy. Even the briefly alluded to race angle on Rikishi's non-attendance at the wedding felt like it was territory that had already been covered somewhat by Ariane meeting Vinny's Armenian father last season.

This was the nineteenth episode of Total Divas. When you can't even make it to twenty episodes without rerunning not one, not two, but THREE storylines, it might be time to bring aboard some new writers.

Do you like Ryan's exasperated ranting about Total Divas? If so, check out his exasperated ranting about numerous other wrestling-related topics on Twitter.

comments powered by