SPOTLIGHTS
Tremendous Tirades 04.21.14: Monday Night Raw
Posted by Steve Cook on 04.21.2014

This started off well, then went rapidly downhill. Reminds me of pretty much all of my relationships through the years, actually.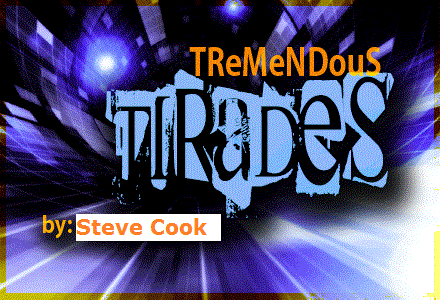 Introduction

Hi kids, it's your favorite Steve Cook! Back another week since Csonka's got family matters & Lambert has playoff basketball & hockey to cover. Tonight on Raw, Daniel Bryan is scheduled to return & Adam Rose's Exotic Experience bus has been spotted in the parking lot. That alone has me more excited for this show than last week's. We also have more Intercontinental Title #1 Contender Tournament action, and with any luck PAIGE will be in action. Let's get right to it!
---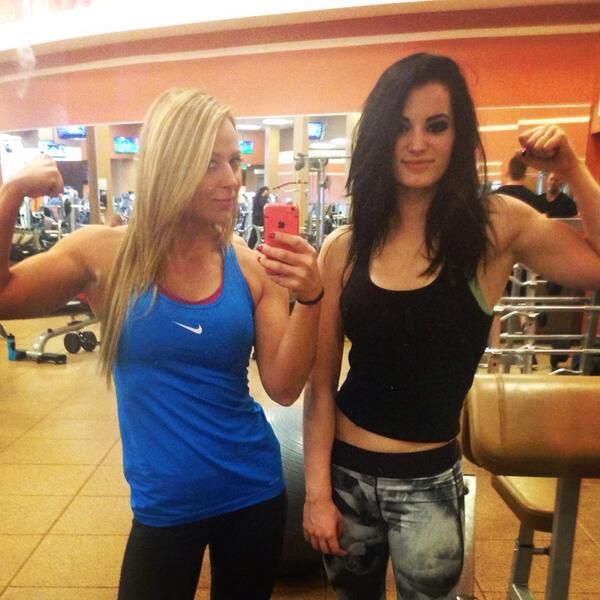 WWE MONDAY NIGHT RAW – EMMA & PAIGE ARE READY
Definitely want to send condolences Bryan's way, as his father passed away while he was off on his honeymoon. I'm not surprised at all that he still wanted to do the thing tonight, that's the type of guy he is.

YES YES YES…Tombstone City: Daniel Bryan enters the ring, with Brie Bella already there because she is. They lead a Yes chant…oh I've got such a bad feeling about all of this. Stephanie McMahon comes down to congratulate them. She gives them a wedding present…Bryan will defend the WWE World Heavyweight Title against Kane at Extreme Rules. And sure enough, here comes Kane to eviscerate, rape & pillage. He tombstones Bryan on the floor! Well that should end Bryan's night. No, Kane decides to tombstone him on the steps as well. Well that'll definitely end his night. No, Kane's still not done. The announce table? Really? Talk about overkill. If this was Mexico Bryan would be out for a year. Pretty solid segment here to make Kane look like a legit threat to Bryan. I'm still not a huge fan of Kane being the first challenger, but the history is there with these guys.

Rating (1-10): 7.5


Bryan is carried out on a stretcher when we return. The announcers are standing even though the table isn't broken.

Bad News Barrett vs. Sheamus: Barrett finally has himself a good entrance. Barrett/Sheamus matches are always fun because they go super physical. It's like the old Finlay/Regal matches where they stiff the shit out of each other & go have a pint afterwards. Nice series of reversals leads to a near fall on the Bossman Slam for Barrett. He sets up the Bull Hammer…but another series of reversals leads to White Noise & a 2 count! They both spill outside, back inside….Barrett hits the Bull Hammer on Sheamus while Sheamus is in the ring & he is not & gets the 3 count! Surprising result to me here. I thought Cesaro vs. Sheamus would be the finals, but Wade pulls the upset. I like it though, after all these aborted Wade Barrett pushes he needs to get a good one. He's got the talent as far as I'm concerned.

Rating (1-10): 8.0


Bolieve.


Hugh Jackman will be back next week. Hey, maybe this will lead to a new Zack Ryder push!


We can use the WWE App to vote on whether John Cena should face Luke Harper, Harper & Rowan, or the entire Wyatt Family. Yeah I think I know how this is going. Bray comes out to cut a promo on how it's a wonderful night for change. I'm listening for the Husky Harris chants since this is Baltimore. We do get some What chants since it's Baltimore. But at the end of the day, Bray Wyatt is the best promo in pro wrestling today. Find me somebody better. I'd love to hear them.

Los Matadores & El Torito vs. Jinder Mahal, Drew McIntyre & Hornswoggle: Wait a minute, Hornswoggle is with 3MB now? That's…actually not terrible. At least it makes sense because they're in the same genre. And it gives Torito somebody to work with. After some midget action Drew decides he wants to work Torito. Slater gets gored, Drew gets hit down low, and a triple team leads to Torito pinning Drew. If I thought Drew had any type of future I'd be mad. But he doesn't.

Rating (1-10): 5.0


Evolution in the house!

I SEE THE LINE IN THE SAND…: The best part of Evolution reuniting is their theme music being played. Yeah I like Motorhead, what about it? What the hell is going on with Triple H's voice? He sounds like a chain smoker. Randy Orton kicks it to a video. Then Batista tells us that the Shield doesn't know what they've gotten themselves into. Of course this leads to a Shield run-in. Evolution immediately vacates the ring & heads up the ramp. Dean Ambrose asks if they look humbled. Seth Rollins gives them a dose of reality. I'm still amazed at how much he's improved at that aspect of his game since entering the WWE system, Reigns tells them they're gonna get their ass kicked, so of course all the other heels come out onto the stage. We get the old Mexican standoff since the Shield won't fall for that ridiculousness.

Rating (1-10): 6.5


It's party time all the time according to Adam Rose, who is coming soon! I heard his bus already arrived.


WWE Network will be showing Best of the Hall of Fame this week. Lawler puts over William Shatner for inducting him. But he really wanted somebody else according to the Internet.


Rybaxel is on commentary! Oh me oh my.

The Usos vs. The Brotherhood: Ryback telling old AWA stories is more interesting than this match. Nothing against the guys involved, but the words "foregone conclusion" come to mind. Goldust & Cody are unhappy afterwards, and Rybaxel attack the Usos afterwards. Kind of a filler segment really. Remember when the tag division was really awesome for a few months?

Rating (1-10): 5.0

Layla vs. Emma: Lawler says he can't wait to be ashamed of what he says during this match. At least he's honest! I don't know why Santino is still hanging around Emma, other than they don't want her to get over. I also don't know why they're plugging Total Divas during this match since neither lady is on the show. Layla playing the hardened veteran against Emma is pretty hilarious. Santino Cobras Fandango because why not. Emma pulls a pink sock out & Cobras Layla. Oh boy. As Andy Clark points out on Twitter, the Santino/Emma relationship doesn't seem to benefit either of them.

Rating (1-10): 5.0


Best part of Legends' House? ASHLEY!


Yeah, she'll be in the Hot 100.


John Cena cuts a promo about how he keeps hearing that Bray Wyatt has the whole world in his hands. He just might. He has to survive tonight, but at Extreme Rules he'll get Bray 1 on 1 in a cage. You can count him down, but don't count him out.

Cesaro vs. Rob Van Dam: Paul Heyman finally got his client some new music. Good for him, I guess. His previous music was better. Heyman wasn't shut up by the commercial break, but RVD's music eventually got him to settle down. Luckily RVD was in ECW so Heyman wouldn't stay on the mike & bury him. Cesaro dominating early on, but RVD comes back and eventually he feels froggy, but Cesaro gets up & uppercuts RVD. RVD is still a flexible man. Cesaro was about to swing the RVD, but here comes Jack Swagger! Cesaro is distracted by the music & RVD gets back into things…for a second before he jumps into a Cesaro uppercut! Swagger rams Cesaro into the ringpost, and Cesaro gets counted out. The Cesaro/Swagger feud continues, and RVD takes on Bad News Barrett next week. This is a way to get to that. Not a great way, but still a way.

Cesaro almost swings Zeb Colter. He does swing Swagger. I think a swing on Colter would have saved this segment, but alas.

Rating (1-10): 5.0


RENEE YOUNG talks to Rob Van Dam. And Paul Heyman & Cesaro because Heyman stalks Renee Young. RVD advises Cesaro to keep his wallet, his house & his future as far away from Heyman as possible. Well, he'd know!

Aksana vs. Paige: Some people are outraged that Paige sells for the Divas. Yeah, God forbid the girl actually try to have a good wrestling match, right? I know it's tough against the likes of Aksana, and I'm shocked that Aksana's getting a match on live television, but it is what it is. You really do have to feel sorry for young Paige being forced to take some of Aksana's attempts at offense. Paige does eventually lock in "what she calls a modified version of the scorpion crosslock". If so, she needs to come up with something more creative. Paige did what she could here.

Rating (1-10): 6.0

Alexander Rusev vs. Sin Cara: I like how Lana & Rusev have different music. Also, she now poses before introducing Rusev. I don't complain. I still think Rusev looks like a jacked up Michael Elgin. I feel sorry for Hunico because he has to dress up like the original Mistico to job to people. How embarrassing. The fans chant for JBL because why not. Lana tells Rusev to crush, so he crushes. THEN HE MAKES HIM HUMBLE! Of all the matches I've seen on Raw, this was certainly one of them.

Rating (1-10): 5.0


Bolieve. A more inspirational man than Bo Dallas I do not know.


John Cena vs. The Wyat Family: This match is going against an insane finish to the Grizzlies/Thunder game, so good luck to it. 53% of the people voted for Cena to face the entire Wyatt Family. If that isn't a reason for Cena to turn bad guy I don't kinow what would be. The Wyatts song is way too much fun to clap along with. Is that a big bald spot in the back of Cena's crew cut? I've never noticed that before. Nothing wrong with balding top guys, mind you. Worked pretty well for Hulk & Stone Cold. Cena gets beat on for quite awhile. And the referee calls for a DQ when the other family members break up a pin attempt on an Attitude Adjustment. Huh? What decade is this? At least I don't feel too bad for watching basketball & wrestling at the same time. Bray does some singing after the Wyatts beat down Cena. I hate to be that guy, but the Wyatts couldn't even pin Cena in a 3 on 1 handicap match? Good gravy.

Rating (1-10): 5.0


End scene.


Thanks for reading.



The Tirade



This show started off really good. The Bryan/Kane stuff was a good attempt to build their feud. Sheamus vs. Barrett was fun. The Evolution/Shield segment was good for what it was. Things went downhill rapidly, much like it did for the Reds & much like it did for the Thunder this evening. I can't recommend much that didn't go down in the 1st hour unless you're a Paige completist.

Show Rating: 5.5

As a reminder, I will be going by the 411 scale…

0 - 0.9: Torture
1 - 1.9: Extremely Horrendous
2 - 2.9: Very Bad
3 - 3.9: Bad
4 - 4.9: Poor
5 - 5.9: Not So Good
6 - 6.9: Average
7 - 7.9: Good
8 - 8.9:Very Good
9 - 9.9: Amazing
10: Virtually Perfect

The final rating is not simply an average of the rated segments above. The rating takes them into account as well as the segments that are small but not scored, the flow of the show, the overall booking, build to PPV, crowd reactions, and so on and so forth.




---
Have you checked out the Csonka Podcasting Network? If you haven't, you should We run anywhere from 15-20 shows a month, discussing pro wrestling, the world of MMA, the NBA, general sports, popular TV series of the past, bad movies, battle rap, interviews, MMA & Wrestling conference calls and more! Around 10 different personalities take part in the various shows, which all have a different feel; so you'll likely find something you like. All of the broadcasts are free, so go ahead and give a show a try and share the link with your friends on the Twitter Machine and other social media outlets! Running since May of 2011, there are currently over 400 shows in the archive for you to listen to.



Steve Cook is a Gemini and enjoys drinking the occasional alcoholic beverage or nine, long walks on the beach, objectifying women and winning fantasy football championships. He graduated from the University of Louisville in 2006 & has a B.S. in Political Science with a concentration in Law & Public Policy. He has been a wrestling fan since 1990 and has been writing for 411 since August 14th, 2004; contributing nothing but headaches & utter frickin' chaos to the site. He is a living legend & the last of a dying breed.

Your heart is free. Have the courage to follow it…TO CSONKA'S TWITTER!
Follow Cook as well, it's a good time.

http://www.twitter.com/411wrestling
http://www.twitter.com/411moviestv
http://www.twitter.com/411music
http://www.twitter.com/411games
http://www.twitter.com/411mma
comments powered by