SPOTLIGHTS
411ís WWE Main Event Report 4.22.14
Posted by Alex Crowder on 04.22.2014

Sheamus faced Titus OíNeil in singles action; while, Big E faced Alberto Del Rio and more. Check out 411ís Main Event report for all the details!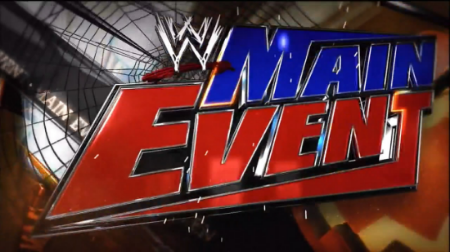 WWE MAIN EVENT 4.22.14





Big E vs. Alberto Del Rio


Big E chants occur throughout the arena before they lockup. Alberto stomps him down instead of locking up. Big E showing athleticism with a leapfrog and a clothesline that sends Alberto to the outside. Alberto uses the outside to regain the advantage coming back to the apron with a hotshot. Sweet tornado DDT connects for a near fall giving Alberto 2. Del Rio hits a stiff kick to the back and follows up with a sleeper hold. Big E fights back to a vertical base. Big E pounds him in the corner whips and meets a Del Rio boot. Big E goes for a flapjack but Del Rio stays on his feet. Big E with a few clothesline until Alberto grabs the arm and drives it to the mat. Alberto connects with a kick to the head. 1..2..kickout. Alberto up top but Big E catches him with a belly to belly. Big E runs the ropes hitting a running splash. Big E pulls the straps down but misses on the powerslam attempt running to the turnbuckle. Another kick from Alberto for a near fall and then he goes for the cross arm breaker causing Big E to ram him into the corner. Another tornado DDT attempt is reversed into Big Ending. 1..2..3.

OFFICIAL RESULT: Big E@ 6:00
MATCH THOUGHTS: I actually liked this opener a lot. These two have good chemistry and it came off well. This match was as good as you can get in 6 or so minutes. My only gripe is that they did not get at least few more minutes; otherwise, nothing I can complain about.

-Bad News Barrett rises up back on his podium. He wants decorum and is afraid he has some bad news. Big E's days as champion are numbered, 12 in fact. He says Big E is a truly horrible champion, one dimensional, teetering on boredom, and his complete lack of intellect. Big E is like this audience. Bad News Barrett will ruin his professional life. Bad News Barrett says the fans have either crappy lives or no life whatsoever.

-commercial break

-they recap the Hornswoggle and Torito feud



Hornswoggle with 3MB(Heath Slater, Jinder Mahal, and Drew McIntyre) vs. El Torito with Los Matadores(Diego and Fernando)


Torito misses a dropkick immediately. Hornswoggle hits a clothesline. Torito hits a nice Ultimo Dragon cradle for 2. Torito starts working the arm relentlessly. Hornswoggle starts to reverse pushing him down but Torito uses that to monkey flip into a sunset flip for a near fall. Torito with a half crab into a headlock sleeper. 1..2..kickout. Another arm ringer for Torito but Hornswoggle starts pounding on Torito missing a clothesline. Torito uses that miss to connect with a dropkick. Hornswoggle with a flapjack and lackadaisical pin for 2. Hornswoggle grabs a sleeper and the horn in a nice heel touch. Crowd finally wakes up cheering for Torito who gets out only to get met with a knee trembler by Hornswoggle. Hornswoggle hits a good clothesline for 2. The crowd stays on Torito's side cheering him on. Hornswoggle taunts and is met with an elbow and kick. Torito up top hits a cross body. Torito keeps up the offense with a dropkick and a corner bull buster (bronco buster) on Hornswoggle. Torito goes up top but Heath Slater distracts him. Now, Torito misses the moonsault and Hornswoggle hits the tadpole splash. 1..2..3.

OFFICIAL RESULT: Hornswoggle @ 6:00 via pin
MATCH THOUGHTS: This was better than it had any right to be. El Torito outshined Hornswoggle though which isn't a surprise. Torito is a good wrestler in his own right, and Hornswoggle did his best keeping up well.

-recap of the Evolution promo from Raw with The Shield intervening

-commercial break



Sheamus vs. Titus O'Neil


These two start with a lockup that Titus gets the best of. Titus grabs a headlock and is pushed off shoulder blocking Sheamus to the outside. Sheamus with a headlock of his own but Titus escapes. Sheamus reverses the headlock grabbing an arm ringer. Titus gets out and hits a stiff chop and European uppercuts on Sheamus. Sheamus returns the favor with his own brutal strikes. Titus with a back elbow that sends Sheamus reeling, and Titus runs at him into a Tilt-A-Whirl slam. Titus pounds on Sheamus and goes for the ten beats on Sheamus but that only makes him angry as he escapes. The slingshot shoulder block is countered by a Titus shove! Titus does his dog bark taunt. Titus doesn't want the count out going outside and manhandling Sheamus against the barricade. Titus throws him in pinning for 2. Titus grabs a sleeper hold as the crowd gets behind Sheamus. Titus with a big knee to the midsection, then he goes to toss Sheamus over his shoulder, but Sheamus lands on his feet. Sheamus shows great athleticism on that one. Titus misses a clothesline and is hit with a few of Sheamus' own clotheslines. Sheamus with a knee trembler and a corner knee, before hitting ten beats from the apron. Sheamus goes up top but is caught with Titus who fallaway slams him. 1..2..kickout. Loud Sheamus chants and Titus starts pounding him down. Sheamus fights back to a vertical base ending up in a corner. Titus beats him down and hits a big boot when Sheamus starts to regain momentum. Titus holds him up with a Canadian backbreaker and drops him onto the knee. 1..2..kickout. Titus taunts him and starts slapping him in the face lifting him. Sheamus doesn't like that leading to a headbutt and hitting a Brogue Kick out of nowhere. 1..2..3.

OFFICIAL RESULT: Sheamus @ 8:00 via pinfall
MATCH THOUGHTS: Sheamus has quietly been on a roll having plenty of good matches recently. Also, I must admit that Titus impressed me in this match up holding his own. Every counter Titus had for Sheamus' normal moves was unique making this the best match of the night thus far.

-commercial break

-raw rebound featuring Kane's attack on Daniel Bryan: Daniel Bryan comes out and they show pictures of his marriage with Brie Bella who joins in on the yes chants. Stephanie the buzzkill comes out to congratulate them in a half hearted manner. She announces that Kane will face Daniel Bryan at Extreme Rules. Stephanie tells Kane not to come out now. Kane enters through the crowd choking Bryan. Stephanie demands for Kane to let him go, but Kane does not care sending Bryan into the barricade and post. Stephanie yells no but Kane brings back the Tombstone hitting it on the floor leaving Daniel Bryan dead. If that was not enough, Kane tombstones Bryan on the steps as Stephanie in great acting looks away scared. EMTs come out for Bryan but Kane keeps going, ignoring Stephanie's pleas. Kane now on the table decimates Daniel Bryan with the tombstone on the table. Stephanie calls Kane a bastard as he walks away. Brie Bella runs out to check on Daniel Bryan. One of the most brutal beat downs I have ever seen.

-Daniel Bryan was released from the medical center and only feels tingling according to the doctors. Daniel Bryan will be on Raw next week.

-commercial break

-they show the Usos victory over Cody Rhodes and Goldust from Raw. Rybaxel(Ryback and Curtis Axel) attacked the Usos after the match.



Jimmy Uso with Jey Uso vs. Ryback with Curtis Axel


Jimmy locks up with Ryback who overpowers him into the corner. Ryback starts pounding his back only to be met with stiff chops from Jimmy Uso and a dropkick. Jimmy Uso with high elevation on an outside dive. Jimmy Uso with leg kicks to Ryback and a few slaps. Ryback starts to come back with his own stiff chops. Ryback gets a headlock on Jimmy Uso and asks who rules. Ryback tells the crowd to shut up. The crowd comes alive cheering for Jimmy Uso. Ryback runs the ropes and avoids the superkick from Jimmy. Smart move by Ryback rolling to the outside to avoid the Superkick, and he bides his time before returning. Once he returns Ryback starts pounding Jimmy. Ryback keeps up the onslaught sending his head into the post. Jimmy Uso starts to come back. He causes Ryback to miss a clothesline and tumble to the outside. Jimmy Uso goes for an outside dive again and is caught by Ryback. The powerslam attempt by Ryback fails as he hits the post instead when Jimmy Uso escapes.

-commercial break

Ryback has the advantage when we return. He waits on the inside for Jimmy to return to the ring. Once Jimmy gets close Ryback pushes him back to the outside. Ryback then goes outside and throws him back in. 1..2..kickout. Ryback gets a chin lock that keeps Jimmy Uso grounded. Uso chants erupt but Ryback hits a vertical suplex ignoring the chants. Ryback starts stomping his head. Curtis Axel says this is too easy, he is telling you. Another vertical suplex connects for Ryback, which he stalls with holding him up for a while before dropping him for a nearfall. Ryback grabs another chinlock causing the crowd to come alive. Jimmy fights up only to get hit with a spinebuster. Ryback beats his chest calling for the meat hook. Jimmy Uso gets up but is clobbered by the Meat Hook. 1..2..kickout. Uso barely kicked out of the meathook. Ryback goes up top and is met by Jimmy's boot. Jey keeps the crowd into it. Jimmy starts slapping Ryback and hits back elbows. Stiff chops by Jimmy but Ryback ends that with a knee. Ryback ends up eating a post afterwards sending both men down. Both men fight up to a vertical base until a Big Boot hits for Ryback. 1..2..kickout. Jimmy Uso back body drops Ryback who went for a powerbomb. The clothesline misses for Ryback allowing Jimmy to hit some of his own. Another meathook is countered by a dropkick from Jimmy. He connects with a Samoan drop going up top. Jimmy Uso with a beautiful cross body. 1..2..kickout. Jimmy Uso hits a superkick that sends Ryback into the corner. Jimmy Uso hits the running hip attack. 1..2..rope break. Jimmy goes up top again, but Ryback counters climbing up top himself. Uso headbutts him off the top rope. Curtis Axel distracts Jimmy Uso who is up top, Jey superkicks him Curtis down. Ryback still takes advantage though hitting the shell shock. 1..2..3.

OFFICIAL RESULT: Ryback @ 13:00
MATCH THOUGHTS: This match was one of the best Ryback matches I have ever seen. The match was decent and both men played their part.


FINAL THOUGHTS: Every match on the show was decent. I would say despite being shorter that Titus O'Neil and Sheamus had match of the night over Ryback and Jimmy Uso; nevertheless, every match was decent which is all you can ask. Good episode of Main Event. Thanks to any who read the recap.

comments powered by