SPOTLIGHTS
411ís WWE Main Event Report 4.29.14
Posted by Alex Crowder on 04.29.2014

Bray Wyatt faced Sheamus in singles action. Paige faced Alicia Fox in a Non-Title match and more! Check out 411ís Main Event Report for all the details!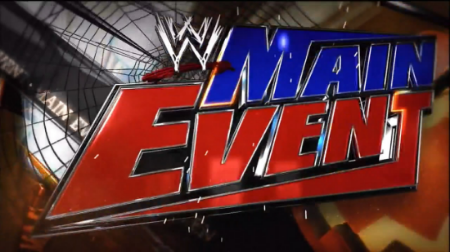 WWE MAIN EVENT 4.29.14





Goldust with Cody Rhodes vs. Alberto Del Rio


Alberto charges Goldust immediately and misses letting Goldust gain the advantage with strikes. Del Rio keeps fighting back with his own strikes and a backstabber for 1. Alberto retains the advantage scoop slamming Goldust for 2. Del Rio grabs a chinlock as the crowd gets behind Goldust. Alberto goes to work with leg kicks and whips Goldust missing a clothesline. Goldust hits the ducking throat thrust. Del Rio runs towards Goldust and is caught in a snap scoop powerslam. Both men fight up but Alberto gets a kick to the head. 1..2..kickout. USA chant erupts from the crowd. Alberto connects on a belly-to-back suplex on Goldust, and then calls for a kick. Goldust catches the kick attempt with a Dragon Screw. Goldust connects with the final cut(not the Big Show variation but a lifting spinning suplex). 1..2..3.

OFFICIAL RESULT Goldust: @ 4:00 via pin
MATCH THOUGHTS: This was a great way to start the show. My only complaint is that it did not get enough time. This was a good match, as Goldust continues to bring the goods well into his forties. Also, they did play up the tension between Goldust and Cody.

Goldust is interviewed by Renee. She asks if the Rhodes Brothers are going their separate ways. Goldust seems shocked and says The Brotherhood is intact. Goldust says they will compete in singles, but will also always have each other's backs. Cody Rhodes asks if Renee thinks Goldust is better than him. Goldust says that is not what she was saying. Cody says the Brotherhood is together and will stay together. They shake hands and share a hug.

They show a video package highlighting Make-A-Wish and John Cena granting his 402nd to 404th wish.



Non-Title Match: Paige vs. Alicia Fox


Alicia throws her scarf at Paige before the bell rings. They lockup as Alicia overpowers Paige into the ropes. They continue to hold onto the lockup landing outside the ring. Paige tries to retreat to the ring but Alicia connects with some elbows. Paige hits a stiff kick and diving hurricanrana from the apron. Alicia is throw back in, but tries to escape, and uses that to regain the advantage suckering Paige in. Alicia pins her down for 1. Alicia grabs a chinlock. Then, she follows it up with a knee to the back. Paige fights to a vertical base. Alicia and Paige go into the corner where Paige elbows her multiple times. Alicia gives her a Yakuza Kick sending her down. 1..2..kickout. They fight to the corner until Alicia hits a sunset flip from the ropes. Paige fights aggressively kneeing Alicia who is draped on the apron. Paige goes for the Jacknife pin but Alicia reverses for a 1 count. These two continue to fight for control until Paige hits her with a brutal Cradle DDT. 1..2..3!

OFFICIAL RESULT: Paige @ 5:00 via pin
MATCH THOUGHTS: This was actually a really good match for 5 minutes. This makes me wish Paige was facing Alicia Fox instead of Tamina; nevertheless, Paige seems to be making the best of the time she is given. Good divas match and I must say I think Alicia Fox is underrated. Of course, Paige brought her A-game as usual making for a good match.

Tamina confronts her after the match. Paige looks a little intimidated but starts gaining confidence showing no fear. Tamina smirks towards her. The two stare down for a bit until Tamina departs.

John Cena's promo from Raw is shown briefly leading to that Choir singing he has the whole wide world in his hands. They do not show the whole segment but do show Cena's reaction and the sheep masks, along with Bray laughing manically.

Renee interviews Sheamus. He says Halloween came from Ireland, and that people are actually scary. Sheamus says Bray Wyatt can drop the sheep mask, because it is time to fight Fella.

-commercial break

We return with Kofi making his way to the ring. BNB pulls out a mic after his entrance. He is afraid he has some bad news. He'll be taking on a cardboard, bland, dim-witted champion this Sunday. BNB says he has the personality of dried oaks or oats. Barrett says he will be taking that IC Title this Sunday.



Kofi Kingston vs. Bad News Barrett


Barrett powers Kofi into a corner. Kofi escapes and leaps over Barrett who gives him a hard kick to the stomach sending him flying! Bad News Barrett gets the crowd into it and goes for a slingshot suplex but Kofi jumps over. Kofi with some kicks including the corner kick to the head and he follows that up with a springboard crossbody for 1. Barrett hits a tilt-a-whirl backbreaker on Kofi to retake the momentum. He goes for the Bull Hammer but Kofi pulls him down and pins him for 2. Kofi sends him to the outside with a dropkick. Kofi misses the baseball slide but Barrett counters that. Kofi leaps over the steel steps athletically right into a Bull Hammer! Barrett drags him back into the ring. 1..2..3.

OFFICIAL RESULT: Bad News Barrett @ 3:00 via pinfall
MATCH THOUGHTS: They made the best of 3 minutes pulling out a few impressive spots. This was about as good as it could have been for the time. Bad News Barrett continues to step up his game.

-commercial break

They recap Daniel Bryan winning the World Title at Wrestlemania 30. They show his entrance and him celebrating with his wife Brie Bella. They also show photos of the wedding. Stephanie interrupts to congratulate him in a condescending way. She announces he'll be defending the Title against Kane. Kane comes out from underneath the ring grabbing Brie Bella. Daniel Bryan attacks only to be throw off. Bryan hits him with a wrench but still gets chokeslammed. They splice in footage of Kane tombstoning him from two weeks ago. All three tombstones are shown along with Stephanie calling Kane a bastard. The video package ends with Daniel Bryan being stretchered out.

-commercial break

We return with Bray Wyatt singing The Whole Wide World in His Hands. Some of the crowd sings along with Bray Wyatt, but Sheamus' music plays interrupting the sing-along.



Bray Wyatt with The Wyatt Family(Erick Rowan and Luke Harper) vs. Sheamus


Dueling Let's Go Wyatt and Let's Go Sheamus chants. They circle for a few seconds before locking up. Wyatt almost overpowers Sheamus, but Sheamus turns pushing Wyatt into the corner. Bray smiles not seeming to care. They lockup again and Bray grabs a headlock. Sheamus pushes him into the ropes but is met with a shoulderblock. Luke Harper taunts Sheamus. Sheamus grabs a headlock of his own and is pushed into the ropes. Sheamus hits a few of his own shoulderblocks. Sheamus wrenches the arm in an arm ringer but Bray counters. They start trading stiff strikes until Sheamus grabs Bray's beard pounding his face. Sheamus whips him hitting a clothesline and knee to the head. Sheamus to the middle rope dropping his knee on Wyatt's face. Bray rolls out as Sheamus goes for ten beats. The Wyatt Family helps pull Bray from the apron allowing his escape.

-commercial break

We return with Bray striking Sheamus who retreats to the outside. Sheamus shoulderblocks Wyatt down on the outside, but Luke Harper distracts him before he does any further damage. Sheamus hits his head on the announce table and pulls him to the apron. Bray fights back as they trade punches on the apron. Wyatt finally regains the advantage driving his head to the apron. Bray quickly pins him for a 1 count. Wyatt with a running senton cannonball on Sheamus, and he follows it up with a taunt of the crowd. Bray starts punching and subtly kicks Sheamus. Wyatt drives Sheamus into a corner hard. Bray grabs his nose and wrenches the arm with the crowd waking up for Sheamus. Sheamus fights to a vertical base, yet Bray gives him nothing body slamming him back down. A second senton cannonball is countered by Sheamus' knees. Both men recover as the referee starts the ten count. Sheamus keeps punching. Sheamus is on fire hitting polish hammers, a knee trembler, and a high corner knee. Sheamus goes up top leap frogging Bray who charges him in a nice athletic move. Sheamus tries to lift Wyatt and fails as Bray catches him in an Ura-Nage slam. 1..2..kickout. Wyatt does the corner taunt and goes for Sister Abigail. Sheamus counters and connects with White Noise. 1..2..kickout! Sheamus cannot believe it. Luke Harper almost comes in to break up the pin but does not. Sheamus runs to Wyatt and leaps over landing on the apron. Sheamus hits ten beats and goes up top hitting a two hand thrust to Bray's head. 1..2..kickout. Wyatt fights back missing a clothesline then hits his running body shoulderblock on Sheamus. 1..2..kickout. This is awesome chant starts up. Bray ducks the Brogue Kick countering, but he runs right into Sheamus who hits the Irish Curse Backbreaker! 1..2..kickout. Sheamus beats his chest and is distracted by Rowan. Wyatt tries to take advantage and is caught in a powerslam. 1..2..kickout. This is awesome chant is reignited. Sheamus lifts for White Noise and gets distracted by both members of The Wyatt Family. Bray takes advantage hitting Sister Abigail. 1..2..3.

OFFICIAL RESULT: Bray Wyatt @ 14:00
MATCH THOUGHTS: This was the match of the night and one of Bray's best matches thus far. Also, Sheamus to his credit continues to tear it up with good match after good match; especially, on each edition of Main Event.

The Wyatt Family beats down Sheamus after the match. The Usos come out attacking the Wyatt Family to save Sheamus. The Usos help Sheamus to his feet. An Uso chant starts up. Bray Wyatt taunts from the ramp.

FINAL THOUGHTS: Great show tonight unlike the past few weeks. Every match served a purpose and entertained me. You should check out the entire show if you just want to watch some good wrestling. Thanks to any who read the recap.

comments powered by