SPOTLIGHTS
411's WWE NXT Report 5.01.14
Posted by Larry Csonka on 05.02.2014

Adrian Neville defended the NXT Title against Brodus Clay, the NXT Women's Tournament started and more! Check out 411's full WWE NXT report for all the details!





Welcome to 411's WWE NXT Report 5.01.14

Triple H kicks off the show this week. NXT is about the future, but the line between the present and future can be blurred. You start to see the Shield, the Wyatts, Big E, Damien Sandow, Cesaro and all of these products of the NXT brand. Now there is a new diva, Paige, the new Divas Champion. It's like NXT is taking over. But wait, it gets better. On May 29th there will be another live special, from right here at Full Sail University. The name of the special is NXT Takeover.


Opening credits roll.


The NXT Women's Tournament begins tonight.



Tyson Kidd vs. Bo Dallas


And here we go. Lock up to begin, they struggle for position, and to the corner they go. Dallas breaks clean. Lock up again, off the ropes and a shoulder block by Dallas. Kidd to his feet, go behind on Dallas. Reversal by Dallas, and into a side headlock. Off the ropes, back elbow by Kidd and a kick to Dallas. To the corner and rapid-fire rights to Dallas, and then a knee strike connects. Snap suplex by Kidd, he heads up top, but Dallas bails to the floor. Kidd to the apron, looks for a kick but Dallas slams him to the apron. Back into the ring they go and a cover for 2 by Dallas. Another cover for 2 by Dallas. Back elbows by Dallas, and then a short-armed clothesline gets 2 for Dallas. Dallas works a cravat now, trying to ground Kidd. Kidd works to his feet, escapes and lands chops. Kidd then misses a dropkick as Dallas holds onto the ropes and then covers for 2. Knee drops by Dallas and another cover for 2. Dallas back to the cravat, Kidd to his feet, elbows out and eats a knee by Dallas. Kidd counters a suplex and lands a back elbow. Head scissors by Kidd, sending Dallas to the corner. Both men are down. Leg kicks by Kidd as they get to their feet, and a sidekick follows. A basement dropkick follows for Kidd and a cover gets 2. Off the ropes, boot by Kidd, but then runs into a belly-to-belly suplex for 2. Dallas with a tornado bulldog gets a cover for 2. Dallas is frustrated, off the ropes and a kick by Kidd, to the top and Dallas stops that. Enziguri from the apron by Kidd, and then hits a blockbuster off the top and that is all.

OFFICIAL RESULT
: Tyson Kidd @ 7:10 via pin


Dallas is frustrated and says his shoulder was up, he didn't lose. Poor Bo, the crowd has no sympathy and sings the "hey, hey, goodbye song."



Camacho discusses his issues with Adam Rose. Camacho is no party pooper, and he throws the best parties in the NXT Universe. He makes Rose's parties look like bingo night. Rose appears and calls him a silly rabbit. Wherever he goes, it party time. A wacky Adam Rose party starts out of nowhere. Well he tells the truth.


Here is the bracket for the NXT Women's Title Tournament.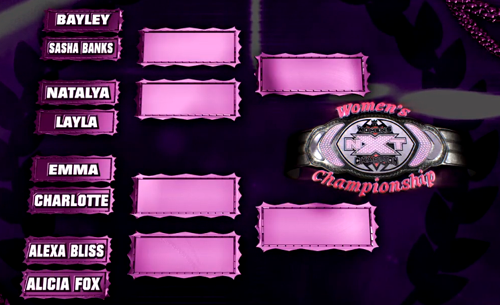 We get comments from Bayley and Sasha Banks about the tournament.


We get a Bray Wyatt vs. John Cena video package.



NXT Women's Title Tournament Match: Bayley vs. Sasha Banks w/Charlotte


Banks slams Bayley to the corner to begin and then hits a snap mare and a cover for 2. Banks tries a slam, countered into a roll up for 2 by Bayley. Backslide by Bayley for 2. La Magistral cradle by Bayley for 2. Banks cuts her off with a knee, but then Bayley back with a Lucha arm drag. She slams Banks to the corner with a big hug. Catches a boot, and chops to the back by Bayley. Suplex by Bayley, and a cover gets 2. Banks fires back with a dropkick to the back and then chokes out Bayley in the corner. Bayley back with rights, off the ropes and a backdrop by Bayley. Charging axe handle strikes for Bayley, corner splash follows that. Belly to Bayley suplex connects, but Banks rolls to the apron. Banks stuns Bayley off the ropes, hits the Bankrupt (necktie neck breaker), but Bayley kicks out at 2. Banks complains to the ref, goes back after Bayley, but Banks turns her inside out with a back stabber, and then locks in a cross face variation for the win.

OFFICIAL RESULT
: Sasha Banks @ 4:20 via submission


Sasha and Charlotte celebrate.


We get a Brodus Clay video package, showing his recent path of destruction.


We get a Legend's House promo.



Adam Rose vs. Danny Burch


Burch was just released this week. Crowd loves Rose. Lock up, and Burch works the arm right away. Counter rolls by Rose, who keeps rolling around the ring to applause. Rose avoids a lock up and slams Burch to the mat by the arm. Burch is upset and slams Rose to the corner, does it again but Rose gets pissed and fires away with jabs. Chops follow, charging back elbow in the corner by Rose. Burch down, Rose then charges in with the broncobuster, minus the ride. Parry foul (bulldog driver) connects for Rose and that is all.

OFFICIAL RESULT: Adam Rose @ 2:30 via pin


Adam Rose post match party until Camacho crashes the party and attacks the superhero party guy. He bumped into Camacho earlier in the night.



Clay walks backstage and is asked about his title match. Everything was taken from him, so he is now doing the taken. He knocked out Neville's teeth and now he takes his title.


Layla and Natalya give pre-match promos about wanting to win the title.



NXT Women's Title Tournament Match: Layla vs. Natalya


Boot by Layla, now works the arm to take the early advantage. Natalya with slick counters into a northern light style suplex and a cover for 2. Layla cuts her off and grinds her face into the mat, and then covers for 2. Layla chokes out Natalya, and then covers again for 2. Layla tries to ground Natalya, and then slams her by the hair to the mat. Forearms to the back of the head by Layla and another cover for 2. Natalya battles back, but a kick by Layla takes her back down. Layla again trying to ground Natalya, who then fights back and hits a clothesline and snap suplex. Off the ropes, and a clothesline by Natalya follows. Sharp shooter try countered, sunset flip try by Layla, Natalya counters and gets the sharp shooter this time and that is all.

OFFICIAL RESULT: Natalya @ 3:20 via


Natalya moves on to face Sasha Banks.


There will be two more tournament matches next week.



Adrian Neville discusses his match with Brodus Clay. He has worked too long and hard to lose to someone like Clay. Neville promises to beat Clay in the center of the ring, 1-2-3.



Mojo Rawley vs. Oliver Grey


Oliver Grey was also released this week. Boot by Grey and clubbing shots to the back to kick things off. More clubbing shots follow for Grey, Rawley shoves him to the corner and then hits a corner splash. Flying ass bump and then the hyper drive (Earthquake sit down ass splash) for the win.

OFFICIAL RESULT: Mojo Rawley @ 1:10 via pin


Aiden English is out and calls Rawley a fool and is here to end him. He tells him to get off of his canvas, his stage, and leave the performance to him. English attacks Rawley, off the ropes and Rawley clotheslines English to the floor. English crawls up the ramp, and is not too happy about how things went.



Neville and Clay warm up for their title match, which is next.



No DQ NXT Title Match: Adrian Neville © vs. Brodus Clay


They stand off and Clay tries to take the title, Neville sends him to the floor and then hits a dive. Kicks and rights by Neville on the floor, and then back into the ring they go. More kicks by Neville, and a superkick to Clay, who was on his knees. Neville up top, but Clay rolls away. Shotgun dropkick by Neville follows, and then more kicks. Neville up top, leaps off and Clay head butts him in the chest. Clay puts Neville in the tree of woe, and then hits a corner splash on Neville. Overhead suplex by Clay, and then hits a standing elbow drop and covers for 2. Clay with a claw hold, picks up Neville and delivers clubbing shots to the back. A clothesline follows and then Clay cannonballs down onto the chest of Neville for a close 2. Clay works a Bruno like back breaker, Neville escapes with an eye rake. Kicks to the knees and a basement dropkick follows. Another basement dropkick by Neville connects. Off the ropes, but a head butt by Clay connects. Powerbomb by Clay follows, and he heads to the second rope. Hits the big splash, 1…2… kick out by Neville! Clay to the floor now, grabs the NXT title and brings it into the ring. He goes to hit Neville, but Neville kicks the title into Clay's face. Neville up top, RED ARROW connects! 1…2…3!

OFFICIAL RESULT: Adrian Neville @ 6:15 via pin


Neville celebrates with the title.


End scene.


Thanks for reading.



Have you checked out the Csonka Podcasting Network? If you haven't, you should We run anywhere from 15-20 shows a month, discussing pro wrestling, the world of MMA, the NBA, general sports, popular TV series of the past, bad movies, battle rap, interviews, MMA & Wrestling conference calls and more! Around 10 different personalities take part in the various shows, which all have a different feel; so you'll likely find something you like. All of the broadcasts are free, so go ahead and give a show a try and share the link with your friends on the Twitter Machine and other social media outlets! Running since May of 2011, there are currently over 500 shows in the archive for you to listen to.



Larry Csonka is a Pisces and enjoys rolling at jiu jitsu class with Hotty McBrownbelt, cooking, long walks on the beach, Slingo and the occasional trip to Jack in the Box. He is married to a soulless ginger and has two beautiful daughters who are thankfully not soulless gingers; and is legally allowed to marry people in 35 states. He has been a wrestling fan since 1982 and has been writing for 411 since May 24th, 2004; contributing over 3,000 columns, TV reports and video reviews to the site.

Your heart is free. Have the courage to follow it…TO CSONKA'S TWITTER!

http://www.twitter.com/411wrestling
http://www.twitter.com/411moviestv
http://www.twitter.com/411music
http://www.twitter.com/411games
http://www.twitter.com/411mma



comments powered by