SPOTLIGHTS
Tremendous Tirades 5.04.14: WWE Extreme Rules 2014
Posted by Larry Csonka on 05.04.2014

Evolution vs. The Shield = everything fun in wrestling. John Cena vs. Bray Wyatt = not so much.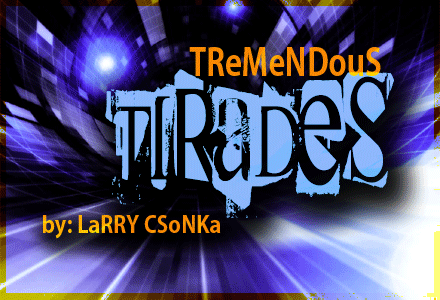 Introduction
As a reminder, this will not be another traditional recap, but instead it will be a mash up of the Rs, Instant Analysis and my usual Twitter ramblings I would do during the shows; completely uncensored and as the ideas flow unfiltered to the old keyboard. Remember, this is a review; and I am here to review the show. As always, I encourage discussion and even disagreement, just do so in a respectful manner. I will be doing the review for Raw and most PPVs and iPPVs going forward.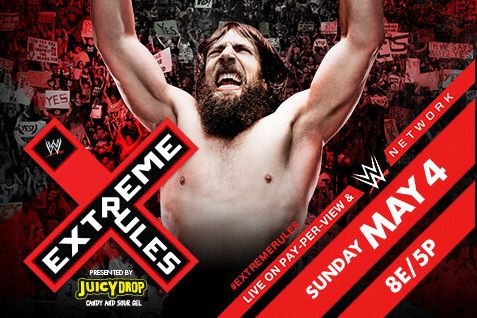 WWE Extreme Rules 2014



Elimination Rules Match: Rob Van Dam vs. Cesaro vs. Jack Swagger: This was set up from the recent IC Contender's Tournament and Cesaro breaking away from Colter. In my opinion the match will be as good as RVD allows it to be, a few weeks back he had what was Cesaro's worst WWE match to date. I like RVD, but he is older and slower; but still trying to work the same style he always did, like it was 2004. Michael Cole explaining the match was one fall to a finish (it wasn't) and then being confused when Swagger got eliminated was horrible. He's supposed to be the lead announcer and add to the action, which he failed to do here. Swagger was eliminated first; Cesaro hit a dead lift superplex and then RVD connected with the frog splash immediately after that. While Swagger went first, he was double-teamed and that somewhat protects him in the loss. Thankfully Cesaro and RVD worked much better together this time. It was also better when it got down to them, because the beginning with all three was disjointed and sloppy. Cesaro won, which is what should have happened since he is the new Heyman guy and at this time has more upside than Swagger or RVD. This was a solid, but unspectacular way to open the show.





Credit: ZProphet_MMA



Match Rating: **½



Stephanie McMahon activated bitch mode and tried to talk Bryan into surrendering the title. Bryan refused, so she said he'd be Kane's bitch.


DON'T STOP… BO-LIEVIN!

Handicap Match: Alexander Rusev vs. R-Truth and Xavier Woods: Lana strutted her stuff and put over Rusev as a new citizen of Russia. He then kicked ass because he is awesome, super athletic. The crowd doesn't care about any of the wrestlers, but they did cheer for Lana before and during the match. Woods was taken out before the bell, Truth hit his signature stuff, Rusev kicked out and destroyed him and humbled Truth with the accolade. This was exactly what it should have been, but could have easily been used on TV considering how many hours they need to fill each week.
Match Rating: NR (Under Three Minutes)



Triple H talked about having an ego and the greatness of Evolution.

WWE Intercontinental Title Match: Champion Big E vs. Bad News Barrett: WWE spend several weeks on a contender's tournament for the IC Title. This happened due to Christian's latest injury, but ended up helping the division because it surely needed it. Bad News Barrett has been valiantly fighting for a shot at the title while the champion, Big E, has been watching TV backstage for close to a month. Early on the crowd doesn't care about Big E and are into Barrett, which they have been since the return the night after WrestleMania. Barrett won with the bull hammer to take the title. At this time I refuse to get excited about the IC Champion and division. For years the title has essentially been a curse. I thought that they would do better with Big E, but didn't. Lets hope things get better. Obviously Barrett was the right choice right now, the live crowds do not care about Big E (due to the poor booking like most IC champions) while Barrett has been getting star reactions and also having good performances. It was a bit short, but I felt it came off well as their first match of a what I would assume is a new feud over the title.





Credit: ZProphet_MMA


Match Rating: **¾



Adam Rose is coming to Raw tomorrow.

Evolution vs. The Shield: Triple H's thigh injury seems to be healed. He had an injury at WrestleMania and was taped up big time the next night on Raw. The fact that he's not taped up likely means he is doing fine, which is good news for the match. They did the stand off and brawl before the bell, which fit the feud and was the right call. No lock up and grappling to being, these guys hate each other. There was a great hot tag to Reigns, he ran wild, hit the Superman punch on Batista and then the Shield hit the triple powerbomb. It then broke down into a wild brawl, and the crowd loved it. Reigns survived a Pedigree and RKO (with help) during this. Ambrose saved Rollins by running across both announce tables onto Triple H and Orton, which led to brawling in the crowd. Reigns and Batista were left in the ring. Rollins hit a wild dive out of the stands onto Triple H and Orton as they were beating down Ambrose. Reigns escaped the Batista bomb; hit the Superman punch and spear to get the pin on Batista and the win. This was great work from all involved, some awesome spots and a hot crowd through out. The match was what it was supposed to be, a chaotic and wild brawl, and it delivered very well. The Shield continues to be awesome in the six-man environment, please do not break them up for a long time. This wasn't quite the same level as the Shield vs. Wyatts match from earlier this year on PPV, but it was damn good and the easily the best thing on the show thus far.





Credit: ZProphet_MMA


Match Rating: ****¼


Steel Cage Match: John Cena vs. Bray Wyatt w/Harper and Rowan: I have enjoyed a lot of the build to this match, but still have an issue with the cage match stipulation. Had Bray won at WrestleMania due to his goons getting involved, then the cage makes sense. Instead, it comes off as having a steel cage match to have a steel cage match. But I feel Cena tends to deliver well in big matches, and Bray has been good this year, so obviously there is hope. They did the opposite of the previous match, as they locked up and worked a side headlock to begin. Yes, this is a feud where Wyatt is playing mind games, and Cena was so upset that he wanted to grapple in the cage. Rowan and Harper repeatedly would try to stop Cena from climbing to the floor, adding to my hatred of the "escape the cage" rules. That led to Harper being pulled into the cage and Rowan using a chair to keep Cena in the cage. People question why fans tend not care about the regular cage match anymore, and it is due to the fact that they are often booked this way. The cage means nothing. This became a glorified handicap match with Harper in the ring, and Rowan on the floor constantly trying to keep Cena in. The lights went out after Cena took out all three members, and then we heard distorted singing and then little demon kid appeared doing the signing at the cage door to stop Cena. Wyatt hit Sister Abigail and then escaped. Well the good news is that Bray won the match. In a way, they symbolism of the child stopping Cena from winning should lead to something bigger, similar to the "WWE Universe" voting for Cena to face all three Wyatts. But then you see all of those "Make-a-Wish" videos and read reports of how much merchandise Cena sells and realize the odds of a heel turn are slim to none. A match like this, traditionally, would see blood. The face busted open, fighting back, busting open the heel and getting his vindication. In modern day WWE we're not going to get that, which is fine if you work a good story and a very physical and hard hitting match that pulls you into the story. This match was all smoke and mirrors with overkill on the visual falls to cover the fact that Cena was losing. I was never pulled into the story, the cage match continues to be abused and instead of Bray getting a star making victory that can catapult him to the next level, he lucked out a win following the help of two goons and demon child. In theory the story sounds great, but I feel the execution has failed. Note to the wrestling world; stop scheduling cage matches until you know how to book them again.





Credit: ZProphet_MMA


Match Rating: *


WWE Divas Title Match: Champion Paige vs. Tamina Snuka : The good news for the ladies was that they did not have to follow the awesome six-man match. The bad news is that they were put in the death spot on the show, a spot that features the matches that fans have been conditioned to not care about. They worked hard, there was nothing wrong with the match, but unfortunately they didn't get much time and the crowd did not care much, although they seem to like Paige well enough. One day they will care about the ladies and give them actual feuds, TV time and match time.
Match Rating: **



The little demon child with the Wyatts is named "Little Johnny". Judging by his voice work, he's Ole Anderson's grandson. (By the way, I think that the little kid is legit the one from the Cam Newton Play: 60 commercial.)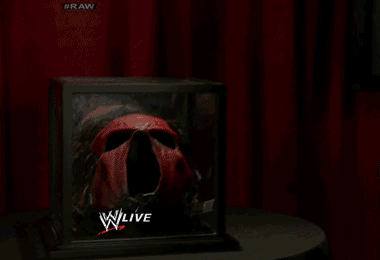 WWE World Title Extreme Rules Match: Champion Daniel Bryan vs. Kane : Poor Dr. Shelby, all of that work he did has been ruined. While not the desired main event for many, the good news is that they obviously have a history to work from. Thankfully these men remembered that they hated each other and started fighting before the bell on the floor. I appreciate things like this. We had an Attitude Era flashback where they brawled backstage, destroyed cars and Bryan put Kane on a forklift to bring him back into the arena all the way to the ring. Bryan then jumped off of the forklift and hit a diving head butt on Kane for a near fall. The finish saw Kane light a table on fire, but Bryan put him through it. They sprayed Kane with the extinguishers, he ran into the ring, at the charging knee and that was all. They had a 22-minute match, which felt long at times in a bad way, but the match wasn't bad. That being said, it didn't feel like a PPV main event on some levels. They worked hard, they used the weapons, but it just didn't feel like this was the big match for the show. The show peaked at the middle with the Shield vs. Evolution match. Also, the win came off as a fluke win, as Kane stood right back up and shot off his pyro and his music played to end the show. I guess this feud must continue.
Match Rating: ***


End scene.


Thanks for reading.


The Tirade


The first hour of the show was soft. Nothing horrible by any means, but I felt as if they under achieved. I wasn't expecting MOTY stuff from the three-way dance or IC Title match, but I was honestly expecting more than we got. The Rusev squash was fine and what it should have been, him destroying guys. Hour one was average, but acceptable. The second hour started off with Shield vs. Evolution, which took up about half of the hour. It was a fantastic match, and one the show really needed to get onto the proper track. All of the awesome of that six-man was undone by the booking and poor execution of the Cena vs. Wyatt match. To say that the cage match was disappointing would be an understatement. Hour one, running through the six-man, started fine and got really good due to the six-man. Cena vs. Wyatt was the point to where the show could have gone from good to possibly great, instead it killed all of the show's momentum, in my opinion. The final hour featured the Divas Title match, which was fine but in the death spot and no one really cared. The main event was good, but not exactly what you want or expect from a PPV main event.

Overall I felt that this was a little bit above average show. The six-man was awesome, the three way and IC Title matches were solid and the main event was good. Cena vs. Wyatt really pulled things down for me, it just didn't do anything positive in my opinion. Make sure to watch Evolution vs. The Shield if you missed it.

Show Rating: 6.3

As a reminder, I will be going by the 411 scale…

0 - 0.9: Torture
1 - 1.9: Extremely Horrendous
2 - 2.9: Very Bad
3 - 3.9: Bad
4 - 4.9: Poor
5 - 5.9: Not So Good
6 - 6.9: Average
7 - 7.9: Good
8 - 8.9:Very Good
9 - 9.9: Amazing
10: Virtually Perfect

As a reminder, this is not a basic "how good was the show" number like a TV show, as I have always felt that a PPV is very different from a regular show. I have always judged PPV on how they built to a match, the match quality, crowd reactions to matches and angles, the overall booking, how the PPV leads into the future, PPV price and so on and so forth. I have added this in here for an explanation since so many have asked, and I have previously discussed it on podcasts. I understand that this may seem different, but that is how I grade. Obviously your criteria may be different.

Have you checked out the Csonka Podcasting Network? If you haven't, you should We run anywhere from 15-20 shows a month, discussing pro wrestling, the world of MMA, the NBA, general sports, popular TV series of the past, bad movies, battle rap, interviews, MMA & Wrestling conference calls and more! Around 10 different personalities take part in the various shows, which all have a different feel; so you'll likely find something you like. All of the broadcasts are free, so go ahead and give a show a try and share the link with your friends on the Twitter Machine and other social media outlets! Running since May of 2011, there are currently over 500 shows in the archive for you to listen to.



Larry Csonka is a Pisces and enjoys rolling at jiu jitsu class with Hotty McBrownbelt, cooking, long walks on the beach, Slingo and the occasional trip to Jack in the Box. He is married to a soulless ginger and has two beautiful daughters who are thankfully not soulless gingers; and is legally allowed to marry people in 35 states. He has been a wrestling fan since 1982 and has been writing for 411 since May 24th, 2004; contributing over 3,000 columns, TV reports and video reviews to the site.



Your heart is free. Have the courage to follow it…TO CSONKA'S TWITTER!

http://www.twitter.com/411wrestling
http://www.twitter.com/411moviestv
http://www.twitter.com/411music
http://www.twitter.com/411games
http://www.twitter.com/411mma


comments powered by