SPOTLIGHTS
Tremendous Tirades 5.05.14: WWE Monday Night Raw
Posted by Larry Csonka on 05.05.2014

The opening and ending were great, everything else…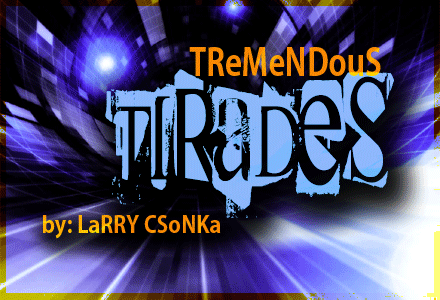 Introduction
As a reminder, this will not be another traditional recap, but instead it will be a mash up of the Rs, Instant Analysis and my usual Twitter ramblings I would do during the shows; completely uncensored and as the ideas flow unfiltered to the old keyboard. Remember, this is a review; and I am here to review the show. As always, I encourage discussion and even disagreement, just do so in a respectful manner. I will be doing the review for Raw and most PPVs and iPPVs going forward.




John Cena vs. Little Johnny – Summerlsam 2014

WWE MONDAY NIGHT RAW 5.05.14
The Shield make their way to the ring.

20-Man Battle Royal to Try and Screw Dean Ambrose Out of His US Title: Ok, the first thing I like about this is the fact that we are starting the show with WRESTLING. Secondly, this plays perfectly off of recent events (Shield vs. Authority) and then Ambrose having to defend in a four-way on Smackdown. Ryder, Sandow, Woods, Truth, Titus and Sin Cara all got the boot before the break; because they are all geeks that creative gave up on. Kofi did something mildly cool to save himself that everyone will later say was the coolest thing ever. Jack Swagger took a nap at one point. Ambrose was great, playing his wild man ad saving himself repeatedly and making it to the final two. Sheamus would then hit the brogue kick and too shim to capture the title. This plays into the story (Authority screwing the Shield) gets the title off of Ambrose (who they weren't booking as a champion most of his run) keeps Ambrose strong (he had to fight off 19 guys) and gives something fresh for Sheamus to do. Also, former world champions holding secondary titles can be good for those titles, if booked properly of course, so I like it. The match was fine, the booking really good and overall this worked really well to kick off the show. This was also a refreshing way to open the show, as opposed to the talky segment that occupies 98.843% of these shows.
Match/Segment Rating: 8.0


Triple H came out to mock the Shield, and remind them that they face the Wyatts later tonight.



We get an Adam Rose video; he's debuting tonight.


Sheamus discusses winning the US Title. You can feel a slight attitude change; I still feel the heel turn is coming.


They discuss Kane vs. Bryan from Extreme Rules.


Daniel and Brie chill backstage, and Stephanie McMahon is here to ruin the party. She says Kane is pissed, and they should stay put for their own safety. There was what appeared to be a shitty, bootleg Kane mask hanging on the back of their door.

Cesaro vs. RVD: This is fallout from last night's PPV, where Cesaro defeated RVD in a three way elimination match that also featured Jack Swagger. RVD almost lost an eye on those new cheap ass garbage cans. They worked about 11-minutes, it was fine but never got out of second gear. Cesaro got disqualified for kicking too much ass. The finish is fine for now; it shows a more ruthless side of Cesaro, but is also a way to get out of having RVD lose two nights in a row. It's early on with Cesaro and Heyman, but I feel as if they need to do "something" to make the pairing feel important. It's better than Heyman and Axel/Ryback, but feels nowhere near as important as when Lesnar is around. Hopefully this leads to another definitive victory over RVD and Cesaro can move on to… something.
Match/Segment Rating: 6.0



The Wyatts appeared on the big screen to let us know they're here.

The Wyatt Family Power Hour: Abigail always told him that he would be a leader, and while he was mocked and told he was an no one, last night he became a someone when he beat John Cena with the help of a demon child. He spoke poetically about being a monster, manipulating the children and burning down the messed up world so that he can make a new world, a Wyatt world. Because he does it for the children, starving man, the disappointed teenage girl with a bad self image and for all of the fans; and then called himself a God. Bray Wyatt is really good kids. The guy knows "how" to speak, how to get the point across, how to tell the story, how to keep a cadence that keeps you interested. I liked this in the fact that it plays into everything he was saying prior to the Cena match, explaining his actions, his evil monologue explain the evils of his plan. I liked it overall; I thought it was good and a good follow up to his win last night (even if I didn't like the match), but it wasn't "great". But there's nothing wrong with good.
Match/Segment Rating: 7.5


Ryback w/Cutis Axel vs. Cody Rhodes w/Goldust : This was set up due to previous losses by Cody and Goldust as well as from their eliminations from the earlier battle royal. Cody looked to have the match in hand, but Axel rammed Goldust to the post, causing Cody to fall into a shell shock for the Ryback victory. Ryback picks up the win, while Cody continues to show frustration losing. This was a solid match, and continues the story they are telling. Although I have to be honest, I am not thrilled that the Rhodes boys are heading for a split.
Match/Segment Rating: 6.0


Daniel Bryan and Brie are backstage, and are scared out of their room due to the lights going out. Stephanie appears and acts concerned, and promises to bring their car into the building for them.


Los Matadores and Torito Celebrate Cinco de Mayo: They threw candy to the fans, and then 3MB and Hornswoggle interrupted. 3MB demanded that they accepted their offer of peace. Torito tried to give Hornswoggle candy, he refused and they brawled. Team Matadores cleared the ring. This was completely useless.
Match/Segment Rating: 0.0



Lana struts her stuff.

Alexander Rusev w/Lana vs. Kofi Kingston: Kofi got more in than most on Rusev, but in the end, Rusev crush. It basically was what it should have been at this point in the Rusev build, but they need to get him into a real program soon.
Match/Segment Rating: 6.0


Bryan and Brie attempt to leave the building in their car. Stephanie then says they cannot leave until Bryan wrestles tonight. If he leaves, he will be stripped of his title. I hope I am wrong, but I am getting Zack Ryder/Eve flashbacks here. Also, if Stephanie doesn't want Bryan as champion, why not just strip him of the title? She basically has the power to do so as a "principle owner" and all.


Non-Title Match: Daniel Bryan © w/Brie vs. Alberto Del Rio… Kane Shit: In a way, while the action was good, I was not thrilled with Bryan having such a competitive match with Del Rio. Del Rio has been booked like a joke since, well certainly since Batista's return, and along with the Soap Opera style booking with Kane, has done nothing to add to his reign as world champion. I get that Del Rio is a former world champion and all, but he has been booked so poorly for the past four to five months that it doesn't mean anything. Also, while the match was going pretty well, it also felt long and the crowd lost interest, because they don't care about Del Rio. It didn't keep my interest all the way through, and that is because I do not have a reason to care about Del Rio of feel he is any kind of real threat to Bryan.

And then shit got stupid, remember that Zack Ryder/Eve Torres comment from earlier? Kane's music hit and Bryan and Brie ran away to their car, it wouldn't start, Bryan tried to fix it and then Kane appeared in the car. Short brawl, Kane jumped on the car, Bryan eventually escaped, Kane looked scary I guess. I get that Brie is involved, but the fact that Bryan ran from a guy, the same guy he beat last night, makes him look lie shit. This whole angle is not good, at all, and makes the world champion look like a joke. Also brie's screaming was like nails on a chalkboard. The match was good, although flawed in the booking of Del Rio as a threat, and then got worse after that. You're taking the guy you gave the big WM moment to, the guy that beat Triple H and Batista in the same night and handing him the Zack Ryder playbook from three years ago. This show has gone off a cliff…
Match/Segment Rating: 1.0


Seems I'm not the only one that feels that way about the Bryan/Kane segment.…





Adam Rose debuts tonight.


Bad News Barrett has some bad new for us, that segment with Bryan and Kane was not a nightmare, it was real.

IC Title Match: Bad News Barrett © vs. Big E: This is a rematch from last night's PPV, where Barrett captured the title. Barrett retained, as he should have. He raked the eye, leading to the bull hammer and victory. In a way I didn't like finish that too much, because he had been winning clean on his road to the title, but that is a small nitpick. Barrett is supposed to be the heel, so it fits. But on the other hand, Barrett gets such a face reaction, especially compared to Big E, maybe they need to switch things up. The match was fine, they got some time, but it basically felt like last night's match with a different finish. It wasn't bad mind you, and the right guy won, but it was just nothing special. Part of that is the announcing, which continues to be poor and lacks emotion when a face gets screwed. Seriously, the announcing is just a parody of itself at this point, and basically useless.
Match/Segment Rating: 6.5


John Cena will respond to Bray Wyatt on tomorrow's WWE Main Event.



Mr. T talks about his momma.

Jack Swagger w/Zeb Colter vs. : Zeb had a deportation list, and mocked Cinco de Mayo, because it is not for Americans, only Americans that want to get drunk. Cesaro, Heyman, Emma, Sheamus, Paige and Santino were on his deportation list. This led to the debut of Adam Rose. Rose tosses Swagger, his party people danced and no one really cared. Listen, I like the Adam Rose deal, but this didn't come off well at all, especially with Cole's overselling of it and trying to do the singing of the song. That is one way to ensure that people think Rose is not cool. I hope it catches on for him, but this felt like Dancing Homer being called up to Capitol City. We're off to a rough start on week one, and putting it in the death spot on the show did not help.
Match/Segment Rating: 4.0



Sheamus will defend the US Title on Smackdown.

The Shield vs. The Wyatt Family: The theory behind this match makes perfect sense. Triple His pissed about losing last night, and wants revenge. He already screwed Ambrose out of the US Title, and looks to punish the group. The Wyatts are badasses that have previously defeated the Shield, and are the perfect guys to do his bidding here. These guys have great matches, and this was another good one. You give them time and let them do their thing, and it will work every time. Evolution came out for the distraction, which allowed Bray to hit Sister Abigail on Reigns for the victory. Evolution screwed the Shield for the second time this evening, and then attacked post match. They laid out the Shield, hit a triple powerbomb on Reigns and stood tall. This feud must continue, and if they have another match like they did at Extreme Rules, I am fine with that.
Match/Segment Rating: 9.5


End scene.


Thanks for reading.


The Tirade


This was a show that the DVR was invented for. It started well, went to average stuff, and then we had the horrible Cinco de Mayo segment and then the atrocious booking of Daniel Bryan. The closing segment will make people forget a lot of the show, but that doesn't mean that the whole show was good. On top of that, the announce team is seemingly getting worse, and hurting the show way more then it helps it. Something needs to change, but I doubt it will. Make sure to watch the opening battle royal, Bray's promo and the final match and segment. You can skip everything else and be happier with how you spent your time.

Show Rating: 5.5

As a reminder, I will be going by the 411 scale…

0 - 0.9: Torture
1 - 1.9: Extremely Horrendous
2 - 2.9: Very Bad
3 - 3.9: Bad
4 - 4.9: Poor
5 - 5.9: Not So Good
6 - 6.9: Average
7 - 7.9: Good
8 - 8.9:Very Good
9 - 9.9: Amazing
10: Virtually Perfect

As a reminder, this is not a basic "how good was the show" number like a TV show, as I have always felt that a PPV is very different from a regular show. I have always judged PPV on how they built to a match, the match quality, crowd reactions to matches and angles, the overall booking, how the PPV leads into the future, PPV price and so on and so forth. I have added this in here for an explanation since so many have asked, and I have previously discussed it on podcasts. I understand that this may seem different, but that is how I grade. Obviously your criteria may be different.

Have you checked out the Csonka Podcasting Network? If you haven't, you should We run anywhere from 15-20 shows a month, discussing pro wrestling, the world of MMA, the NBA, general sports, popular TV series of the past, bad movies, battle rap, interviews, MMA & Wrestling conference calls and more! Around 10 different personalities take part in the various shows, which all have a different feel; so you'll likely find something you like. All of the broadcasts are free, so go ahead and give a show a try and share the link with your friends on the Twitter Machine and other social media outlets! Running since May of 2011, there are currently over 500 shows in the archive for you to listen to.



Larry Csonka is a Pisces and enjoys rolling at jiu jitsu class with Hotty McBrownbelt, cooking, long walks on the beach, Slingo and the occasional trip to Jack in the Box. He is married to a soulless ginger and has two beautiful daughters who are thankfully not soulless gingers; and is legally allowed to marry people in 35 states. He has been a wrestling fan since 1982 and has been writing for 411 since May 24th, 2004; contributing over 3,000 columns, TV reports and video reviews to the site.


Your heart is free. Have the courage to follow it…TO CSONKA'S TWITTER!

http://www.twitter.com/411wrestling
http://www.twitter.com/411moviestv
http://www.twitter.com/411music
http://www.twitter.com/411games
http://www.twitter.com/411mma


comments powered by