SPOTLIGHTS
411ís WWE Main Event Report 5.06.14
Posted by Alex Crowder on 05.06.2014

John Cena addressed Bray Wyatt, Dolph Ziggler faced Jack Swagger in singles action, the divas faced off in a 6 woman tag and more! Check out 411ís WWE Main Event Report for all the details!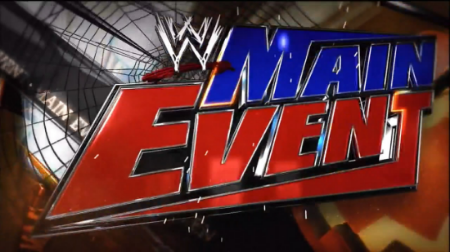 WWE MAIN EVENT 5.6.14



Raw recap of Adam Rose interrupting Zeb Colter and Jack Swagger

Zeb Colter joins commentary



Dolph Ziggler vs. Jack Swagger


Ziggler goes for a single leg on Swagger who breaks free. They trade go behinds until Ziggler gains the advantage. Swagger elbows out of it and slams Ziggler to the mat. Swagger grabs a front face lock on Ziggler. He continues to dominate Ziggler with wrestling slams. Swagger misses a few clotheslines until Ziggler leaps over. Beautiful dropkicks by Dolph. 1..2..kickout. Colter makes sure to put over Ziggler's ability on commentary which is refreshing for a heel. Ziggler continues his offense with a falling neckbreaker. 1..2..kickout. Swagger sends Dolph into the corner turnbuckle. Ziggler is pushed in by Swagger for a 1 count. Swagger grabs an arm ringer and hits a shoulder thrust sending Dolph to the mat. Jack starts hitting some clotheslines keeping Ziggler grounded. The crowd gets behind Ziggler who fights back to a vertical base. Dolph hits a kick to the chin, but is thrown to the outside by Jack.

-commercial break

We return with Jack in control with a chinlock. Ziggler battles back and hits a jawbreaker to escape. Dolph hits an elbow and follows up with a cross body and punches. Ziggler keeps it up hitting a corner splash and neckbreaker. Ziggler goes for Zig Zag but Swagger catches. A victory roll counters Swagger for a close count. Swagger grabs the ankle lock and Dolph counters hitting a fame asser soon after. 1..2..kickout. Swagger hits a spinebuster and Ziggler regains the momentum with a leaping DDT. Both men are out but Adam Rose and the Exotic Express come out to the dismay of Colter. Adam Rose brings his party towards Colter. Colter starts backing up frantically as Rose grabs a mic. "Jackie Boy it is party time, all the time. Don't be a lemon be a rose bud." The distraction allows for Ziggler to hit the Zig Zag. 1..2..3.

OFFICIAL RESULT Dolph Ziggler: @ 10:00 via pin
MATCH THOUGHTS: Good opening match. These two always work well together and the crowd likes seeing Dolph. I'm also glad they got at least 10 mins. These two pulled off a good opener and the Adam Rose distraction starts a new feud. Also, I must note that Colter is awesome on commentary in the same way that Heyman is. He puts everyone over even Jack Swagger's opponents.

After the match Adam Rose sends some girls over to Dolph Ziggler. Dolph starts dancing with the female rose buds.

They recap Total Divas. Cameron and Natalya argue before the match.



6 Woman Tag: Alicia Fox, Aksana, and Tamina Snuka vs. Natalya, Naomi, and Cameron


Alicia Fox kicks Natalya in the gut and hits a reverse headscissors. Natalya comes back with a snapmare and kick to the head. The snapmare also leads to a seated dropkick. Natalya starts strong going for the Sharpshooter but Alica retreats. Alicia tries to fool her and Natalya follows but counters the elbow. Natalya gets distracted by Tamina. Alicia hits a baseball slide and rolls her in. 1..2..kickout. Foxsana double team Natalya with the corner alley-op. 1..2..kickout. Another tag brings in Tamina who starts headbutting Natalya. Natalya rolls underneath her for a roll-up. 1..kickout. Tamina hits a brutal clothesline on Natalya for a close count. They continue tagging bringing in Aksana who taunts. Natalya kicks her in the gut but is stuck in the corner. All three divas attack her. Aksana with another corner alley-op for a close count, and she follows that up with a chinlock. The crowd gets involved trying to help Natalya up. Aksana grabs the hair and slams her down ending any momentum. Natalya almost gets the tag but is cut off by Aksana. Tamina is tagged back in to pound Natalya. Aksana tagged back in. Natalya escapes tagging Naomi. Athletic dropkicks by Naomi and a kip up. Naomi hits an ass facecrusher(???) on Aksana as Aksana is draped on the ropes. Naomi takes out both Tamina and Alicia. All the divas enter and brawl. Naomi hits the rear view and split legged moonsault. 1..2..3.

OFFICIAL RESULT: Natalya, Naomi, and Cameron @ 7:00 via pin
MATCH THOUGHTS: Actually decent for a 6 woman tag. Natalya was in the whole time and made for a good match. It probably helped the match with Cameron not getting tagged in; regardless, a decent little divas match. My only complaint as usual is the time of the match. I'm sure another minute or two wouldn't have hurt.

They play up the tension between Cameron and Natalya from Total Divas.

The Mr. T mother day's tribute is played.

They show highlights from the Kane and Daniel Bryan feud from Extreme Rules and Raw last night.

-commercial break

One of the announcers' points out that The Brotherhood got their jobs back at Battleground. I like that this announce team actually keeps up with continuity. I will say this announce team continues to overshadow Raw's in my mind.



Goldust with Cody Rhodes vs. Curtis Axel with Ryback


They lockup with Curtis backing Goldust into a corner, but Goldust escapes hitting some throat thrusts. Curtis ends his momentum with a knee and some punches. Curtis goes for a back body drop, but Goldust just rolls and throws him in a creative move. They run the ropes and Goldust sends him down for a close count. Curtis connects with a knee to the face of Goldust and some stomps to send him into a heap. Curtis hits clubbing blows in the corner. Curtis grabs a chinlock as Goldust fights out. Curtis strikes Goldust with a running knee to the face. 1..2..kickout. Curtis drives his elbow into Goldust's neck. Goldust is backed into a corner but hits some strikes escaping. Goldust misses a corner splash off the whip. Curtis quickly covers for a close count. Curtis lifts Goldust before hitting a picture perfect dropkick. Curtis makes sure to taunt the crowd. Cody gets the crowd into it by slamming his hands against the mat. Curtis gets another chinlock and rakes at Goldust's eyes. Goldust fights back to his feet and connects with a throat thrust. They run the ropes and Goldust hits the Jacknife pin. 1..2..kickout. Curtis recovers quicker getting to his feet. Curtis misses the clothesline and is hit by a few of Goldust's clotheslines. The ducking throat thrust for Goldust and an inverted atomic drop. Goldust is on fire hitting the 10 corner punches with the crowd chanting along. Goldust is whipped into a corner but Curtis turns around running right into a snap scoop powerslam. 1..2..kickout. Curtis throws Goldust out. Cody Rhodes hits a beautiful disaster kick on Ryback on the outside. It looked like Cody was trying to hit Goldust for a second. Goldust comes into the ring hitting The Final Cut(lifting spin suplex). 1..2..3.

OFFICIAL RESULT: Goldust @ 8:00 via pinfall
MATCH THOUGHTS: This was a good little match. I would say technically good, but for whatever reason the crowd seems to not care at all about either member of Rybaxel. They lack any charisma; nevertheless, Goldust brought the goods and the crowd got into it.

-commercial break

John Cena makes his way out to the ring. He makes sure to put over Main Event and The WWE Network. John Cena admits Bray Wyatt is unlike anything he's ever seen. John Cena wants us to know how dangerous Bray Wyatt is. He cannot stop us from following the buzzards. We need to make up our minds, and Cena admits he needs to let us go. Cena asks when you follow the buzzards what do you follow? What do you believe in? The song? Cena starts singing The Whole World in His Hands. Cena wonders where the song came from. John pulls out a sheep mask and says masks are fun. Cena says Adam Rose and his express have plenty of them. Cena says Wyatt captivates us but wonders if we actually listen to what he actually says.

They recap Wyatt's promo from Raw and him remaking the world in his image. Wyatt calls himself a god. That is what he will truly be remembered for. They show it twice for some reason.
John Cena asks what do we believe in? The crowd seems divided. John Cena believes to never give up. John Cena is not a god but a man. John Cena believes in respect, honor, and hard work. John Cena says we should never give up. John understands he will fight Wyatt alone. He was raised to be a man that fights for what he believes in. Cena says the Universe may change and his shirt but his resolve and message never change. John says he never gives up. He holds up a towel saying never give up.

FINAL THOUGHTS: John Cena actually gave a more serious promo, and what a surprise it came off far better than the usual bad jokey promos. Cena said the right things and made Wyatt appear like more of a threat(hopefully the cage match will not stain things too much). All three matches had their own strengths, and nothing was actively bad. I would say tonight's Main Event was pretty good. This show continues to excel since coming to the Network. I would say there were only a few bad or mediocre episodes since the switch.

comments powered by