SPOTLIGHTS
411's TNA Impact Wrestling Report 5.08.14
Posted by Larry Csonka on 05.08.2014

MVP named himself #1 contender for the TNA Title, EC3 battled Kurt Angle, Magnus faced off with Willow and more! Check out 411's full Impact Wrestling report for all the details!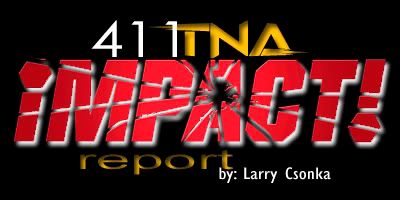 411's IMPACT WRESTLING REPORT 5.08.14

Match times are not exact.


Bully Ray is driving to Nashville, and happens to have a cameraman with him. He's on the hunt for Dixie Carter. He can't do anything to her in the Impact Zone, but at the office, it is fair game.


We get a video package from last week.


Eric Young makes his way to the ring. Young says it's been an amazing run so far, but there is a hiccup in his title run. He made a vow to defend the title each week on Impact. And while not in the best physical or mental condition, he made the promise. No disrespect to MVP, if MVP doesn't book a title match, he will book one him self. He is issuing an open challenge, and knows there is a line of guys wanting a title shot, so he is ready, come and get your title shot.

Bobby Roode makes his way out to the ring. Roode says that they are chanting Young's name, because he is the champion. And as world champion, he has the right to choose what kind of champion he will be. He says Young wants to be a fighting champion, and since he issued an open challenge, he wants a rematch tonight. For 10-years, Roode has over come all of the odds in TNA, he has been Mr. Consistency and the fans know it and so does Young. Tonight the title will be defended against the "It Factor". Young says Roode was the top contender last week, and while he has taken some head shots, he know she beat Roode last week. Roode calls him a smart ass and knows Young beat him last week, but Roode was close, THIS close. He also had to beat Gunner before his title shot. So if Young wants to be a real fighting champion, be a man and defend against Roode again. Roode says they have history, way before TNA was born, 17 LONG years ago they started in wrestling. They grew up together in wrestling, driving all over, trying to make a name for themselves, and they did it. They did it together. They signed with TNA together as friends, they became tag team champions as Team Canada. They are two of the few originals left, they have history. And the fact is, they were fiends, but they were better enemies. They beat the hell out of each other, they went to war, but tonight, he wants to do it one more time. For the only reason, for the world title. Roode says if Young beats him again, he stands here and gives his word, he will never ask for a shot again. Young says Roode is right, they have good and bad history, and there is one thing Roode is, and that is one of the best wrestlers in the world. Tonight, one more match, for the title. They shake hands.


Highlights of the Beautiful People taking over the Knockouts Division.



MVP meets with Eric Young backstage and praises Young's efforts as champion. MVP respects him and calls it refreshing. However, he has something special prepared for Young. But Young cannot book his own matches, and his match with Roode is off. They need to have rules says MVP, and adds Young has to set the example. MVP says he has nothing to prove. MVP says the run is amazing, so enjoy things, and take tonight off and enjoy his title. He promises his opponent for Slammiversary will be special and someone he never faced before. MVP says he will deal with Roode.




Evening Gown Match: Angelina Love and Velvet Sky vs. Madison Rayne and Brittany


The faces are wearing white, the Beautiful People are in black. Simple and effective. Sky and Rayne to begin, to the mat they go and then a clothesline by Rayne. Another, and then drop toehold to Love. She and Brittany run Sky and Love to the floor. Back to the ring they go, Love in and a lock up with Brittany. To the corner, and she and Sky double-team Brittany and beat her down. Tag to Sky, shoulder blocks in the corner follow. Snap mare, kicks and a basement dropkick by Sky. To the corner, back elbow by Brittany and then a big boot. A clothesline follows, Russian leg sweep and then a handspring into a moonsault connects. Double team by the Beautiful People and they strip her and she's eliminated.



~commercial break~


Back from commercial as Rayne is fighting off both Love and Sky. She tosses Love, forearms to Sky. Off the ropes and Love trips up Rayne. To the corner and Sky chokes out Rayne. Tag to Love, she lays the boots to Rayne. To another corner, back elbows by Love. Tag to Sky, and she chokes her out in the ropes. Rayne fights back, sends Love to the floor and spears Sky. She tries to strip her and does. Sky is eliminated. Love attacks Rayne from behind, and rights follow. Love grabs Sky's dress and chokes out Rayne with it. Love tries to strip her, Rayne fires back and hits the Rayne drop. Rayne grabs Sky's dress and chokes out Love with it. She tosses Love around the ring a bit, but a boot by Love connects. Sky reappears as Rayne hits a spear on Love. Rayne is distracted and Sky opens her towel and is apparently naked. This distracts the ref, hairspray attack by Love, she strips Rayne and that is all.

OFFICIAL RESULT
: Angelina Love and Velvet Sky @ 11:00


We see Spud and Dixie at the office. She tells Spud to handle things, and not to let Bully Ray in the building or tell him where she went. Spud promises to handle things.


Highlights of the Angle vs. EC3 feud.



Magnus and Bram have a backstage meeting. Bram got himself a deal through MVP, and Bram says that he talked matches with MVP and got Magnus booked against Willow. Bram wants Magnus to be the old him, and he will have his back tonight.



Kurt Angle vs. Ethan Carter III


Lock up to begin, Angle takes Carter to the mat, but Angle gets the ropes for a break. Lock up again, Angle works the arm. Reversal by Carter, but Angle gets a counter, to the ropes and a break. Boot by Carter, rights follow as Carter beats down Angle in the corner. An Irish whip follows, boot by Angle, and beats Carter down in the corner. Angle connects with a German suplex, another and then the third. Angle then drops to the mat, favoring the surgically repaired knee. Carter immediately attacks the knee, Angle kicks him away and hits a clothesline. Another, Angle slam connects and then Angle collapses and the ref throws up the "X" sign. He begs the ref not to stop the match, chop block by Carter follows and Carter covers Angle for the win…

OFFICIAL RESULT
: Ethan Carter III @ 3:00 via pin


Referees check on Angle.



Back from commercial and Tenay and Taz are concerned for Angle. We see Angle being helped backstage after the match. Angle says he blew out the knee, he heard it pop.


MVP is out to discuss the main event of Slammiversary. He says he wasn't sure what he'd be in for; the fans are demanding and passionate. But his colleagues, they are also passionate and demanding. He hopes he did not disappoint the fans by pulling Young's title defense. Wrestlers wrestle, and he needs to make sure they follow the rules. There has to be order, without it, there is chaos. He will make it up to us. He has a blockbuster announcement regarding Young's Slammiversary opponent.

Bobby Roode makes his way out, and is not pleased. Roode wants to know if this is a joke, and then says he and Young had a handshake agreement. He is getting his shot. MVP says he had his chance last week, when he lost to Young. MVP says title chances are rare, and having said that, Roode has to earn it because there will be no handouts. Roode asks where MVP was when Roode was a tag team champion, when he was the longest running world champing in TNA history. Where has MVP been? MVP says the conversation is over, and Roode stops him. MVP says if he touches him again, they will get to the "participation" part. They brawl now, ands refs and agents are out to stop that.


Earlier today at TNA offices, Ray sneaks into the building. The office people are wearing "Bully Fears Dixie" shirts. He scares the secretary and then looks for Dixie. Spud tries to stop him, and Ray says he will go through him. Ray counts to three, and Ray picks up Spud and carries him around as he looks for Dixie. Ray finds her office, goes in and she is not there. Spud begs him to take off his shoes, because this is a sacred place. Ray tells him to get some tea and Ray sits at Dixie's desk and says he is holding a meeting. He also wants a sandwich.



Rebel twirls fire as a box is brought into the building. Knux says, "it's their home".



Bobby Roode gets kicked out of the building.



Tag Team Title Ladder Match: The Wolves © (Richards and Edwards) vs. The BroMans (Jessie and Robbie) w/DJ Zema Ion


The Wolves chase Ion away, allowing the BroMans to attack. They beat down the Wolves, get a ladder and nail Edwards and then Richards with it. They continue their beat down, and then take the ladder to the ring. They try to climb but the Wolves stop them. Double stun gun by the BroMans, and they get another ladder. The wolves got for stereo dives, but eat the ladder on that try. The challengers are in control, to the floor and Jessie press slams Richards onto the barricade. They then trap Edwards' head in the ladder, and then hit the double knees to crush his skull. Robbie to the floor, he slams Richards into the apron and then grabs another ladder. Edwards makes a save on the floor, and slams a ladder into the BroMans. The Wolves into the ring, and now look to climb the ladder. The BroMans set up another ladder, all four fight and they trade rights and chops. Robbie and Edwards fall, head butts by Richards to Jessie and both fall to the mat. Edwards suplexes Jessie to the floor from in the ring and stays locked up and goes to the floor with him. Richards kicks Robbie onto a ladder that was set between the ring and steps. Richards up top, DOUBLE STOMP! Richards and Edwards back into the ring, they climb, but Ion is in and climbs the ladders. The Wolves hit head butts and toss Ion OVER THE TOP and to the floor onto the BroMans! Jesus. The Wolves grab the titles and retain.

OFFICIAL RESULT: The Wolves @ 8:00


Knux is about to unleash the Menagerie. The Freak and Crazy Steve break out of the box and Knux is very happy about this.



Back at TNA HQ, Spud is looking for Ray, who has disappeared. Apparently he was at the meeting.


Up next…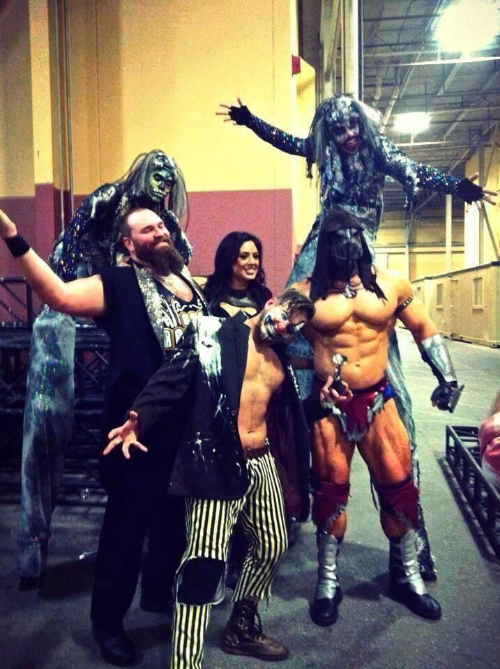 Kazarian vs. Knux w/The Menagerie (Rebel, Crazy Steve, The Freak and Wacky Stilt Walking Guys)


Kaz attacks at the bell, and works over Knux in the corner. Knux tosses Kaz to the floor, back in and Kaz works over Knux in the corner and then chokes him out in the ropes. Kaz kicks him in the face, gets distracted and Knux tosses him back in. Big boot, backdrop follows for Knux. Kaz cuts him off with a kick, but then Knux wipes him out with the cross body. Knux rolls around all wacky like, and gets a sky-high powerbomb for the win.

OFFICIAL RESULT: Knux @ 2:00 via pin


The Menagerie celebrates.


Spud makes his way to the meeting, and was worried that Ray was there, but he wasn't. He says Ray is the worst and runs him down, and Ray is behind him. Ray sends him for a case of beer. Spud says it is 11AM, and Ray says to get them 2 cases. The staff repeats the "Bully Fears Dixie" motto, and Ray says they have a lot of work to do, but knows what they need.



Highlights from last week, where Storm cost Anderson his chance at the TNA Title shot. Anderson and Storm face off next week.


Anderson meets with Gunner, and they discuss last week's shenanigans. Gunner says Storm is nothing but a liar, but he is dangerous.


Back at TNA HQ, it is a big party with Ray in charge. Spud has the beer and they are playing drinking games and wearing Bully shirts. Spud is disgusted and tells them to stop and get back to work. Ray says they are taking care of business, and no one wants Ray to leave or Dixie back. Ray says he will leave if he says where Dixie is. Spud says he doesn't know where she is. Spud swears on Dixie that he doesn't know where she is. Ray says to have a beer with him and he will leave. Spud asks him not to tell Dixie. Ray then powerbombs Spud through a table and steals his phone. He found Dixie's address and the employees chant for tales.


Willow cuts a wacky promo.




Willow vs. Magnus w/Bram


Magnus attacks Willow on the floor before the bell. Magnus works over Willow with rights, into the ring they go and Magnus lays the boots to Willow. Off the ropes, boot by Willow but Magnus hits the rebound clothesline. Elbow drop by Magnus gets 2. Headlock by Magnus, grounding Willow. Willow to his feet, escapes and then gets a head scissors. Rights follow, off the ropes and a flying forearm to Magnus. Atomic drop, leg drop to the balls and a basement dropkick all connect. Mule kick by Willow, Back handspring clothesline by Willow. Magnus to the floor, dropkick by Willow and then slides out into the splash. Magnus rolled back in, Bram attacks and slams Willow to the steps.

OFFICIAL RESULT: Willow @ 3:00 via DQ


Bram continues the attack in the ring. Bram yells at Magnus and tells him this is how it's done. He hits a suplex, and then handcuffs Willow to the ropes. Bram now gets a piece of the turnbuckle and lays the boots to Willow. He nails Willow with the turnbuckle several times and then again tells Magnus that is how it is done. Bram and Magnus leave Willow in the ring.


MVP says he will see Young in the ring for the announcement.



We see a medical update on Kurt Angle. His knee has no stability, and Angle says he has no pain. They say his ACL is torn, and he has to have surgery.


MVP is back to make the big announcement for Slammiversary. MVP says he promised Young that he would reveal his opponent for Slammiversary. And nothing will stop him from honoring his word tonight. He calls out Young for the announcement. Young hits the ring, and MVP says he is very proud of Young. He has overcome every obstacle, and is the champion. MVP says Young is an inspiration, to the fans and to MVP himself. If every wrestler was like Young, there is nothing TNA could not accomplish. Young says he is a fighting champion, so MVP says he wants to face the best competition. MVP has to find that challenger, whoever it is. Eric Young's opponent at Slammiversary is…

MVP looks towards the entrance, and then says that since they didn't play the music… and attacks Young! MVP lays the boots to Young and hits him with the mic. MVP takes off his jacket and takes his chain and wraps it around his hand and beats on Young. MVP says he will see Young at Slammiversary…


End scene.


Thanks for reading.



Have you checked out the Csonka Podcasting Network? If you haven't, you should We run anywhere from 15-20 shows a month, discussing pro wrestling, the world of MMA, the NBA, general sports, popular TV series of the past, bad movies, battle rap, interviews, MMA & Wrestling conference calls and more! Around 10 different personalities take part in the various shows, which all have a different feel; so you'll likely find something you like. All of the broadcasts are free, so go ahead and give a show a try and share the link with your friends on the Twitter Machine and other social media outlets! Running since May of 2011, there are currently over 500 shows in the archive for you to listen to.



Your heart is free. Have the courage to follow it…TO CSONKA'S TWITTER!

http://www.twitter.com/411wrestling
http://www.twitter.com/411moviestv
http://www.twitter.com/411music
http://www.twitter.com/411games
http://www.twitter.com/411mma



comments powered by