SPOTLIGHTS
411's WWE NXT Report 5.08.14
Posted by Larry Csonka on 05.09.2014

The NXT roster battled for a shot at Adrian Neville's NXT Title, the NXT Women's Tournament continued and more! Check out 411's full WWE NXT report for all the details!



Welcome to 411's WWE NXT Report 5.08.14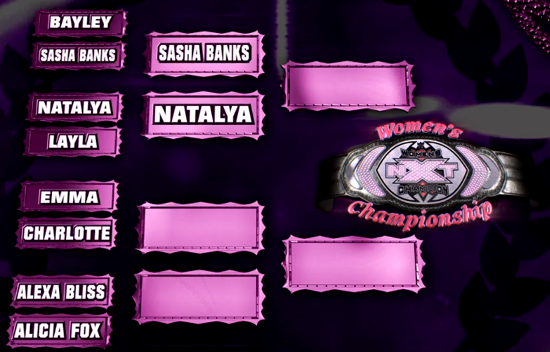 NXT Women's Title Tournament Match: Charlotte w/Sasha Banks vs. Emma


Emma dances, and they lock up. To the corner, and they separate. Lock up again, to the corner and they battle around the ropes a bit, and a clean break. Lock up, take down by Emma. Emma trips Charlotte and Emma covers for 2. Charlotte stuns Emma in the ropes, and a cover gets 2. Charlotte works a figure four headlock, Emma bridges out and gets a cover for 2. A clothesline by Charlotte connects, and a cover gets 2. Back to the figure four headlock by Charlotte. Emma tries to roll out, but fails. Charlotte then rolls that into a skull fucker, and continues to keep the hold. Emma escapes, but Charlotte cuts her off and whips her to the corner. Boot by Emma, and a clothesline follows. They work toothier feet, and Emma gets her pink cobra out. She ends up hitting Banks, who was on the apron, and then Charlotte gets a roll up for the win.

OFFICIAL RESULT: Charlotte @ 4:00 via pin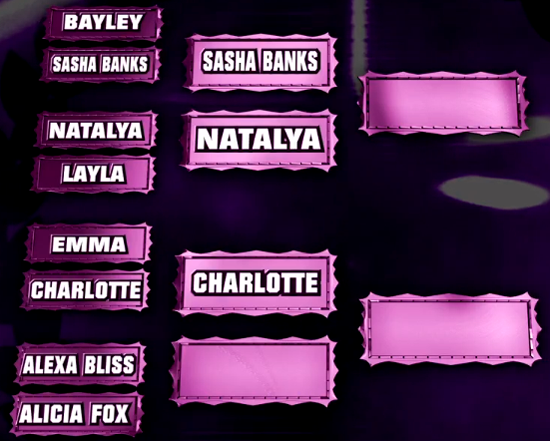 Kalisto and El Locale vs. The Legionnaires (Sylvester Lefort & Marcus Louis)


Kalisto is the former Samuray del Sol. El Locale is Ricardo Rodriguez. Lefort and Locale to begin. Lefort looks to work the arm; roll out by Locale. Side headlock follows, off the ropes and Louis tags in and Locale with a shoulder block and dropkick, that gets 2. Louis rakes the eyes, knees follow. Tag to Lefort, neck breaker connects for w. he takes Locale to the corner; they work over Locale in the corner a bit and clubbing rights follow for Louis. Rights by Louis and a cover for 2. Back to the corner, tag to Lefort, slam by Louis and an elbow by Lefort gets 2. Lefort tags back to Louis, and lays the boots to Locale. Knees by Louis follow, but Locale fights back with rights. Off the ropes, kick by Locale and both men are down. Locale crawls, and tags to Kalisto ands Lefort. High cross by Kalisto, springboard cross body follows. Standing sliced bread connects for 2 as Louis makes the save. Locale sends Louis to the floor and then a spinning plancha connects. Lefort with a knee to Kalisto, off the ropes, Kalisto counters a backdrop and hits a kick. Back handspring kick to Lefort and that is all.

OFFICIAL RESULT: Kalisto and El Locale @ 4:30 via pin



Adam Rose hypes up Captain Comic.



Camacho vs. Captain Comic of The Adam Rose Party


Camacho beat down Captain Comic with ease, and after playing around and pummeling the good Captain, Camacho hits a running powerslam for the win. Nothing to see here, it was what it should have been.

OFFICIAL RESULT: Camacho @ 2:00 via pin


Post match Adam Rose makes the save. Rose is ready to fight, but Camacho just glares at him.



Fox and Bliss comment on their upcoming match.



NXT Women's Title Tournament Match: Alicia Fox vs. Alexa Bliss


Lock up to begin, Fox works the arm and tosses Bliss to the mat. Rights and a kick by Bliss, hits a dropkick and then a standing moonsault knee drop for 2. Knees by Fox cut her off, off the ropes and a tilt a whirl back breaker by Fox and a cover gets 2. Rights by Fox follow, snap mare into a cover for 2. Side headlock by Fox, a northern lights suplex follows for 2. Fox slams Bliss to the corner, back elbows follow that. Side headlock takeover by Fox as she maintains control. Bliss works to her feet, escapes and lands a boot to Fox. Forearms follow, off the ropes and a tilt a whirl into a roll up gets the win for Bliss.

OFFICIAL RESULT: Alexa Bliss @ 3:30 via pin







Battle Royal For a Shot at The NXT Title at NXT Takeover


The competitors are: Sylvester Lefort, Marcus Lois, Aiden English, Danny Burch, Jason Jordan, El Local, Kalisto, Kurt Hawkins, Xavier Woods, Yoshi Tatsu, Oliver Grey, Baron Corbin, Colin Cassady, Mason Ryan, Camacho, Brodus Clay, Mojo Rawley, Sami Zayn, Tyson Kidd, Tyler Breeze, and Bo Dallas.

I'll try to get the eliminations here, as a lot of these guys are new to me. Clay tossed Grey and Hawkins early. The Legionnaires battled with Locale and Kalisto as English tossed Burch, and then Ryan tossed English. Locale and Louis eliminated each other as did Kalisto and Lefort. Woods and Camacho then eliminated each other. Jordan tosses Mojo, Corbin tossed Jordan and then Dallas tossed him. Dallas eliminated Tatsu, Ryan and Cassady. Kidd then eliminated Dallas (crowd loved that one) and we were down to Tyson Kidd, Sami Zayn, and Tyler Breeze.

Breeze hit the beauty shot kick on Kidd, but he couldn't throw him out. Zayn to his feet, Breeze attacks and delivers rights to Zayn. Zayn saves himself, tries to toss Breeze, but he hangs on. Breeze to the apron, rights by Zayn, but Breeze backing, and then eats a clothesline. Zayn misses a kick and is hanging on the ropes on the apron. Kidd charges, and Breeze sends him over the top but he hangs on as well. Breeze attacks as Kidd and Zayn are hanging over the ropes. Kidd catches Breeze with his legs, and then Tyson Kidd, Sami Zayn, and Tyler Breeze all hit the floor at the same time…

Referees try to make a decision as the crowd chants for a triple threat. Well timed finish by all three.

OFFICIAL RESULT: Tyson Kidd, Sami Zayn, and Tyler Breeze @ 7:30


As all three argued over who won, Triple H came out and announced that Kidd, Zayn, and Breeze would meet in a Triple Threat match on the next show to determine which man will challenge for the NXT Championship on the NXT Takeover special on May 29th.


End scene.


Thanks for reading.



Have you checked out the Csonka Podcasting Network? If you haven't, you should We run anywhere from 15-20 shows a month, discussing pro wrestling, the world of MMA, the NBA, general sports, popular TV series of the past, bad movies, battle rap, interviews, MMA & Wrestling conference calls and more! Around 10 different personalities take part in the various shows, which all have a different feel; so you'll likely find something you like. All of the broadcasts are free, so go ahead and give a show a try and share the link with your friends on the Twitter Machine and other social media outlets! Running since May of 2011, there are currently over 500 shows in the archive for you to listen to.



Larry Csonka is a Pisces and enjoys rolling at jiu jitsu class with Hotty McBrownbelt, cooking, long walks on the beach, Slingo and the occasional trip to Jack in the Box. He is married to a soulless ginger and has two beautiful daughters who are thankfully not soulless gingers; and is legally allowed to marry people in 35 states. He has been a wrestling fan since 1982 and has been writing for 411 since May 24th, 2004; contributing over 3,000 columns, TV reports and video reviews to the site.

Your heart is free. Have the courage to follow it…TO CSONKA'S TWITTER!

http://www.twitter.com/411wrestling
http://www.twitter.com/411moviestv
http://www.twitter.com/411music
http://www.twitter.com/411games
http://www.twitter.com/411mma



comments powered by