SPOTLIGHTS
Tremendous Tirades 5.15.14: WWE NXT
Posted by Larry Csonka on 05.16.2014

Tyson Kidd, Tyler Breeze and Sami Zayn battled for a shot at the NXT Title, while the NXT Women's Tournament continued…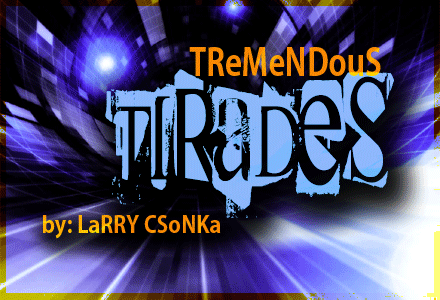 Introduction
As a reminder, this will not be another traditional recap, but instead it will be a mash up of the Rs, Instant Analysis and my usual Twitter ramblings I would do during the shows; completely uncensored and as the ideas flow unfiltered to the old keyboard. Remember, this is a review; and I am here to review the show. As always, I encourage discussion and even disagreement, just do so in a respectful manner. I will be doing the review for Raw and most PPVs and iPPVs going forward.



WWE NXT 5.15.14
I am going with the Tirade review this week. I have been sick and honestly this is easier on me. Thanks for understanding.


We get highlights from last week's battle royal, which set up tonight's main event.

Non-Title Match: Champions The Ascension (Konnor and Victor) defeated Buddy Murphy and Elias Sampson (2:00): This was nothing but a complete squash for the tag team champions, The Ascension. And that is exactly what it should have been here. The Ascension claimed that they ran through all of the NXT teams, which brought out El Locale and Kalisto. Locale challenged them for the tag team titles, Kalisto tried to get the crowd to do the LUCHA chant. It didn't work all that well, as the crowd was more into the champions. The champions looked like killers, and the challenge was set. They announced later that The Ascension vs. Kalisto & El Local for the NXT Tag Team Titles will take place at NXT Takeover. This was a good start to the show.
Match/Segment Rating: 7.0


Sami Zayn interview, he stated that he was obsessed with the NXT Title.


NXT Women's Title Tournament Match: Charlotte w/Sasha Banks defeated Alexa Bliss (5:30): This is a semifinal match in the tournament. Alexa Bliss is a good little babyface, she's green, but has a lot of potential. Charlotte gets a very mixed reaction from what I have seen. Some feel she is getting pushed quickly, while others think she's great. Charlotte's obviously a good athlete, but I need to see more of her to make an informed decision. Charlotte gets the clean win in a basic, but fine match. I am glad that they got time to work, something the ladies on the main roster rarely get. The tease here is that Charlotte could face Banks in the finals.
Match/Segment Rating: 6.0


Tyler Breeze promo, via video sent by his cell phone, discussing becoming the NXT Champion. He'll do whatever it takes to get what he wants.


Mojo Rawley defeated Aiden English (3:30): This was set up two weeks ago, when after Rawley's match, English confronted him. Rawley sent him packing. Aiden English sang his way to the ring. This was a short, back and forth match that didn't do much for me. English is interesting, but Rawley does absolutely nothing for me as a performer.
Match/Segment Rating: 5.0


Tyson Kidd prepares for the main event. He wants to win the NXT Title to prove that he's the leader of the pack.


"Big Cas" Colin Cassidy defeated Angelo Dawkins (3:45): This is my first time seeing both men in singles action. Cassidy looks like a taller Drew McIntyre, while Dawkins reminds me of a cross between ROH's ACH and Shelton Benjamin. CJ Parker is protesting around the ring, he hates toxins. Cassidy dominated and got the win with ease. Not bad at all, but it was really nothing more than a squash. That's not a bad thing, but also hard to judge a lot from that. Overall this was fine, and I am interested to see more of Cassidy.
Match/Segment Rating: 6.0


Bo Dallas begged JBL for another title shot. He started a letter writing campaign, the BO-LIEVERS want him to have a title shot. He even has a hotline! 1-900-909-9900. JBL stated that if Dallas won his match next week he could have the title shot. But if he loses, he has to leave NXT forever. He'll face Big E. Dallas was happy about this, because he beat Big E for the NXT Title last year.


#1 Contender's Match: Tyson Kidd defeated Tyler Breeze and Sami Zayn (10:45): The winner faces Adrian Neville for the NXT Title at the Takeover special. These three were in last week's battle royal, and all three hit the floor at the same time for the finish. Triple H announced this match at the end of the show. The pre-match promos were really good, making the match feel important, and the work from all three reflected that. I knew that Zayn and Kidd were really good, but also came away impressed with Breeze. The dude seems to have the gimmick down really well, has great presence, and delivered in the ring here. Zayn is so damn good, Kidd has a ton of experience, and it the perfect performer to work with these guys to help prepare them for the next level. They got some time, it had great energy. the fans were involved, they had some fun spots and simply delivered a really good match to crown a top contender. Make sure to catch this one, it was a lot of fun. I also love the decision for Kidd to get the title shot, he's a damn fine talent, and again, is the perfect guy to work with Neville, especially if they want to move Neville to the next level soon. You need guys like Kidd working with the NXT talent as much as possible, especially considering he's not being used on the main roster.
Match/Segment Rating: 8.0


Tyson Kidd faces Adrian Neville for the NXT Title at the Takeover special on May 29th.


End scene.


Thanks for reading.


The Tirade


First of all, the commentary on NXT as compared to the main product is night and day; they actually call moves, put over the talent and still get the story across. I wish the main shows would do that. Secondly they are doing a good job building to the NXT Takeover special, with the Main Title and tag team title matches complete. We also have half of the NXT Women's Title Tournament finals set. These are good things. Finally, the main event delivered a great match. I loved how the competitors in the contender's match made the NXT Title seem like the most important thing to them. That is always appreciated. They then delivered a great main event, playing off of last week's finish and the promos.

Overall a good show, the main event is the only thing you need to see, but it was an easy show to watch as they build towards Takedown.

Show Rating: 7.0

As a reminder, I will be going by the 411 scale…

0 - 0.9: Torture
1 - 1.9: Extremely Horrendous
2 - 2.9: Very Bad
3 - 3.9: Bad
4 - 4.9: Poor
5 - 5.9: Not So Good
6 - 6.9: Average
7 - 7.9: Good
8 - 8.9:Very Good
9 - 9.9: Amazing
10: Virtually Perfect

The final rating is not simply an average of the rated segments above. The rating takes them into account as well as the segments that are small but not scored, the flow of the show, the overall booking, build to PPV, crowd reactions, and so on and so forth.

Have you checked out the Csonka Podcasting Network? If you haven't, you should We run anywhere from 15-20 shows a month, discussing pro wrestling, the world of MMA, the NBA, general sports, popular TV series of the past, bad movies, battle rap, interviews, MMA & Wrestling conference calls and more! Around 10 different personalities take part in the various shows, which all have a different feel; so you'll likely find something you like. All of the broadcasts are free, so go ahead and give a show a try and share the link with your friends on the Twitter Machine and other social media outlets! Running since May of 2011, there are currently over 500 shows in the archive for you to listen to.



Larry Csonka is a Pisces and enjoys rolling at jiu jitsu class with Hotty McBrownbelt, cooking, long walks on the beach, Slingo and the occasional trip to Jack in the Box. He is married to a soulless ginger and has two beautiful daughters who are thankfully not soulless gingers; and is legally allowed to marry people in 35 states. He has been a wrestling fan since 1982 and has been writing for 411 since May 24th, 2004; contributing over 3,000 columns, TV reports and video reviews to the site.


Your heart is free. Have the courage to follow it…TO CSONKA'S TWITTER!

http://www.twitter.com/411wrestling
http://www.twitter.com/411moviestv
http://www.twitter.com/411music
http://www.twitter.com/411games
http://www.twitter.com/411mma


comments powered by