SPOTLIGHTS
Tremendous Tirades: EVOLVE 30
Posted by Larry Csonka on 05.17.2014

Tonight is the night for the Premiere Athlete Brand… oh wait, no, it's not…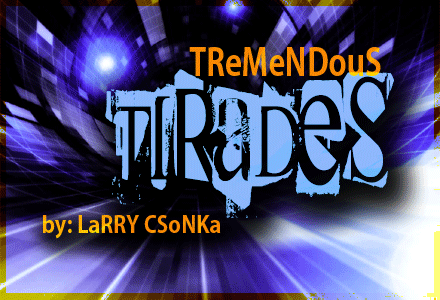 Introduction
As a reminder, this will not be another traditional recap, but instead it will be a mash up of the Rs, Instant Analysis and my usual Twitter ramblings I would do during the shows; completely uncensored and as the ideas flow unfiltered to the old keyboard. Remember, this is a review; and I am here to review the show. As always, I encourage discussion and even disagreement, just do so in a respectful manner. I will be doing the review for Raw and most PPVs and iPPVs going forward.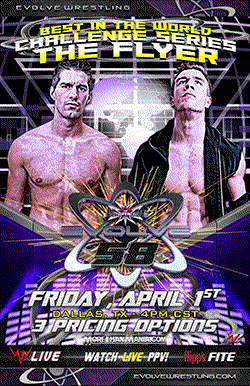 EVOLVE 30 iPPV
Johnny Gargano was pulled from the show, due to a jaw injury. He was set to face Rich Swann in an I Quit Match at this event. Instead, Anthony Nese will fight Rich Swann as part of a three match challenge series. The other two matches are Trent Baretta vs. Uhaa Nation and AR Fox vs. Caleb Konley. The main event is now Fox, Swann and Nation vs. The Premier Athlete Brand with the winning side of the three match series picking the main event stipulation.


This event is from the dungeon in Brooklyn. The building has a cool look, but in the past was horribly lit. It looks better so far on this show, which is a good thing.

Challenge Series Match: Caleb Konley defeated AR Fox (16:00):
They had a good match against each other at EVOLVE 28, it could have been great, but the horrible ending took away from the great in ring work. I like the selection of this match as the opener, they proved they can work well together, and should work a style that gets the show off to a good start. Konley had a great match with Rich Swann at EVOLVE 29, and had another good one here. The crowd was into it, and they got time and worked a really fun and entertaining pace. Unfortunately I did not think it was as smooth as their EVOLVE 28 match; it felt uneven at times. The finish was cool as Fox went for the 450, but crashed onto the knees of Konley, who then rolled him up out of that. Strong opener, but I honestly think that both guys can do even better. Konley is having a very good weekend.
Match Rating: ***½

Blake Edward Belakus defeated Ryan Rush (5:00): While a solid match, I wasn't a fan of putting Belakus vs. Dunn as the opener for EVOLVE 29. The opener needs to be a match with an established feud, a match with popular acts or a match with guys that will blows the doors off the building. Those guys didn't fit any of those criteria, and felt it was a disservice to them. So having this match second felt like a much better plan to me. Belakus goes 2-0 on the weekend for EVOLVE; unfortunately this one wasn't as good as the night before. This was back and forth, no real flow, and Rush wasn't very smooth at all in my opinion. I have mild interest in seeing more on Belakus, maybe against someone more seasoned and that I know. Also, I know it is part of the "new talent" deal, but I need to know more about Belakus; right now it feels like they want me to care about him by booking him for back to back wins, but I have been given no reason to get emotionally invested in him.
Match Rating: *½

Josh Alexander defeated Tim Donst (11:00): Alexander and Donst were in tag team action at EVOLVE 29, and both on their teams on the losing end of things. Tonight they get a chance in singles action. Lots of grappling and mat wrestling early, which then devolved into a slap and chop battle for a bit, and then back to grappling. The first match was fast paced with highflying moves; the second match was a match. This felt very different, a lot of wrestling and hard-hitting offense from both guys. I love when there is diversity. Alexander won with a spinning tombstone, which if that wasn't the finish in the third match on the show I would have been pissed. It was a good match that I felt dragged a bit down the stretch, but I enjoyed it.
Match Rating: ***


SHINE Champion Ivelisse was supposed to come out for a promo, unfortunately Larry Dallas is here. As I said in the EVOLVE 29 review, "As many expected, the announcement of his dismissal was bullshit. You're walking a line when you send out your alerts, which are supposed to be news, and then use that to "work" your fans. Since the beginning of this promotion, no one has done more to make me want to turn it off than Larry Dallas. I am sure they will tell me he is getting "heat," but getting proper "heat" shouldn't make me want to turn off shows. And don't tell me the live crowd loved it, they couldn't even muster up enough fucks to sing the "hey hey, goodbye song". Moving on.


SHINE Champion Ivelisse now hit the ring. I could barely hear the promo as the mic wasn't loud enough. Christina Von Eerie hit the ring for a big brawl, playing off of Von Eerie's attack on Ivelisse from the night before.

Three Way Freestyle: Jigsaw defeated Chuck Taylor and Ethan Page (7:00): Ok, to begin, a booking gripe. In the last match, you featured two guys that lost in matches the night before. That's not horrible in and of itself and I get why they did it. But in this match, you AGAIN have a match that features all losers. I feel your pushing the boundaries of your audience here, why should I care about another match filled with men that lost the night before? And why should I care about TWO matches, back to back, filled with men that lost the night before? It feels a bit lazy to me to be honest. This felt rushed, and the finish while cool (Page stuck in the tree of woe, Jigsaw hits a double stomp off the top onto Taylor for the win) it surprised the crowd, who were not at all expecting it. Sometimes that works, here it felt flat and disappointing. Again, I have no clue what the plan is with Chuck Taylor here. It appears to be lovable loser that performs well but has no direction. They are lucky that Taylor is so damn entertaining and that the crowd still loves him.
Match Rating: **½

The Bravado Brothers defeated The Colony (Fire Ant & Green Ant) to retain the Open the Freedom Gate Tag Team Titles (16:00): The Colony earned their tag team title shot over the WrestleMania weekend shows. They defeated Jigsaw & Tim Donst at EVOLVE 29. The Bravados defeated Ethan Page & Josh Alexander in a non-title match at EVOLVE 29, so both teams are heading into the event with momentum. Early on Moose caught Fire Ant and slammed him to the post. The ref was about to DQ the Bravados, saving their titles, but Green Ant begged the referee to eject him instead. They played up if Moose didn't leave, that the Bravados would be stripped of the titles. With Moose gone, the Bravados were left to work a basic heel style tag match. Simple, effective double teaming, classic short cuts and Green Ant playing Ricky Morton to their Midnight Express. The Bravados are so much better working the basic, southern heel style than doing all of the shenanigans that has plagued their run for the most part. I marked out for Lancelot using the Chaos Theory. I also like how they keep the Young Bucks in your minds as The Bravados steal some of their moves from time to time. They lost the crowd about 10-minutes in, and while the action was good, there was nothing on the near falls. It was odd, the crowd just died for 2-3 minutes there big time. They finally got them back with miscommunication between The Bravados and some dive spots. The ending was a little sloppy, The Bravados tried to unmask Green Ant, leading to the Gentlemen's Agreement for the win. Best match since the opener. The Bravado Brothers win and move on as champions, but the bad news is that the promotion really doesn't have anyone set as legit contenders, especially with the Bucks away with New Japan.
Match Rating: ***½



Intermission



Moose defeated Mr. A (5:00):
Anthony Nese demanded that Mr. A prove himself and wipe the floor with Moose. Five-minutes of clubbing, corner splashes and a spear. Moose has a great look, is a good athlete and has promise, but this was technically a match that did not suck.
Match Rating: *


The Premiere Athlete Brand dismissed Mr. A, and then Nese told Swann to bring out his "black ass" for their match. Not sure why that was needed, but ok.


Challenge Series Match: Anthony Nese w/Yung, Konley and Baretta defeated Rich Swann w/Fox and Nation (15:00):
Swann defeated Konley in a great match at EVOLVE 29. Anthony Nese and Trent Baretta lost to Nation and Fox in a tremendous tag team main event of the same show. I really liked this, best match on the show so far. Nese continues to deliver. He is small and fast, but also chiseled and strong; he works well with everyone on the roster because he can do a bit of everything and do it well. Swann continues to have good performances, and this was the second one this weekend. This was a clean and decisive victory for Nese, which he needed in my opinion. This was good, but seemed to be missing something to get to that next level.
Match Rating: ***¼


Challenge Series Match: Uhaa Nation w/Swann and Fox defeated Trent Baretta w/Yung, Konley and Nese (19:00): So wait a minute, explain to me why we are having this match? The Premiere Athlete Brand already won the two of three matches they need to call the stipulation for the main event. This match is not needed in any way. Sure this may end up being great, but it makes no sense to me why it is happening. They teased that the Premiere Athlete Brand wanted the sweep, but why would they want Baretta weaker heading into the main event? This just didn't jive with me. With that being said, this was also a damn good match. Baretta continues to deliver for the promotion, Nation continues to grow as a performer, and you put them together and we get good things. Nation is really just a freak, he s big, he is jacked, but so athletic and it all looks effortless. Some awesome back and forth action from these guys, the crowd really liked this a lot, stayed invested and added to hit. I personally think they could have trimmed a couple of minutes to make this tighter, but it worked very well.
Match Rating: ****


Anything Goes Match: Rich Swann, AR Fox & Uhaa Nation defeated Anthony Nese, Trent Baretta & Caleb Konley (11:00):
Ok, booking gripe here. You've had these six men out there for roughly 35-minutes, and are now asking the fans to stay invested in them for another match. I discuss pacing, placement and overall booking a lot, and feel that this was a mistake. Nation and Baretta should have been the end of the first half, setting the series at 1-1. You come back from intermission with Nese and Swann, giving the Premiere Athlete Brand the series win, and then bring them out for the main event and name the stipulation. It's not hard, and makes more sense for the flow of the show. Also, the Premiere Athlete Brand never really got the big win moment and chance to name their stipulation, Rich Swann, AR Fox & Uhaa Nation just brought out ladders and it was announced as anything goes.

This was 11–minutes of these guys running through ladder spots, chair shots, superkicks and anything else that they could fit in during their time. It was entertaining in a car crash kind of way in that I couldn't' take my eyes off things, but the fact that everyone worked fresh as a daisies, ignoring the series of challenge matches was annoying.

So Rich Swann, AR Fox & Uhaa Nation win, and the Premiere Athlete Brand gets neutered over the course of the weekend. Over WM weekend at EVOVLE 28 they won the six-man tournament and the right to book any match they want, then at EVOLVE 29 to AR Fox & Uhaa Nation in a segment that ran through six-months of booking. Then, they pick up two big, clean wins here, only to lose, again, in the big important main event. Frustrating…
Match Rating: **


End scene.


Thanks for reading.


The Tirade


On the surface, if you skim through the review it may seem like a pretty good show, and it was not bad, but I had issues. The flow and pacing of the show felt off and the show felt hard to watch down the stretch. I was not a fan of the layout of the second half of the show with nearly an hour of The Premiere Athlete Brand vs. Fox, Swann and Nation. The booking of the Moose vs. Mr. A match also felt out of place, and should have come after the Baretta vs. Nation match. You have Baretta want Mr. A to get involved, he refuses because of the new rules, Baretta loses and then the Premiere Athlete Brand gets pissed, books him against Moose to prove himself, he fails and THEN they dismiss him. As I said in the review, open with Konley vs. Fox, go to intermission with Baretta vs. Nation (with the Mr. A angle), come back from intermission with Nese and Swann, giving the Premiere Athlete Brand the series win, and then bring them out for the main event and name the stipulation. You change the layout, you make it flow better and then it becomes more enjoyable. As it was presented here, not so much.

Again, as mentioned above, this should have been a show that could have put the Premiere Athlete Brand on another level in the promotion; instead they were completely neutered in my opinion and looked foolish. The Gargano injury gave them a chance to change the card and do something interesting, but they ultimately decided not to.

The show had some fun wrestling, and I really enjoyed Baretta vs. Nation, but between the layout, the booking and the main event that felt like a bastard child discovered at an old attitude era warehouse, the show did not continue the momentum from the EVOLVE 29 event. And that's a shame. It's not a bad show, but it's nothing that I recommend, which is unfortunate.

Show Rating: 6.0

As a reminder, I will be going by the 411 scale…

0 - 0.9: Torture
1 - 1.9: Extremely Horrendous
2 - 2.9: Very Bad
3 - 3.9: Bad
4 - 4.9: Poor
5 - 5.9: Not So Good
6 - 6.9: Average
7 - 7.9: Good
8 - 8.9:Very Good
9 - 9.9: Amazing
10: Virtually Perfect

As a reminder, this is not a basic "how good was the show" number like a TV show, as I have always felt that a PPV is very different from a regular show. I have always judged PPV on how they built to a match, the match quality, crowd reactions to matches and angles, the overall booking, how the PPV leads into the future, PPV price and so on and so forth. I have added this in here for an explanation since so many have asked, and I have previously discussed it on podcasts. I understand that this may seem different, but that is how I grade. Obviously your criteria may be different.

Have you checked out the Csonka Podcasting Network? If you haven't, you should We run anywhere from 15-20 shows a month, discussing pro wrestling, the world of MMA, the NBA, general sports, popular TV series of the past, bad movies, battle rap, interviews, MMA & Wrestling conference calls and more! Around 10 different personalities take part in the various shows, which all have a different feel; so you'll likely find something you like. All of the broadcasts are free, so go ahead and give a show a try and share the link with your friends on the Twitter Machine and other social media outlets! Running since May of 2011, there are currently over 500 shows in the archive for you to listen to.



Larry Csonka is a Pisces and enjoys rolling at jiu jitsu class with Hotty McBrownbelt, cooking, long walks on the beach, Slingo and the occasional trip to Jack in the Box. He is married to a soulless ginger and has two beautiful daughters who are thankfully not soulless gingers; and is legally allowed to marry people in 35 states. He has been a wrestling fan since 1982 and has been writing for 411 since May 24th, 2004; contributing over 3,000 columns, TV reports and video reviews to the site.

Your heart is free. Have the courage to follow it…TO CSONKA'S TWITTER!

http://www.twitter.com/411wrestling
http://www.twitter.com/411moviestv
http://www.twitter.com/411music
http://www.twitter.com/411games
http://www.twitter.com/411mma


comments powered by