SPOTLIGHTS
411's Total Divas Report 05.18.14
Posted by Ryan Byers on 05.19.2014

In this episode, Eva Marie turns babyface. Sadly, they didn't do a spot where Nikki Bella looked for approval from several onlookers in a restaurant before deciding whether to accept Eva's handshake.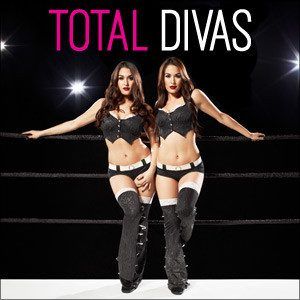 Do you like Ryan's exasperated ranting about Total Divas? If so, check out his exasperated ranting about numerous other wrestling-related topics on Twitter.

We open with a replay of MMA-ksana dropping her knee and shattering Trinity's face and shattering it, though Trin impressively finishes the match and also the post-match angle, fighting off some interference from Alicia Fox. I am told that Alicia and Aksana have given their team the name of "Fuck Sauna" on twitter. I don't understand what that name means, but they're trying to market themselves, so good for them.

In a confessional, Cameron's first thought about Trinity's injury is what impact it might have on her own career. This show is always brimming with positive female role models.

At another event, the women are excited to see Nattie's first official WWE t-shirt. The front depicts her logo, and the back is emblazoned with her new catchphrase, "Nattie 3:16 Says I Just Got Icy Hot in My Ass."

The topic quickly changes to Trinity's eye, and at this point we're still wondering whether she's going to need surgery. Screw that, though, let's talk about a bachelorette party! Everybody is going to go to Mexico for Brie's big blowout, at which point Nattie says she's looking forward to building sandcastles on the beach. After a season and a half of fluctuating between different characters for Nattie, it seems that the show's writers have now firmly settled into "seventy year old grandmother trapped in a thirty year old body."

We flash forward a bit, and Eva and Summer meet up, with Eva dropping the bomb that Summer is not invited to the bachelorette party. Eva says, "I think you burned your bridges with the other girls by talking about them." This is where I insert my weekly reminder about Summer having done almost nothing wrong, even though she's treated like a total pariah by the rest of the cast.

All of a sudden, we are in Cabo San Lucas, where the Bella Twins are talking about alcohol. Nikki says that Mexico is the "one place where you get out of control and wild." Yes, not like that button-downed City of Las Vegas that they visited last season. Nattie wants to play some board games while the girls are all together. I actually wish this scene would've occurred, specifically with Cameron trying to convince everybody that "chingle" is a real word during a round of Scrabble.

In a confessional, Eva Marie mentions that this trip might be difficult for her because she is a recovering alcoholic. I'm told that the six months that she spent living with Diamond Dallas Page to kick the habit were the hardest six months of Page's life.

The ladies arrive at their accommodations for the party and meet up with the Bellas' friend Lexie. Sadly, it is not Lexie Fyfe. Nattie continues with her lame suggestions about board games. I'm sure that people would be more willing to play with her if she would just bring the American version of the games and now the lame Canadian bootlegs. I mean, really, have you ever tried to play the Canadian version of Operation? You don't even do anything, you just ship the board off to a government office and it takes care of everything for you.

Anyway, everybody encourages Eva Marie to drink. More non-wrestling Bella friends show up, and there is much excited screaming.

Back in the United States, Jon Uso is tending to the injured Trinity, who is wearing an eye patch, looking like she's dressed to go trick-or-treating as sexy Carl Ouellet. She explains that she was getting ready for a big Wrestlemania title opportunity against AJ Lee, which is a legitimate story if you believe the dirt sheets. She says this completely sucks. She is correct.

In Cabo, we're still trying to convince Eva to drink, and she refuses. Nikki does explain, though, that she has smoothed things over with Eva Marie since Eva first came to WWE and now they're great friends. In the background, you can just barely make out JoJo Offerman peering in through a window with a single tear rolling down her cheek. Nikki passes on wisdom from her mother, namely that the women who you hate the most when you first meet them wind up being your best friends. Female readers: Please tell me whether this is accurate.

All of the women take turns spanking each other in bikinis before returning to the pool. There is also probably a lot of metaphorical spanking going on in viewers' homes.

Nattie compliments Nikki Bella on her breasts. Yup. They start talking about the Cena/Bella relationship, and Nattie claims that Nikki has softened Cena and she thinks that an engagement is coming. Seemingly out of nowhere, Nikki says that she's been married once before. I don't know why, but this is apparently a big enough plot point that it warrants a commercial break before we get any further explanation.

When we come back, we learn that the marriage was a Vegas elopement when she was 20 and the couple never lived together or even really spoke after the ceremony with the marriage being annulled a few years later. Brie shows up, and she is seemingly offended by Nikki having revealed this secret which previously only she knew. Hey, it's her secret. I think she gets to tell who she wants.

Several hours pass, and everybody gets dolled up to go out for dinner and drinks. Somebody orders a margarita for Eva, but she apparently gets away without drinking it and nobody notices (though we don't see how she pulled this off). Later on at the club, Eva keeps handing off any alcohol that comes her way, but she's not actively bringing up her past because she doesn't want to detract from the party. However, she dramatically picks up a shot as we head to our next commercial.

. . . and, after the ads, she manages to put it down and walk away. Cameron isn't sure why she's leaving and gives chase, actually demonstrating some degree of selflessness for once in her life. Eva convinces her that there is nothing major wrong as she hops into a cab and heads back home. The other girls comment that this made things more than a little bit awkward.

The next morning, everybody gathers for breakfast and asks Eva Marie what was up with her sudden departure. Nattie walks in and has chocolate on her mouth, which is apparently noteworthy enough to discuss for several seconds. Oh, and a whale breaks through the surface of the water within eyeshot of their house. Based on the amount of time devoted to the whale, it was apparently less impressive than Ms. Neidhart's mouth being a little bit dirty.

Now we're poolside again, and everybody keeps peppering Eva Marie with questions about the prior evening, at which point she decides to come clean. She hates that she could be seen as the party pooper. Don't worry, that won't be happening as long as Nattie is around. Speaking of Nattie, she is remarkably honest and saying that she can relate to Eva's issues to a degree because her father has had his own struggles with addiction. Yup. They talk about the issue for a while in a fairly frank manner and conclude that, though they have discussed some difficult issues, it has brought them all closer together. This was probably one of the more legitimately emotional points in the entire history of the show, and I am not being sarcastic.

We jump back to Trinity, who is being evaluated for surgery . . . and it turns out that she doesn't need it. The doctor says that she could be cleared in two to three more weeks, which Trinity notes could get her back into the ring in time for Wrestlemania. Boy, I can't wait to see how this title-shot-at-Wrestlemania storyline pays off for Trinity!

The Bellas have a private conversation, and Brie explains why she got a bit upset about Nikki spilling the beans about her prior marriage. It's because Nattie is a blabbermouth, and literally NOBODY knows about the earlier wedding outside of Brie . . . not their parents, not their brother, nobody. Of course nobody else knows about it. Bunim/Muarry just came up with it a week and a half ago.

Nattie is happy because the group has finally decided to go along with her plan to swim with the dolphins. In a bit of welcome character continuity, Brie does check with the owner of the dolphin encounter about the conditions in which the animals are kept, and, reportedly, they were rescued by the Mexican government after being injured in a hurricane. Okay then . . . just as long as we don't have a Blackfish incident here. Cameron is the one woman shown being pulled through the pool by the animals. Shrill, obnoxious squeals are made. Oh, yeah, the dolphins make some noises too.

It's the last evening of the Mexican excursion, and all of the women sit around the fire and say nice things about Brie. The bride-to-be herself kicks off the segment, stating that she is looking forward to starting a new chapter of her life and, in particular, becoming a mother. Awww.

Back in the States, the Bellas are meeting up with their family to take a look at their brother's new house. The Bellas' father still looks and dresses like a full-sized version of Shorty Rossi from The Pit Boss. Nikki gathers everybody around the coffee table and drops the bombshell about her prior marriage. We go to a commercial in the middle of it, but there are clearly only four minutes left in the show, so it's readily apparent that there aren't going to be too many harsh consequences from her revelation . . . at least not this week. Papa Bella tries to put a positive spin on the situation, saying, "These things just happen," but the Bella Brother Dot is not quite as forgiving, noting that you don't "just" get married and not tell anybody about it for a decade.

He also says that John Cena will NOT be happy about this when he hears it. Yes, because when I think of one person who knows John Cena beyond all others, the one person who can truly predict his reaction to any life event, I think of the Bella Twins' brother.

Oh, he also walks off in a huff, because you can't get through an episode of Total Divas without that finish.

Overall: You might have noticed that my review this week was a little bit shorter than most, which was largely due to the fact that we didn't have nearly as many storylines crammed into this episode as we do in most others. We tracked the progress of Trinity's eye in our b-story, and even that didn't get a lot of camera time; I suspect because it was unplanned and as a result had to be tacked onto a previously planned episode at the last minute. The other stories were obviously Eva's struggles with her personal demons and the Nikki marriage shocker, though the fact that both of those unfolded largely under the same backdrop of Brie's bachelorette party allowed them take up less time than they likely would have if they were taking place in separate settings. The show being less cluttered with multiple "angles" so to speak was a welcome change of pace. The other reason that the review is shorter than usual is that, quite frankly, there was less for me to make fun of. Trinity's injury and Eva's alcoholism are both serious issues, and at least the first one we know is actually rooted in reality . . . and, even if the second one isn't, it was treated in a realistic enough manner that there wasn't any reason to denigrate it. So, we had a less cluttered show with a more serious tone. I have very little to complain about this week, even if Nikki's storyline was more than a bit contrived.

Do you like Ryan's exasperated ranting about Total Divas? If so, check out his exasperated ranting about numerous other wrestling-related topics on Twitter.

comments powered by