SPOTLIGHTS
Tremendous Tirades: TNA One Night Only - Joker's Wild II
Posted by Larry Csonka on 05.19.2014

The latest PPV offering from TNA… At least they gave us the Wolves vs. Beer Money!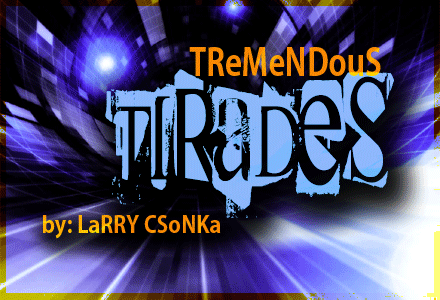 Introduction
As a reminder, this will not be another traditional recap, but instead it will be a mash up of the Rs, Instant Analysis and my usual Twitter ramblings I would do during the shows; completely uncensored and as the ideas flow unfiltered to the old keyboard. Remember, this is a review; and I am here to review the show. As always, I encourage discussion and even disagreement, just do so in a respectful manner. I will be doing the review for Raw and most PPVs and iPPVs going forward.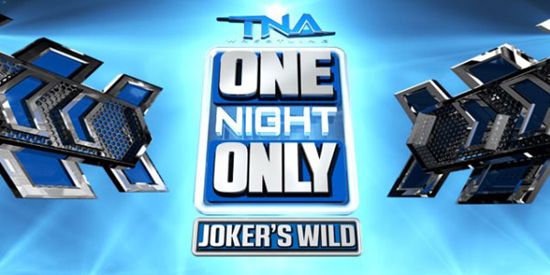 TNA One Night Only - Joker's Wild II
From TNA: The first round of this special will create some intriguing tag team matches. For one night only, old partners will reunite and bitter enemies must work together in order to advance. Once in the finals, however, any friendships or forged alliances will quickly disappear as the wrestlers will compete in a winner-take-all gauntlet battle royal, where it's every man for himself and the winner will receive $100,000!!!


This was taped when they were in the UK, and the crowd is hot early.


Borash is out with the tumbler to pick the tag teams, which they will do before each match.

Joker's Wild Match: The British Invasion (Magnus and Douglas Williams) defeated Gunner and Chris Sabin (7:00): With TNA being in the UK, reuniting the British Invasion was the smart, and correct thing to do for this show. Douglas Williams is awesome, and a guy that they really should have kept around to work with the new and younger talents they have brought in. Sabin was tremendous in the match as a chicken shit heel, doing all of the cowardly little things that make you hate him. This was a really solid opening match with a hot crowd, which is always good. Miscommunication led to the Invasion scoring the victory, this match was exactly as it should have been.
Match Rating: **¾


The Bro Mans has a wacky confrontation with Bad Influence. The Bro Mans didn't understand that they would likely not be teaming together.


Joker's Wild Match: Samoa Joe and Bad Bones defeated Robbie E and Christopher Daniels (7:00): Bad Bones won one of the Gutcheck deals, and was used on the UK tour a bit. I don't know much about his. Robbie E is fun, Daniels and Joe are great and work well together, so this has potential. Bad Bones wasn't bad at all, the crowd loved him and he worked well with the others. They loved Daniels and Joe, who worked the open and the hot tag segment. I liked this a bit more than the opener, as it has a better flow and pacing overall along with some better overall action.
Match Rating: ***



Spud cut a promo, and stated he would be the team captain no matter who his partner was. It was Bully Ray.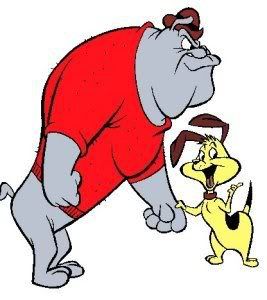 Joker's Wild Match: Rockstar Spud and Bully Ray defeated Mr. Anderson and Austin Aries (12:00): The crowd loved Spud, and Bully Ray playing the motivational speaker and hyping him up was a lot of fun. This was a ton of comedy, with Spud taking wacky bumps and trying to mimic Bully. As a wrestling match this wasn't much of anything for until they got down the stretch, and went too long, but had its entertaining moments. Spud is an entertaining little bastard, that's for sure. Credit to Bully Ray for knowing the audience and doing his best to have Spud as involved to the degree he did with the layout. The look on Bully's face when Spud got the win on Aries (with the tights) was priceless.
Match Rating: **



Highlights of last year's Joker's Wild battle royal. Well not highlights, they showed 11-minutes of it.

Joker's Wild Match: The Wolves (Richards and Edwards) defeated Beer Money (Roode and Storm) (11:00): is this convenient booking? Sure. Is this potentially awesome booking? Hell yes it is because this is a match I want to see. Commentary was horrible for this, largely ignoring the match for Taz's piss poor attempts at humor. This was a very well worked tag team match, with the classic fire filled faces fighting the cheating, southern style heels. It's an old recipe, but still makes a hell of a cake when done right. Roode and Storm can work together as a well-oiled machine with little to no effort; including doing the "BEER! MONEY!" double suplex spot, to a huge ovation. Basic and slower beginning, good heat segment and then really got going down the stretch with some bear falls and great tag team moves and a reactive crowd. The ending felt a little anticlimactic, but this was the best thing on the show thus far. I'd love to see them in an extended feud, simply because I love good tag team wrestling.
Match Rating: ***¾


Post match we got the mutual admiration society secret handshake and hug.


Joker's Wild Match: Ethan Carter III and Eric Young defeated Kazarian and Curry Man (9:00): He's hot, he's spicy he tastes great; he's CURRY MAN! Konnichiwa bitches! Eric Young and Curry Man waned to be tag team partners, and did comedy early about the partner situation. The Prince Justice Brotherhood lives. I liked the comedy earlier in the show, but also feel that it needs to be used sparingly. I wouldn't have personally booked two comedy style matches like this on the show, but again, that's me. For me the good news was that this was shorter, had less comedy and more action than the earlier match. This was solid, and the crowd is still into about everything that they are presenting, which is great for the guys, who are working hard tonight.
Match Rating: **½


After Eric Young scored the win for his team, EC3 was a dick and planted him with the 1%.


Joker's Wild Match: Sam Shaw and Abyss defeated Zema Ion and Jessie Godderz (9:00): Ion and Godderz is the convenient paring, while Abyss and Shaw are the perfect fit as crazy bastards coming together. Ok, they pushed things a bit in the last match, and they right away did more comedy here with Ion and Godderz. Again, I am not against it, but now it feels like too much. Also this match shows a problem with these shows, as this was when Shaw was infatuated with Hemme. On current TV, he is in an asylum. It's a reason that people do not watch these events, they feel too dated. Unlike the other matches, I didn't really find anything to enjoy here. Shaw chased Hemme into the ring, he and Abyss fought and this match felt as if it lasted forever. Abyss kicked the shit out of his partner, and then Shaw came back and choked out Godderz. Of all the matches I have seen, this was one of them. This was the first bad match on the show, and the first time the crowd didn't enjoy a match.
Match Rating: ½*


Elimination Tag Team Match: Gail Kim, Lei'D Tapa and Alpha Female vs. ODB, Velvet Sky and Madison Rayne (6:00): Speaking of feeling dated, Tapa is no longer with the company and Alpha Female was only in for the UK run. Gail Kim is a face, and Velvet Sky is now a heel. It makes it hard to get into things when stuff like that is the case. This was all over the place, bad timing, Chris Sabin getting involved; and on top of that, Taz's horrible commentary and jokes about the referee's name. Sky eliminated Alpha Female, Kim then immediately eliminated Sky. Tapa then eliminated Rayne seconds later and argued with Kim. Rapid-fire eliminations leading to the heel arguments and tons of stalling. ODB eliminated Kim, so Kim then kicked Tapa in the face and allowed ODB to get the win. This was the opposite of good, as in bad in about every way. Who ever decided in postproduction to keep this match on the show needs to be fired, I love the Knockouts, but this was a horrible example of their abilities.
Match Rating: DUD


Ok, we've kind of gone off a cliff here after a really strong start.


Ethan Carter III won the Joker's Wild Gauntlet –Gets $100,000 (23:00): Participants are: Douglas Williams, Magnus, Samoa Joe, Bad Bones, Rockstar, Bully Ray, Ethan Carter III, Eric Young, Davey Richards, Eddie Edwards, Abyss, Samuel Shaw.

The Wolves were the first two guys in, and I liked that decision from the standpoint that it could lead to a quality match. Also they cut a backstage promo, noting that they had to fight, that they had done it before and would do it again. Well they lasted about seven-minutes until Abyss hit the ring and tossed them both and then Douglas Williams all so we could have the big Abyss vs. Sam Shaw confrontation for 20-seconds. Abyss tossed him as well. Spud did comedy, it was fine. The crowd seemed hot early, and then got out of things, reacting to entrances and Spud's antics (including his elimination of Bully Ray). They woke up after several minutes for Joe's entrance into the match, but it just fell back into the same slow match that they were doing. EC3 won the gauntlet and the "$100,000," last eliminating Magnus. This match felt longer than it was in a bad way, it wasn't bad, but it didn't have anything that set it apart for any basic battle royal. Which unfortunately makes for an overall poor main event.
Match Rating: **


EC3 celebrated his victory.


End scene.


Thanks for reading.


The Tirade


The commentary was absolutely dreadful on this show; most of the time ignoring the matches for Taz's poor humor and completely random bullshit. Is it that damn hard to do your job, especially during a match like the Wolves vs. Beer Money. Seriously, I give the WWE commentary team a lot of hell, but Taz is the absolutely dirt worst. Get your shit together. Also, the show had that dated feeling again, due to this being taped in January. It really takes away from the show because it doesn't feel like the "current TNA product".

The show is mostly solid, with one really good match, but unfortunately one really bad match. If you like the gimmick and Spud, you'll find some enjoyment here, but for $15, this is a far from must see event. As for what you have to see, the Wolves and Beer Money is great, but if you missed the show, you missed nothing.

Show Rating: 6.0

As a reminder, I will be going by the 411 scale…

0 - 0.9: Torture
1 - 1.9: Extremely Horrendous
2 - 2.9: Very Bad
3 - 3.9: Bad
4 - 4.9: Poor
5 - 5.9: Not So Good
6 - 6.9: Average
7 - 7.9: Good
8 - 8.9:Very Good
9 - 9.9: Amazing
10: Virtually Perfect

As a reminder, this is not a basic "how good was the show" number like a TV show, as I have always felt that a PPV is very different from a regular show. I have always judged PPV on how they built to a match, the match quality, crowd reactions to matches and angles, the overall booking, how the PPV leads into the future, PPV price and so on and so forth. I have added this in here for an explanation since so many have asked, and I have previously discussed it on podcasts. I understand that this may seem different, but that is how I grade. Obviously your criteria may be different.

Have you checked out the Csonka Podcasting Network? If you haven't, you should We run anywhere from 15-20 shows a month, discussing pro wrestling, the world of MMA, the NBA, general sports, popular TV series of the past, bad movies, battle rap, interviews, MMA & Wrestling conference calls and more! Around 10 different personalities take part in the various shows, which all have a different feel; so you'll likely find something you like. All of the broadcasts are free, so go ahead and give a show a try and share the link with your friends on the Twitter Machine and other social media outlets! Running since May of 2011, there are currently over 500 shows in the archive for you to listen to.



Larry Csonka is a Pisces and enjoys rolling at jiu jitsu class with Hotty McBrownbelt, cooking, long walks on the beach, Slingo and the occasional trip to Jack in the Box. He is married to a soulless ginger and has two beautiful daughters who are thankfully not soulless gingers; and is legally allowed to marry people in 35 states. He has been a wrestling fan since 1982 and has been writing for 411 since May 24th, 2004; contributing over 3,000 columns, TV reports and video reviews to the site.

Your heart is free. Have the courage to follow it…TO CSONKA'S TWITTER!

http://www.twitter.com/411wrestling
http://www.twitter.com/411moviestv
http://www.twitter.com/411music
http://www.twitter.com/411games
http://www.twitter.com/411mma


comments powered by