SPOTLIGHTS
Tremendous Tirades 5.22.14: WWE NXT
Posted by Larry Csonka on 05.23.2014

Bo Dallas battled for his NXT career, while the build to NXT Takeover continued…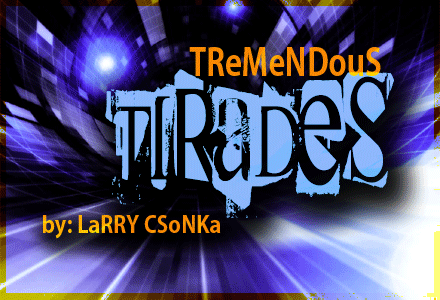 Introduction
As a reminder, this will not be another traditional recap, but instead it will be a mash up of the Rs, Instant Analysis and my usual Twitter ramblings I would do during the shows; completely uncensored and as the ideas flow unfiltered to the old keyboard. Remember, this is a review; and I am here to review the show. As always, I encourage discussion and even disagreement, just do so in a respectful manner. I will be doing the review for Raw and most PPVs and iPPVs going forward.




WWE NXT 5.22.14



Big E defeated Bo Dallas – Dallas must leave NXT forever (8:00): Bo gave a motivational speech, and then announced that he was Mr. NXT. For the most part, this was a very average match; thankfully for these guys the NXT crowd loves them. It wasn't bad in any way, but also did nothing to really pull me into it. Big E winning is fine because it sent Dallas out of NXT due to his main roster debut. I get why they did this (Dallas was undefeated against Big E), but I personally would have had someone else in NXT be the one to send Dallas packing; it would have been more important for a developmental guy than Big E. Dallas threw a fit post match about not wanting to leave because NXT was his home, but the crowd sang "hey hey, goodbye" for him as he had a break down. Dallas is good at the gimmick, but I am not sure how it will transition to the main roster. The gimmick is fun and has potential, but I worry more about the in ring. Thus far I find Dallas completely average in that regard. Maybe he'll surprise me, we're about to find out on Smackdown.
Match/Segment Rating: 6.0


We get more of Bo Dallas not wanting to leave. The crowd chanted "Bo-LEAVE" at him. He then decided to be the bigger man and leave.


Tyson Kidd plans to fulfill his destiny at NXT Takeover when he wins the NXT Title.


Tyler Breeze and Sami Zayn had a back and forth interview segment, which led to them agreeing to a match at Takeover. This was good booking because it made sense, as it is fallout from the triple threat and could lead to the next contender for the NXT Title. And it will as they confirmed the match was a #1 contender's match later in the show.

Paige defeated Tamina (6:00): This felt a lot like their Extreme Rules match, only not as good. It was largely fine, but much like the opener, I never really felt engaged with the match. There were also a few hiccups along the way, which didn't help my enjoyment. The finish also fell flat for me, and also felt very off. Paige getting the knees up, Tamina falling to the mat, awkwardly getting up and then falling again into the cradle for the finish was sloppy and didn't look good at all. Paige already beat Tamina at the PPV on the main roster; why didn't she defeat her definitely here? This felt more like a fluke victory, which isn't the way she needs to be booked. This was not the match that I was hoping for.
Match/Segment Rating: 5.0

Adam Rose defeated Camacho via countout (4:00): This is following the recent issues with Camacho and Rose, Camacho had an issue with the Exotic Express and then beat up the Captain Comic dude in a match. Rose was more serious than usual, which I liked because he was out for revenge, and worked well when fired up. Camacho has a fine look, and has improved his ring work from the last time I saw him. Camacho fought off the party foul and then took the count out loss. This again was fine, nothing special and judge by the finish, this feud must continue. (And it will next week at Takeover.)
Match/Segment Rating: 6.0

Natalya defeated Sasha Banks w/Charlotte in an NXT Women's Title Tournament Match (5:00): This is the semifinal match, with the winner facing Charlotte for the vacant NXT Women's Title. Ina pre-match interview, Charlotte noted that if she faced her BFF Sasha, she'd have to expose her weaknesses. I am really enjoying Sasha Banks. She works very well as a heel as far as mannerisms go, but also bumps and sells really well. Banks got tossed to the floor; Charlotte rolled her back in, leading to Natalya scoring the victory via sharp shooter. Commentary did a good job of explaining the relationship issues with Banks and Charlotte, and the fact that Charlotte wanted no part of Natalya. Natalya also is a good choice to work with the NXT ladies, and we'll see how much Charlotte has next week when they face off for the title.
Match/Segment Rating: 7.0

NXT Champion Adrian Neville defeated Curt Hawkins (3:00): Curt Hawkins is another guy I like, and while it is unfortunate that he hasn't gotten more of a main card run, he is a great guy to have in NXT working with the future of the company. This was pretty much what it should have been. The veteran taking advantage of the younger champion, but in the end, Neville over comes and wins with his finish. Kidd arrived, put over Neville for his performance and then claimed he would win the title at Takeover. Kidd also did a good job of laying groundwork for him to play heel next week, discussing his main roster accomplishments, and the fact that Neville's title would get him back there. Neville said that the ring was his and since NXT was the future, and that meant that he was the future. Overall this was good.
Match/Segment Rating: 7.0



Andrew Shillinglaw will have live coverage of the NXT Takeover special next week. Here is the updated card…

~ Adam Rose vs. Camacho
~ #1 Contender's Match: Tyler Breeze vs. Sami Zayn
~ WWE NXT Tag Team Title Match: The Ascension © vs. Kalisto and El Local
~ Vacated NXT Women's Title Match: Charlotte vs. Natalya
~ WWE NXT Title Match: Adrian Neville © vs. Tyson Kidd


End scene.


Thanks for reading.


The Tirade


Overall I feel that a lot was accomplished here. The wrote out Bo Dallas, they set Tyler Breeze vs. Sami Zayn, Adam Rose vs. Camacho and Natalya vs. Charlotte for next week's big show. They also did a staredown between Neville and Kidd, which I felt worked well enough to set Kidd to be the heel next week. These were essential to move things along and to build for next week's Takeover special. And since this was their go home show, that was the main goal. Not the greatest wrestling this week, but overall I would call this a, "lower range good" show. So far, NXT continues to be easy and fun to watch for me.

Show Rating: 7.0

As a reminder, I will be going by the 411 scale…

0 - 0.9: Torture
1 - 1.9: Extremely Horrendous
2 - 2.9: Very Bad
3 - 3.9: Bad
4 - 4.9: Poor
5 - 5.9: Not So Good
6 - 6.9: Average
7 - 7.9: Good
8 - 8.9:Very Good
9 - 9.9: Amazing
10: Virtually Perfect

The final rating is not simply an average of the rated segments above. The rating takes them into account as well as the segments that are small but not scored, the flow of the show, the overall booking, build to PPV, crowd reactions, and so on and so forth.

Have you checked out the Csonka Podcasting Network? If you haven't, you should We run anywhere from 15-20 shows a month, discussing pro wrestling, the world of MMA, the NBA, general sports, popular TV series of the past, bad movies, battle rap, interviews, MMA & Wrestling conference calls and more! Around 10 different personalities take part in the various shows, which all have a different feel; so you'll likely find something you like. All of the broadcasts are free, so go ahead and give a show a try and share the link with your friends on the Twitter Machine and other social media outlets! Running since May of 2011, there are currently over 500 shows in the archive for you to listen to.



Larry Csonka is a Pisces and enjoys rolling at jiu jitsu class with Hotty McBrownbelt, cooking, long walks on the beach, Slingo and the occasional trip to Jack in the Box. He is married to a soulless ginger and has two beautiful daughters who are thankfully not soulless gingers; and is legally allowed to marry people in 35 states. He has been a wrestling fan since 1982 and has been writing for 411 since May 24th, 2004; contributing over 3,000 columns, TV reports and video reviews to the site.


Your heart is free. Have the courage to follow it…TO CSONKA'S TWITTER!

http://www.twitter.com/411wrestling
http://www.twitter.com/411moviestv
http://www.twitter.com/411music
http://www.twitter.com/411games
http://www.twitter.com/411mma


comments powered by