SPOTLIGHTS
Tremendous Tirades 5.26.14: WWE Monday Night Raw
Posted by Larry Csonka on 05.26.2014

The go home show for Payback…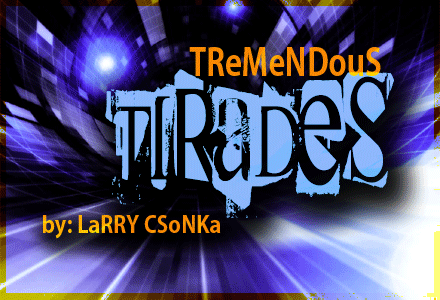 Introduction
As a reminder, this will not be another traditional recap, but instead it will be a mash up of the Rs, Instant Analysis and my usual Twitter ramblings I would do during the shows; completely uncensored and as the ideas flow unfiltered to the old keyboard. Remember, this is a review; and I am here to review the show. As always, I encourage discussion and even disagreement, just do so in a respectful manner. I will be doing the review for Raw and most PPVs and iPPVs going forward.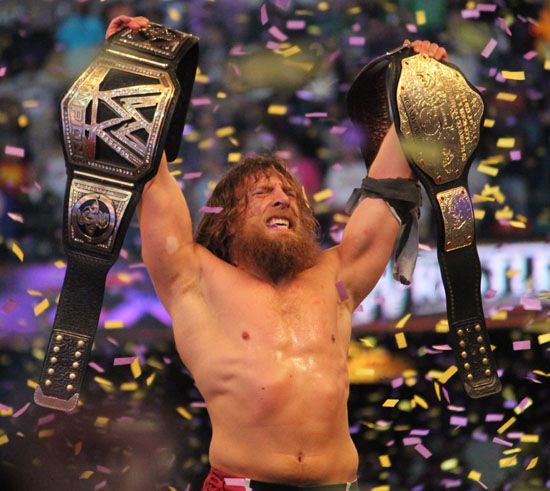 How Much Longer?

WWE MONDAY NIGHT RAW 5.26.14
A quick note to the readers: 10 years ago today I started with 411, my first published work for the site was a review of the TNA World X-Cup event. Since that day, I have contributed over 3600 original columns/recaps/reviews to the site in just about every zone. If you ever took the time to read, comment on or share my work, I want to say thank you for you support. Some of you may like my work, more than likely most of you disagree with it or dislike it, just know that I have greatly appreciated you taking the time to read my work. - Larry


They announced on the Raw pre-show that Paige will defend the Divas Title against Alicia Fox at the Payback PPV.

Respect The Authoritah: Triple Hand Stephanie kicked off the show. Stephanie ran down Bryan for being hurt, noting that he had a "B+" body and couldn't handle things. Triple chimed in, noting the he is sure Bryan wants to compete, but he just can't. He called Bryan a flash in the pan, but noted that legends evolve and live on forever, like Evolution. That led to him discussing that Evolution would beat the Shield at the PPV as well as tonight's contract signing. They then called out Brad Maddox and his smedium shirt, upset over his letting the Shield be at ringside last week. Kane appeared, chokeslam and tombstone; Stephanie then fired him. Goodbye Brad Maddox. While hitting important storyline points, it felt all over the place to me. I thought they were addressing the world title issue, which got glossed over to hype the contract signing, which then got glossed over so that they could write out Brad Maddox. No new ground was covered here, I felt it needed to be more focused and getting rid of Maddox is fine I suppose, but at the same time no one cared about him anyway as an important character, which means that there was no attachment, so it meant pretty much nothing.
Match/Segment Rating: 5.0

Cesaro defeated RVD: Bad News Barrett joined the commentary team for the match. The wrestling was fine, but I hated the entire idea of this match. RVD and Cesaro are both challenging for titles at the PPV. So instead of putting them in positions to look like strong challengers, Cesaro gets a fluke win and RVD loses because Barrett distracted him. Now only does Cesaro win via fluke, but then he gets laid out by Sheamus. I get that it was revenge for Sheamus, but I feel that this segment did more harm than good for anyone. Also, the wrestler gets distracted and loses deal is getting old fast.
Match/Segment Rating: 4.5

Eva Marie defeated Summer Rae: Eva and Summer were having a bad match, Layla and Fandango came out to make out and Eva rolled up Summer for the win. This was absolutely horrible, and the booking of Summer Rae makes no real sense. She acts like a heel against Eva, due to Total Divas, but is supposed to be a face against Layla.
Match/Segment Rating: 1.0


Cody and Goldust were pissed about not being on the show. They met with Orton and Batista and discussed an open challenge, they argued and Triple H arrived and made a tag team mach between the two teams.

El Torito w/Los Matadores defeated Drew McIntyre w/Hornswoggle, Slater and Mahal: You have got to be shitting me. Part 1045 of this feud, and I still do not care. Also, how in the hell is this building to the PPV? I know that the PPVs are on the Network, but that doesn't mean that you stop building to them. McIntyre threw Torito around, the goofs at ringside brawled, and Torito won. Hornswoggle then ripped off Torito's tail. This was horrible, and I guess it leads to another match between these groups.
Match/Segment Rating: 0.0


This may have been the worst hour of Raw in 2014.


They continued the insanity backstage as they took Torito to the doctor to try and reattach his tail.

Bray Wyatt Has a Message For The Cenation: The first thing Bray did was start singing, which has become completely overplayed and now become a crutch for his act. It's such a shame because at one point he was a breath of fresh air. Wyatt did some solid selling of the PPV match, which led to him talking about kings, and him wanting to have a conversation with Jerry "The King" Lawler. Wyatt warned JBL not to be a hero, and called him a coward. This led to Harper leveling JBL with a clothesline. Wyatt then accused Lawler of having a huge part of Cena's success from the commentary table, lying about Cena because he never questioned Cena's morals. They Wyatts looked to attack Lawler, but Cena made the save, only to get beat down. Lawler was about to eat Sister Abigail, but the Usos made the save for Cena and Lawler. Cena got serious and even put over Bray, but noted that power had made him sick, and evil. Cena then promised to serve justice at Payback. Finally, something on this show that was not only good, but promoted the damn show on Sunday. Wyatt threatened to do something evil, Cena saved the day, promised to end the fraud that is Wyatt; it worked because it was simply and there were no jokes. The one main problem was Cole on commentary, trying to be serious and use the word tragedy, when he used the same words in the segment where the bull had his tail ripped off.
Match/Segment Rating: 7.5

Rusev defeated Zack Ryder: Zack Ryder, with flag, tried to cut a YAY USA promo. Lana strutted her stuff, and Rusev came out and killed him. The match was exactly what it should have been. Big E made the save for Ryder, and sent him packing. Big E then waved the flag and celebrated. I would assume PPV pre-match or possible PPV match. It's something, but both guys need a feud that fans can sink their teeth into and fast.
Match/Segment Rating: 6.0


Stephanie McMahon and Alberto Del Rio discuss the news that Subcomandante Marcos, the mysterious masked leader of Mexico's Zapatista rebels, stepped down as chief of the 20-year-old movement on Sunday.

Big Dave and Randy defeated The Rhodes Brothers: An overall good match. Hard work from all involved, the crowd seemed into it, and the right results; Evolution destroys heading into the PPV. I thought everyone looked good, and while I hate the fall of the Rhodes boys, it will continue to play into their break up angle. They also got some good heat doing the extra stipulation, playing off of the PPV match stipulation, and making them look like remorseless assholes. My only criticism, which doesn't take away from the match, was why did Orton have to RKO Cody again? They had a damn good finish when Orton caught Cody in the RKO from the disaster kick sequence, and then took it all away by doing the move again. You're better than that Randall. Overall the best segment on the show thus far, I really enjoyed that.
Match/Segment Rating: 8.0


JBL returned to commentary.

Bo Dallas defeated Sin Cara… Again: This was essentially the same match from Smackdown, only Cara got a bit more in this time. I hate when they do a match on one show, and then do almost the same thing on the very next show. It screams filler. If they wanted to make sure he was on Raw, then they should have debuted him on Raw instead of Smackdown. We're in wait and see in regards to Bo Dallas, this was fine.
Match/Segment Rating: 6.0


On Main Event tomorrow, the Usos battle Harper and Rowan.

Stephanie McMahon Addresses Daniel Bryan and The WWE Title: So here was the big angle with the WWE Title. Stephanie tried to convince Bryan that the WWE needed an active champion, and that he had to do the right thing. She wouldn't strip him of the title, but he needed to surrender it. Bryan admitted that there would be no shame in handing over the titles, but said it would negate all of the work he did in defiance of Stephanie and Triple H, because she still wants him to fail and he doesn't want to betray the support of the fans. Bryan of course refused, and Stephanie discussed Brie shoving her, which she cannot do. Bryan will surrender the title at Payback, or Stephanie will take action against Brie and fire her. This didn't blow me away; it was good, but nothing special. The good thing is that they are making you have to see the PPV to see the decision. And any segment designed to push the PPV is fine with me after the horrible first hour. Plus lets be honest they are trying to drive subscriptions to the Network, so setting up a big angle for the show is in theory a solid way to do that. I wish we had a clearer picture with the WWE Title; maybe we get that on Sunday.
Match/Segment Rating: 7.0


Emma defeated Alicia Fox: Paige watched on from backstage. Once again, poor booking here. Fox has a title match on Sunday, and lost on the go home show for that PPV. That makes exactly no sense tome. They seem more concerned with getting over Fox's new crazy character than making her a credible challenger. She beat the champion last week, was it that hard to follow up with a win this week to make her seem as if she is an actual threat? We get it, she's crazy and can give a mean wedgie, how does that make her a credible threat?
Match/Segment Rating: 1.0


On the PPV Pre-Show, Hornswoggle vs. Torito in a Luchas de Apuestas (Hair vs. Mask) Match. That doesn't change the fact that the segment from earlier sucked.

Adam Rose defeated Damien "Davey Crockett" Sandow: So it's not good enough that Sandow has to lose, but he has to dress as Davey Crockett now? Did he shit in Triple H's gym bag? They wrestled for a short bit, but Swagger and Colter kidnapped the lemon. Rose won, and then Swagger attacked post match. Rose fought back; they brawled for a bit and Swagger escaped. I assume that this sets up a match at the PPV. It was fine.
Match/Segment Rating: 6.0


Sheamus faces Wade Barrett on Smackdown in a non-title Champion vs. Champion match.

Sheamus defeated Alberto Del Rio: This is a rematch from Smackdown. There was no finish to that match, due to Cesaro attacking Sheamus. Sheamus. Won a good, hard fought, back and forth match. At least he looks dangerous. Post match, Heyman distracted Sheamus and talked shit on the mic, allowing Cesaro to attack and beat down the already worn out champion. This helped Cesaro following the poor segment from earlier in the show, but he shouldn't have needed help as that segment didn't need to be booked at all.
Match/Segment Rating: 7.0

Shield vs. Evolution Contract Signing: The Shield hit the ring first and tossed all of the chairs and the table, and noted that this would be the final time on Raw that they and Evolution would share a ring. Evolution came out and Triple put over the Shield, but noting that if they signed the contract they were signing their own end. They all signed the contract and brawled. The Shield had the advantage until Triple H got out the old reliable, the sledgehammer, and that allowed Evolution to take control of things. They laid out Rollins and Ambrose, and then gave Reigns the triple Dave bomb through the announcer's table. It was strong end to the show, which was mostly a huge miss. The Shield vs. Evolution is the big selling point for the PPV now, and they delivered last time and I am looking forward to this weekend's meeting.
Match/Segment Rating: 8.0


End scene.


Thanks for reading.


The Tirade


What can you say about hour one other than it was one of the worst hours of the show in the year 2014. Most of it had nothing to do with Sunday's PPV/Special Event, and the stuff that did have something to do with the PPV was either poorly booked or hurt the matched it was supposed to assist. Thankfully hour two got better, with build to Cena vs. Wyatt and Evolution looking dominant and like complete asshole heels (in a good way). There was some filler (for a go home show) but they are trying to build Rusev and introduce Dallas to the Raw audience. That stuff wasn't great, but it was fine and at least had a method to the madness, unlike the bull getting his tail ripped off. Hour three started fine with the Stephanie-Bryan segment, but then went off a cliff with the Alicia Fox bullshit. I am glad she had a character now, but really, she couldn't win a damn match to make us care? The Rose-Swagger stuff was fine, and continued the feud that was already established. Sheamus and Del Rio was good, and the angle with Cesaro also worked well. The show did close strong with the Shield vs. Evolution contract signing, but we had to get through a lot to get to that point.

Overall I felt that this was an uninspired, and at times counter productive go home show for the PPV. It felt way longer than it was (at times it was a chore to get through), and if anything, and hurt any excitement I had for Sunday's PPV. I guess when you don't have to actually "sell" PPV as a main revenue source; this is what you get for a go home show. I guess shame on me for expecting more out of the show.

Watch the Wyatt-Cena promo segment, Orton and Batista vs. The Rhodes Brothers and the main event. You really do not need to see anything else.

Show Rating: 5.5

As a reminder, I will be going by the 411 scale…

0 - 0.9: Torture
1 - 1.9: Extremely Horrendous
2 - 2.9: Very Bad
3 - 3.9: Bad
4 - 4.9: Poor
5 - 5.9: Not So Good
6 - 6.9: Average
7 - 7.9: Good
8 - 8.9:Very Good
9 - 9.9: Amazing
10: Virtually Perfect

The final rating is not simply an average of the rated segments above. The rating takes them into account as well as the segments that are small but not scored, the flow of the show, the overall booking, build to PPV, crowd reactions, and so on and so forth..
Have you checked out the Csonka Podcasting Network? If you haven't, you should We run anywhere from 15-20 shows a month, discussing pro wrestling, the world of MMA, the NBA, general sports, popular TV series of the past, bad movies, battle rap, interviews, MMA & Wrestling conference calls and more! Around 10 different personalities take part in the various shows, which all have a different feel; so you'll likely find something you like. All of the broadcasts are free, so go ahead and give a show a try and share the link with your friends on the Twitter Machine and other social media outlets! Running since May of 2011, there are currently over 500 shows in the archive for you to listen to.



Larry Csonka is a Pisces and enjoys rolling at jiu jitsu class with Hotty McBrownbelt, cooking, long walks on the beach, Slingo and the occasional trip to Jack in the Box. He is married to a soulless ginger and has two beautiful daughters who are thankfully not soulless gingers; and is legally allowed to marry people in 35 states. He has been a wrestling fan since 1982 and has been writing for 411 since May 24th, 2004; contributing over 3,000 columns, TV reports and video reviews to the site.

Your heart is free. Have the courage to follow it…TO CSONKA'S TWITTER!

http://www.twitter.com/411wrestling
http://www.twitter.com/411moviestv
http://www.twitter.com/411music
http://www.twitter.com/411games
http://www.twitter.com/411mma


comments powered by