SPOTLIGHTS
411's WWE Main Event Report 5.27.14
Posted by Larry Csonka on 05.27.2014

The Usos battled The Wyatt Family, R-Truth faced off with Damien "D-Sizzle" Sandow and more! Check out 411's complete WWE Main Event report for all the details…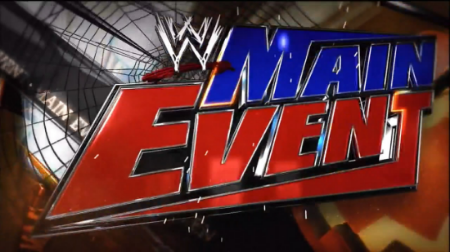 WWE MAIN EVENT 5.27.14
Your regular host is on vacation, so you get me tonight.


Match times are not exact.


We see highlights from Raw, showing the Rhodes boys getting their asses handed to them.


We get to see footage from backstage at Raw, where Axel and Ryback made fun of the Rhodes boys for their recent losing streak. Ok, so that's how we go there, good enough.



Cody Rhodes w/Goldust vs. Curtis Axel w/Ryback


Lock up to begin; Axel works the arm, escape by Cody who then connects with a dropkick. Cody kicks out the leg from under Axel (so he can do the Curt Hennig sell job along the ropes) and then follows with mounted rights in the corner. Axel counters a corner charge and catches Cody with a neck breaker and covers for 2. Axel with rights and kicks in the corner, chops then follow. Cody fires back with some chops, to the corner and Cody hits chest first and falls to his knees. Axel with clubbing shots to the back of Cody, some elbows follow and then Axel into the grounded headlock. Cody escapes, to the corner and the O'Connor roll by Cody gets 2. Back elbow to Axel follows and then some rights. Rebound clothesline by Cody, and then an uppercut follows. AWA ball buster by Cody, heads up top and connects with the clothesline for 2. Ryback shoves Goldust into the barricade, disaster kick by Cody follow. Axel then chop blocks the knee, rolls up Cody with the tights and that is all.

OFFICIAL RESULT: Curtis Axel @ 5:00 via pin



We get a highlights of the Wyatt interview segment from Raw, where they attempted to beat down the King.


Sheamus battles Wade Barrett on Smackdown in a Non-Title Champion vs. Champion match.


Last week Damien "Sherlock Holmes" Sandow defeated Truth on Main Event.


Sandow, as D-Sizzle, in a red jump suit, wearing a chain with duct tape on it and also wearing grill comes out and "raps" for the crowd. Truth mocks his identity crisis, and says nobody got time for this. This is something.



R-Truth vs. Damien "D-Sizzle" Sandow


Sandow chest bumps Truth a few times, and Truth slaps him back. To the corner, and then another as Truth beats down Sandow. Mounted corner rights follow, off the ropes and a backdrop by Truth. Rights follow, to the corner, float over, and then a hip toss by Truth that gets 2. Back elbow by Truth, and then a roll up for 2. Sandow then gets pissed and beats down Truth, yelling, "WHAT'S UP NOW?" Knees by Sandow, Russian leg sweep follows and Sandow throws his hands in the air, waving them like he just don't care, and hits the elbow drop and covers for 2. Truth battles back, Flatliner connects and that is all.

OFFICIAL RESULT: R-Truth @ 3:00 via pin


Highlights of Stephanie McMahon wanting Bryan to relinquish the WWE World Title on Raw.




Brie Bella w/Nikki vs. Natalya


Lock up to begin, to the ropes and they fight off and a throw by Natalya into a cover for 2. Body scissors by Natalya, into a cover for 2. Bella escapes, into mount and Natalya tosses her off. Go behind and takedown by Natalya, Bella escapes with a hammerlock. To the feet, side headlock by Bella follows. Off the ropes and a shoulder block by Natalya. Off the ropes, counters and an arm drag by Bella. Knees by Natalya, a hip toss and then works the arm. Bella escapes with an arm drag, and hits the charging knee in the ropes. She hits another, to the ropes and leaps off with a second rope dropkick and cover for 2. Single leg crab by Bella, Natalya works for the ropes but Bella drags her back center. Natalya escapes, and locks in the sharp shooter, and Bella taps.

OFFICIAL RESULT: Natalya @ 4:00 via submission


Brie is emotional after the loss.


Backstage, Renee Young interviews the Usos. They discuss their match tonight, noting that the Wyatts aren't a real family like they are. They say Cena will be the last man standing at Payback, and tonight, they will show the Wyatts how to handle family business.


Highlights of the Shield vs. Evolution feud.


Harper says a man with nothing left to lose, has nothing left to fear. He saved us, he gave us a purpose, and Usos, some bonds are much stronger than blood. Wyatt says that they all must learn to survive. They grew together and united as brothers in the name of cause. The Usos are another set of pawns in Cena's sick little game. They are now guilty by association. And together they will burn. Rowan tells them to run.



Non-Title Match: The Usos © (Jimmy and Jey) vs. The Wyatt Family (Harper and Rowan) w/Bray


Rowan and Jey to begin things. Rowan, still wearing sheep mask tosses Jey to the corner, so Jey punches the mask off. Shoulder block by Rowan, side headlock applied. To the corner, tag to Harper and uppercuts follow. Sidekick by Jey and a roll up for 1. off the ropes, boot to Harper, Jimmy blind tags in and they double team Harper to get him down. Jimmy off the ropes, but eats a dropkick from Harper and a cover gets 2.



~commercial break~


Back from the commercial break as Rowan is in, working over Jimmy. Jimmy escapes a slam, and dives for and gets a tag to Jey. Clotheslines by Jey, a dropkick follows. Rights by Jey, tries the Samoan drop, countered and Rowan catches Jey off and hits a sack of shit slam, sending Jey to the floor. Jimmy tries to motivate him, Harper over and slams Jey to the apron and hits a back elbow. Harper tags Rowan back in, hay Jey in the corner and then picks him up and slams him down. Forearm to the back by Rowan and a cover for 2. Neck crank by Rowan, grounding Jey. Jey tries to get to his feet, finally does, hits an Enziguri and escapes. Harper gets the tag, takes out Jimmy and then hits a big boot on Jey and covers for 2. Gator roll by Harper, suplex follows and another. Harper covers for 2. Grounded headlock by Harper, keeping control of things. Jey again works to his feet, elbows out, nails Rowan but Harper hits the Michinoku driver and Jimmy has to make the save. Rowan in as well to help beat down Jey, then properly tags in and gets clubbing shots on Jey in the corner. An Irish whip, boot to Rowan and then the dropkick off the second rope. BOTH men are down! Tags to Jimmy and Harper. Jimmy with kicks and rights, off the ropes and a flying clothesline by Jimmy. Takes Rowan to the floor, Samoan drop to Harper follows. Jimmy avoids a clothesline, superkick and a cover for 2. Jey and Rowan on, both to the floor, Jimmy with a roll up on Harper for 2. Harper tossed to the floor. DOUBLE USO DIVE to the floor! Bray tries to motivate his men, Jimmy and Harper back in, Jimmy up top, but Harper is up and Jimmy leaps over him, but then Harper decapitates him with a clothesline, and that is all.

OFFICIAL RESULT: The Wyatt Family @ 11:00 via pin


After the match Rowan hits the ring and tosses Jey to the floor, and then slams him back first to the post. Back in the ring Harper has Jey, and tosses him to the floor. The crowd chants for Cena, Bray asks the crowd where Cena is and then hits Jey with Sister Abigail on the floor. Harper then counts to 10 as Uso lays on the floor.


End scene.


Thanks for reading.



Have you checked out the Csonka Podcasting Network? If you haven't, you should We run anywhere from 15-20 shows a month, discussing pro wrestling, the world of MMA, the NBA, general sports, popular TV series of the past, bad movies, battle rap, interviews, MMA & Wrestling conference calls and more! Around 10 different personalities take part in the various shows, which all have a different feel; so you'll likely find something you like. All of the broadcasts are free, so go ahead and give a show a try and share the link with your friends on the Twitter Machine and other social media outlets! Running since May of 2011, there are currently over 500 shows in the archive for you to listen to.



Your heart is free. Have the courage to follow it…TO CSONKA'S TWITTER!

http://www.twitter.com/411wrestling
http://www.twitter.com/411moviestv
http://www.twitter.com/411music
http://www.twitter.com/411games
http://www.twitter.com/411mma



comments powered by