SPOTLIGHTS
411ís WWE Superstars Report 5.30.14
Posted by Andrew Shillinglaw on 05.31.2014

Big E took on Titus O'Neil and the team of Rybaxel was in action against Xavier Woods and R-Truth! All this and more in 411's weekly WWE Superstars report...

Championship Roll Call:
Undisputed WWE World Champion: Daniel Bryan
US Champion: Sheamus
IC Champion: Bad News Barrett
Unified Diva's Champion: Paige
WWE World Tag Team Champions: The Usos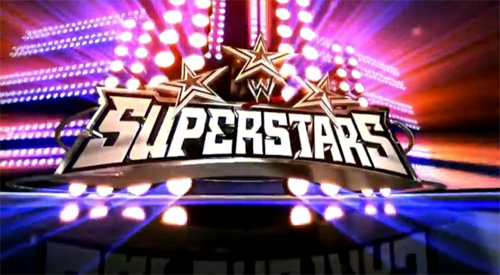 411's WWE Superstars Report 05.30.14
Match times are not exact.


Superstars was delayed this week due to the airing of NXT Takeover. Instead of Superstars airing in its normal slot, an NXT Post Show conference aired.


Opening title sequence! YEAH!


Byron Saxton and Tom Phillips are in the booth.



Big E vs. Titus O'Neil



It is time for the King of Superstars, Titus O'Neil, to make his weekly appearance! Cannot. Wait. The two start with a stare down and Titus shoves Big E off. Big E is having none of that in his house and shoots for a takedown. Big E takes control early, beating on Titus in the corner with strikes and shoulder thrusts. But Titus comes out with a big boot. Because you don't mess with Titus. Titus then takes control and begins working over a grounded Big E. He throws a few strikes and locks in the rear chinlock. Big E stands up with Titus on his back and backs up into the corner. He runs out for a clothesline but Titus catches him with a powerslam variation for a 2. Titus lifts Big E up into a powerbomb position and drops to a knee for a modified backbreaker, kind of like Colt Cabana's Colt 45 for those who know of that move. Big E finally fights back with a few strikes but Titus cuts him off with a big ol' shoulder block for 2. Titus once again locks on that chinlock, this time also tying up Big E's arm. He gets Big E in the corner again and throws a few chops and then hits Big E in the corner with a running splash deal. He goes for another but Big E moves and just tosses Titus over the top rope! GET OUTTA HERE! The referee gets to eight before Titus rolls back in and Big E immediately goes on the offensive. Titus shoves him off but Big E comes back with a big line, spear in the corner, and a belly to belly suplex. Big E then hits his running splash and pulls the straps down. MEMPHIS STYLE, BABY! Big E hits the Big Ending and that is all she wrote.

OFFICIAL RESULT: Big E @ 5:00 via pinfall (Big Ending)
RATING: **4
Thoughts: It's unbelievable how much this show has made me like Titus O'Neil. He gets treated like a joke on Raw and Smackdown but on these Network shows, specifically Superstars, he has these competitive matches with legitimate stars. I'm all about his reign of solid midcard matches on the B shows. Anyway, this match was a lot of fun. Honestly, if you have the Network give it a watch. Superstars has consistently had two solid matches amidst all the Raw recap nonsense.


Later on tonight, we have R-Truth and Xavier Woods taking on Rybaxel.


They recap the Stephanie McMahon segment from London where she announced that she was contemplating stripping Daniel Bryan of the WWE World Heavyweight Championship.


They show a hype video for Wyatt/Cena in Last Man Standing at Payback.


They recap the Stephanie and Daniel Bryan segment from Raw regarding stripping Bryan of the title. Here's to hoping that his title reign doesn't end before it even really started.


They show clips from the Wyatts and Cena build from two weeks ago. This is also known as WWE continuing to run the singing into the ground and then lighting it on fire afterwards. Let things happen organically, WWE. Sometimes that's a good thing. They then show Wyatt's promo from Monday. I still don't entirely understand why he tried to kill Jerry Lawler of all people. I know I wouldn't have been too upset had that happened.


They show a hype video for Evolution vs. The Shield at Payback.



Xavier Woods and R-Truth vs. Rybaxel (Ryback/Curtis Axel)



Axel and Woods start it off. Axel takes control early with a couple strikes. He locks in a side headlock but Woods throws him to the ropes. Axel comes back with a shoulder block though. He runs back and Woods leapfrogs and hits a dropkick. He goes for a pin and gets a kickout before one. Woods gets up and ducks two lines before coming back with a headscissors. He tags in Truth and the two of them hit a double chop on Axel. Yup, a double chop. It's good for a one. Axel whips Truth and goes for a strike but Truth stops short and dances before knocking Axel right over and yelling WHAT'S UP. Then in comes Ryback, the greatest thing to ever happen to Twitter. Truth starts to work over Ryback's arm but he cuts him off early. Ryback throws truth into the corner but Truth comes out and ducks a line before going for a hiptoss. Ryback reverses into one of his own and Truth counters into a rollup for a nearfall. Woods tags in blind and comes off the top and lays out Ryback with a forearm. Truth then tags in and the two hit Ryback with a double hiptoss. Axel runs in and eats a double back elbow and then they throw Ryback over the top.

COMMERCIAL BREAK! TOTAL DIVAS! BRIE IS GETTING MARRIED!

We come back from commercial and Ryback is beating on Truth in the corner. Truth fights back though with punches to both Ryback and Axel. Finally Ryback says enough and whips Truth into a dropkick from Axel for a two count. Axel throws Ryback into the corner and throws a few stomps and strikes. Axel continues to beat down on Truth while asking the crowd "IS THIS YOUR HERO?!" I doubt anyone said yes, because it's R-Truth. But it was nice of Axel to ask. Ryback gets tagged in and hits a big corner splash followed by a suplex for 2. Or as Tom Phillips put it, 2 and a half. Ryback then locks in a chinlock as Xavier Woods is just begging for a chance to get in there and eat a Shellshocked. Truth tries to make a comeback but Ryback cuts him off with a back elbow. He hits a scoop slam and goes to the second rope. He tags in Axel, hits a splash, and then Axel drops a polish hammer/elbow drop type deal. BUT THEN TRUTH BEGINS TO TRUTH UP! But Axel cuts him off, that was unimpressive. Axel hits the ropes but Truth hits a calf kick and both men are down! Ryback and Truth both get tagged in! Truth hits a flying forearm on Axel and then one on Ryback! He kicks Ryback's legs out and then hits a big front missile dropkick. He kicks Ryback in the face and then hits a top rope crossbody for a 2 count. Woods begins to chop Ryback repeatedly. He throws a kick but Ryback catches it and just shoves Woods down. Ryback goes for a powerbomb but Woods counters into a pin for 2. He then hits the Honor Roll but Axel breaks it up at 2. Truth gets in there and throws Axel out. Axel pulls Truth out and throws him into the barricade. Woods dropkicks Axel on the outside because you don't mess with his partner, but that lets Ryback hit the Meat Hook Lariat and the Shellshock for the three count and the win.

OFFICIAL RESULT: Ryback and Curtis Axel @ 8:00 via pinfall (Shellshock to Xavier Woods)
RATING: **
Thoughts: This was good. I have this unnatural hate for Xavier Woods. He's one of my least favorite on the roster. So anything with him in it is not going to be my favorite thing in the world. But I've grown to like the Rybaxel antics so this was fun enough.


They show the breakdown at the end of Seth Rollins vs. Batista from two weeks ago. They then recap the contract signing from the end of Raw this week.



TWITTER
http://www.twitter.com/411wrestling
http://www.twitter.com/411moviestv
http://www.twitter.com/411music
http://www.twitter.com/411games
http://www.twitter.com/411mma




comments powered by