SPOTLIGHTS
Tremendous Tirades 6.02.14: WWE Monday Night Raw
Posted by Larry Csonka on 06.02.2014

Never trust a man with multi-colored hair…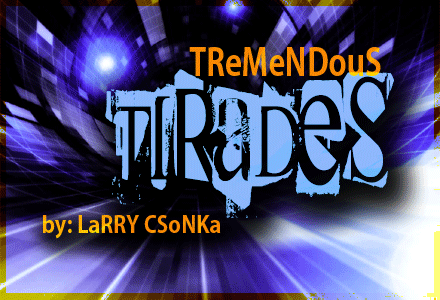 Introduction
As a reminder, this will not be another traditional recap, but instead it will be a mash up of the Rs, Instant Analysis and my usual Twitter ramblings I would do during the shows; completely uncensored and as the ideas flow unfiltered to the old keyboard. Remember, this is a review; and I am here to review the show. As always, I encourage discussion and even disagreement, just do so in a respectful manner. I will be doing the review for Raw and most PPVs and iPPVs going forward.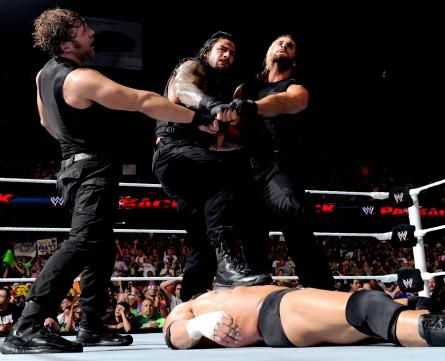 WWE MONDAY NIGHT RAW 6.02.14
Highlights from last night's WWE Payback PPV.

EVOLUTION'S NOT A MYSTERY… IT'S ACTUALLY NOT MUCH OF ANYTHING RIGHT NOW: Triple H came out and said that this wasn't over until they said it was over. He didn't lose, and that it will end when he the Shield is finished. Big Dave wanted no part of that shit, and wanted the title match he was promised. Triple H laid out the situation, made a remark about Batista choking if he got the match, and that no one would get what they wanted until his plan was fulfilled. Big Dave quit and did the beauty queen wave to Triple H. Orton hung back and kept out of things, because he still hopes to get his title shot he was promised. The commentary team was horrible trying to sell shock at what happened. I liked the segment, Big Dave is sick of Triple H's bullshit, and bailed. Obviously there is the history between the two, Batista never wanted the Evolution reunion anyway, he just wanted his title shot and felt this was the best way to get there. This was a good follow up to last night and makes me wonder exactly what Evolution will do next.
Match/Segment Rating: 7.5

Sheamus and RVD defeated Bad News Barrett and Cesaro (13:00): This is more fallout from last night's PPV, and I personally prefer this to straight rematches. Throw them in a tag team match, give them time and just let the guys do their thing. While I have no desire to see Barrett vs. RVD continue, I do want to see Sheamus vs. Cesaro continue on for a while. Sheamus looked to have Cesaro finished, but Heyman made the save and they walked, leaving Barrett by himself. He ate the frog splash from RVD and lost. These feuds must continue, and at the very least the secondary titles are getting some attention. Add into the fact that the match was good and this was a good way to kick off the show in the ring.
Match/Segment Rating: 7.8

The Damien Sandow Power Hour: Damien Sandow came out dressed as Lance Stephenson of the Pacers. He ran down the Pacers for being losers, and then proclaimed the greatness of LeBron James. The crowd was not impressed, mild heel heat here. This led to the return of the Big Show, who came out, threw the ball into the gut of Sandow and then knocked him out. "Yay Big Show" said the crowd. Sandow tries really hard to make it work each week, it's not, and the writing is on the wall for this poor bastard. He better call JTG and get in on that stash incriminating images of Vince at the Donkey show in Tijuana. How else is JTG still employed? I didn't like this at all; the show started well and had a good flow, but this just made it come to a screeching halt.
Match/Segment Rating: 3.0

The Inspirational Bo Dallas defeated Kofi Kingston (4:00): This was added to last night's PPV, but never happened because Kane was sent to the ring to punish Kofi for his poor Tweeting. Not the best match, it felt clunky and off at times. The crowd was pretty quiet for things, but did muster up a boring chant, which is not good. Kofi continues to work hard in the ring despite the fact that they have no plans for him outside of putting others over. Dallas' act is good, but the ring work needs to improve. This was an overall average segment.
Match/Segment Rating: 6.0

STEPHANIE MCMAHON'S LATEST WWE TITLE ANNOUNCEMENT: WILL SOMETHING ACTUALLY HAPPEN? : Right away Stephanie painted Bryan as a selfish coward, noting that he allowed his wife to fall on the sword for him, but also let the crowd down because he cannot defend the title. If Daniel Bryan can compete at MITB, he will defend the title against the Demon Kane in a stretcher match. If he cannot compete, the title will be vacated and be on the line in the MITB ladder match. This led to John Cena making his way out to the ring. Cena came to her as a 14-time champion; he has won, lost and also had to give up the title. He noted that Stephanie didn't like Bryan, but that Bryan was really good. That the crowd could chant for whoever they want, but Bryan has proved that he was championship material in the ring. Cena says he lost clean to Bryan at Summerslam, but Stephanie and the Authority constantly stole it from him. Cena gave up the title because he knew he would get a chance to win back the title, Bryan is afraid because knows they won't give him the chance because Stephanie has allowed personal business to get into the way of business and then gave her a ZERO on her job evaluation because she sucks. Stephanie is a bitch, so she booked Cena vs. Kane… RIGHT NOW! For the most part, this was good. Stephanie is really finding her groove as a heel, and embracing the bitch role. Cena was largely good, but I didn't like the verbiage of "Bryan being afraid". Don't call the injured, babyface champion, afraid. Just say that he knows they will screw him, so he is holding the title to make sure he has leverage. Also, I didn't need Cena joking. Seriously, that is something I constantly hate about him are the jokes in the promos when it needs to be serious. This was an overall good segment.
Match/Segment Rating: 7.0


John Cena defeated Kane via DQ (3:00): Stephanie is the bitch GM, and Cena disrespected her authority. So she places him in a match with her personal demon, knowing that Cena was in a grueling match at the PPV. They had a match, it was there, and then Kane got disqualified for kicking too much ass. Cena threw the steps at him and left but Kane sat up because he has spooky mask powers. I am not convinced that Cena is the real heel. It he would have kept his ass in he back and his mouth shut, we wouldn't have had to watch this.
Match/Segment Rating: 5.8


They announced Orton vs. Reigns, and have replayed the Batista segment a few times. Shenanigans coming later?

Los Matadors w/Torito vs. Slater and McIntyre w/Mahal and Hornswoggle (1:30): Thy did the old heel gimmick, where Hornswoggle (the loser of the hair vs. mask match) came out in a wig. In this case, it was an afro wig. This was, approximately, the 693rd meeting in some form for this feud. Torito pulled off the wig, and Hornswoggle still had the partially shaven head from last night. There was almost no wrestling, and they did a roll up finish right after the reveal. I am sure some people are enjoying this; I am simply not one of them. Can't wait for Mini-In the Bank on the pre-show.
Match/Segment Rating: 3.0

Handicap Match: Alicia Fox and Aksana defeated Nikki Bella (1:30): This was set up in a WWE App segment, Nikki missed Brie, so Stephanie got upset and booked her in a handicap match to get revenge from the slap from Payback. Nikki fought for a little bit, numbers game, heels with numbers win. Short, simple and perfectly fine. They even kept the Fox post match stuff short. It made sense but wasn't much at all in the wrestling department.
Match/Segment Rating: 5.5


We then saw an empty rocking chair, showing that Bray Wyatt was not there. Luke Harper delivered a good promo about taking up "his cause" and burning the earth like a dragon when they face the Usos. I love that Harper got the chance to talk solo here.

Adam Rose defeated Jack Swagger (3:00): Zeb Colter ranted about Adam Rose and his hippies prior to the match. They got rid of the intro music for the Exotic Express, which is an improvement. They had a solid back and forth match like they did on Smackdown. The crowd chanted for CM Punk a bit, but Rose looked good here and was received much better by the crowd.
Match/Segment Rating: 6.0


The Usos commented on their upcoming match with the Wyatt Family.

Non-Title Match: Harper and Rowan defeated The Usos © (17:00): I am somewhat surprised that this is non-title, as the Wyatt Family won on Main Event last week. That is not a complaint, merely an observation. The match still makes sense, following their interaction from last night. I also liked the empty rocking chair at ringside as a reminder of Bray not being there. These guys have developed a really good chemistry; they are very different styles in there, but seem to always deliver a fun match. Lots of action, dives and near falls down the stretch make this the best thing on the show thus far. Harper and Rowan are now the top contenders for the tag titles with the back-to-back wins over the champions. It also helps keep the Wyatt Family rolling without bray, and helps establish Harper and Rowan without Bray.
Match/Segment Rating: 8.2


Wade Barrett defeats the IC Title against RVD in a Payback rematch on tomorrow's WWE Main Event. It makes sense considering RVD pinned Barrett on this show in the opening match.

MITB Qualifier: Alberto Del Rio defeated Dolph Ziggler (5:30): I really enjoy when they do qualifying matches for MITB instead of just putting guys in the match. Also, why both men have been devalued and poorly booked, both of these men have won MITB and cashed it in for title wins, so it in theory makes this feel important. While they did not get the time of the tag matches this evening, this was well worked and had a tremendously fun pacing. They worked hard and it felt as if they were actually fighting for something. I really enjoyed this, despite the brevity. I personally think that Ziggler is better in the MITB environment, obviously WWE has other plans, which is a shame.
Match/Segment Rating: 7.9


Cody has picked a new tag team partner for Goldust, the match is next…

Curtis Axel and Ryback defeated Goldust and Sin Cara (4:40): This was set up after last night's latest loss for the Rhodes Brothers. Cody has been having a bad time of it, and told Goldust he deserved a better partner. So Cody's logic was to pick the one guy that losses more than he does. I kid, I figure that he will keep picking shit partners, proving to himself that Goldust was the real weak link, and cementing the heel turn later on. Cody watched on from the back as we got Goldberg chants for THE BIG GUY! I will admit, for as much as I was not a fan, Axel and Ryback have developed into a pretty solid tag team. Goldust and Sin Cara lost a match that no one cared about, Cody looked on disapprovingly. This felt pretty dead, and a definite downturn from the previous two matches. The slow burn turn is going well, even if I prefer them as a tag team.
Match/Segment Rating: 5.0

RUSEV GETS HONORED BY THE RUSSIAN FEDERATION: Lana strutted her stuff, and the world rejoiced. She then commented on true American heroes like Edward Snowden. Vladimir Putin has given his blessing to honor a real hero tonight, Rusev. Rusev is being honored for his destruction of the American hero Big E at the Payback PPV. Rusev received a golden star, and they played the Russian National Anthem as confetti fell. And that was that. No run in by an "American Hero" or anything, they actually cut it off to go to commercial. In theory a good idea to get heat on Rusev, but it fell flat, including the old WHAT chants for Rusev. It was a segment.
Match/Segment Rating: 5.5


Bray Wyatt will appear on Smackdown.

Randy Orton w/Triple H Roman Reigns w/Ambrose and Rollins: Ambrose cut a promo about their big victory at Payback, and living up to their promise to eliminate Evolution and not suffer an elimination themselves. Rollins added that they evolved while Evolution perished, and eventual implosion. Reigns added that they were brothers, and the brothers prevailed. Triple H and his sledgehammer were with Orton. Triple H stated that tonight was Plan B. Rollins then turned on Reigns with a chair shot, leaving Ambrose shocked. He then attacked Ambrose and laid him out with the chair. Jesus, he beat the fuck out of Ambrose with the chair. He then curb stomped Ambrose into a chair, this escalated quickly. Rollins gave Orton a chair and allowed him to beat down Reigns. The new Evolution stood tall over the beaten Ambrose and Reigns. I will say this; I wasn't expecting Rollins to be the one to eventually turn on the group. I am not sure what to think here, I mean, what's the logic, why did Rollins turn? I hope that they have an explanation planned, because breaking apart the Shield is a dangerous move with all of the momentum that they had. Triple H did say that this would be over when the Shield was no longer around, which he did make happen. This also looks like an Evolution reboot, with Triple H now the elder statesmen, Orton in the Triple H role and Rollins as Orton. It CAN work, but I am not sure. Also, while they reacted to Rollins, I felt as if the heat for Orton and Triple H was nearly non-existent. I would have thought that this would have been a much hotter segment when the Shield fell, this felt flat overall. Rollins turned on his brothers for the men that they were just in a brutal feud with. I'll wait to see where it goes next week, with hopefully the explanation promo, but as for the angle, I just always figured when one of them turned it would be a crazy big reaction. To me it says that the crowd didn't want it, and didn't want him with Triple H and Orton. It also felt a little like a "turn for the sake of a turn" in some ways. The follow up, as always, will be key to this succeeding.
Match/Segment Rating: 6.0


End scene.


Thanks for reading.


The Tirade


Well we had some stuff I could certainly do with out, Sandow's new gimmick and the Torito vs. Hornswoggle stuff; but that is to be expected when they are throwing filler out there like they do every week. In many ways this was a typical post PPV show, they did follow up, they set up a main event match and seemingly continued the Cesaro vs. Sheamus feud. The good news is that there was some good wrestling, including Sheamus and RVD defeated Bad News Barrett and Cesaro, Usos vs. Wyatts and Ziggler vs. Del Rio. The Rollins angle is interesting, and hopefully they have this planned out, and I feel that the lack of reaction wasn't a good sign for the angle.

This was not a bad show, but it just felt very average coming out of the very good PPV last night. I really wish that they could trim the filler, and the overrun to make these shows tighter, it would solve some of the issues.

Show Rating: 6.0

As a reminder, I will be going by the 411 scale…

0 - 0.9: Torture
1 - 1.9: Extremely Horrendous
2 - 2.9: Very Bad
3 - 3.9: Bad
4 - 4.9: Poor
5 - 5.9: Not So Good
6 - 6.9: Average
7 - 7.9: Good
8 - 8.9:Very Good
9 - 9.9: Amazing
10: Virtually Perfect

The final rating is not simply an average of the rated segments above. The rating takes them into account as well as the segments that are small but not scored, the flow of the show, the overall booking, build to PPV, crowd reactions, and so on and so forth..
Have you checked out the Csonka Podcasting Network? If you haven't, you should We run anywhere from 15-20 shows a month, discussing pro wrestling, the world of MMA, the NBA, general sports, popular TV series of the past, bad movies, battle rap, interviews, MMA & Wrestling conference calls and more! Around 10 different personalities take part in the various shows, which all have a different feel; so you'll likely find something you like. All of the broadcasts are free, so go ahead and give a show a try and share the link with your friends on the Twitter Machine and other social media outlets! Running since May of 2011, there are currently over 500 shows in the archive for you to listen to.



Larry Csonka is a Pisces and enjoys rolling at jiu jitsu class with Hotty McBrownbelt, cooking, long walks on the beach, Slingo and the occasional trip to Jack in the Box. He is married to a soulless ginger and has two beautiful daughters who are thankfully not soulless gingers; and is legally allowed to marry people in 35 states. He has been a wrestling fan since 1982 and has been writing for 411 since May 24th, 2004; contributing over 3,000 columns, TV reports and video reviews to the site.


Your heart is free. Have the courage to follow it…TO CSONKA'S TWITTER!

http://www.twitter.com/411wrestling
http://www.twitter.com/411moviestv
http://www.twitter.com/411music
http://www.twitter.com/411games
http://www.twitter.com/411mma


comments powered by