SPOTLIGHTS
411's WWE Main Event Report 6.03.14
Posted by Larry Csonka on 06.03.2014

Wade Barrett defended the WWE IC Title against RVD, Goldust battled the Wyatt Family with new tag team partner Kofi Kingston and more! Check out 411's complete WWE Main Event report for all the details…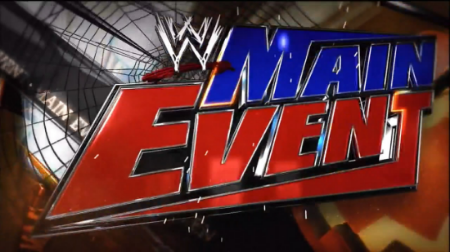 WWE MAIN EVENT 6.03.14
Your regular host is on vacation, so you get me tonight.


Match times are not exact.


Bad News Barrett makes his way to the ring. Barrett says that at the Payback PPV, he successfully defended the title against RVD. He hit RVD so hard that RVD became more delusional that he already was. Last night on Raw, RVD stole a win when Cesaro bailed on Barrett. And somehow, the WWE thinks that this should give RVD a title match tonight. RVD has been resting on yesterday's accomplishments for some time now, and every time he gets hit in the head, he becomes more rattled. He is so out of it these days he constantly repeats initials to remember just who he is. He's always smiling, with a vacant expression; he looks like a zombie. Barrett is afraid he has some bad news. When he connects with another bull hammer tonight, the only use for RVD will be to become a cast member of The Walking Dead. RVD sneaks in and attacks, sending Barrett to the floor. Nice run in without music or charging down the ramp. I appreciate that.


Cody has picked another new tag team partner for Goldust tonight.


We see highlights of Stephanie McMahon's ultimatum to Daniel Bryan at Payback and Brie bitch slapping her.


We then got highlights of last night's Stephanie promo, announcing that Bryan will either defend the title or it will be up for grabs in the MITB match.


We will get a Daniel Bryan update on Monday's Raw.


We see highlights of Goldust and Sin Cara losing to Ryback and Curtis Axel on Raw last night.



Goldust and Kofi Kingston vs. Luke Harper and Eric Rowan w/Empty Rocking Chair


No pressure on Goldust and Kofi here. Goldust goes face to mask with Rowan, Rowan loses the mask and charges Goldust. To the corner, rights by Goldust follow. Off the ropes, a shoulder block connects for Rowan. Goldust fires back, to the corner and a tag to Kofi. Double dropkick to Rowan and a cover gets 2. Kofi works a hammerlock, back elbow by Rowan, Kofi uses his speed to counter Rowan a few times and connects with mounted right sin the corner. Tag to Goldust, back rake follows for Goldust. Rights in the corner by Goldust, but Rowan is able to take Goldust to his corner and tags in Harper. Some back and forth as we see Cody watching on from backstage, tag to Kofi and he hits a spin kick on Harper and covers for 2. Harper fires back with a dropkick of his own, tosses Kofi to his corner and tags in Rowan. Rowan uses the power game and beats on Kofi. Rowan counters a sunset flip, tosses Kofi to the corner, but then charges in and eats boot to the face. Kofi low bridges Harper and gets the tag to Goldust. Clotheslines and uppercuts to Rowan. Atomic drop and boots follow, rights in the corner and then a RANA off the ropes by Goldust. Snap slam on Rowan and a cover for. Goldust knocks Harper to the floor, but Rowan lays out Goldust with a high kick…



~commercial break~


Back from the commercial as Harper lays in elbow drops to Goldust. Rowan tags in, connects with the leg drop and covers for 2. Rowan works his skull crusher, Goldust to his feet, escapes and works for a tag. Harper tagged in, knocks Kofi to the floor and then eats a boot and Code Gold from Goldust! Harper is stunned as Goldust looks for the tag… and gets it. Kofi flies in and starts taking out both men. Dropkicks, flying clotheslines and the BOOM DROP all connect. Trouble is paradise stopped by Rowan when he distracted Kofi, but Kofi fires back, off the ropes and into a big boot from Harper. Goldust tries to make the save, but is sent to the floor. Kofi flips out of a German, up the ropes and hits a RANA on Harper. Big dive by Kofi to the floor! Kofi rolls Harper back in, up top, hits the high cross and cover2 for 2. Goldust back in, dumps Rowan to the floor but the Harper sends Goldust to the floor again. Kofi looks for trouble in paradise, but Harper connects with the spinning clothesline.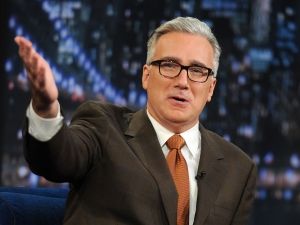 Byeeeeeeeeeeeeeeee Felicia.



OFFICIAL RESULT: Luke Harper and Eric Rowan @ 11:00 via pin
RATING: ***¼
The right team went over in a quality and fun tag team match. Harper is great, and Rowan is improving. Working with Kofi and Goldust is only a good thing for a guy like Rowan. As I said during my Raw review, I figure the angle is that Cody will continue to pick sub par partners for Goldust, proving to himself that Goldust was the real weak link, and cementing the heel turn later on. Good wrestling, good booking, more of this please.



RVD talks with Renee Young. Says that he would like to say he is a cool, and that Barrett thinks that coolness is a weakness. RVD says he is not yesterday's news because he lost one match at Payback. His career speaks for itself, and he is always confident. RVD was stumbling over his words a bit here, not a great promo.


Bray Wyatt returns on Smackdown on Friday night.


We get highlights of Seth Rollins turning on The Shield and joining Evolution.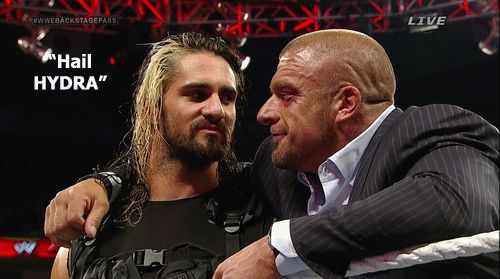 Tomorrow, Michael Cole will interview Triple H and discuss the Seth Rollins situation.



IC Title Match: Bad News Barrett © vs. RVD


Lock up, off the ropes and they stand off. Boot to the gut by Barrett, side headlock follows. RVD escapes, counters into the side headlock, off the ropes and a spin kick by RVD gets 1. Barrett backs off to the corner, and RVD connects with a dropkick. Mounted rights by RVD, another spin kick follows and then RVD covers for 2. Barrett rolls to the floor, and that allows RVD to hit a baseball slide dropkick. Cannonball dive off the apron by RVD and Barrett is down. RVD works over Barrett, tosses him back into the ring and lays in the rights in the corner. Shoulder blocks follow, to the other corner and a back elbow by RVD. He heads up top and Barrett tosses him off into the barricade. That had to suck…



~commercial break~


We are back from the break as Barrett is in control; RVD tries a float over in the corner and gets caught with a boot to the gut and a cover for 2 by Barrett. Barrett continues the attack, and a boot to the face sends RVD to the floor. Barrett follows and slams RVD to the steps. Mounted rights by Barrett, heads to the second rope and connects with the elbow drop, and covers for 2. RVD to the apron, Barrett rams him to the corner and then delivers clubbing shots to the back before celebrating. A big running kick to the gut by Barrett, and another cover gets him a 2 count. RVD with a back elbow, and the leaps off the top, but Barrett nails him with a clothesline and covers for 2. Barrett now grounds RVD with a chinlock, but RVD fights to his feet and elbows out. Barrett misses a big boot in the corner and crotches himself. This allows RBD to get to his feet connect with clotheslines. Back kick by RVD, rolling thunder follows and a cover gets 2. More kicks by RVD, but then runs into the winds of change and Barrett covers for 2. Barrett then misses a corner charge, RVD up top and then Barrett crotches him. RVD falls to the mat, and Barrett prepares the elbow. Cesaro then runs in and hits the neutralizer. That's a DQ. He then hits the neutralizer on RVD, much to the approval of Paul Heyman, who is on the ramp. Keep Cesaro's name out of your mouth Barrett!

OFFICIAL RESULT: No Contest? @ 11:00
RATING: **½
The set up was fine, Barrett won at Payback, and RVD got a win back when Cesaro bailed on Barrett. It worked to give Main Event a match that they could advertise, which is the new goal every week. I didn't like it as much as their Payback match. The Payback match was a little shorter, and tighter overall. RVD is fine in small doses, but the longer the matches go, the slower his trademark stuff appears these days. The Cesaro interaction also made sense, following the walkout on Raw and Barrett bad mouthing him earlier in the show.


End scene.


Thanks for reading.



Have you checked out the Csonka Podcasting Network? If you haven't, you should We run anywhere from 15-20 shows a month, discussing pro wrestling, the world of MMA, the NBA, general sports, popular TV series of the past, bad movies, battle rap, interviews, MMA & Wrestling conference calls and more! Around 10 different personalities take part in the various shows, which all have a different feel; so you'll likely find something you like. All of the broadcasts are free, so go ahead and give a show a try and share the link with your friends on the Twitter Machine and other social media outlets! Running since May of 2011, there are currently over 500 shows in the archive for you to listen to.



Your heart is free. Have the courage to follow it…TO CSONKA'S TWITTER!

http://www.twitter.com/411wrestling
http://www.twitter.com/411moviestv
http://www.twitter.com/411music
http://www.twitter.com/411games
http://www.twitter.com/411mma



comments powered by