SPOTLIGHTS
Tremendous Tirades 6.09.14: WWE Monday Night Raw
Posted by Larry Csonka on 06.09.2014

Daniel Bryan's WWE Title Run: 4.06.14 - 6.09.14...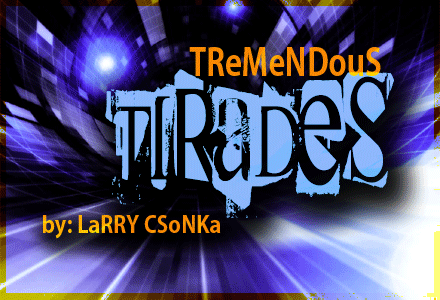 Introduction
As a reminder, this will not be another traditional recap, but instead it will be a mash up of the Rs, Instant Analysis and my usual Twitter ramblings I would do during the shows; completely uncensored and as the ideas flow unfiltered to the old keyboard. Remember, this is a review; and I am here to review the show. As always, I encourage discussion and even disagreement, just do so in a respectful manner. I will be doing the review for Raw and most PPVs and iPPVs going forward.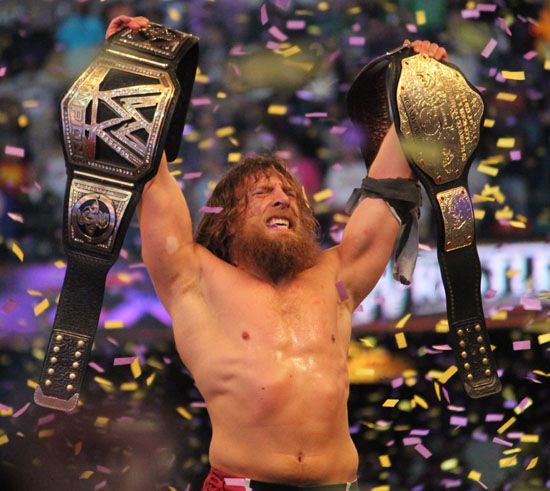 This is the end, beautiful friend
This is the end, my only friend, the end
Of our elaborate plans, the end
Of everything that stands, the end
No safety or surprise, the end
I'll never look into your eyes, again

WWE MONDAY NIGHT RAW 6.09.14



The Authority's Blockbuster Announcement: So we've had the rumors all day, all regarding Daniel Bryan and the status of the WWE Title. Triple H and Stephanie made their way to the ring, and were extremely happy. They showed a video message from the doctor that performed the surgery on Bryan to set the stage, noting that he cannot perform this month at MITB. The titles are hanging above the ring, and Bryan has been officially stripped. They mocked Bryan and Brie, and confirmed that Alberto Del Rio is the first man confirmed to compete for the title, due to his win last week. Triple H then announced Orton was in the match, because he deserved it. Triple H they moved onto the Rollins heel turn from last week, using it as another example of him always being right about things, as he was with Bryan. He then announced that the Wyatts will face Ambrose and Reigns in a six-man tag, and noted that it will be more of a handicap match since they likely have no friends in the locker room. Rollins adapted, but tonight, the Shield parishes. Overall this was a very good segment to explain the title situation, the MITB title match and tonight's main event. Triple H and Stephanie came off as completely unlikable, and that set up Bryan as the sympathetic figure. Part of me hoped that Bryan would be there for some form of rebuttal or vow to return and make their lives hell, but at the same time they need to move on from the situation and set the stage for crowning a new champion.

On a personal note, I honestly think that Bryan should have been stripped when he had the surgery. All indications were that this was a minimum 8 to 10 week recovery for a normal person, but Bryan is a pro wrestler. He's going into an environment that is abusive to his body, not back to a desk. I love the guy, WM 30 was an awesome moment, but when you have a neck surgery, you cannot mess around with that stuff. Also, as much as I love Bryan, you have to have an active champion and not one that is sidelined with an undetermined return date. Also, now the pressure is off of Bryan to return too soon. There are reports that he is having issues with building up his right arm again (likely nerve damage) so he needs to take the time, get healthy and come back when he won't have the pressure on him to be "100% Daniel Bryan" from the moment he gets back. I hate the situation, but hopefully it works out best, for Bryan.
Match/Segment Rating: 8.0

MITB Qualifier: Sheamus defeated Bad News Barrett : Oh boy, it's another of those super rare champion vs. champion matches that mean all so much! I love watching these guys, they have fun matches and beat the hell out of each other, but they just did this match on the May 30th edition of Smackdown. Sheamus won there, so I would expect Barrett to win here. Also, I think that these guys need to NOT be in MITB, because they should be defending their titles. Crazy idea I know, putting time and effort into the IC and US Titles with actual feuds and such. Or, if you feel that you have to have them in the match, then have them automatically qualify; playing off the old days when the US and IC Champs were essentially top contenders due to their championship status. We don't need Del Rio in the match, they gave Orton a spot because he's the authority's lap dog, but these champions can't get a spot? Do something that makes sense here. Remember when I said that, "I would expect Barrett to win here," apparently not. What this tells me is that later tonight, RVD defeats Cesaro to head to MITB, where is fits best, and that Cesaro and Barrett are added to the PPV. Not horrible at all. I really liked the match and they had the crowd with the, but I wasn't really a fan of the finish or the booking of the old "champion vs. champion" match 10 days after they just had one. If they hadn't have had the match already on Smackdown, I would have rated this a bit higher overall.
Match/Segment Rating: 8.0


Alberto Del Rio, Randy Orton and Sheamus are official for the MITB match.


The Wyatts cut a promo, Harper got more time to talk again, he's a great man.


Lana struts her stuff, mocked Obama and put over Putin.

Rusev killed Zack Ryder for Mother Russia: They faced on Memorial Day, this was essentially the same match. It was perfectly fine for what it was. I have no issue at all with Rusev, what he has done so far is fine, but they need to get him into a feud so that people can actually care about him. Right now, they are only reacting to Lana. I don't know, what could we have a dude living in RUSSIA with a handler that constantly mocks the UNITED STATES do?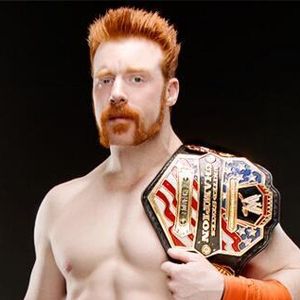 I'm with you WWE creative, not a fuckin clue…
Match/Segment Rating: 6.0


Seth Rollins explains himself tonight. No, this will not be like Smackdown when they had no clue where they were going, they actually thought of something for tonight.

Ryback and Axel defeated Goldust and R-Truth: As much as I was not a fan of them at the beginning, Ryback and Axel have come together well as a team. Goldust was great here, this was short, but a fun little outing. Cody watched on backstage again, and as previously noted, I still think that the angle is that Cody will continue to pick sub par partners for Goldust, proving to himself that Goldust was the real weak link, and cementing the heel turn later on. Goldust losing here continues to make the theory seem sound. Now they need to move this forward, Cody needs to show frustration or something, because he does the same thing every week. Watches on with nearly no emotion.
Match/Segment Rating: 6.5


Layla was getting her makeup done and mocked Summer Rae. Summer then accosted her with a half gallon of what I guess to be vitamin D milk.

3MB Gets Killed: 3MB were in the ring, tried to rundown the Shield and then Ambrose and Reigns appeared. Ambrose and Reigns disposed of the goof troop with ease. Ambrose stated that they were the most dominant faction in WWE history, they beat everyone, but they had a cancer, Seth Rollins. Ambrose cut a good crazy man promo about ripping Rollins apart. Rollins watched on from backstage in a black suit. Reigns followed up well, and while Amborse was focused on Rollins, Reigns wants to get to Tripler H to "play a special Game of Thrones" with the king of kings. They killed goofs, they cut solid promos based on getting revenge and the crowd liked it. It wasn't great, but it all made sense, was delivered well and made sense. We're making logical steps in the story; hopefully Rollin's explanation is good tonight.
Match/Segment Rating: 7.5

Non-Title Match: The Usos © defeated Fandango and Damien Sandow/Layla : Layla came to the ring, still all messed up from Summer Rae's attack. Sandow came to the ring in a nude body suit and ballet slippers, doing rhythmic gymnastics/ribbon dance ala Will Ferrell's Frank the Tank in Old School. He looked like one of the Johnsons from early TNA fame. I am convinced that Damien Sandow walked into the arena one day, saw Stephanie McMahon bend over, slapped her on the ass and said, "what's up sugar tits?" It's the only explanation for this. Bless Sandow for doing his best with this stuff, but it is bad. I think the crowd knows this as well, because they tried to support this poor bastard tonight. The Usos won, which they should have without question, but this "match" was mostly about the goof troop dancing around and losing. This was complete filler, and not much wrestling.
Match/Segment Rating: 5.0

Bo Dallas defeated Xavier Woods: Remember when Xavier Woods was going to be a thing? Poor dude, good thing he has that PHD to fall back on. Remember when I spoke about the Champion vs. Champion match being a repeat from the May 30th Smackdown? Same thing here kids. Much like Rusev, Bo is fine, but we need something to make us care about him one way or another. Not replays of matches. That's part of the problem with the mid-card right now, there is almost nothing going on and they all feel like they aren't important. Make me care.
Match/Segment Rating: 5.0

MITB Qualifier: Cesaro defeated RVD: Heyman cut a promo, teased Lesnar with a "WrestleMania Victory Party" mention, and then brought out Cesaro. Paul is great. I have no clue why they booked RVD and Cesaro in another singles match, they had bad chemistry in the past and it wasn't any better here. Seriously, Cesaro's worst matches in WWE have been against RVD. They do not work well together, and part of that is because RVD continues to work the same 1997 match on half speed. Compared to just about every Cesaro match, the ones with RVD are just slow and sloppy. I was glad to be wrong from my earlier prediction, as Cesaro scored the win here. The match was not very good, Cesaro had some moments, but it felt as if he was pulling teeth to get what he got out of RVD. Also the crowd wasn't very into it.
Match/Segment Rating: 5.5


Cesaro, Alberto Del Rio, Randy Orton and Sheamus are official for the MITB match.

Seth Rollins Speaks: Rollins came to the ring in a black suit and got some you sold out chants. He claimed he was the architect behind the Shield, and that gave him the right to kill what he created. He called Reigns worthless without someone to control him and added that Ambrose was a lunatic. He also called Reigns the "golden boy". Cole brought up that the Shield was about thee men coming together, but Rollins said we'd find out later when the remains of the Shield faced the Wyatt family. Rollins said they did it all, but also learned he had to evolve and adapt. He bought into the evolution of himself, and that Reigns and Ambrose were business partners, so he severed a business relationship. For two years he came out and said to believe in the Shield, but now people need to believe in Seth Rollins. He then called out Ambrose and Reigns, but that led to Harper and Rowan appearing, and Rollins bailing. They almost got to Rollins, but Bray made the save so Rollins could escape. John Cena then charged the ring to make the save. He, Reigns and Ambrose cleared the ring. While they did not announce it right there, the obvious tease was that Cena would tag with them in the main event. I felt that this was a solid segment, and an overall solid promo from Rollins. It wasn't overly complex; I felt he delivered well in what was the biggest mic time of his career thus far, and he has a great presence on the mic. There is a ton of potential. This was far from a failure, but it wasn't great. I think I was hoping for more, but at times, it felt that he was simply mimicking what Triple H had been saying. If there is one thing he doesn't need to be is a Triple H clone on the mic. I was hoping for something bigger I suppose as the big explanation for the turn. Again, it was solid and made sense, but I was hoping for more. Also, the addition of Cena in there feels very forced. The feud with Wyatt felt complete, and he has so much history against the Shield that I felt as if WWE was shoehorning Cena into the equation because they have nothing else for him to do right now. Overall I felt this was good, and there is certainly room to grow from the promo and explanation.
Match/Segment Rating: 7.0


Seth Rollins faces Dolph Ziggler on Main Event tomorrow.

Non-Title Match: Paige © defeated Alicia Fox w/Aksana: Paige vs. Alicia Fox, again. This was ok, it had a few sloppy moments, but not horrible. The problem is that Paige continues to be booked like shit. They have no real challengers for her, and most matches she gets her ass beat and magically comes out at the end. This one felt a little better, but she already beat Fox and I didn't need to see it again. Paige never feels like a champion, she never feels like a great wrestler from a wrestling family, she simply feels like any other chick on the roster. And that is the problem, as a champion, she is horribly booked week in and out. This was more about Fox getting to act crazy, beat up Aksana and throw popcorn and water on her. And that is was pulled this down and made it truly horrible. I said it before and will say it again; the WWE needs to completely revamp the way the present women's wrestling and they need to do it yesterday.
Match/Segment Rating: 2.0

Jack Swagger w/Zeb Colter defeated Santino: it was a short match, and fine. Swagger was having issues with Santino, Colter slapped the hell out of him a few times, and Swagger fired up and got the win. Santino is Santino and plays his role well; I have no clue what they will do with Swagger. He has no direction these days, especially after his losses to Adam Rose. The guy can go and be a valuable addition to the middle of the card, but they have to (like a lot of other guys) book something for him to make us care.
Match/Segment Rating: 6.0


Goldust is upset backstage, and Cody appears and knows who can be the perfect tag team partner, someone who can magnify the magnificence of Goldust. Cody will reveal that man next week.


Vickie Guerrero is here to celebrate no more Brad Maddox or Daniel Bryan. She has champagne, and sneezes on Stephanie, who freaks out and kicks her out. That is an inside joke about Vince hating people who sneeze in meetings.


Kevin Hart is hosting next week's Raw.


Sheamus faces Cesaro on Smackdown this week.

Bray Wyatt, Luke Harper and Erick Rowan Dean Ambrose, Roman Reigns and John Cena: They wisely started with the big brawl and then broke into the regular match. The early story was that Reigns and Ambrose were working well together, but not tagging in Cena. They got the heat on Ambrose forever, but then Cena got the hot tag and the mixed cheers for him turned to a huge pop. Cena ran wild for a sort bit, was cut off and beat down, leading to the big tag to Reigns. Reigns ran wild, we got the big signature move buffet, Reigns hit the spear and scored the pin as Triple H and Rollins looked on from backstage. This was a good and long match. They Wyatts are a great three-man unit, Reigns and Ambrose are always good in tag matches like this and as I have said before, Cena delivers in big/main event matches. Everyone worked hard and played their roles well. On top of that, the crowd loved it. This was a great way to end the show. The only issue is that WWE really needs to do something with Bray Wyatt, who has seemingly lost all steam.
Match/Segment Rating: 9.0


End scene.


Thanks for reading.


The Tirade


Obviously this was an eventful show this week. They announced that Daniel Bryan was no longer WWE World Champion, set the MITB to crown a new champion, and Cesaro, Alberto Del Rio, Randy Orton and Sheamus are official for that match. We also got the big interview from Seth Rollins, which was delivered well, but I felt lacked in the overall explanation. There is still a ton of filler, the women's division needs a complete revamp immediately and the mid-card also desperately needs attention. Right now guys like Rusev, Dallas and others are just floundering out there because the fanbase is not given a reason to care about them. Also, what are we doing with Bray Wyatt. Sure he didn't lose tonight, but the character has lost all steam in my opinion.

Overall I felt that this was an above average show. They did advance what they needed to, now they have to continue that and then tighten up the areas that need work. The beginning was really good, the Rollins promo was overall good and the main event delivered. I know it's a losing battle, but Raw would be better off as a two-hour show.

Show Rating: 6.75

As a reminder, I will be going by the 411 scale…

0 - 0.9: Torture
1 - 1.9: Extremely Horrendous
2 - 2.9: Very Bad
3 - 3.9: Bad
4 - 4.9: Poor
5 - 5.9: Not So Good
6 - 6.9: Average
7 - 7.9: Good
8 - 8.9:Very Good
9 - 9.9: Amazing
10: Virtually Perfect

The final rating is not simply an average of the rated segments above. The rating takes them into account as well as the segments that are small but not scored, the flow of the show, the overall booking, build to PPV, crowd reactions, and so on and so forth..
Have you checked out the Csonka Podcasting Network? If you haven't, you should We run anywhere from 15-20 shows a month, discussing pro wrestling, the world of MMA, the NBA, general sports, popular TV series of the past, bad movies, battle rap, interviews, MMA & Wrestling conference calls and more! Around 10 different personalities take part in the various shows, which all have a different feel; so you'll likely find something you like. All of the broadcasts are free, so go ahead and give a show a try and share the link with your friends on the Twitter Machine and other social media outlets! Running since May of 2011, there are currently over 500 shows in the archive for you to listen to.



Larry Csonka is a Pisces and enjoys rolling at jiu jitsu class with Hotty McBrownbelt, cooking, long walks on the beach, Slingo and the occasional trip to Jack in the Box. He is married to a soulless ginger and has two beautiful daughters who are thankfully not soulless gingers; and is legally allowed to marry people in 35 states. He has been a wrestling fan since 1982 and has been writing for 411 since May 24th, 2004; contributing over 3,000 columns, TV reports and video reviews to the site.


Your heart is free. Have the courage to follow it…TO CSONKA'S TWITTER!

http://www.twitter.com/411wrestling
http://www.twitter.com/411moviestv
http://www.twitter.com/411music
http://www.twitter.com/411games
http://www.twitter.com/411mma


comments powered by