SPOTLIGHTS
411ís WWE Main Event Report 6.10.14
Posted by Alex Crowder on 06.10.2014

Seth Rollins faced Dolph Ziggler and Jimmy Uso squared off against Luke Harper! Check out 411ís WWE Main Event report for all the details!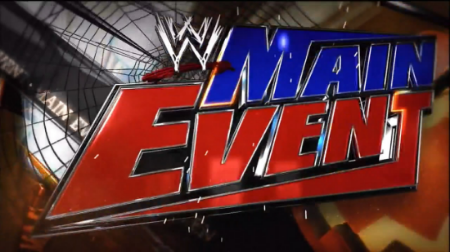 WWE MAIN EVENT 6.10.14



We begin the show with Triple H making his way to the ring. The announcers talk about Daniel Bryan being stripped of the World Title. You can hear one fan say Triple H rules while the rest say he sucks. Triple H says there is a lot of controversy right now. People are asking questions why. Why did he strip Daniel Bryan of the title and plays the video of the doctor speaking. He says if you don't understand why, he'll tell you. It is our fault that Daniel Bryan was stripped of the championship. We're the reason he is no longer a champion. Frankly, we deserve better. We deserve a champion who can actually defend the championship. This is where magic happens that is why a ladder match is taking place. Four of the biggest superstars have qualified for Money in the Bank including Sheamus, Alberto Del Rio, "King of Swing" Cesaro, and the one and only "Viper" Randy Orton. Three more men will receive the opportunity. Triple H guarantees that history will be made. In this moment, we will never forget what will happen when a new champion is crowned.

Next, the footage of Seth Rollins turning his back on The Shield is played. The crowd boos the footage. Triple H asks for us to help him welcome the future of the WWE, Seth Rollins. Seth seems to have gotten his own theme song (or I didn't notice he had one on Raw). The theme is better than Cesaro's at least. I would say it fits Seth Rollins.

Seth enters the ring wearing a suit, and shakes hand with COO Triple H. The crowd boos him heavily. Triple H wants to know how it felt for Seth Rollins to betray The Shield. Massive you sold out chants erupt throughout the arena. Seth says it is an interesting question. Seth describes exactly how he did it with a sense of stillness and clarity. He saw Dean Ambrose trying to grasp the moment before Seth dropped him. The feeling Seth had was an indescribable power. He has never felt a power like that. Seth says the Shield owe him everything. Seth says they are nothing without him and none of us or them will understand the power that Seth has. Roman and Dean are destined for mediocrity unlike Seth. They will never reach their dreams or have the guts to do what Seth did. Only Triple H understands that power that Seth Rollins felt. Triple H understands what it takes to get to the top. Seth says one must strike while the iron is hot and seize all opportunities. The goal of Rollins is to be the greatest ever. He would walk over his friend's bodies to get what he wanted. He adapted and evolved creating the evolution of Seth Rollins. Seth did what he had to do. Seth smirks as the crowd shows their disapproval. Rollins thanks Triple H for helping him create the opportunity. They shake hands again.
Dolph Ziggler interrupts Seth and congratulates him for being a self-centered scumbag traitor. Dolph says we all know that person that uses shortcuts and loopholes but not Dolph. Ziggler always has a chip on his shoulder to show the world how damn good he is at this. He will wipe that smug look of Seth's face and cram that arrogance down his giraffe neck. Dolph will show the world what it means to be a superstar without an egotistical boss holding his hand. Ziggler warns him to sharpen the knife because he'll need it tonight.

Seth Rollins and Dolph Ziggler will face off later tonight.

-commercial break



Jimmy Uso with Jey Uso vs. Luke Harper with Erick Rowan


The Wyatt Family appears in the ring immediately after a cut. Luke powers Jimmy into the opposite corners a few times. A hard whip is followed by corner clubs. Jimmy goes for a moonsault but is caught in Harper's grip. Luke pounds on Jimmy before missing and ending up on the ropes draped. Jimmy cross bodies him but it has no effect. They both miss each other on whips until a cross body sends Luke down. Harper regains the advantage with a tossing hotshot against the ropes. Luke continues his onslaught by choking Uso on the ropes. Harper hits a snap suplex for a 1 count. Luke goes for another kick-out getting 2. Gator roll into a reverse headlock by Luke Harper. Rowan watches on in mask. Uso tries to fight back to a vertical base with the crowd's help. More clubbing blows from Harper send him back into the ground. The announcers make a marvel hydra reference. As they do so, Jimmy hits a moonsault. The crowd gets behind him but he is met with a big boot. Luke recovers and looks on psychotically. Jimmy fights back with some slaps and back body drop. The Uso dive is countered into a stiff elbow. Jimmy than avoids Luke Harper and uses the distraction to hit a superkick. 1..2..3.

OFFICIAL RESULT Jimmy Uso: @ 5:00 via pin
MATCH THOUGHTS: This was a wonderful start to the show. These two teams whether it is in singles or tag action have great chemistry. Great start to the show. I only wish that it got more time. Luke Harper got to show some impressive moves while Uso pulled off a few flashy maneuvers and got the victory.

-commercial break and they announce that Rusev vs. Kofi Kingston is next.

Kofi stands up for America and says it is about living dreams here. Kofi tells him to pack up his fancy metal and go home. The ravishing Russian Lana is introduced. American women came to be liberated and choose their own career. Russian women laugh at this. They are prisoners to what to look like and spend money. USA chants start as Lana gives an evil glare. Lana demands that the crowd stop this now. She says something in Russian. Lana says all of us are overweight and fat. Lana says all Russian women look like her. American men do not desire American women but they desire Lana instead. Still, American men will never have a woman like Lana she says. Russian men are strong unlike American men. Rusev is introduced next.



Kofi Kingston vs. Rusev with Lana


Rusev starts in a Muay Thai pose before Kofi kicks at the legs. Kofi goes for a sunset flip and hits face kicks before Rusev catches him and overpowers him with a Judo throw. Rusev stomps Kofi into the ground relentlessly. The announcers talk about Lana having odd control over Rusev. Kofi hits a few more kicks and strikes battling back. He hits a flying forearm and a flying cross body for a 2 count. Kofi keeps going for midsection spinning kicks but Rusev catches him in the corner. Rusev starts kneeing him in the midsection. Rusev fallaway slams him as Lana demands him to do something. Rusev throws him outside. Rusev starts beating on Kofi on the outside and finally throws him in. Kofi comes back with a dropkick but is caught with a sidekick. Lana commands the finish. Rusev grabs his face and gets the accolade. Kofi taps out immediately not letting go until Lana commands it.

OFFICIAL RESULT: Rusev @ 5:00 via pin
MATCH THOUGHTS: This match was okay but it almost felt like they were stalling for time. Kofi had token offense which made it less than interesting. Rusev looked good when he controlled the offense though. Lana had a good pre-match promo which was probably the highlight. Rusev needs some real opponents soon.

-commercial break

Summer Rae is interviewed backstage. She smiles as they show the footage from the feud with Layla on Raw. Layla overacts worse than Alicia Fox. Summer says Layla is catty until Layla blindsides her with a box of cat litter and pours milk on her head. Layla rubs Summer's face in the cat litter along with the milk.

-commercial break



Dolph Ziggler vs. Seth Rollins


Seth still wears attire similar to The Shield. They begin by circling around the ring. Seth and Dolph lock up and Seth grabs a go behind only for Dolph to reverse. Seth retreats to the outside and re-enters the ring. Seth grabs the wrist of Dolph kicking the midsection. Seth retains his advantage by slamming Dolph with a headlock takeover. Rollins keeps a tight grip with a headlock before hitting a shoulder block. Dolph connects with a hiptoss and headlock takeover of his own. Dolph hits another shoulderblock and a beautiful dropkick. He goes for another but Seth catches him with a corner catapult that Dolph sells perfectly.

-commercial break

We return with Seth controlling Dolph in a headlock. Seth hits three consecutive snap suplexes for a 2 count. Seth says you want to talk trash now while slapping him in the face. Seth shows nice heel mannerisms by raking the face and nose of Ziggler. I apologize but my power went out at the six minute mark causing me to miss everything but the end result. I saw six minutes of it and it looked to be a great match.

OFFICIAL RESULT: Seth Rollins via pinfall
MATCH THOUGHTS: From the six minutes I saw of it, it was a great match. Seth Rollins won by pinfall. These two have amazing chemistry.



FINAL THOUGHTS: The opening promo from Triple H was more of the same, but Seth Rollins continued to show great fire on the mic. I remember at one time I thought he was one of the worst promos ever but Seth is not anymore. Seth Rollins gave a very impressive promo and Dolph fired back nicely. The Luke Harper and Jimmy Uso match was awesome and deserved more time. Rusev and Kofi could have been interesting had it not seemed like they were stalling at some points in the match. Either way, Lana had a great opening promo and seems to be getting hugely over (cheap heat or not). Seth Rollins and Dolph Ziggler was match of the night and really WWE should just have these two wrestle constantly. On a final note, the announce team of Saxton and Phillips outshine the Raw announce team every time. Thanks to everyone who read the report.

comments powered by