SPOTLIGHTS
Tremendous Tirades 6.23.14: WWE Monday Night Raw
Posted by Larry Csonka on 06.23.2014

The go home for Money in the Bank…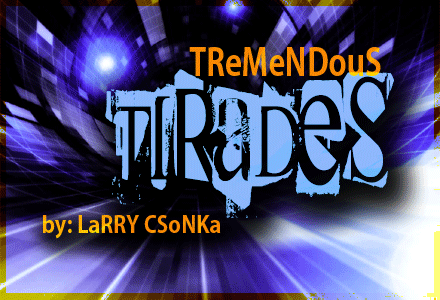 Introduction
As a reminder, this will not be another traditional recap, but instead it will be a mash up of the Rs, Instant Analysis and my usual Twitter ramblings I would do during the shows; completely uncensored and as the ideas flow unfiltered to the old keyboard. Remember, this is a review; and I am here to review the show. As always, I encourage discussion and even disagreement, just do so in a respectful manner. I will be doing the review for Raw and most PPVs and iPPVs going forward.




WWE MONDAY NIGHT RAW 6.23.14


The Stephanie McMahon Power Hour: This was the big angle to punish Vickie Guerrero for last week's Coffee-Gate incident. Stephanie was mad that Reigns got put in the match that they kept him out of, and now that he won, he is in MITB and could win the title. Stephanie told Vickie that she had been riding the coattails of her dead husband and kept her around to be a GM since they couldn't make her into a diva. Eddie deserves respect, but Vickie doesn't. Vickie offered to beg for her job, which Stephanie enjoyed way too much. Stephanie then booked her in a match; if Vickie wins she gets to remain GM on Smackdown. Stephanie announced she would be Vickie's opponent. Vickie stepped up and said people respect the name Guerrero, and that Eddie taught her to lie, cheat and steal. She accepted the match. So we wasted the first 10-minutes of the show dealing with the authority figure bullshit, when there is a PPV that only has two matches official and a third with one participant. That is spectacular booking here; it's a good thing that the "PPVs" are on the Network. As for Stephanie and Vickie, I do not give a single solitary shit about them because the authority figure is beyond abused in wrestling. Hopefully there is some sort of ending that gets rid of both of them (from TV, not life, I'm not a complete asshole).
Match/Segment Rating: 4.0


Triple H will announce the participants for the MITB match later tonight.


Good news for those of you that skipped Smackdown, you get to see the main event (Bray Wyatt, Randy Orton, Alberto Del Rio and Cesaro vs. Sheamus, Roman Reigns and John Cena) again here tonight. Why? "Because fuck you, that's why." - Vince McMahon


Ziggler challenges for the IC Title later tonight.

Luke Harper defeated Jimmy Uso: Harper and Rowan came out to new shitty music. It's like, bastardized organ and harmonica playing "he's got the whole world". The entrance was the coolest part of the Wyatt Family, great job neutering these guys. These guys faced off on the June 10th edition of Main Event, they just changed the winner here and made it about three minutes shorter. It was fine in order to build towards the PPV match, but way too short for my liking.
Match/Segment Rating: 5.5

Jey Uso defeated Erick Rowan: These guys faced off on the June 13th edition of WWE Smackdown, where Rowan won. They switched the winner again, which means they split the matches again, and not only was this repetitive, but things stayed the same. They brawled after the match, and the Wyatts got the better of things and laid out the champions. This is fine build for the PPV match, but the general laziness of the booking is quite disappointing.
Match/Segment Rating: 6.0


Bray cut a promo, noting that he was proud of his boys, and that we will live in anew world when he climbs the ladder and wins the title.


Daniel Bryan will be on the MITB kick off show.


Lana and Rusev did some sightseeing in Washington DC, where they ran down the monuments and then put over the Kremlin and of course Putin.


Paige joins the commentary team. Cameron did as well

Naomi defeated Alicia Fox : This was completely frustrating, as they bickered on commentary about the drama between Cameron and Naomi last week, and ignored the in ring action completely. Cameron was catty wanting a title shot, after she lost, and called Paige rookie. Paige put over that Naomi was the threat of the team. They ignored the match so much that it was embarrassing. Naomi won, and then had a stare down with Paige. They even shook hands like good sports. Mainstream wrestling commentary is the US is the dirt fucking worst in 2014. I get what they were trying to do, but it completely undermined the match, you know, the one that was setting up Naomi vs. Paige for Sunday. The match was fine, but the commentary was atrocious. They are focused way too much on the upcoming Cameron vs. Naomi split, instead of selling the title match.
Match/Segment Rating: 5.0


Sheamus and Roman Reigns had a bonding moment, discussing the ladder match and who will walk away with the title.

Bo Dallas defeated Titus O'Neil: Bo Dallas defeated Titus O'Neil to go 9 and Bo. Dallas is starting to catch on, as the crowd was into him tonight. I love the pre-and post match antics from Dallas, and this was entertaining. But as I previously said, they need to get Dallas into a program soon so that the fans have something to sink their teeth into in regards to Dallas. Dallas is tremendous with the character.
Match/Segment Rating: 7.0

Triple H Makes The MITB Match Complete: Triple H came out to fill in the blanks for the MITB match. Joining Rollins will be Kofi Kingston, Jack Swagger, Dolph Ziggler, RVD and Bad News Barrett. Now this will probably be a great match and I like a lot of the guys, but due to the booking of the past month, this feel like the loser's bracket. On paper this looks good, but in reality these guys have no direction. Outside of Rollins, no one has any real heat or momentum going into the match. Triple H then introduced Rollins, who vowed to win the match. RVD came out; Rollins mocked him for being old, and RVD challenged Rollins to a match. The set up is late as they have almost no time to build the match and as mentioned, the booking of the participants has not been good.
Match/Segment Rating: 6.0

Seth Rollins defeated RVD via DQ: They had a good back and forth match, RVD worked well with Rollins actually which was a nice surprise. Rollins hit the buckle bomb and curb stomp but Ambrose rushed the ring and attacked. They had a wild brawl at ringside, and Rollins escaped after referees pulled Ambrose off of him. Ambrose says he should be put in MITB, because if he isn't he will go to the show anyway and ruin the match by attacking Rollins and stealing the briefcase. This was the first good thing on the show.
Match/Segment Rating: 7.5


Vickie Guerrero prepares for her match.


Rollins asks Triple H to put Ambrose in MITB, so he knows exactly where he is. Rollins said that he got this, and Triple H says he loves the confidence, but if this blows up, it is on Rollins.

Bad News Barrett had some bad news and burned the Redskins.

IC Title Match: Bad News Barrett © defeated Dolph Ziggler : These guys had a match on Smackdown, non-title, and it was a fun one with Ziggler winning. In a nice case of consistency, Ziggler gets a title match right away after beating the champion. This was even better than the Smackdown match; they had a hot crowd, worked a great pace, had some really strong near falls and a sweet finish. Barrett gets back on track here, and Ziggler continues to perform well. This show feels as if it is finally getting some momentum.
Match/Segment Rating: 8.5


Renee Young interviewed Vickie Guerrero. She knows she is not popular, but she is sick of being the Authority's doormat. She has been humiliated more than anyone in WWE history, and has no regrets. Orton appeared and said she will get what she deserves tonight.


Tomorrow on Main Event, RVD, Ziggler and Kofi battle Rollins, Swagger and Barrett.

Stephanie McMahon defeated Vickie Guerrero : Stephanie McMahon came out in her dress, and said that the match will take place in a mud pit. Yup. The first one tossed in the pool of whatever it is loses. Stephanie then sent Layla, Rosa Mendes and Alicia Fox after Vickie. They got Vickie, Stephanie mocked her on the mic, and then Vickie fought them off and tossed Rosa and Layla into the pool of shit. Vickie also tossed Fox in to the surprise of Stephanie. So Stephanie kicked her in the ass and sent her into the pool of shit and did the YES chant, and then fired Vickie. Stephanie sang the "hey, hey, goodbye" song, but in her cockiness found herself by the pool of shit. Vickie got a goodbye gift by tossing Stephanie into the pool. Well, I hated this as far as entertainment goes because it did absolutely nothing to get people excited for the PPV, I generally do not enjoy stuff like this and for the most part is it horrible TV. But it was nice to see Vickie get one up on Stephanie and do the Eddie shimmy on the way out. Thanks Vickie, good luck in what ever you decide to move onto.
Match/Segment Rating: 5.0


Byron Saxton interviewed Goldust about Stardust. Stardust then appeared singing "when you wish upon a star". 2014 is the year of the singing wrestler. Goldust then said he's the normal one.

Jack Swagger defeated Kofi Kingston: Both guys have been announced for the MITB match, and it feels as if they haven't won a match in months. They blew a spot part way through, so Kofi tried to cover it by tossing Swagger to the floor and hitting a dive. They then repeated the spot and got it right. Swagger then made Kofi tap like a bitch. They worked hard, but didn't get much time and didn't do anything to make me care. This is what happens when you constantly sacrifice the "mid-card," when you need to build a match involving these guys, they all feel like jobbers. These guys should have never been facing each other tonight, they should have each got a random goof to beat to get some momentum.
Match/Segment Rating: 5.0


Alberto Del Rio tried to make Renee Young interview him. No fucks were given until Heyman and Cesaro arrived.


Sheamus vs. Bray Wyatt will main event Smackdown this week.

Big E Langston defeated Damien "Abe Lincoln" Sandow: I don't even know what to say about Sandown anymore. Bless the guy for trying. Big E won with the big ending in about a minute. Squash for Langston, which was fine. He then called out Rusev for mocking America. Langston tried to give the big Americana preacher promo, which brought out Lana, who looked amazing. It was a set up for Rusev to attack form behind and beat the holy hell out of Big E. He thusly humbled him with the Accolade. Big E was once again Rusev's bitch. I hope that this doesn't lead to another PPV match, because I have watched Rusev beat Big E's ass, then beat him on PPV, and then beat his ass again. I don't need to see it again. But we probably will.
Match/Segment Rating: 5.0


John Cena cut a promo about MITB and was actually serious about it.

Bray Wyatt, Randy Orton, Alberto Del Rio and Cesaro vs. Sheamus, Roman Reigns and John Cena: This was the main event from Smackdown. I really think that the constant repeating of matches, especially from Smackdown to Raw, continues the trend of making Smackdown look inferior. It seems that they do this a lot, and act like people didn't watch it, so they put it on the next episode of Raw. If you think that the match is important enough and want more eyes on it, then just save it for Raw and actually have the creative team be CREATIVE and come up with something else. This is likely here to set up the big show ending brawl. Fun match overall, they got the heat on Cena early, Reigns got the hot tag, ran wild and then they got the heat on him. Sheamus got the big hot tag and got to run wild. This led to the big finisher buffet, which the crowd loved. The faces won again. Kane then appeared and dished out some chokeslams. Triple H then appeared and added Kane to the championship ladder match. It makes sense, they don't want Cena or reigns to win and surely the Authority wants Orton to win. Stacking the deck with Kane at his side works. This was a good close to the show.
Match/Segment Rating: 8.0


End scene.


Thanks for reading.


The Tirade


I was not a big fan of this show. The big thing was that the time was poorly spent in many cases. The Vickie vs. Stephanie stuff on the go home show for a PPV ate up time that could have been better spent building to Sunday's show. They waited until tonight to set the Diva's Title bout and the loser's bracket MITB ladder match. Again, that match may kick ass, but the booking of almost everyone in the match has been poor and I have no reason to care about the guys. Much of the writing felt lazy, repeating the same series of matches from a few weeks ago to try and build the tag match as well as repeating the Smackdown main event. The filler is still there, instead of Bo Dallas wrestling tonight, why not have Kofi face and defeat Titus to get him some momentum. Have Swagger beat Zack Ryder to get him some momentum. There are simple changes that could have been made to make the show build better to the PPV and to also flow better. I know that the WWE doesn't have to focus as much on "selling" a PPV like they used too, but there is no reason to write uninspired TV leading into the PPV.

At the end of the day this felt like an average show, but in my opinion, you need to do better than that while trying to get people excited to watch or buy he PPV on Sunday. I am sure that others enjoyed the show more than I did, which is cool, but WWE needed to do better as far as the big build for Sunday goes and this just fell flat for me.

Show Rating: 6.0

As a reminder, I will be going by the 411 scale…

0 - 0.9: Torture
1 - 1.9: Extremely Horrendous
2 - 2.9: Very Bad
3 - 3.9: Bad
4 - 4.9: Poor
5 - 5.9: Not So Good
6 - 6.9: Average
7 - 7.9: Good
8 - 8.9:Very Good
9 - 9.9: Amazing
10: Virtually Perfect

The final rating is not simply an average of the rated segments above. The rating takes them into account as well as the segments that are small but not scored, the flow of the show, the overall booking, build to PPV, crowd reactions, and so on and so forth..
Have you checked out the Csonka Podcasting Network? If you haven't, you should We run anywhere from 15-20 shows a month, discussing pro wrestling, the world of MMA, the NBA, general sports, popular TV series of the past, bad movies, battle rap, interviews, MMA & Wrestling conference calls and more! Around 10 different personalities take part in the various shows, which all have a different feel; so you'll likely find something you like. All of the broadcasts are free, so go ahead and give a show a try and share the link with your friends on the Twitter Machine and other social media outlets! Running since May of 2011, there are currently over 500 shows in the archive for you to listen to.



Larry Csonka is a Pisces and enjoys rolling at jiu jitsu class with Hotty McBrownbelt, cooking, long walks on the beach, Slingo and the occasional trip to Jack in the Box. He is married to a soulless ginger and has two beautiful daughters who are thankfully not soulless gingers; and is legally allowed to marry people in 35 states. He has been a wrestling fan since 1982 and has been writing for 411 since May 24th, 2004; contributing over 3,000 columns, TV reports and video reviews to the site.

Your heart is free. Have the courage to follow it…TO CSONKA'S TWITTER!

http://www.twitter.com/411wrestling
http://www.twitter.com/411moviestv
http://www.twitter.com/411music
http://www.twitter.com/411games
http://www.twitter.com/411mma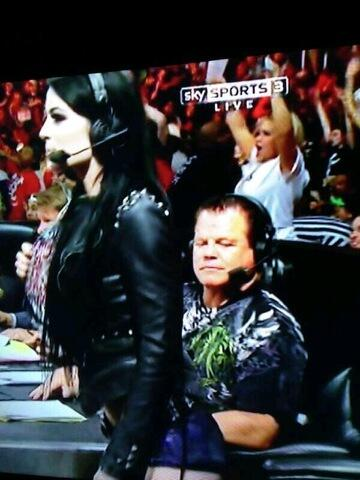 comments powered by