SPOTLIGHTS
411ís WWE Main Event Report 6.24.14
Posted by Alex Crowder on 06.24.2014

Dolph Ziggler, Rob Van Dam and Kofi Kingston teamed up to face Bad News Barrett, Seth Rollins and Jack Swagger and more! Check out 411ís WWE Main Event Report for all the details!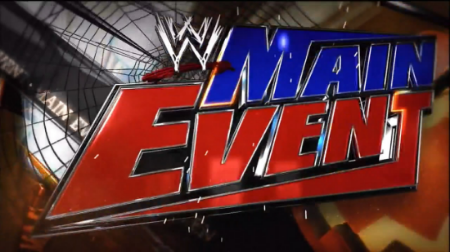 WWE MAIN EVENT 6.24.14



They start us off by announcing that Roman Reigns will be interviewed later tonight.

Dolph Ziggler is approaching the top of a ladder with his music playing. He says climbing this ladder and reaching the prize is a symbol of making it. It means that you've gone forward to the top, because your life changes in an instant. Two years ago this was Ziggler. He climbed this ladder and grabbed the contract. Dolph says it was the greatest moment of his career. The crowd gives Dolph applause. Most importantly, by claiming this prize he started a path to cashing in the Money in the Bank. He became our World Heavyweight Champion by doing so. Loud Let's Go Ziggler chants erupt throughout the arena. This is exactly what Dolph is talking about. The greatest moment was only great because of us. Somehow, someway lightning is going to strike twice. This Sunday Dolph says he'll climb the ladder one more time. This Sunday is about taking what is his and not stealing the show.

Rob Van Dam interrupts the proceedings to start a 6 man tag.



Dolph Ziggler, Rob Van Dam, and Kofi Kingston vs. Jack Swagger, Bad News Barrett, and Seth Rollins


Jack locks up with Kofi and grabs a go behind. Kofi counters but Jack counters the counter sending him to a corner. Jack pounds him down until Kofi regains momentum with a monkey flip. He kicks the face leading to a Ziggler tag. Ziggler connects with a running elbow drop. 1..2..kickout. Dolph hits a high elevation dropkick for 1. Barrett is tagged in by Swagger and hits a snap suplex for a 1 count. Rob is tagged in and clotheslines Barrett down. The leg kicks and a spin kick lead to Rolling Thunder. 1..2..kickout. The match continues at a lightning pace and Rob decides to hit the remaining heels from the apron. The distraction leads to Barrett pushing him off the turnbuckle.

-commercial break

We return with Seth pounding on Rob. You sold out chants as Rollins hits Three Amigos. 1..kickout. Seth wrenches Rob's arm and pulls him to a corner. Swagger comes in with a tag hitting a belly-to-belly suplex. The We The People before hitting a Swagger bomb. 1..2..kickout. The crowd gets behind Rob Van Dam. Jack wrenches on a chinlock before Rob counters. Rob tries to make a tag but is carried to the opposite corner and slammed. Barrett is in and hits a neckbreaker. 1..2..kickout. Barrett stomps Rob into the corner. Barrett grabs some kind of Muay Thai clinch in the ropes hitting some knees. He follows it up with a Big Boot. 1..2..kickout. Jack is tagged back into the match. Swagger grabs the front face lock but Rob fights out pushing towards his corner. Jack goes to send his head into a post. Rob counters with a springboard thrust kick. Both make tags leading to Kofi chopping Seth down. Kofi hits the boom drop. Kofi tries to get the crowd into it and misses Trouble in Paradise. Seth's corner complete shot is reversed leading to SOS. The pinfall is broken up. Seth takes advantage but is caught with a hurricanrana. 1..2..kickout. Rollins reverses hitting the Curb Stomp. His nose is busted open.

OFFICIAL RESULT Seth Rollins, Bad News Barrett, and Jack Swagger: @ 10:00 via pin
MATCH THOUGHTS: The match was good fast paced action. They packed a lot into ten minutes which is perfect. My only complaint is the post-match. I know this show isn't the most popular, but Kofi and company already look weak. Why make them look weaker with a post match beat down when they already lost. Either way, it was a great start to the show.

After the match Jack Swagger attacks the losers locking in the Patriot Lock on Dolph. Barrett attacks Rob Van Dam with a ladder. Dolph escapes only for Barrett to hit him with a ladder. Barrett knocks Swagger to another land with the Bull Hammer. His music hits as he points to the ceiling.

They recap the Summer Rae love saga from Smackdown. Fandango gives Layla a flower. Fandango says the typical clichés to try to woo Layla and the crowd boos. Layla and Fandango start making out.

-commercial break

Daniel Bryan will be headlining the preshow for Money in the Bank.

They recap the Stephanie McMahon and Vickie Guerrero feud from Raw. I do like the touch with them adding Eddie Guerrero's music to the highlights and that is all the good I can say. The less said about this the better.

I guess Layla forgives Fandango already. She accompanies him to the ring on his entrance.



Fandango with Layla vs. Bo Dallas


They're still dancing as we return. The inspirational savior Bo Dallas enters the ring. They note that Bo Dallas is now 9-0. Summer Rae comes out to make out with Fandango. Layla attacks her from behind as they start rolling over each other. They continue brawling as Fandango looks on. The referees try separating them to no avail. Bo Dallas hits the running Bo-Dog. 1..2..3.

OFFICIAL RESULT: Bo Dallas @ 2:00 via pin
MATCH THOUGHTS: I'm fine with a short win for Bo Dallas because he is the rising star. I only wish they got a minute or two to show their stuff; nevertheless, the women brawl was the entire match. All Bo did was hit his finisher and get the victory.

Bo Dallas takes a victory lap. Fandango seems very annoyed by this. Bo Dallas is now 10-0. Bo Dallas gets a mic. Women, he says laughing. Bo calls them mysterious creatures. They'll figure it out if they just bo-lieve. Don't stop bo-lieving he says.

-commercial break

The dreaded did you know thing seems to be back. Total Divas is highlighted in this one.

R-Truth raps nearly his entire entrance song with Xavier Woods dancing along.

R-Truth tells Pittsburgh to make some noises. They trade whats ups. Rybaxel makes their way to the ring.



R-Truth and Xavier Woods vs. Rybaxel(Ryback and Curtis Axel)


Ryback is going to start the match off. R-Truth is backed into the corner. The announcers mention the Steiner Brothers for some reason! I don't mind just a rare reference. Xavier tags himself in as Truth escapes Ryback. Dropkicks and chops galore for Ryback. Ryback can't seem to catch either of his opponents. Xavier Woods hits some kicks but is caught with a slingshot. Nice catch into a spinning powerslam for Ryback. Ryback continues the onslaught with a vertical suplex. Ryback says who rules while Curtis Axel says shut up. Curtis tags in and hits the snapmare. A neck snap follows that along with a running knee. 1..2..kickout. Curtis pulls the hair of Xavier and knees his head. R-Truth tries to wake up the crowd. Curtis keeps a chinlock locked on. Ryback is tagged back in. Ryback kicks Xavier into the mat. Ryback powers him into a corner for chops. Ryback whips Xavier into a corner and pins him. R-Truth distracted the referee. That spot seemed odd with the referee distracted for a face team. Plus, Xavier kicked out at one; nonetheless, Ryback keeps Xavier grounded in a chinlock. Xavier tries to fight back and make a tag. Curtis cuts him off. Xavier still makes the tag. R-Truth is on fire hitting the Shotgun Stunner. 1..2..kickout. R-Truth keeps momentum with a corner splash and DDT. 1..2..pinfall is broken up. Xavier is thrown out by Ryback. Corkscrew kick for R-Truth connects on Ryback. Curtis Axel hits the twisting neckbreaker. 1..2..3.

OFFICIAL RESULT: Rybaxel @ 6:00 via pinfall
MATCH THOUGHTS: This match was what one would expect. The only real highlight is that R-Truth pulled out the Shotgun Stunner. This match was the usual mediocre affair. The match didn't get enough time to become anything more.

Ryback has a mic and says shut up. Ryback says Goldust and Stardust; you caught the big man and ax man off guard. The biggest fluke of all flukes was their victory. Ryback calls them painted up hermaphrodites and tells them to accept a challenge at Money in the Bank. Curtis Axel says Stardust, Goldust, who cares. They'll be dust in the wind.

-commercial break

Bray Wyatt will face Sheamus on Smackdown.

Renee Young welcomes Roman Reigns to the ring for an interview. Reigns marches through the crowd to climb over the barricade.

They recap Kane's addition to Money in the Bank.

Roman looks on unimpressed. Renee says the table is set. She explains the premise of the match. Roman Reigns says he is a wanted man and has a huge bull eye on his chest. This feels like a trap. He tells Renee to take off her high heels, so she can run if something goes down. Reigns says he still runs the yard, and that he will take his place at the head of the table. Believe that. Renee says Reigns overlooked Randy Orton. Reigns calls him a spoiled pampered brat. Everyone watches Randy Orton's back but Reigns is not here to wipe his ass. No, Reigns will kick it. Renee asks about Kane's inclusion. Reigns says everyone is scared of him. Reigns says does he look like everybody. Reigns will asses and attack the other participants.

Triple H interrupts and says that is awesome. Triple H says he knows a man that knows nothing. This Friday Reigns will be facing Kane. Triple H says Reigns should get to know Kane now. Renee leaves the ring as Reigns advised. Kane makes his way to the ring.

Kane steps over the rope and starts striking Roman. They trade strikes and Kane goes for a chokeslam that Reigns escapes. Roman clotheslines him over the top rope. Kane continues to stand and does his taunt.

FINAL THOUGHTS: The final segment was good. Roman Reigns actually impressed me a lot with his mic work. All the matches were mediocre except the opening match. Kane didn't look too weak in the final segment either. I would say it was more of a subpar show unlike last week. Thanks to any who read the report.

comments powered by