SPOTLIGHTS
411ís WWE Main Event Report 7.1.14
Posted by Alex Crowder on 07.01.2014

Rob Van Dam, Dolph Ziggler, and Big E matched up against Rybaxel and Cesaro. The Wyatt family was in action and more! Check out 411ís WWE Main Event Report for all the details!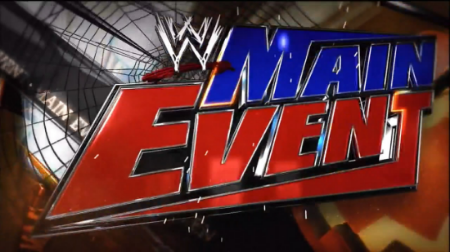 WWE MAIN EVENT 7.1.14



Heyman starts the show off with Cesaro wearing an eye patch. His reputation delivers promises and he told his client that he was a conqueror who over delivered on his promise when Lesnar broke Undertaker's undefeated streak at Wrestlemania. Heyman knows we were promised a match between that perennial runner-up Dolph Ziggler and the winner of the Andre the Giant Battle Royal. Unfortunately, Cesaro is injured and cannot compete. Kofi Kingston caused an injury to Cesaro purposely. They show a reply of Kofi beating Cesaro from Raw during the WWE App.

Cesaro took things into his own hands. This footage is graphic according to Heyman. They show a reply of Cesaro attacking Kofi from Raw. The announcers put over how badly Cesaro destroyed Kofi. Heyman is very unimpressed with our scorn. The network freezes at this point.
Dolph interrupts after I reload the network which freezes again. I reload and Dolph hates to agree with Heyman but some people remember when Dolph won Money in the Bank. Some people might remember when he cashed it in and became World Heavyweight Champion. Dolph says maybe people remember when the hardest working man in sports entertainment won the IC title. When did Cesaro accomplish anything? Dolph says he can add it all up and it equals 0. Dolph says Cesaro is a bad James bond villain before Big E interrupts.

Big E commends both for their intensity, vigor, and passion. He's also a former IC champion and gets booed. Even though he has strayed from the path of righteousness, and he has a chance to overcome all the hurdles and obstacles in his way. Big E stops talking as Rybaxel's music hits.

Ryback says listen up cornballs, it doesn't matter who or where. Curtis says when the Ax-man and the Big Guy enter themselves into the battle royal . . . they will not be stopped.

RVD comes to the ring and announces his intentions. RVD says we all have our accomplishments. Dolph, bro you got your accomplishments. Big E, you have your accomplishments. RVD doesn't know what Rybaxel has accomplished except copying his ring gear. The crowd laughs and chants ECW. RVD says only one of us is good enough to be RVD. Everyone starts brawling leading to Rybaxel getting tossed. Dolph, Big E, and RVD taunt Rybaxel.

Luke Harper says New Jersey we're coming as Rowan growls. The Wyatt Family is in action next.

-commercial break

We return and they announce a 6 man tag between the IC Battle Royal participants. After that, Jericho's return from Raw is highlighted. Chris Jericho will return this Friday on Smackdown.



The Wyatt Family(Luke Harper and Erick Rowan) vs. Xavier Woods and R-Truth


Xaiver and R-Truth get jobber treatment with no entrance. Luke starts things off with Xavier who ducks under hitting a dropkick. An Irish whip leads to a tag allowing R-Truth to connect with a corkscrew dropkick. Luke quickly regains momentum with a running big boot following by a chop. Rowan is tagged into the action hitting a body slam. Rowan rakes the face of R-Truth who slowly fights to a vertical base. Truth hits a kick to the face before tagging in Xavier Woods. Xavier hits a dropkick and flying forearms. Rowan keeps getting beat on and jumps behind Rowan hitting a hot shot. Woods continues momentum with a sick tornado DDT that almost got reversed. 1..2..kickout. Rowan strikes back and hits a spinning back kick!! Luke follows suit hitting Truth with a superkick. Rowan grabs Xaiver and is hit with a variation of the Ura-Nage. 1..2..3.

OFFICIAL RESULT The Wyatt Family: @ 4:00 via pin
MATCH THOUGHTS: This match was exactly what it needed to be with a quick victory. Rowan pulled off the impressive spinning back kick which blew my mind as well. Good work all around and a perfect opener.

-commercial break

They show Paige losing the Divas Championship from Raw; hopefully, it leads to a heel Paige versus a face AJ in an extended match.

Stephanie obnoxiously greets us before the match. She says Brie abandoned her and Stephanie sees that handicap match as unfair. She has been assigned a new tag team partner who happens to be the crazy Alicia Fox.



Funkdactyls(Naomi and Cameron) vs. Nikki Bella and Alicia Fox


Naomi and Nikki circle each other leading to a hiptoss from Naomi. Nikki connects with a dropkick. Cameron helps Naomi by pulling Nikki to the ground. Cameron tags herself in and pushes Nikki into the mat. Alicia calls for Nikki desperately. Cameron grabs Nikki in a reverse backslide submission. Nikki goes for the tag but Alicia moves her hand and kicks Nikki in the face. Cameron gets the pin and celebrates without her partner. Alicia looks all concerned with Nikki Bella. Naomi seems to ignore Cameron while walking up the ramp.

OFFICIAL RESULT: Funkdactyls @ 3:00 via pin
MATCH THOUGHTS: This match was short and all story. Honestly, it would have been better if they got double the time; nonetheless, not that bad of a match. All four ladies did decent work in this match.

Renee wants to know why Sheamus issued a challenge on Smackdown. Sheamus says that 4th of July is about opportunity. Sheamus is the hardest working champion and it is the birth of the country he loves. Anyone can accept the challenge as Del Rio intervenes. Alberto will not only win the IC title but the United States Championship this Friday on Smackdown.

-commercial break

The Raw rebound is shown along with highlights from the Money in the Bank matches.

Renee is with Heyman who says that she is implying that Cesaro is scared. All the champions would rather forfeit then fight. Yes, yes, yes . . . Heyman says. He has some bad news for you, Cesaro fights instead of forfeiting. Cesaro's victory speech for the IC championship will be in 5 different languages.

The 6-man tag is next as we hit a commercial break



Dolph Ziggler, RVD, and Big E vs. Rybaxel (Ryback and Curtis Axel) and Cesaro with Paul Heyman


Ryback pounds Big E into a corner. Goldberg chants erupts immediately. Big E reverses a whip and both run the ropes leading to a Big E shoulder block. Both men headbutt each other and Ryback is caught in a belly-to-belly suplex. Curtis Axel is tagged in but Big E throws him in before he enters. Big E wrenches Curtis's arm and elbows it. Cesaro refuses Axel's tag. Axel forces him in with a blind tag. Big E tags in Dolph who pounds on Cesaro. Quickly, Cesaro reverses the momentum and attacks the eye of Cesaro. Cesaro tags Curtis back in who accepts for some reason. Dolph pulls Axel into a corner tagging in Rob Van Dam. The crowd chants for RVD as he kicks Axel into the ground. Rolling thunder connects for RVD along with a beautiful dropkick from Dolph. All three of the faces stand tall as the heels retreat.

-commercial break

We return from the commercial with RVD still kicking away at Curtis Axel. RVD hits a spin kick and follows it up with a bridge. 1..2..kickout. Axel tags in Ryback who clobbers RVD into the ground. Ryback runs into a RVD dropkick. RVD sends him into a corner hitting punches and a kick. Ryback uses that to take advantage hitting a turnbuckle stungun. RVD chants continue. Ryback tags in Cesaro. Cesaro lifts RVD dropping him with a body slam. 1..2..kickout. Heyman demands that Cesaro stay on him and protect the eye. Cesaro catches RVD in a sleeper hold. Goldberg chants continue even though Ryback isn't in the ring. RVD chants return and Cesaro throws RVD into the opposite corner. Axel pounds on him and tags Ryback in. They both hit corner splashes. Ryback hits a stalling vertical suplex 1..2..kickout. Cesaro is tagged back into the match-up. Cesaro whips RVD and kicks Dolph from the apron. RVD almost makes a tag after a thrust kick until being dragged to the opposite corner. Curtis Axel is tagged back into the match and hits a great dropkick. He taunts the crowd and his opponents before tagging Ryback into the match. Ryback grabs a front face-lock. Ryback sends him down with a body slam. Ryback goes up to the top turnbuckle and misses a body splash. RVD smartly moves out of the way making a tag. Ziggler is tagged in and on fire. He immediately sends Cesaro down and hits a neckbreaker. He goes for a fame asser but is caught only to escape that and connect with one. 1..2..kickout. Cesaro misses a clothesline as Dolph ducks hitting a jumping DDT. 1..2..kickout. Curtis Axel breaks it up and is clotheslined out. Big E is sent out by RVD's spin kick. Cesaro pushes RVD from the turnbuckle leading to a Zig Zag on Cesaro. 1..2..3.
-8:41

OFFICIAL RESULT: Dolph Ziggler, RVD, and Big E @ 11:00 via pinfall
MATCH THOUGHTS: This was the best match of the night. The heat segment worked to perfection leading to a hot ending. RVD was super over and Dolph continues to surprisingly win more. The main event was a great effort from all 6 men.

FINAL THOUGHTS: The opening promos were all pretty good especially RVD's. The crowd was way into RVD when he spoke. Big E needs to stop with the preacher talking bit during his promos. The rest cut about what you expect but Dolph showed good fire as usual. Perfect opening segment really, and that was followed by a nice little Wyatts squash. The divas match was far too short to accomplish much. The Sheamus interview promoted Smackdown well and the following interviews were good. Everything ended on a really good main event. This ended up being a good show unlike last week. Thanks to any who read the recap.

comments powered by