SPOTLIGHTS
Tremendous Tirades 7.07.14: WWE Monday Night Raw
Posted by Larry Csonka on 07.07.2014

Cena and Reigns, there's tension there…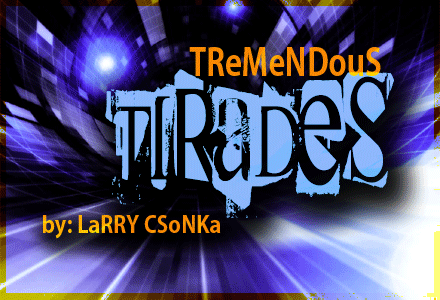 Introduction
As a reminder, this will not be another traditional recap, but instead it will be a mash up of the Rs, Instant Analysis and my usual Twitter ramblings I would do during the shows; completely uncensored and as the ideas flow unfiltered to the old keyboard. Remember, this is a review; and I am here to review the show. As always, I encourage discussion and even disagreement, just do so in a respectful manner. I will be doing the review for Raw and most PPVs and iPPVs going forward.


Thanks for everything Santino, and be well.
WWE MONDAY NIGHT RAW 7.07.14
Highlights from last week's show.

The Roman Reigns Promo Power Hour: Roman Reigns was sent out for what I believe is his first major solo promo. He did fine, discussing winning the title and the fact that he could take out Cena, Orton and Kane. It was solid work, and at times the crowd was very responsive. Reigns has a lot to do if they want him to be the "face of the company" but he is far from bad. Kane appeared, and that led to a brawl. The crowd did not care at all about Kane, who Reigns referred to as a bitch. Referees and the parade of former wrestlers, now agents, appeared. Finlay ate a spear for his efforts, and Reigns landed the Superman punch to Kane. It was a fine opening segment, but not exactly the most exciting thing in the world.
Match/Segment Rating: 6.5

Non-Title Match: Luke Harper and Erick Rowan defeated The Usos ©: They really need to pull the trigger on a title change if that is what they are going to do, because this is feeling quite repetitive at this point. The tag team division that seemed so alive last year has greatly declined. The only feud more repetitive than this is the Rhodes Brothers vs. Ryback and Axel. Don't get me wrong, these guys have developed a good chemistry and have good matches, but it is getting to the point that each match seems to mean less and less. And I say this as a fan of both teams. They had another good match, but I wasn't into the match as much as usual, due to the repetition I discussed earlier. They desperately need another team in the mix sooner rather than later. Maybe the reinvented Rhodes boys will be that team.
Match/Segment Rating: 7.5


Randy Orton kissed Kane's ass, hoping he would have his back at Battleground. Kane only promised that the title would come home to the Authority. Rollins appeared, and promised to think twice before cashing in if one of them one. Orton hates Rollins, Kane hates Orton, these kids just can't get along.

Alicia Fox vs. Nikki Bella was a no contest: This match was announced as "ordered by the Authority. Both ladies were to have one arm tied behind their back. This was the old gimmick where the face gets their hand tied behind their back, and the heel refused to get tied up and attacks. Fox beat down Nikki, the live crowd hated it, and then she sprayed soda and or Red Bull all over Nikki. I get that this is all part of the angle to torture Nikki, bringing Brie back, leading to a match with Stephanie. I get that, but this came off poorly and killed the crowd, which was pretty hot thus far. No real heat, the beat down was lame and did nothing to make you feel sorry for Nikki.
Match/Segment Rating: 4.0

Rusev w/Lana defeated RVD: Lana tried to talk shit on Canada, but RVD cut her off. Well this just got interesting. Zeb Colter issued a challenge in a mini-box interview for Swagger vs. Rusev at Battleground. I guess Swagger's still not allowed in Canada. RVD still gets a great crowd reaction, which is good and allows fans to get emotionally invested in the match. RVD got some stuff in, lots of kicks, but this was a dominating showing by Rusev. Rusev needs victories like this, and now that we have the PPV bout set, this segment was not only good but also effective. You have to build stars, and to do that eventually they have to go over name talent. RVD isn't doing anything of note, so this made sense.
Match/Segment Rating: 7.1

Randy Orton defeated Dean Ambrose: I really liked that Ambrose is still selling the shoulder, and that Orton went after it and ripped off the wrapping. Overall they had a good outing and got some time to work with, which was nice. There was an odd spot towards the end, where Ambrose went up top and jumped off and well, did nothing. That was just an odd miscommunication there. They brawled to the floor, Ambrose threw chairs around, but Orton posted him. Ambrose made it back in and had some hope spots, but then lost clean to the RKO. Ambrose continues to look good, and in terms of where they are being booked Orton needed to win. But Ambrose needs to start putting some wins together; his win/loss over the last month or so in singles matches is something like 1-3. While some were due to Rollins interfering, he needs to start gaining some momentum. Thankfully his character work is really good, which will buy him some time.
Match/Segment Rating: 7.3


John Cena cut a promo, discussing being the champion. Reigns appeared to wish him luck, and Cena said he didn't need it.


Fandango appeared on commentary, and announced he is in the IC Title battle royal at Battleground.

Alberto Del Rio defeated Dolph Ziggler: These two had a fun match, and work well together. They should because they have worked together enough. They hyped that both men were involved in the IC Title battle royal at Battleground. Fandango, who was on commentary, got on the announce table and danced to his music. This allowed Del Rio to score the win when Ziggler was distracted, and gave Fandango some revenge for last week when Dolph made out with Summer. They also set up a match for Main Event here, so good work all around here, no complaints.
Match/Segment Rating: 7.2


Del Rio will face Sheamus on Main Event in a US Title match.


Stardust cut a promo on Goldust's wig. Wackiness ensued.


Fandango and Layla met backstage, and she wanted to know if Fandango was jealous that Summer kissed Dolph. Fandango stated that he was only out for revenge because he got embarrassed. Summer was posing in the distance, distracting Fandango.

Bret Hart Appears: Jerry Lawler discussed his heart attack the last time he was in this building. His heart attack put a damper on the Bret Hart/Pat Patterson appreciation night. He then brought out Bret Hart. He stated that if he could have one more match it would be in Montreal. But as he cut his promo, Damien "The Hitman" Sandow appeared. Sandow mocked Hart, tapping to "his idol" Shawn Michaels and resorting to the fake screw job to save face. As Sandow said that talking was never Hart's strong point, the segment ended with Hart punching Sandow and sending him to the floor. Hart added, "punching was" to cap it off. The live crowd likely loved this more than I did (and that's what it was here for); I thought it was good and entertaining enough overall.
Match/Segment Rating: 7.0


Sheamus came out for his match, and gave Hart a hug.

Non-Title Match: Sheamus © defeated Damien Sandow: The match started during the commercial, on the App. Sandow did some of Bret's trademark stuff, but Sheamus powered out of the sharpshooter and beat his ass and finished him with the Brogue kick. Not much of a match, but Sheamus continues his momentum as he heads into a title match tomorrow night on Main Event. It was a Raw match.
Match/Segment Rating: 6.5


Renee Young tried to interview the Miz, but Miz read "a letter from a fan" demanding that he take out Jericho for what he did last week. He plans to win for "little Johnny Russo".


The Highlight Reel returns on Main Event tomorrow, featuring Chris Jericho interviewing Bret Hart.

Chris Jericho defeated The Miz: I appreciate the fact that they are trying something new with Miz upon return, but I still feel he comes off as diet, caffeine free, ultra-lite Hollywood Rock. But he's trying, and does a good job playing up the "don't hit me in the face" shtick. They had a good back and forth match, and Jericho won, which he should have. People always discuss Jericho coming back and such, but I really think that people miss the fact that the dude is so damn good and never appears to miss a beat when he does return. So much credit to him for that, he's a great pro wrestler. This led to a Bray Wyatt appearance and promo. Wyatt gave a maniacal promo about his actions speaking louder than words, and the fact that Jericho can't "save us" because he can't save himself. Jericho cut him off and went to kick Wyatt's ass, but Harper and Rowan appeared at Wyatt's side. Jericho then thought better of the situation, and the segment ended. I loved how they kept the lights down to add atmosphere, with the way Wyatt talks and the cell phone lights, it creates a unique environment, which I appreciate. Add in the fact that they did not rush into another physical altercation, but opted to simply strengthened Jericho with a win and tell the story with a strong promo from Bray and I like where this is heading. It's simple and effective.
Match/Segment Rating: 8.0

Paige and AJ Lee defeated Cameron and Naomi: Strange, I thought that The Funkadacytls were done last week. Guess not. Paige played overly nice and announced AJ to the ring. The Authority apparently made this match, even though they are busy on vacation. The story early was that Cameron wouldn't tag in because she was yawning or putting on lip-gloss, while Paige was happy to tag in AJ and cheer for her. Cameron would tag herself in, immediately take the Paige Turner and get pinned. Paige and AJ continued to get along, but The Funkadacytls argued post match, and then had a hair pulling catfight. Well, The Funkadacytls break up is a thing. I like the Paige/AJ dynamic, because in theory it leads to Paige snapping and going psycho bitch on AJ. This was solid work as they try to create multiple feuds and angles in the divas division and I appreciate that effort, but the "break up brawl" was weak as hell.
Match/Segment Rating: 6.0

Kofi Kingston defeated Cesaro: Heyman cut a promo prior to the match, Cesaro cut him off and buried the French Canadians for not speaking real French, and the fact that both the French and Canada hate them. Following last week's post match beat down; Kofi came out like a house of fire, looking for revenge on Cesaro. I appreciate the little things. The match only lasted a few minutes, and Kofi scored the win again with a roll up out of nowhere. Then as Cesaro looked to beat down Kofi, Big E made the save. So they are giving Kofi some momentum finally, which isn't a bad thing. This feels like the booking WWE does when someone is winning a big match. They have them lose to pay for the big win, and for the fact that they will have wins in feuds with those that the guy lost to on the way to the big win. This had the good promo and solid in ring stuff, it was fine.
Match/Segment Rating: 6.5


Rollins met with Cena and threatened to cash in the contract. Cena put over Rollins as being good, but full of shit.


Roman Reigns vs. Rusev will main event Smackdown on Friday.

Bo Dallas defeated Torito: Bo and Torito had an altercation on Smackdown last week, so Torito challenged Bo to a match. They did some comedy, Bo got pissed and tossed down the one Matadore at ringside and then hit the Bo-Dog for the win. While Bo did his victory lap, he ran Torito over. I generally like Dallas, but this did nothing for me and felt like filler. Dallas continues to play his role well though, which is always a good thing.
Match/Segment Rating: 5.5

Non-Title Match: John Cena © vs. Seth Rollins was a no contest: To me, Cena always seems extra motivated when facing a fresh opponent (as far as singles goes). Rollins worked hard, and I also felt as if they gave him a lot to ensure that he looked like a main event level player and a real threat. This was good, but not great as it felt as if they were holding back because it was a TV match that wasn't going to have a finish. Kane caused the distraction, allowing Orton to attack from behind. The Authority's boys beat down Cena, and Rollins tried to cash in. Reigns came out to make the save, and took out Orton and Kane. Rollins laid him out with the briefcase and also laid out Cena. He tried to cash in, but Ambrose made good on his promise to screw him over and stop him. Just a thought, shouldn't Ambrose allow the match to start and THEN properly fuck Rollins by attacking and causing a DQ. Because then if he does it that way, Rollins loses the briefcase on top of not winning the match. Just a though, talk among yourselves. The show ended with Reigns clearing Orton and Kane, and then raising Cena's arm while smiling at him. Cena returned the favor, and then they had a stare down. This was a good, not great combo platter. Good match, good stuff to hype the Rollins vs. Ambrose feud as well as the title match. This was certainly a good way to end things.
Match/Segment Rating: 7.8


End scene.


Thanks for reading.


The Tirade


While not as good as last week's show, I felt that overall this was a good follow up. They continue to build well towards the Battleground PPV, the main players all seem to be in the right position and I again felt that the overall flow of the show was better than it had been prior to last week. While not a great show, there wasn't a ton of bad to complain about. Things can be better (like that Nikki vs. Fox stuff), but again, as a follow up to last week, I felt that they did a good job overall tonight. Most importantly, I felt that the show didn't have that drag factor that many of the three-hour Raw shows do.

Show Rating: 7.0

As a reminder, I will be going by the 411 scale…

0 - 0.9: Torture
1 - 1.9: Extremely Horrendous
2 - 2.9: Very Bad
3 - 3.9: Bad
4 - 4.9: Poor
5 - 5.9: Not So Good
6 - 6.9: Average
7 - 7.9: Good
8 - 8.9:Very Good
9 - 9.9: Amazing
10: Virtually Perfect

The final rating is not simply an average of the rated segments above. The rating takes them into account as well as the segments that are small but not scored, the flow of the show, the overall booking, build to PPV, crowd reactions, and so on and so forth..
Have you checked out the Csonka Podcasting Network? If you haven't, you should We run anywhere from 15-20 shows a month, discussing pro wrestling, the world of MMA, the NBA, general sports, popular TV series of the past, bad movies, battle rap, interviews, MMA & Wrestling conference calls and more! Around 10 different personalities take part in the various shows, which all have a different feel; so you'll likely find something you like. All of the broadcasts are free, so go ahead and give a show a try and share the link with your friends on the Twitter Machine and other social media outlets! Running since May of 2011, there are currently over 500 shows in the archive for you to listen to.



Larry Csonka is a Pisces and enjoys rolling at jiu jitsu class with Hotty McBrownbelt, cooking, long walks on the beach, Slingo and the occasional trip to Jack in the Box. He is married to a soulless ginger and has two beautiful daughters who are thankfully not soulless gingers; and is legally allowed to marry people in 35 states. He has been a wrestling fan since 1982 and has been writing for 411 since May 24th, 2004; contributing over 3,000 columns, TV reports and video reviews to the site.


Your heart is free. Have the courage to follow it…TO CSONKA'S TWITTER!

http://www.twitter.com/411wrestling
http://www.twitter.com/411moviestv
http://www.twitter.com/411music
http://www.twitter.com/411games
http://www.twitter.com/411mma


comments powered by