SPOTLIGHTS
411ís WWE Main Event Report 7.8.14
Posted by Alex Crowder on 07.08.2014

Chris Jericho welcomed Bret Hart to the highlight reel! Sheamus defended the US championship in a Last Man Standing match and more! Check out 411ís WWE Main Event Report for all the details!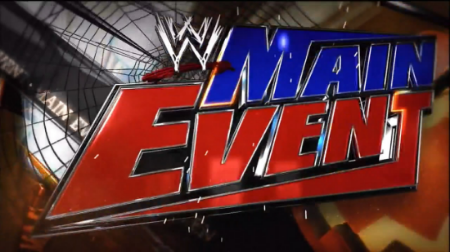 WWE MAIN EVENT 7.8.14



Sheamus plays to the crowd to start the show. He says any night that starts with a fight is a great night for him. He says the luck of Irish is unnecessary because he has a lucky boot. After a successful defense tonight Sheamus will merge the US and IC championship together like Edge.

Del Rio interrupts and speaks Spanish. Sheamus says he doesn't understand Spanish but does know they are fighting words. Anything goes including Sheamus smashing Del Rio's face and smashing it in until it is good looking. Del Rio tells him he has had enough. Sheamus says enough and come on down. Del Rio says it will be a pleasure, fella. The Network keeps freezing and repeating but seems to have stopped now. The quality keeps fading in and out. The network freezes again and they restart the introductions that I already saw.



United States Championship Last Man Standing Match: Alberto Del Rio vs. Sheamus(c)


Sheamus and Del Rio start pounding each other immediately and end up outside of the ring. Sheamus grabs Del Rio's head and throws him into the barricade. We want tables chant erupts throughout the arena. Del Rio finally regains the advantage by sending Sheamus into a post. Del Rio continues by pushing him into the barricade. Sheamus fights out and bangs his head against the announce table. Sheamus goes to the well again, but Del Rio counters. Stiff kick connects for Del Rio. Sheamus rips off the table cover and throws it at Del Rio in an innovative move. Del Rio keeps fighting back and is caught by Sheamus. Sheamus hits the rolling fireman's carry on the floor. Del Rio gets up by 3 and blasts Sheamus with a kendo stick. Del Rio continues his assault and poses for the crowd.

-commercial break

We return with Sheamus rolling around in pain. Del Rio comes in as we see that he hit Sheamus from the top during the break. Del Rio continues the onslaught by doing the same again. Del Rio drops the kendo stick allowing Sheamus to grab it. Del Rio quickly dropkicks him in the face afterwards in a nice heel move. Del Rio goes up top again, but Sheamus blocks this time. Sheamus seems agitated by Del Rio now. Both men trade punches, before Sheamus regains the advantage with the knee trembler. Del Rio kicks Sheamus and follows it up by running right into an Irish Curse Backbreaker. Del Rio gets up at 7 only for Sheamus to grab the kendo stick. Del Rio gets on his knees and begs for Sheamus to stop. Sheamus doesn't care and tees off on him anyway. Sheamus hits him in the chest with it sending him down for the count. We want tables chant is heightened. Del Rio is up around 7 and Sheamus goes for White Noise. Del Rio counters into a DDT. Sheamus is slow to get up recovering at 4. Del Rio starts leg kicking Sheamus and misses between the ropes. That allows Sheamus to get twenty beats. Del Rio falls face-first into the announce table. Del Rio recovers at 8.

-another commercial break

Sheamus is in control as we return from the commercial. He goes outside and grabs a chair. Del Rio catches him with a kendo stick to the leg. Del Rio follows up kicking the chair in Sheamus' face. Sheamus gets up at 7 only to be sent back down to the ground. Del Rio sends a chair into the opposite corner. Del Rio has a pretty bad cut on his shoulder. Sheamus fights to a vertical base only to be met with the Kitchen Sink Knee attack. Del Rio goes for a chair shot, but Sheamus blocks with his hands. Del Rio drops the chair and gets caught in a power slam. Sheamus calls for the Brogue Kick and misses. Del Rio hits the backstabber in the corner. Sheamus doesn't recover until 7, and Del Rio misses a Superkick. Sheamus ducked the Superkick and followed it up with White Noise. Both men are down. Sheamus goes to the outside around the 8 count while Del Rio rests against the ropes. Sheamus finally gives the crowd what they want with a table. A few members of the crowd start a small TLC chant. Sheamus gets attacked by Del Rio. Del Rio kicks Sheamus in the head with a corner kick. Del Rio checks the table and leans against it(subtly moving it into place). Del Rio misses the cross armbreaker and Sheamus charges. Sheamus ends up eating the corner chair from earlier. Del Rio continues his assault catching Del Rio in the cross armbreaker. Sheamus lifts Del Rio who continues to apply the cross armbreaker and sends him through the table. Each man stays down but both recover at the count of 9. Brogue Kick connects the moment Del Rio gets up. 1..2..3..4..5..6..7..8..9..10

OFFICIAL RESULT Sheamus: @ 17:00 via count
MATCH THOUGHTS: They must really want to impress those with the free trail because this was a great match. No surprise here. These two have great chemistry and have faced each other virtually a million times. The match was great especially with the stipulation added. Great opener and not monotonous like other Sheamus/Del Rio matches.

They recap Jericho's return from two weeks ago. They announce that Bray Wyatt will face off with Chris Jericho at Battleground.

Renee welcomes Jericho for a backstage interview. Jericho puts over his return and how great it was. Wyatt was the big black spider that ruined his return. Jericho was reminded that the WWE is a dangerous place and Jericho will squash any big black spider that gets in his way. Jericho says tonight the WWE Network will never ever be the same again. That will be the main event tonight according to Jericho.

Raw Rebound is played and highlights the Seth Rollins and John Cena segments.

They show Brie Bella slapping Stephanie again.



Six Woman Handicap Match: Nikki Bella vs. Naomi, Natalya, Eva Marie, Summer Rae, Rose Mendes, and ???


Apparently, this is a six on one handicap match. Suddenly, visions of Uncensored 95 haunt me. Nikki Bella puts on her sad face while waiting for her opponents. Only five people came out because Cameron decided not to come out according to the announcers. Nikki and Rosa start things off. Rosa elbows Nikki in the face before hitting a corner splash. Summer Rae is tagged in and helps Rosa suplex Nikki. Summer grabs her in a front-face lock and tags in Eva. Eva hits a clothesline. 1..2..kickout. Summer tags back in as the two girls throw her into the corner. Summer continues her assault with a foot choke. Rosa pounds on Nikki as the referee is distracted. Summer keeps taunting Nikki who smacks her hard. Summer screams, but is caught with a clothesline and trip. Network froze again. Nikki lifts Summer but Rosa Mendes breaks it up. Summer is caught in an O'Connor Roll. Eva tags herself in hitting a surprisingly effective DDT(she didn't mess it up). 1..2..3. Eva Marie gets the victory for her team.

OFFICIAL RESULT: Naomi, Natalya, Summer Rae, Eva Marie, and Rosa Mendes @ 5:00 via pin
MATCH THOUGHTS: This was actually an effective handicap match. The heel girls worked together well and Nikki's friends tried to stay uninvolved. I must admit perfect story-telling and plus Eva didn't mess up any of her moves. Alright handicap match.

Cameron attacks Naomi and Natalya after the match. Naomi chases Cameron up the ramp.

-commercial break-

Chris Jericho makes his way to the ring. Jericho soaks in the adulation and gets the biggest pops of the night. Y2J chants start up immediately. Look at all the Jerichoholics here tonight. Jericho is excited to bring the highlight reel to Main Event and WWE Network for the very first time. The crowd chants Y2J even more. He is more excited to introduce his guest. This is one of the guys he watched as a kid and an idol of his. This is someone he is proud to call a friend. Chris Jericho says let me introduce you to The Excellence of Execution, and the best there was and will ever be...Bret Hart.

Bret Hart slaps hands with the fans before entering the ring. Jericho claps as he enters. Both men shake hands before Bret takes the mic. The crowd gives Bret a few good pops too. Jericho says welcome to the highlight reel. Bret says it is good to be back in the capital (???) for the first time in a long time. Bret also says it is a big deal to be on the Main Event for the first time. Bret remembers when Jericho first entered the dungeon. Apparently, they bet on a match between Georgia and him that Georgia stretched him with a rolling cradle. Chris Jericho says she was a tough chick for sure. I guess Georgia can take Goldberg then.

Jericho asks Bret's greatest rivals. Bret says Mr. Perfect, Owen Hart, Steve Austin (biggest pop), The Undertaker, and Shawn Michaels (to boos and a few cheers). Wow, Shawn Michael's music hits....but it isn't Michaels. Damien Shawndow makes his way to the ring.

You screwed Bret chants start as Shawndow grabs the mic. Jericho says he can't believe Shawn Michaels is here tonight. Jericho says he let himself go and he is ugly now. Jericho makes fun of his face and says he looks like a big ugly fish with a beard. Damien Shawndow wants to thank Jericho for having him. Shawndow says he made Jericho want to be a wrestler. Shawndow says he was Bret's son's favorite wrestler. Shawndow says people won't be talking about the Montreal screwjob anymore. When Shawndow gets through with them, they'll be talking about the Ottawa screwjob. He says he'll send Bret back to Ted Turner. Bret decks him and gets the Sharpshooter. Jericho demands that the ring keeper rings the bell. Shawndow taps to the Sharpshooter.


FINAL THOUGHTS: The opener what else can I say? Great match between two men who constantly face each other. The handicap match was effective if nothing else (it helped that Summer controlled a lot of the heel offense). The Jericho, Bret, Sandow segment was really fun. Honestly, one of the best episodes of Main Event yet. Only a few episodes were better.
comments powered by