SPOTLIGHTS
411's WWE Smackdown Report 7.11.14
Posted by Larry Csonka on 07.11.2014

Chris Jericho faced off with Randy Orton, Roman Reigns battled Rusev, Bo Dallas put his impressive undefeated streak on the line and more! Check out 411's full WWE Smackdown report for all the details!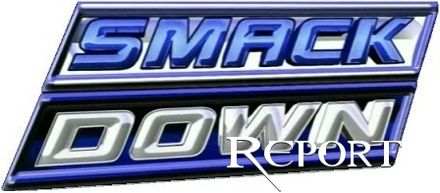 Welcome to 411's WWE Smackdown Report 7.11.14

Match times are not exact.


We get highlights from Monday's Raw.


Lana, along with Rusev, come out to begin the show. Lana compared Reigns to the impotent leaders of the US and Canada, noting that he was all style and no substance. She of course praised Vladimir Putin, and said that Rusev will crush Reigns. This brought out Reigns, who said that Lana would love to stare at him all night, but he is about business and will get to the point. He said that this was his ring and that Rusev can't crush him, nor beat him tonight telling him to think again. He then warned that if Rusev made one wrong move that he had a quick trigger and would knock him out. Lana told Reigns to be careful what he wishes for. Reigns says she doesn't know how he works, he assesses and attacks, so if they get a referee out here, he will put Rusev on his Putin kissing ass. Rusev got fired up, and a referee appeared. Lana refused to let the match happen on Reigns' terms, and then she and Rusev bailed.



AJ Lee will defend the Divas Title against Paige at Battleground.



Non-Title Match: AJ Lee © vs. Cameron


Cameron stalled as she was putting on lip-gloss, but then attacked AJ when she wasn't looking. Cameron mounts AJ and applies some lipstick to her, because she's caring. Cameron actually uses what looked like a cattle mutilation for a moment; AJ rolls and gets to her feet. She escapes and rolls up Cameron for 2. Cameron pie faces AJ, which only pissed her off and AJ slams her to the mat. To the corner, corner splash by AJ followed by a neck breaker. She skips around, holding Cameron by the hair and then taking her down. Cameron tries to escape, and starts to walk up the ramp. But Naomi appears from the back, grabs her and tosses her back in the ring allowing AJ to hit a shining wizard for the win.

OFFICIAL RESULT
: AJ Lee @ 3:00 via pin


Renee Young interviewed Randy Orton. Orton said he did not care about what Kane said on Monday, he only cares about his actions and Kane doing he right thing; what's best for business. And that is to walk out of Battleground as the WWE World Champion. As for Jericho, everyone has been calling him a legend since he has been back, so Orton will introduce him to the legend killer tonight.




Fandango w/Layla vs. Adam Rose w/Summer Rae and Exotic Express


Lock up, counter by Rose and he kicks Fandango in the ass. As Fandango attacks, Layla and Summer brawl. Fandango tries to break them up, and he gets hit in the process. They continue to brawl, and Fandango gets counted out.

OFFICIAL RESULT
: Adam Rose @ 1:00 via count out


Fandango was pissed that he lost, so he attacked Rose. That was a bad idea, because Rose hit the party foul on Fandango.


Highlights of Chris Jericho's return from Raw.


Renee Young interviewed Chris Jericho backstage. He noted that Bray Wyatt is too far gone to be saved, because he has seen that darkness before. He then promised to step on the head of the viper tonight before he stepped on the spider that was Wyatt.



Harper and Rowan will challenge the Usos at Battleground in a 2 of 3 falls match for the tag team titles.



Non-Title Match: The Usos © (Jimmy and Jey) vs. Heath Slater and Titus O'Neil


Slater with the distraction, which allows O'Neil to attack Jimmy from behind. O'Neil barks a bit, tags in Slater and he lays the boots to Jey. Rights follow, Jimmy battles back and then runs into a leg lariat for 2. Slater works a headlock, Jimmy escapes, off the ropes and a Samoan drop by Jimmy for 2. O'Neil and Jey in, it breaks down a bit, Jey tossed to the floor. Slater leaps off the second rope and flies into a superkick. Jey tags in, top rope splash and that is all.

OFFICIAL RESULT: The Usos @ 2:00 via pin


Byron Saxton interviewed the champs about their match at Battleground. They had Uso comedy hour, with one doing "mock commentary" and the other one did shadow boxing. Yup.



Bray Wyatt cuts a promo before the match, saying for Jericho to save us and then he sang. He then told Jericho to save himself.


Chris Jericho will face bray Wyatt at the Battleground PPV.



Randy Orton vs. Chris Jericho


Lock up to begin, off the ropes and a shoulder block by Jericho. He lays the boots to Orton in the corner, then shoots him off the ropes and Orton bails to the floor. Orton takes a powder, makes his way to the apron but a Jericho dropkick sends him back to the floor…



~Commercial Break~


We are back from commercial as Jericho is in control, working over Orton in the ropes and then covering for 2. Orton battles back now with rights and clotheslines. Jericho uses chops to stop that, gets Orton on the defensive, to the corner and Orton sidesteps Jericho, who misses a charge and flies to the floor. Orton follows and then slams Jericho to the steps. Back in the ring, Orton celebrates and Jericho rolls him up for 2. Orton connects with a clothesline, taking Jericho down and then applies a side headlock. Orton then works over Jericho with the stomp, and covers for 2. Jericho once again fights back, rights to Orton follow and then chops. Off the ropes and a flying forearm by Jericho. Orton sends him to the apron, but Jericho hops up top and hits a double axe handle. Double leg and Jericho looks for the walls, but Orton with rights to escape and catches Jericho with the snap slam and covers for 2. Orton sends Jericho to the corner, float over and an Enziguri by Jericho gets a close 2. Corner clothesline by Jericho, heads up top, but Orton crotches him. Orton follows him up and looks for the superplex, blocked by Jericho and sends Orton to the mat. High cross by Jericho gets 2. They trade rights, but Orton then gets the 3.0 backbreaker. He looks for the hangman's DDT, but Jericho counters and applies the walls of Jericho! Orton fights, and eventually gets the ropes. Orton then gets the hangman's DDT, and sets for the RKO. Jericho counters, tosses Orton away and the lionsault connects. The Wyatt Family sound effect hits, Jericho gets distracted, and Orton hits the RKO for the win. So, Chris Jericho, now you see that evil will always triumph… because good is dumb.

OFFICIAL RESULT: Randy Orton @ 14:00 via pin



We see highlights of Layla vs. Summer Rae from MITB. It sucked.



Layla vs. Summer Rae w/Fandango as Special Ref


Layla has to make out with Fandango prior to the match. Summer then gets her some as well, and Fandango rings the bell. Fandango takes turns stopping both from attacking, and then he dances a bit. This does not impress Layla and Summer, so they attack him and kick his ass. Fandango then runs away from the women folk and the match is over.

OFFICIAL RESULT: No Contest @ 1:00


Layla and Summer have a mini-dance off once things are over. Then they dance together, the feud is over, it's morning in America again.





Curtis Axel w/Ryback vs. Goldust w/Stardust


Lock up, off the ropes and a shoulder block by Goldust. Uppercuts to Axel follow, to the corner and Axel begs off, but then cheap shots Goldust. Stardust stands on the barricade and leads the fans in cheers and Goldust gets a roll up for 2. Off the ropes and a dropkick by Axel. Stardust sits on the announce table to stop Axel from tossing Goldust into it. Back in the ring Goldust takes control back with the atomic drop and big boot. Snap slam follows and that gets 2. Goldust counters the perfect-plex, hit the final cut and that is all.

OFFICIAL RESULT: Goldust @ 3:00 via pin


Post match, Ryback attacked Goldust and looked for Shell Shock. Stardust made the save with magic Stardust and tossed Ryback to the floor.



Pre-match, tonight he will be handi-capable and tonight's handicap match. All of the Bo-Lievers are his tag team partners tonight.



Handicap Match: The Inspirational Bo Dallas vs. Diego and Torito


Bo Dallas is a gentleman and a scholar, and I do not see why he is being subjected to a handicap match. Dallas and Diego to begin, Diego out quicks Dallas and offers an OLE. He doe sit again, Dallas gets frustrated, and Diego gets a takedown and covers for 2. Rights by Dallas, takes Diego to the corner and works him over. Off the ropes and Diego back with a dropkick. Torito distracts Dallas, but Dallas is able to fight back and hit the Bo-Dog on Diego for the win.

OFFICIAL RESULT: Bo Dallas @ 2:00 via pin


Post match, Dallas slams Torito into the ring. After being a gentleman and checking on the little guy, Dallas suddenly feared for his life and hit the Bo-dog on him. That was obviously self-defense.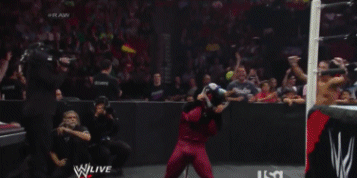 The Authority will be back on Raw this week.


John Cena, Roman Reigns and Dean Ambrose face Kane, Randy Orton and Seth Rollins on Raw.



Roman Reigns vs. Rusev w/Lana


Lock up to begin, they battle for control and then shove each other away. Knee to Reigns by Rusev, works some kicks and takes Reigns to the corner. Reigns back with rights, corner mounted shots follow for Reigns. An uppercut sends Rusev to the floor. Lana tries to calm Rusev…



~Commercial Break~


Back from commercial as Rusev works the old Vulcan nerve pinch. Reigns slowly fights out, off the ropes and Rusev connects with the jumping spin kick and levels Reigns. Knees and kicks in the corner, and then an uppercut follows and Reigns is down again. Head butts by Rusev, and then back to the nerve pinch. Reigns tries to fight to his feet, but Rusev slams him down and follows with more head butts. Reigns again tries to get to his feet, but a knee by Rusev keeps him down. Rusev slams him to the corner, and again shoots Reigns to the corner and he drops to the mat. Big kick to the gut by Rusev, and again to keep Reigns down. Back again to the nerve pinch, Reigns again fights to his feet and breaks the hold. Rights by Reigns in the corner, a whip, counter and clothesline by Reigns. Another clothesline takes Rusev down. Uppercuts by Reigns, Samoan drop follows. Reigns to the floor and connects with the kick to Rusev, who was hanging between the ropes. Reigns sets for the Superman shot, and connects. Reigns looking for the spear, but Randy Orton runs out and stuns Reigns off the ropes for the DQ.

OFFICIAL RESULT: Roman Reigns @ 7:00 via DQ


Post match, Rusev and Reigns continued to brawl. Reigns was able to take out Orton with a Superman shot, but then Rusev leveled Reigns with the jumping superkick. Lana instructed Rusev to leave. Orton returned to the ring and hit the RKO on Reigns. Randy Orton stood tall to end the show.


End scene.


Thanks for reading.



Have you checked out the Csonka Podcasting Network? If you haven't, you should We run anywhere from 15-20 shows a month, discussing pro wrestling, the world of MMA, the NBA, general sports, popular TV series of the past, bad movies, battle rap, interviews, MMA & Wrestling conference calls and more! Around 10 different personalities take part in the various shows, which all have a different feel; so you'll likely find something you like. All of the broadcasts are free, so go ahead and give a show a try and share the link with your friends on the Twitter Machine and other social media outlets! Running since May of 2011, there are currently over 500 shows in the archive for you to listen to.



Larry Csonka is a Pisces and enjoys rolling at jiu jitsu class with Hotty McBrownbelt, cooking, long walks on the beach, Slingo and the occasional trip to Jack in the Box. He is married to a soulless ginger and has two beautiful daughters who are thankfully not soulless gingers; and is legally allowed to marry people in 35 states. He has been a wrestling fan since 1982 and has been writing for 411 since May 24th, 2004; contributing over 3,000 columns, TV reports and video reviews to the site.


Your heart is free. Have the courage to follow it…TO CSONKA'S TWITTER!

http://www.twitter.com/411wrestling
http://www.twitter.com/411moviestv
http://www.twitter.com/411music
http://www.twitter.com/411games
http://www.twitter.com/411mma



comments powered by