SPOTLIGHTS
411ís WWE Main Event Report 7.22.14
Posted by Alex Crowder on 07.22.2014

Rusev went one on one with Jack Swagger! The unlikely team of Heath Slater and Titus OíNeil faced Big E and Kofi Kingston. Seth Rollins wrestled and more! Check out 411ís WWE Main Event Report for all the details!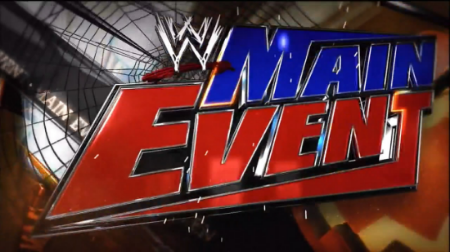 WWE MAIN EVENT 7.22.14



Jack Swagger vs. Rusev later tonight, but we start off with Seth Rollins. They recap the events of Battleground regarding Rollins and Ambrose, while showing highlights of their Battleground brawl.



Seth Rollins vs. Fandango


Rollins seems to smirk upon hearing Fandango's music. Rollins is taking him lightly judging from his expression. You souled out chants erupt throughout the arena. They lock-up and Rollins gets a go behind and transitions to a headlock. Fandango leapfrogs over him before hitting a nice dropkick. Fandango taunts Rollins from the inside of the ring. Rollins runs back in and stomps him into the corner. Rollins next punch attempt is blocked by Fandango. Fandango does not retain the advantage long as Rollin drops his face against the corner. Rollins does so again and stomps him again before choking him with his boot. He follows up with a snapmare and chinlock. Fandango fights to a vertical base leading to a Rollins sleeper hold. Fandango keeps reversing leading to a backslide pin. 1..2..kickout. Fandango continues the momentum with a corner sunset flip. 1..2..kickout. Fandango tries two kicks but Rollins hits the turnbuckle powerbomb to regain the advantage. A curb stomp quickly follows. 1..2..3.

OFFICIAL RESULT Seth Rollins: @ 4:00 via pin
MATCH THOUGHTS: Seth gave Fandango spurts of offense, but mostly retained control throughout the match. My only complaint would be that Rollins didn't win easier. Nonetheless, the match was a pretty good opening match. Good match to start the show.

They recap Plan C from Raw with Lesnar coming out. They also show Lesnar defeating Undertaker at Wrestlemania multiple times. They show the two shaking hands to confirm Lesnar's title challenge at Summerslam and play a bit of Heyman's promo from Raw.

The Usos are backstage walking and we'll see Jey Uso in singles action next.



Jey Uso with Jimmy Uso vs. Ryback with Curtis Axel


Goldberg chants break out as the two lock-up. Ryback overpowers Jey who smacks him in the face for his troubles. Jey gets a headlock but Ryback reverses and powers him into a corner. The two circle a bit before Jey catches Ryback's kick and leaps into him grabbing a headlock. Jey taunts Ryback with a dance that the crowd loves. Ryback walks up to him and gets chopped by Jey. Ryback strikes back with chops of his own. Ryback misses a clothesline as Jey ducks and slides underneath the ring. The Usos talk it over. Jey leaps over Ryback trying to connect on a sunset flip. Ryback ends up sending him high into the air with a back body drop. Ryback gets a 2 count. Ryback catches Jey in a chinlock but Jey fights back to a vertical base. Sunset flip for Jey gets 2. Jey even brings out the crucifix pin. 1..2..kickout. After that, a roll-up for Jey Uso. 1..2..kickout. Ryback tries to fight back but is met with a kick. Jey goes up top and is caught in a nice spinebuster from Ryback. The crowd actually chants Feed Me More with the meat hook. Ryback is countered into a Samoan Drop. Jey is distracted by Axel who is cross bodied by Jimmy. Ryback hits the meat hook. 1..2..3.

OFFICIAL RESULT: Ryback @ 6:00 via pin
MATCH THOUGHTS: This match wasn't bad or anything but I would say Rybaxel are the wrong choice for challengers in the tag team division. Nevertheless, the match was good though I wonder why Ryback won with just a clothesline.

Renee is interviewing Heath Slater and Titus O'Neil. They are apparently tagging together as Slater and Gator. Titus seems annoyed by this and says we're not a damn team. Titus tells him to sit down and shut up. Titus wants Heath to follow his damn lead. Heath said he'll get this to work as they'll be the greatest team since Chief Jay Strongbrow and Sonny King.

-Commercial break

Roman Reigns will be facing Alberto Del Rio this Friday on Smackdown.



Heath Slater and Titus O'Neil vs. Big E and Kofi Kingston with Xavier Woods


Titus starts things off with Kofi. The crowd chants Slater Gator. Kofi tries to attack Titus but is met with heavy chops. Kofi quickly turns the tables and does the same. Titus reverses that and hits the multiple rib-breakers on Kofi. Then he tosses him aside as Heath Slater tags himself in. Heath Slater stomps Kofi down and says Slater Gator. The crowd continues to chant it. Heath gets a chinlock and pounds Kofi into a corner. Kofi fights back elbowing Titus and Heath. Heath pulls Kofi to the ground by the hair. Titus tags himself in as they argue for an extended time. Big E uses that to blindside Titus. Big E takes out both guys. Big E tags in Kofi while holding Titus in a backbreaker. Kofi jumps down on Slater hitting a double foot stomp. Big E does the hold backbreaker again letting Kofi hit the double foot stomp. Xavier directs Big E to pile up his opponents and pin both of them.

OFFICIAL RESULT: Big E and Kofi Kingston @ 4:00 via pinfall
MATCH THOUGHTS: This was a highly entertaining match. The problem is that Slater and Titus as a team worked probably better than anyone expected, it took attention away from Big E and Kofi. I hope we'll see more of both teams. The Slater Gator team could be an interesting new team. Big E and Kofi also made little tweaks in showing more aggressiveness in their styles. Xavier directed the two in a heelish manner. Good entertaining match all around.

Jack Swagger and Zeb Colter are interviewed. Real Americans don't quit at the first sign of struggle. America has invented things that last forever. Russia only invented Vodka which it looks like Boris and Natasha have been drinking far too much. Then he asks the crowd to say We The People which they do.

-commercial break

Heath Slater and Titus O'Neil are interviewed. Titus says he has nothing but bad luck. An albatross hanging around his neck, and he calls Heath a country bumpkin. Heath says he didn't mean any of that. Titus is a joker. The WWE Universe knows it and Heath says Slater Gator. Some of the crowd joins him in saying it. They continue to chant it as they go to the next segment.

They recap the Raw segments featuring Brie Bella and Stephanie McMahon. They show Stephanie being cuffed and taken away in the police car. Stephanie posted a sizable bond and was released at 4 am but will return at a later date for battery charges. The announcers say we can go to WWE.com for more details.

-commercial break

Lana has the mic before we start the match. She tells the crowd to shut up. She says that America waved the white flag long ago. America is a mere shell of what it used to be. Today, in New York our countrymen posted a flag of surrender on the Brooklyn Bridge she says laughing. Tonight, Jack Swagger will surrender to Rusev. Lana says this victory is dedicated to Vladimir Putin. Colter and Swagger stop to say We The People as the match is about to begin.



Jack Swagger with Zeb Colter vs. Rusev with Lana


Rusev has his right ankle wrapped to sell the attack from Battleground. Swagger misses a few chop blocks before single legging Rusev. He tries to grab the leg which makes Rusev angry. A Let's Go Swagger chant starts. Swagger catches a leg kick from Rusev, and goes behind him. Rusev quickly reverses by ducking under and throwing his face into the corners. Rusev is thrown out by Swagger as Rusev sells the ankle nicely. USA chants roar throughout the arena. Rusev takes his time as Lana admonishes the crowd.

-commercial break

We return with Swagger thrusting his shoulder into Rusev's midsection. Rusev drops Swagger with knees. Rusev starts pouncing on Swagger. Rusev connects on a headbutt that sends Swagger to the outside. Rusev starts throwing Swagger around on the outside. His body is sent into the steel steps. The crowd chants USA trying to get Swagger back into it. Swagger slowly fights up as the two trade strikes. Rusev hits a clothesline. Rusev grabs Swagger's arm and head pushing into the mat. Rusev kicks Swagger's head into the mat. Rusev gets a chinlock that grounds Swagger. Loud We the People chants. Swagger finally fights out and gets a boot from the corner. Swagger fights back with punches and Rusev pushes him away. Rusev misses a clothesline only to be clotheslined down himself. Swagger catches him in a powerslam. 1..2..kickout. Swagger does the We the People chant going to hit a Swagger Bomb. Rusev sees it coming and Swagger counters that grabbing the Ankle Lock. Rusev is caught in the ankle lock. Rusev eventually gets to the rope. Rusev is outside and reverses another ankle lock attempt. Rusev hits Swagger with the flag. Lana cannot even control Rusev right now. Zeb grabs the Russian flag and Swagger gets up hitting a Big Boot.

OFFICIAL RESULT: Jack Swagger @ 8:00 via DQ
MATCH THOUGHTS: This was a good main event that was about as good as their Battleground match. Actually, I'd say it was slightly better because the crowd was hotter. I guess the reports of this feud ending were off. Good match either way.


FINAL THOUGHTS: This was a good episode of Main Event filled with mostly wrestling. I think that makes for a really good show. In addition, they seemed to create some new tag teams for the division. Swagger and Rusev kept their feud going too. Good episode all around.


comments powered by