SPOTLIGHTS
Tremendous Tirades 7.28.14: WWE Monday Night Raw
Posted by Larry Csonka on 07.28.2014

Beaten, victimized and conquered…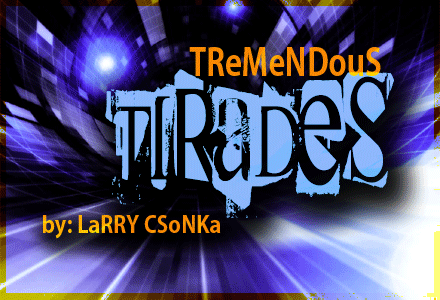 Introduction
As a reminder, this will not be another traditional recap, but instead it will be a mash up of the Rs, Instant Analysis and my usual Twitter ramblings I would do during the shows; completely uncensored and as the ideas flow unfiltered to the old keyboard. Remember, this is a review; and I am here to review the show. As always, I encourage discussion and even disagreement, just do so in a respectful manner. I will be doing the review for Raw and most PPVs and iPPVs going forward.


WWE MONDAY NIGHT RAW 7.28.14
Highlights from last week's Raw.


Apparently I upset some people last week when I discussed my hatred for the abuse of the opening talking segment on a wrestling show. I am sorry if that is something that bothers you, but this is my opinion and I will share it in my review. If you like it, cool. If you don't like me talking about it, my opinion is not going to change, but it is still cool. Do not blame me for the WWE becoming lazy and complacent with their writing. I personally loved the fact that Impact and Smackdown started with matches last week, simply because it felt different. My job here is to review the show, and if I do not like something, I will state that. If I enjoy something, I will state that. If you do not enjoy my opinions on wrestling, then no hard feeling, and please stay right here on 411 and enjoy Tony's Raw report. He uses pictures of AJ every week.

John Cena Talks: The walking billboard came out and acted serious for once, discussing that the Authority anted the title off of him so bad that they would employ a mercenary; Brock Lesnar. Cena then put over Lesnar as a machine that destroys, and the fact that Lesnar defeated the streak. He admitted that Lesnar would lay an ass beating on him, but that he would fight and he would beat Lesnar like he did in 2012. Heyman made an appearance after allowing Cena to rally the troops, and stated that Lesnar would beat Cena for the title. And while he appreciated that Cena knew he would get his ass beat, Cena needed to realize that he would be a victim like the Undertaker. Heyman suggested Cena ask Taker about it, but he can't because no one has heard from Taker since WM. Heyman, as always, was great here in putting over Cena, while representing Lesnar as the beast coming to slaughter the champion. Cena was thankfully serious the whole time, putting over his passion for wrestling, while Lesnar only cares about himself. This is EXACTLY the John Cena that needs to be around more often; no nonsense, no bullshit, all passion and his interaction with Heyman worked perfectly. Cesaro came out, said that even though he is not associated with Heyman anymore, that they are friends and said Cena wasn't a real wrestler and challenged him to a match. I liked it, Cena was a little rough pre-Heyman, but they weaved some magic out there and brought out a John Cena that I want to see more often. It still didn't need to kick off the show, but I liked it.
Match/Segment Rating: 8.5

John Cena defeated Cesaro: The opening segment of course was the et up for this and the good news is that they have had good outings in the past. They got time, as they went through the commercial break, which is appreciated. Cena seems to genuinely love working with Cesaro (I know they work out together), because he always seems to turn things up a notch and also always gives Cesaro a lot in there. This was simply fantastic, they work well together style wise, it had a great flow, it got the crowd into it the whole way, both seemed very motivated and while Cesaro lost, he looked great countering Cena, and had to lose to a "SUPER" finisher. Outstanding. I want to see these two on a PPV, 15-20 minutes, with no restrictions.
Match/Segment Rating: 9.0


Stephanie tries to stay strong backstage, she can't go back to jail man, it changes people. I once killed a man, in Reno, just to watch him die. Triple H tries to keep her calm, and Orton gets involved and says he was supposed to face Cena at Summerslam. Triple H told Orton to take out Reigns, or there will be no more title shots. Dissention in the ranks.

AJ & Paige Talk: Paige skipped out to the ring and tried to set the record straight, noting that she is young and makes mistakes. AJ is her best friend still, and last week she saw AJ not as a friend, but as someone that took her title. AJ then skipped her way out, called Paige "Casper-Like" as she tried to get past the CM Punk chants. AJ said that she doesn't play little girl games, and will do things to Paige's face, like a real woman. Paige said AJ may be crazy if she doesn't believe her, and apparently that still bugs AJ. This led to her attacking Paige and tossing her to the floor. The brawl continued, Paige bailed and kept yelling that they were friends. The live crowd decided to chant for CM Punk as AJ dared Paige to come back to the ring. This was fine. I loved last week's turn and beat down, this felt like a step back and didn't nearly have the heat last week's angle had. Again not bad, but just felt like a segment to fill time while sort of giving this feud time, but nothing really happened. Also, the crowd chanting for Punk does the feud no favors.
Match/Segment Rating: 6.9

Triple H and Stephanie Talk About Jail, The Varieties of Shanks, The Definition of FUBAR and More: Triple H says he was disappointed in the universe last week because they laughed when Stephanie got arrested. He got fired up about his wife being jailed like a common criminal, and the crowd reacted big time, almost drowning him out. He blamed Brie for the whole thing because she was asking for it, but notes it was a misunderstanding. Apparently all charges were dropped, with the exception of the assault charge, and they have invited Brie here tonight. Brie didn't come out, instead Chris Jericho did. Jericho then sang the Cops theme, which led to the crowd signing it. Triple H was not amused as Jericho made Orange is the New Black jokes, and says we can watch it over and over again on the Network. Jericho then questioned why it took Triple H so long to go to the jail to be with his wife, and then started to do some classic Stephanie insults. Talk turned to Jericho vs. Wyatt, and Triple H said he had to wait until Summerslam for that. Seth Rollins then laid out Jericho with the MITB case; they will have a match later tonight. It was a fine segment, some fun with the ole Jericho vs. Stephanie jokes, but overall didn't accomplish all that much other then making a match, which is fine. The other thing is that the pacing feels off tonight, talking segment to open, match, talking/brawl segment, talking segment. While this was entertaining at times, it felt long and like filler to be honest with you to tease for later. That's ok, but again, I felt as if they used this to kill time.
Match/Segment Rating: 6.0

The Usos and Ziggler defeated Miz, Ryback and Axel: On the surface I like the match, as it is a good way of potentially setting up two title matches, without burning out the separate matches in doing so. They also had Woods, Kofi and Big E watching on from backstage, which is a simple and effective tease. After the commercial, they were then showed at ringside. This was a solid match, good hot tag to Ziggler, which the crowd wanted badly. Ziggler got the pin on Ryback to claim the win for his team. Woods, Kofi and Big E did not get involved, but had a stare down with the champions as Ziggler and Miz had their own stare down. Again, this was a fine match and they are setting the table for future title matches, it worked overall.
Match/Segment Rating: 7.2


Stephanie and Brie will allegedly have a segment later tonight.

R-Truth defeated Bo Dallas: Bo did his pre-match promo, noting his undefeated and Truth has lost a lot in his career. Bo did a victory lap, and Truth rolled him up in seconds for the win. Bo said he couldn't believe Truth beat him, and then snapped and beat the piss out of Truth. During the attack Dallas had a great evil look on his face, but when it was done, returned to his over the top grin. I am interested to see where they go with Dallas, he has been entertaining, but even a short feud with Truth doesn't interest me. We'll see where this goes, but I am all for evolving the character. The segment worked for what it was, but was nothing special.
Match/Segment Rating: 6.0

Lana, Rusev, Swagger and Zeb: Lana came out and did her usual, running down the US and the US flag. The flag is nothing but a faded banner that represents a government that gets fat off of the apathy of the people. She praises the Russian flag and Vladimir Putin of course, while running down Obama as a puppet. Swagger and Zeb made their way out ('MERICA!), with Zeb praising the flag representing Thanksgiving, watching football, a father and son fishing, pick up trucks, pretty girls and beer. WE THE PEOPLE! But it also represents the men and women that fight and died for the flag that fought to protect the freedom, which Lana and Rusev attack. Swagger charged the ring, and brawled with Rusev. Swagger escaped the accolade and sent Rusev to the floor. The crowd was into it, and as I previously speculated, it appears that we're heading towards a flag match, presumably at Summerslam. Hopefully the Summerslam crowd is more into the match than the Battleground crowd was. The crowd being involved will be a big part of that match succeeding.
Match/Segment Rating: 7.5


Damien Sandow is dressed as an astronaut tonight.

Adam Rose defeated Damien Sandow: They talked back and forth a bit, Rose won their match in seconds. This was filler and a complete waste of time, as they have no clue what to do with Sandow or Rose at this point.
Match/Segment Rating: 1.0


Dean Ambrose allegedly faces Alberto Del Rio on Main Event. We'll see about that.

Roman Reigns vs. Kane Didn't Happen - Orton Violates All Known Laser Tag Regulations.: As Roman Reigns made his way to the ring for his match with Kane, Randy Orton attacked. All three brawled around the ring, and then into the ring. Kane would chokeslam Reigns, then leave the ring. Orton then beat down Reigns in the ring, and then on the floor. Orton then tosses Reigns into the steps at ringside, and then hit the hangman's DDT on the floor. Orton then hit an RKO on the announcer's table. It didn't break, so he did it again. Fuck you table. Orton repeatedly yelled at reigns for "stealing" from him, which is all about last week when Reigns stopped Orton from being announced as Cena's challenger. The rumor pre-Battleground was Orton vs. Reigns at Summerslam, they set the stage last week, and this was the next step. Orton had to get one up on Reigns, as Reigns has been booked strongly, especially going back to the Evolution feud. I also enjoyed the fact that Orton was PISSED that he lost his title shot, Reigns was the man that took that from him, and he was hell bent on getting revenge. I love when the title is made important. It is simple, it makes sense, and we didn't have to watch Kane vs. Reigns. We all win.
Match/Segment Rating: 8.0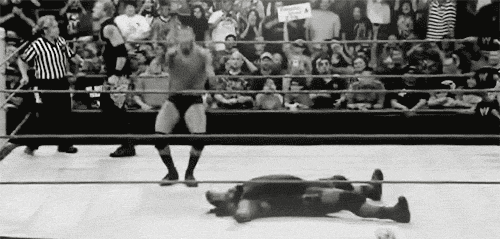 Diego w/Summer, Layla and Torito defeated Fandango: Fandango controlled the match, Torito and the ladies distracted him, Diego got a roll up and the win. The bull then hit Fandango in the balls. The ladies continue to play games with Fandango, it is fine, but we have to move this along at some point. I have no issue with a slow build for things, but they need to move this along because people do not care about Fandango. Find someone to lock the ladies in with, and they move on with Fandango bringing in new ladies to combat them. They are just not doing enough to make me care, short match, the same finish, Fandango looks dumb, rise, wash and repeat.
Match/Segment Rating: 5.0


Stephanie walks to the Divas locker room. Brie says that Brie will be there later tonight, and Stephanie tried to apologies. They discussed eating a plate of crap.


Goldust and Stardust do advanced quantum physics and discuss the cosmic key.

Natalya and Naomi defeated Alicia Fox and Cameron: Naomi was too focused on getting revenge on Cameron, which allowed the heels to take control and work her over. Naomi would battle back and lock in some wacky submission, and that allowed her to score the win and get some revenge. It had its moments, and they tried to tell a story with Cameron and Naomi, but the fact that they get so little time to do so hurts what they are trying to do. Drop the Sandow vs. Rose bullshit, because it meant nothing, give the time to the ladies and at least give them a chance to not rush through their match and storytelling. It wasn't bad, I get what they are doing, but the booking did them no favors.
Match/Segment Rating: 5.5

Seth Rollins vs. Chris Jericho - No Contest: This was set up from earlier in the evening. This is certainly a match I wanted to see once Jericho returned, but I have to admit that I hate that they are blowing a first time match like this on Raw. There are only so many first time matches left (they only faced in a six-man back in 2013) and felt that this is a match that could have been better saved for a PPV, or at least you could have given it a week's build to try and draw a rating. But maybe that's just me. They had a good match, and certainly did enough to make me want to see it again. Jericho caught Rollins flying in with the code breaker, which led to the Wyatts appearing and beating down Jericho. Jericho gets the visual win off the finish, Rollins is protected because he looked good and didn't lose, and bray stands tall over Jericho to close the segment. Also, Chris Jericho has no friends. I really wish that they would have taken some time to promote the match some how, it just seems like good business to do so, not to give it a two hour build.
Match/Segment Rating: 7.5


Chris Jericho faces Erick Rowan on Smackdown this week.

Stephanie McMahon and Brie Bella Talking & Brawling Main Events Raw: Stephanie came and cried about being embarrassed after being arrested, as it is effecting her personal and business life. Brie appeared, and Stephanie tried to talk her into dropping the charges by offering to treat Nikki better and giving her a raise. Brie demanded her job back, to which Stephanie agreed to, but there was one more thing she wanted. A match at Summerslam, and Stephanie again agreed quickly. She proposed s few matches, and then Brie stated that she wanted to face Stephanie. Stephanie backtracked, noting she hasn't wrestled in 10-years; she's a mom now. Stephanie cried that this wasn't fair, and refused to lower herself to face Brie. Brie again threatened to take her to court, so Stephanie agreed and slapped Brie off the ring apron as she fake cried. She then vowed to make Brie her bitch at Summerslam. Brie returned for the big brawl and the parade of agents hit the ring to separate them. Brie made Jamie Noble her bitch as she fought him off for another attack. They had the crowd the whole time, I know a lot of people are not fans, but Stephanie is getting really damn good at becoming a hated heel in the best way possible and both ladies played their roles well in the main event segment of the show. I personally wish that they would put this much time and effort into the Divas title scene, but again, they have positioned Stephanie and Brie as "stars" and focal points via Raw and Total Divas. It will take time for them to do that with the other ladies, and I hope that they do. And if the crowd was not reacting to this I would hate it, but they are, it's working and the ladies are performing well. The match could suck, sure, but the build has been damn good so far and I have enjoyed it.
Match/Segment Rating: 8.5


End scene.


Thanks for reading.


The Tirade


The show stared off hot, like Battleground, and then just fell into a series of either fine or completely forgettable segments for the most part. I loved the Cena vs. Heyman dynamic on the mic, and the Cesaro vs. Cena match was outstanding stuff. The Rusev vs. Swagger stuff continues to get the live crowd involved, and is certainly building for another match. The Orton beat down of Reigns was well done, and is getting them ready for Reigns' huge test at Summerslam. We're going to learn a lot in that match.

The AJ vs. Paige segment felt like a step back in a way, not nearly as heated as last week, but also not bad. Jericho and Rollins had a good match; I just hated the set up of a first time match like that. Stardust and Goldust continue to be weird. Woods, Big E and Kofi were around the six-man, which looks to position them into the tag title scene. We still have the usual filler, as they still haven't figured out how to properly book and fill the three hours of programming.

The closing segment was great, I know not everyone likes Stephanie or Brie, but they are delivering and it appears that they are very serious with them as a focal point for Summerslam.

The good on this show far outweighed the bad, and while I have my gripes about things (as do we all) at the end of the day I felt that this was a very good effort.

Show Rating: 8.0

As a reminder, I will be going by the 411 scale…

0 - 0.9: Torture
1 - 1.9: Extremely Horrendous
2 - 2.9: Very Bad
3 - 3.9: Bad
4 - 4.9: Poor
5 - 5.9: Not So Good
6 - 6.9: Average
7 - 7.9: Good
8 - 8.9:Very Good
9 - 9.9: Amazing
10: Virtually Perfect

The final rating is not simply an average of the rated segments above. The rating takes them into account as well as the segments that are small but not scored, the flow of the show, the overall booking, build to PPV, crowd reactions, and so on and so forth..
Have you checked out the Csonka Podcasting Network? If you haven't, you should We run anywhere from 15-20 shows a month, discussing pro wrestling, the world of MMA, the NBA, general sports, popular TV series of the past, bad movies, battle rap, interviews, MMA & Wrestling conference calls and more! Around 10 different personalities take part in the various shows, which all have a different feel; so you'll likely find something you like. All of the broadcasts are free, so go ahead and give a show a try and share the link with your friends on the Twitter Machine and other social media outlets! Running since May of 2011, there are currently over 500 shows in the archive for you to listen to.



Larry Csonka is a Pisces and enjoys rolling at jiu jitsu class with Hotty McBrownbelt, cooking, long walks on the beach, Slingo and the occasional trip to Jack in the Box. He is married to a soulless ginger and has two beautiful daughters who are thankfully not soulless gingers; and is legally allowed to marry people in 35 states. He has been a wrestling fan since 1982 and has been writing for 411 since May 24th, 2004; contributing over 3,000 columns, TV reports and video reviews to the site.

Your heart is free. Have the courage to follow it…TO CSONKA'S TWITTER!

http://www.twitter.com/411wrestling
http://www.twitter.com/411moviestv
http://www.twitter.com/411music
http://www.twitter.com/411games
http://www.twitter.com/411mma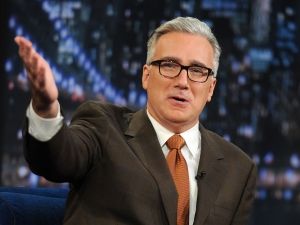 "Byyyyyyyyyyyyyyyyyyyyyye Felicia!"
comments powered by