SPOTLIGHTS
Tremendous Tirades 8.4.14: Monday Night Raw
Posted by Steve Cook on 08.04.2014

The one where Heath Slater wins a match...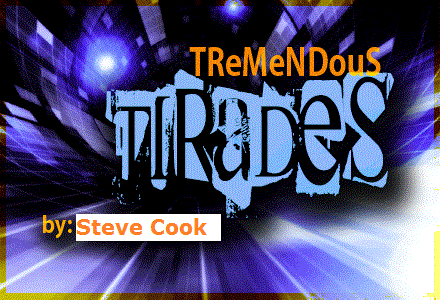 Introduction

Hi kids, it's your favorite second-string Tirader Steve Cook! It's been a little while now, but Daddy's back. Daddy's hopped up on NyQuil, but Daddy's back nonetheless. Tonight we reportedly have no John Cena or Brock Lesnar, but we are scheduled to have a contract signing between Stephanie McMahon & Brie Bella, & WWE.com reports that the show will start with a segment featuring Triple H & Stephanie.

…….

I've made a huge mistake.
---
WWE MONDAY NIGHT RAW: FOLLOWING OUR CORE VALUES
Raw's in Austin, Texas tonight. Everybody thinks I hate Charlie Strong now because I'm a Louisville guy, but I'm not cut like that. Dude did a lot of great things for our football program & it looks like he's already rattling some cages in Texas. Good for him. Besides, we got Bobby Petrino back & that's endless entertainment on & off the field. Gonna be a fun season.


We open with a video of Randy Orton beating up Roman Reigns last week.

$9.99: Not only do we get the McMahons, we also get Randy Orton, Seth Rollins & Kane. Triple H shills for the Network & announces that Rollins & Dean Ambrose will try to Beat the Clock tonight. The winner will get to name the stipulation for their match at SummerSlam. Dean gets Alberto Del Rio, Seth gets Rob Van Dam. Steph models her cowboy boots (her words not mine) & talks about her contract signing later tonight. Dunno why Larry's been getting so much heat lately for not liking these show-opening promos, we've both been talking about this for like ten years now. Roman Reigns comes out to interrupt Randy Orton (thank Jeebus) & wants to kick his ass tonight. Tonight Reigns faces Kane in a Last Man Standing match.

Does it help the WWE Network to have the evil authority figure constantly plugging it? I mean, they got the Austin fans to chant "$9.99", but that just goes to show that wrestling fans will chant anything if you repeat it enough. Typical blah blah to open the show.

Rating (1-10): 5.0

Last Man Standing: Roman Reigns vs. Kane : Kane can't beat Reigns when he's teaming with Randy Orton in a handicap match, so the smart money's on Reigns here. Business picks up after a long spell of stuff when Kane takes out the Singapore cane & goes all Sandman on Roman's ass. Yay ring steps! Roman gets busted open but fortunately there's a commercial break so he can get cleaned up. Kane apparently dominates during the break, but Reigns dominates after. Reigns gets the table but also gets put through it because that's how things go. Unlike Dixie Carter, Reigns survives table & he even DDTs Kane on a chair. Kane gets right up from that because he's Kane but he doesn't get up quite as fast from the Superman punch. The ref doesn't count during this (not sure why), but he does count after Reigns spears him. In fact, he counts to ten.

Putting Reigns with Kane makes sense in the grand scheme of things because after all these years beating Kane still means something to the average viewer. The unfortunate part for old cranky guys like me is that it involves watching Kane wrestle in 2014, which just isn't something I can be bothered to care about. It does help Reigns further along his push to the top though, so it ain't all bad. Also, Reigns looked perfectly fine during the match. There's been some criticism of his offense other than his big moves, but I thought he did well enough here.

Rating (1-10): 6.0


Cena/Lesnar video package! It's a pretty good one too. Brock excels in these types of videos, though I'm not sure who's supposed to get excited about blood, urine or vomit. Wrestling fans, I guess. Keeping Cena & Lesnar apart as much as possible until SummerSlam is a great idea, as hopefully they can build the moment when they do collide into a big deal. Part of the reason I don't really care about Reigns vs. Orton/Kane is because they wrestle each other or attack each other every week. The longer they stay apart, the more people will want to see them together.

Damien Sandow vs. Mark Henry: Damien Sandow comes out to Jim Ross's old theme music to talk about the Red River Rivalry & get him some of that cheap heat. Unfortunately for him, Mark Henry is a Texas guy. This doesn't go much better for Sandow than Good Santa vs. Bad Santa did. Henry wins, crowd cheers. Not much to see here.

Rating (1-10): 5.0


Adam Rose looks in the mirror & sees a lemon. I…I don't even. I can't even comment on this because I have no idea what this was supposed to be. Twitter says it was a reference to "Occulus", a WWE Films production which is coming out on DVD tomorrow. Um, yay? At least Hogan isn't here until next week, him & that mirror together would be nothing but trouble.

Beat The Clock: Dean Ambrose vs. Alberto Del Rio : So if ADR wins this match Rollins gets to make the stipulation, right? This seems like the backwards way to do this unless you plan on having RVD beat Rollins for some reason, or a non-finish because you don't want RVD to lose for some reason. Ambrose trying to beat Rollins' time would have more drama behind it. The match itself is good enough for government work, but doesn't have the heat behind it that you would expect for somebody in Ambrose's position right now. Ambrose wins in 15:42 with the Dirty Deeds.

Unless they plan on having RVD wrestle for 15 minutes, I guess the plan is to have Rollins lose. Neither of these options sound great to me. The match was ok but the booking is all sorts of questionable here.

Rating (1-10): 6.0

Rusev (w/Lana) vs. Sin Cara : Well… apparently this whole match happened on the App. I would complain, but Lana's promo singing Happy Birthday (in Russian) to Barack Obama was probably better than the match anyway. She's a pretty good singer. Jack Swagger & Zeb Colter interrupt as they are wont to do. Zeb talks about the people that Jack Swagger is fighting for. Classic politician move here. USA USA USA says the crowd. This week it's Rusev getting the upper hand in the post-promo fight, wearing Swagger out with the Russian flag. Zeb gets backed up into the corner, disproving the old saying that nobody puts Zeb in a corner. No beat down of Zeb, just some intimidation.

It's not the most original thing in the world but it's getting good heat. Who would have thought that Swagger would be the more relevant Real American after WrestleMania? I'm not sure putting Ruisev's match on the WWE App will make people download it, but I guess it's worth a shot. And less obnoxious than "9.99 PER MONTH 9.99 PER MONTH 9.99 PER MONTH".

Rating (1-10): 7.0

Dolph Ziggler vs. Cesaro: The Miz is on commentary. This is something like an Internet dream match in 2014. Everybody talks about how underutilized & awesome these guys are, so it should be a great match, right? So it goes about two minutes. Of course it does. Miz enters the ring to hold up his title belt & get kicked down by Ziggler. Watch the moneymaker! Nothing to see here, folks.

OK. I'm not saying that Cesaro needs to be the guy. I'm not saying that he needs to be pushed to the moon. But when people repeatedly insist that WWE is big on him & have big plans for him but are holding off on them until the Roman Reigns push is over…it's kind of silly that he's being shunted into this role, right? Actually, it makes less sense when you consider they had him going 20 minutes with John Cena last week. Maybe Ziggler only needing 2 proves that John Cena, in fact, can't wrestle? I'm trying here, guys. I really am. But man, it's not looking good for the Swiss guy. Right now he's Iron Mike Sharpe.

Rating (1-10): 3.0


Paige talks about how much she admires AJ & she's excited to wrestle her at SummerSlam. She misses her so much! Paige definitely performs better on the microphone with this persona.

Rybaxel vs. Goldust & Stardust : The Dust brothers took some time off from the ring & have returned to wrestle the same guys they were wrestling before. It's like Groundhog Day around here. Goldust starts off & takes some offense, then Stardust gets the hot tag. Dark Matter ends it. Eventually these guys will find something to do. Maybe.

Rating (1-10): 5.0


Kane takes his mask off & walks away. He'll be back in a suit soon enough. Yahoo.

Chris Jericho vs. Luke Harper : Now this is something I can sink my teeth into. Harper's been pretty awesome in WWE & Jericho can have a good match with the right guy. Bray Wyatt wasn't the right guy at Battleground, but maybe Harper is. Harper has some effective offense early on. He's just a crazy looking dude. Jericho generally getting beat about the ring here. Rowan gets kicked off the apron, and eventually Jericho locks in the Walls of Jericho…the Wyatt Family sound effect plays & here's Bray Wyatt! Rowan runs in to eat a Codebreaker. Jericho hits Harper with one as well, and Wyatt runs in to cause the DQ. Sister Abigail! Jericho's laid out & stuff.

So the Harper & the Rowan are barred from ringside at SummerSlam. So Chris Jericho beat Bray Wyatt at Battleground when those guys were around. I'm just not getting the psychology here, I guess. Why does it matter if those guys are ringside when Wyatt couldn't beat Jericho when they were around? We ran into this same problem when John Cena beat Bray Wyatt and then decided that he needed a cage match to keep the Harper & the Rowan out. That made no sense & this makes no sense.

Rating (1-10): 5.0


AJ Lee returns on Main Event. She was on this show last week.

Diego & El Torito (w/Layla & Summer Rae) vs. Fandango & Hornswoggle : Hornswoggle is Fandango's new dancing partner. Oh my. No, Summer & Layla at ringside do not excuse this. Fandango is distracted by Hornswoggle dancing on the apron & loses to Diego after a minute of "action". This was bad.

Rating (1-10): 1.0


If it wasn't for getting to see Summer & Layla that would have been a 0.0 for the record.


Randy Orton talks to Renee Young. Well, he introduces a video package first. Then he talks.

Bo Dallas vs. R-Truth : Truth also beat Bo on SmackDown last week via disqualification. After a brief flurry of action Bo wins by pulling Truth's pants. Truth attacks Bo outside the ring afterwards, but gets Bo-dogged on the floor for his trouble. I guess we're establishing that Bo is a sociopath. Which doesn't exactly make him stand out in wrestling, but that's all right.

Rating (1-10): 2.0


The announcers have figured out that they can just hold up a sign that says 9.99. Sure wish they'd figured that out two & a half hours ago.


Bray Wyatt has the whole world in his hands. He's still a creepy dude, that's for sure.


"Bray's right thumb looks like a burnt penis." - Jeremy Lambert. Yup, we're at that point of the show.


Brock Lesnar vs. John Cena: The Video Package.

Beat The Clock Challenge: Rob Van Dam vs. Seth Rollins : I hope RVD cut a promo during the entire commercial break. That would have been the highlight of this show by a mile. Oh wait, the Authority has changed Seth's opponent…

Beat The Clock Challenge: Seth Rollins vs. Heath Slater : Keep getting them checks, RVD. Keep getting them checks. Heath is orange. It's…it's a thing. Seth beats down Heath for a minute, then Dean Ambrose appears at ringside all casual-like. He fiddles with the briefcase because why not. He rips the contract in half because why not. He should eat it like he's Goldberg eating Scott Hall's contract. He pours a Coke in the briefcase. Now he's got some popcorn. This is more amusing than the match, and most of what's gone on tonight. Now he's got JBL's hat. Who is he, Alicia Fox? He's put the hat in the briefcase. Slater rolls up Rollins for the win! SLATER WINS! SLATER WINS! SLATER WINS! Rollins is irate at ringside, his briefcase has been ruined!

OK, I was skeptical about the earlier booking but that was a pretty damn good payoff. The Rollins vs. Ambrose feud has been booked well for the most part & in my opinion is the best thing going on WWE television these days. Should be fun to find out what silly stipulation Ambrose will come up with for the match.

Rating (1-10): 8.0


We're at 11:00 Eastern & still have a contract signing to go. Some shows really don't need an overrun.

Contract Signing for Brie Bella vs. Stephanie McMahon at SummerSlam: The Bellas are wearing way too much clothing this week. Triple H has Michael Cole officiate the proceedings, as he is a devoted husband. Brie shows the beautiful bean footage of when Stephanie got arrested, and declares that SummerSlam will prove that Stephanie is a fraud & an embarrassment to the McMahon family. Is it possible to be an embarrassment to the McMahon family? Brie talks for awhile. Fans chant CM Punk because…well who knows. Stephanie signs the contract & says she'll tear Brie's heart out. This results in Brie being trapped behind the table by Triple H while Stephanie overpowers & Pedigrees Nikki Bella. Slap to Triple H! Now Brie gets some from the toughest woman in the company. Pedigree! Stephanie stands tall as her music plays to end the show.

This was a typical contract signing. It's fairly interesting that Stephanie/Brie has main evented two straight Raws…if nothing else they're not afraid to try something new there. But man...as much as I'm a Bella guy & I love Brie & Nikki...Brie is just not cut out for these things. Talking about matches, people she doesn't like, things like that. It's not her deal.

Rating (1-10): 4.0


End scene.


Thanks for reading.



The Tirade



I was on Fact or Fiction last week & one of the commenters kept going on about how I needed a vacation. This was funny to me, as I rarely write about wrestling any more. But maybe they were on to something. I mean, if this type of wrestling show is what people are going crazy for in 2014, then I probably need a very, very, very, very, very, very long vacation. Cause most of it stunk. Short, nothing happening matches, storylines that mostly don't make sense, characters with questionable motivations, incessant yammering from the announcers & the heel authority figures about the WWE Network being $9.99, funny stuff that isn't funny, stuff that it's obvious the company doesn't give a rip about…it ain't good. I liked the Swagger/Rusev promo & Ambrose's involvement in the Rollins/Slater match. The Cena/Lesnar promo was good the first time. Otherwise, this was a bad show. They can do better. Me, I'm gonna go watch some 1993 Raw on the WWE Network, which is $9.99 per month. At least that's 45 minutes to kill instead of 3 hours.

Show Rating: 3.5

As a reminder, I will be going by the 411 scale…

0 - 0.9: Torture
1 - 1.9: Extremely Horrendous
2 - 2.9: Very Bad
3 - 3.9: Bad
4 - 4.9: Poor
5 - 5.9: Not So Good
6 - 6.9: Average
7 - 7.9: Good
8 - 8.9:Very Good
9 - 9.9: Amazing
10: Virtually Perfect

The final rating is not simply an average of the rated segments above. The rating takes them into account as well as the segments that are small but not scored, the flow of the show, the overall booking, build to PPV, crowd reactions, and so on and so forth.




---
Have you checked out the Csonka Podcasting Network? If you haven't, you should We run anywhere from 15-20 shows a month, discussing pro wrestling, the world of MMA, the NBA, general sports, popular TV series of the past, bad movies, battle rap, interviews, MMA & Wrestling conference calls and more! Around 10 different personalities take part in the various shows, which all have a different feel; so you'll likely find something you like. All of the broadcasts are free, so go ahead and give a show a try and share the link with your friends on the Twitter Machine and other social media outlets! Running since May of 2011, there are currently over 400 shows in the archive for you to listen to.



Steve Cook is a Gemini and enjoys drinking the occasional alcoholic beverage or nine, long walks on the beach, objectifying women and winning fantasy football championships. He graduated from the University of Louisville in 2006 & has a B.S. in Political Science with a concentration in Law & Public Policy. He has been a wrestling fan since 1990 and has been writing for 411 since August 14th, 2004; contributing nothing but headaches & utter frickin' chaos to the site. He is a living legend & the last of a dying breed.

Your heart is free. Have the courage to follow it…TO CSONKA'S TWITTER!
Follow Cook as well, it's a good time.

http://www.twitter.com/411wrestling
http://www.twitter.com/411moviestv
http://www.twitter.com/411music
http://www.twitter.com/411games
http://www.twitter.com/411mma
comments powered by